One of my favorite all-time projects for the Christmas season has been sturdy topiaries. This project shows you how to bring a natural look to your mantel and Christmas decor without worrying about attracting pests. (These Christmas decorating tips brought to you by Orkin.)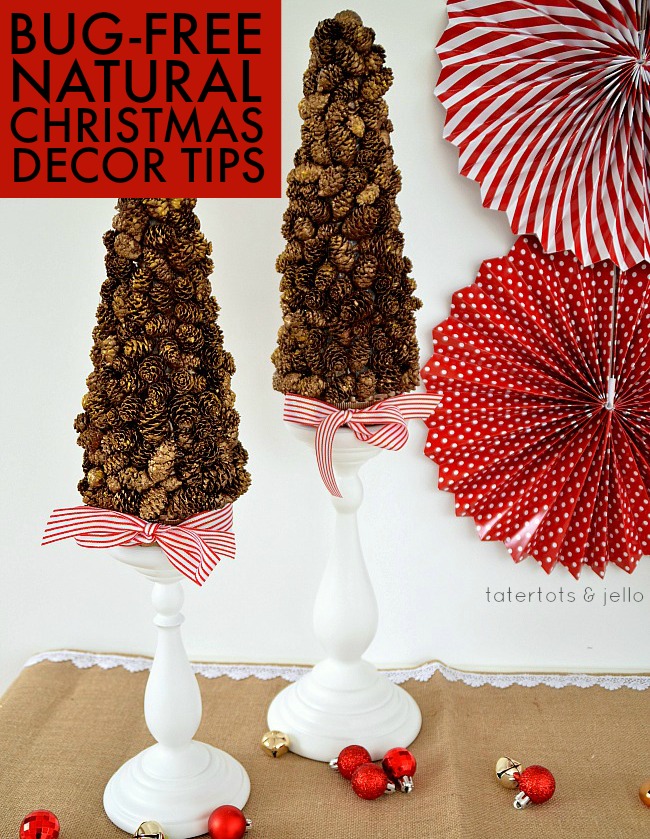 I love holiday DIY – obviously! But I was surprised to learn, and you might be, too, that a lot of holiday decorations can attract unwanted bugs and critters! Besides the "ick" factor, they can trigger allergies, contaminate food and spread disease.
While I love bringing the look of nature indoors for the holidays, bringing nature indoors can cause problems with bugs. I've used artificial trees for years because they last better for me and I don't have to worry about surprises (many spiders over the years). (I bet you have some stories, too!)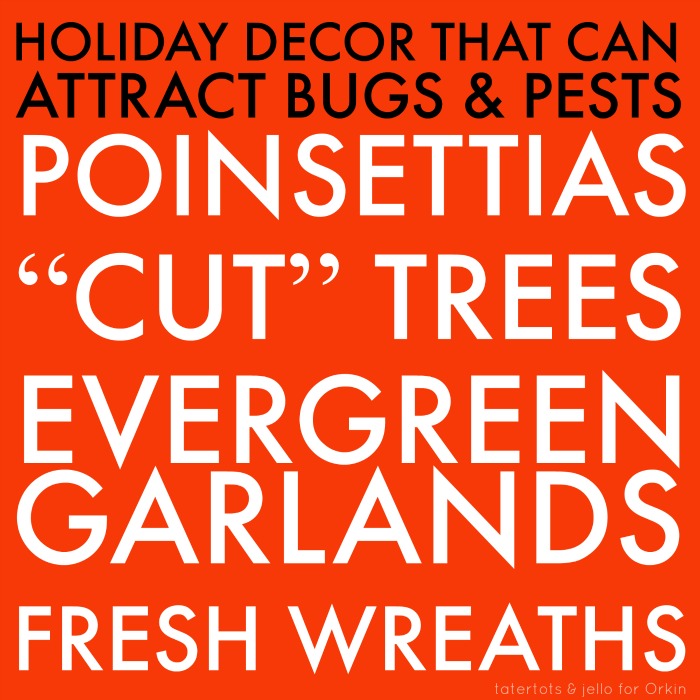 But it's not just trees:
Poinsettias and Chrismas cacti can harbor white flies or fungus gnats. So they're pretty – but might bring pests!
Trees, wreaths and garlands smell and look great. (Mine always dry out too early!) But they can all attract cockroaches, carpenter ants, aphids and mealybugs. Bark beetles are one of the insects you might find in your tree as well as larger "hitchhikers," like moths and some spiders. Barklice live in groups under tree bark. Egg cases for insects like praying mantises and spiders can hatch if the tree is left indoors for several weeks. Yuck!
Instead of those, you can choose artificial, natural-looking decor, use safer natural elements, and use scented candles and oils to bring the same look and smell.
One of my favorite projects is my Pottery Barn-inspired gold pinecone topiaries. Here's how I did it …
(and keep reading to learn how you can enter to win a $100 gift card to Michael's from Orkin!)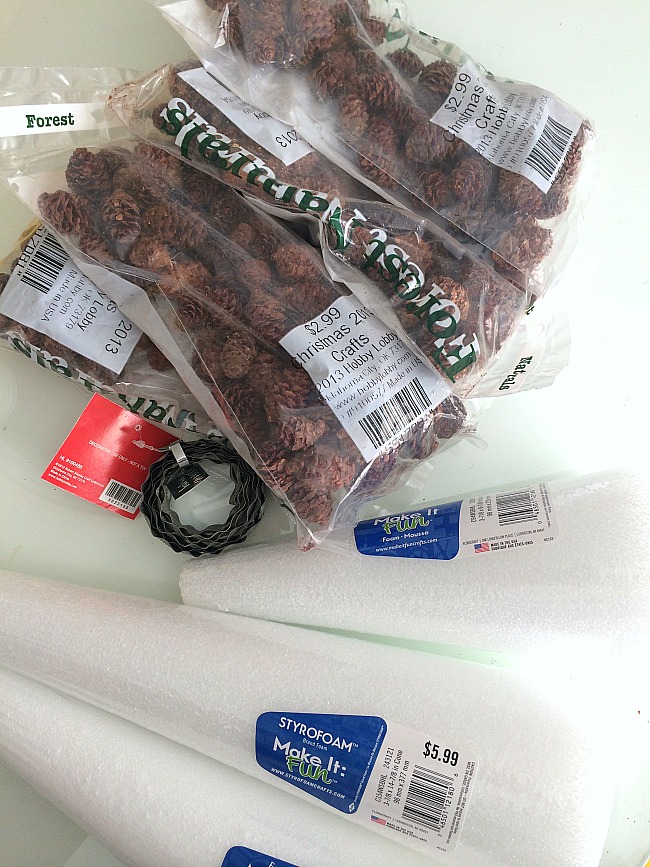 Here's what I used:
2 bags of small pinecones per topiary. I got mine from the craft store, and they're all cleaned and free of bugs.
Styrofoam tree forms (choose the sizes you like best – I used two different ones)
Hot glue gun
Bronze spray paint
Gold craft paint
Metal ribbon (optional)
Craft ribbon (optional)
Candlesticks (mine are from Ikea)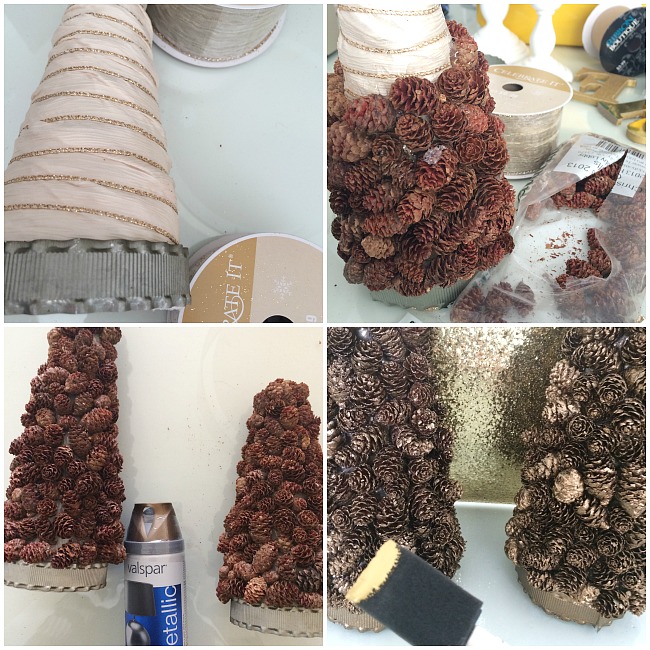 Directions:
Hot glue the metal ribbon to the bottom of each tree form. I found the metal ribbon at Hobby Lobby. If you can't use metal ribbon, you can glue pinecones all the way down the tree form. If you like the look of the ribbon at the bottom and can't find metal ribbon, you can leave a space at the bottom where you can tie a ribbon on.
Hot glue the pinecones onto the tree forms. (I wrapped the first form in ribbon first, but I discovered that you don't need to do that since you are going to spray paint the whole thing later) I did a 2-inch section at a time. I put the hot glue on and then quickly stuck the pinecones on and then pressed them together before the glue cooled so there weren't as many spaces in between the pinecones.
Once the whole tree form is covered with pinecones, take the tree forms out and spray paint them with the bronze spray paint. The spray paint will cover the pinecones and fill in the holes and cover up the hot glue, making the trees an even sparkly bronze color. So pretty!
When the tree forms are dry, bring them in and then tie a ribbon at the bottom of the forms and set them on the candlesticks. You can hot glue them on the candlesticks if you want. I just set mine on top, the forms are heavy enough with the pinecones and hot glue that they are pretty stable if you have a candlestick with a big enough top.
If you don't want to use a candlestick, you can take a small dowel and push it up inside of the tree form and then put it inside of a small pot filled with florist foam like the ones in the Pottery Barn catalog.
Enjoy your topiaries. I think these would be beautiful on a Thanksgiving OR Christmas table!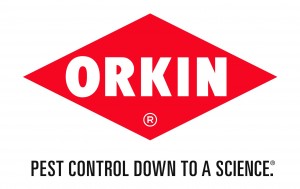 I've loved learning more about how to avoid unwanted holiday pests from Orkin! (If you notice signs of a pest problem in your home, contact the licensed pest professionals at ORKIN for a detailed inspection and customized treatment program.)
One more tip because it's so smart: even if you're storing your decor in plastic containers (the ones with the tight-fitting lids), if they're stored in the basement, garage, or attic, they might be housing rodents, spiders or cockroaches. So unpack your storage containers in the garage to keep any of them from escaping into your home!
Check out these great Orkin tips, too:
And check out Orkin on the Web, Facebook, Pinterest and Twitter!
And now the giveaway!
xoxo

This post sponsored by Orkin, and I'm part of the Mom It Forward Blogger Network; the project and opinions are mine. See my disclosures.