Hello readers of Tatertots and Jello! I'm Krista from The Happy Housie and I am so excited to be here today sharing a simple and cheery project for spring: White and Gold Herringbone Pots.

I am beyond thrilled to be here at Tatertots and Jello today sharing this project. As I said, I spend most of my bloggy time over at The Happy Housie . I called my blog this because I think of myself as a "housie"; someone whose hobby and passion is all kinds of house related stuff like decorating, crafting, organizing, and DIY projects… like these easy and adorable White and Gold Herringbone Pots for Spring.
To make these you will need:

– Clay pots (I picked mine up at a local dollar store)
– White craft paint, gold craft paint (not pictured)
– Gold paint pen (I used an oil based sharpie paint pen in gold)
– Paint brush
– Whatever fillers you like (I used faux grass balls and sheets of faux grass from the dollar store along with some mini foam eggs)
I started by painting mu pots with a couple of coats of white craft paint….
Once it was dry, I used a Sharpie (oil based) gold paint pen to sketch on my herringbone lines…. I started with a rim around the top.
Next, I sketched somewhat straight lines from the top line I had drawn down to the bottom of the pot…
Once all the vertical lines had been sketched, I started joining them together with angled (or diagonaled) horizontal lines…
Once I had my first group of horizontal/diagonal lines sketched, I continued adding them, creating a herringbone design….
Once I was finished I painted the top ledge of the clay pots with a couple of coats of my gold craft paint…
Done! Now time to dress these little babies up with some springy accessories. I used faux grasss from the same dollar store that I had purchased my pots at (for the larger pots I used little grass 'balls' and for the smaller pots I used a sheet of grass that I cut into a round to fit into the top of each small clay pot).
Then I tucked some mini foam Easter eggs amongst the grass to give the look of a miniature Easter egg hunt. Who doesn't love a good ol'Easter egg hunt?!?
These are a great little centerpiece for our dining room table for the spring…
They run down the center of our table and add a hit of fun color and warm gold to our space…
Thank you SO much for having me here today, Jen! It was truly incredibly amazing to have the chance to connect with the readers of Tatertots and Jello.
Thanks for reading. And remember, my housie friends, HOME isn't built in a day. Enjoy the journey.
**********
Thanks Krista! Those pots turned out so adorable, and I love how they look grouped together as a Spring or Easter centerpiece. So clever! Krista has lots of good ideas on her blog. Here are a few of my favorite recent projects of hers:
I love these Customized Cage Lantern Light Fixtures she made for her boys' room. She has so many great ideas on her blog for this room I know it will look amazing when she's all done!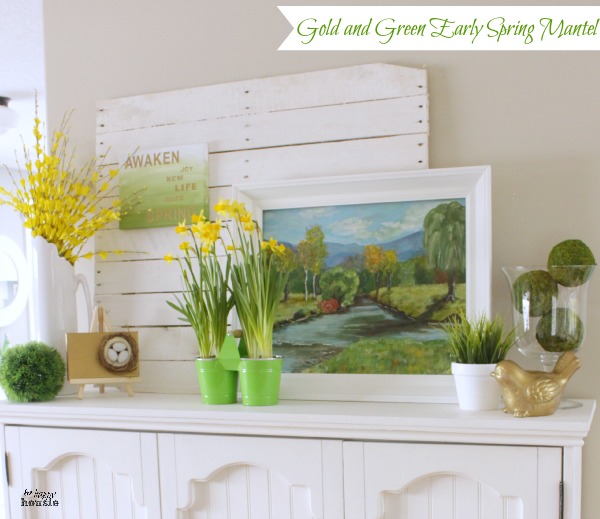 Her Gold & Green Spring Mantel looks so fresh and bright. Perfect for Spring!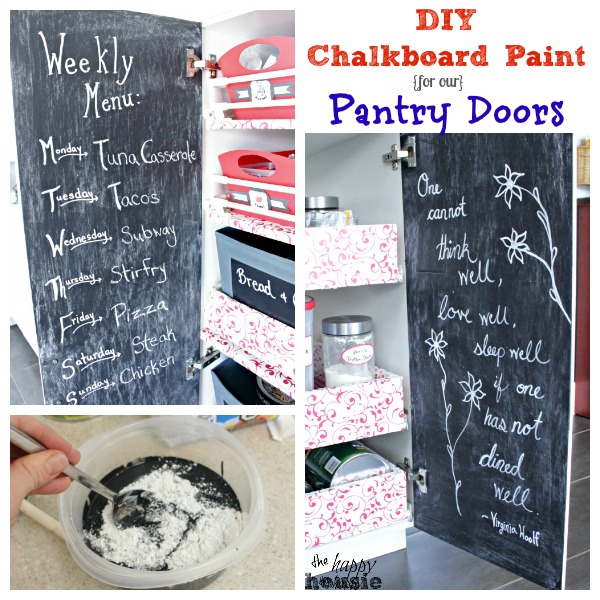 And this idea for DIY Chalkboard Paint for the pantry door is so clever!
Follow The Happy Housie and



xoxo