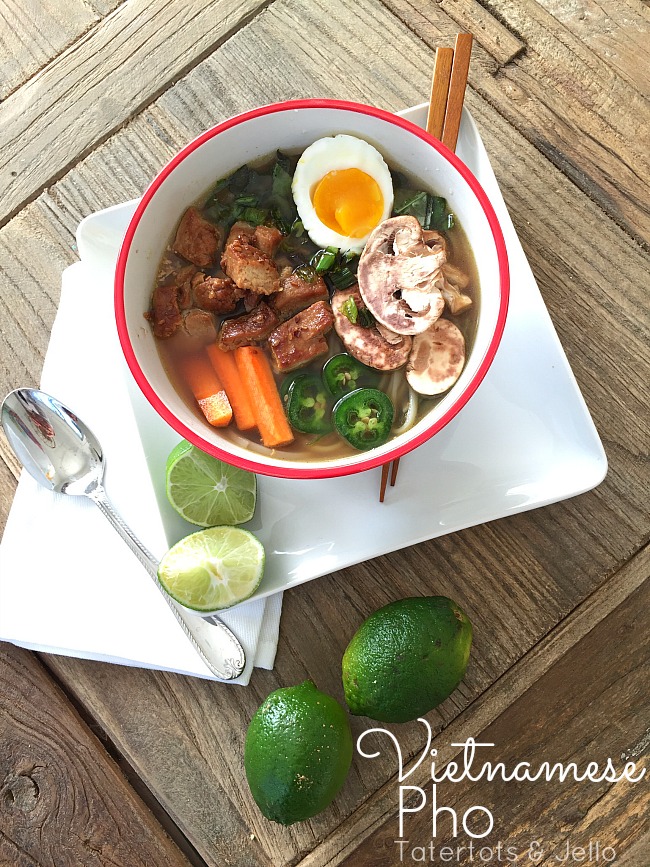 My two oldest kids have birthdays four days apart so we had a fun birthday celebration last weekend. We decided to make Vietnamese Fresh Pho Soup to celebrate! Vitnamese Pho soup is not hard to make at home and it's full of healthy ingredients. Also, we created a topping centerpiece so everyone could add whatever toppings to their pho that they wanted to. It was fun!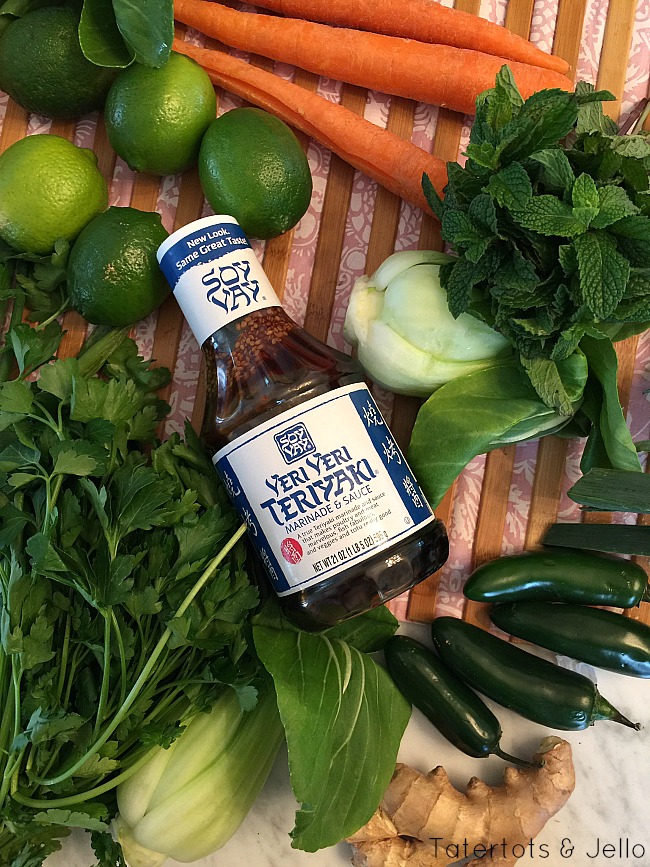 Soy Vay has a fun "Battle of the Blands" contest going on and they asked us to choose a side -Team Rice or Team Tofu. My son has been a vegetarian for years, so I thought it would be fun to share some tips on how to make tofu taste even better than chicken!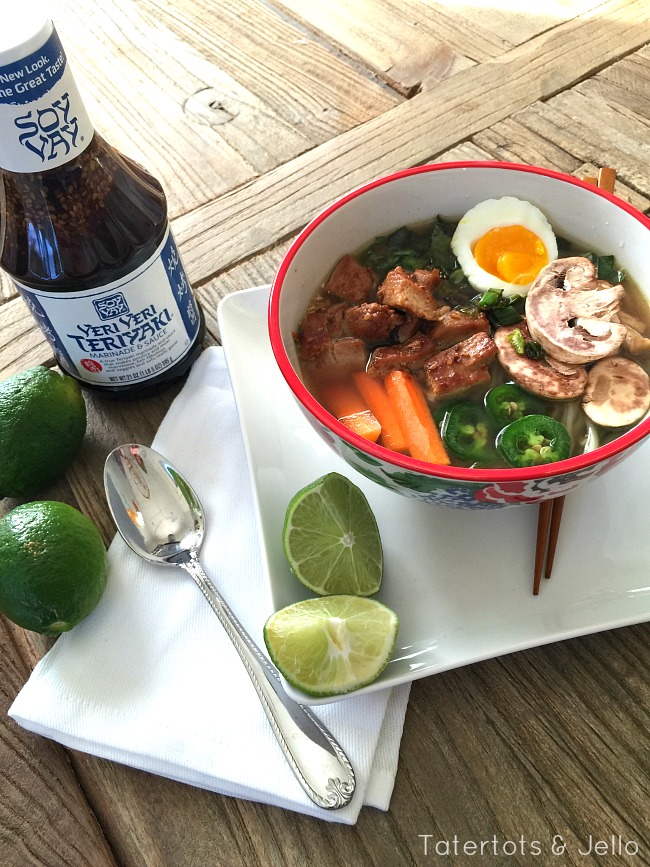 Today I'm sharing our my fresh Vietnamese fresh pho recipe – inspired by Soy Vay's request that I pick my side in the "Battle of the Blands" – a way to make either tofu or rice even better with Soy Vay. We'll show you our tofu tips and this awesome recipe!
Just click the video below to see:
Here's the Vietnamese Fresh Pho Recipe:
Fresh Pho Recipe
Recipe Type: Soup
Cuisine: Vietnamese
Author:
Prep time:
Cook time:
Total time:
Serves: 6
Vietnamese Pho soup is easy to make at home. Follow this easy recipe and add any protein you want. We used tofu for a vegetarian slant on this delicious meal.
Ingredients
Tofu – one pound
2 cups Soy Vay Teriyaki Sauce
12 ounces rice noodles
1 large onion, halved
1 4 -inch piece ginger, unpeeled, halved
2 leeks, sliced
6 cups vegetable broth
5 star anise pods
1 cinnamon stick
4 scallions
Toppings:
2 jalapeno peppers
1/2 cup fresh cilantro
1.2 cup basil
1 cup fresh bean sprouts
1/2 cup scallions
1/4 cup mint
4 limes, cut into wedges
carrots, cut into 1 inch sections
Instructions
The night before, take the tofu out of the packaging and put it on a plate with paper towels underneath. Add another layer of paper towels on top of the toofu and put something heavy on top like a bowl or large can. This compresses the water out of the tofu so it can absorb the marinade.
The next morning, cut the tofu into 1 inch cubes and add 1.5 cups of Soy Vay Teriyaki sauce to the tofu in a large zip lock bag. Let the tofu marinade for at least 2 hours.
When the tofu is done marinating, prepare the rice noodles as the label directs.
Meanwhile, place a large pot over high heat. Add the onion and ginger to a medium sized pot; cook about 4 minutes. Add the broth, 3 cups water, the star anise and cinnamon, reduce the heat and simmer about 20 minutes.
Meanwhile, thinly slice the scallions and jalapenos (remove seeds for less heat) and tear the cilantro, mint and basil. Prepare any other toppings you want for the pho and put them in small bowls.
In a separate pan, add olive oil and tofu and cook the tofu on medium heat until it browns – about 10 minutes. Put tofu in separate bowl. .
Add the remaining Soy Vay Teriyaki sauce to the broth and boil 5 minutes. Discard the ginger, star anise and cinnamon stick. Remove and slice the onion. Divide the noodles among 6 bowls; top with the broth, tofu,and whatever toppings you want.
And the kids loved having a centerpiece of toppings to add to their pho. So we divided the noodles between the bowls, and then added the vegetable broth for everyone. Then we all sat down at the table and everyone could add any of the toppings they wanted to their soup – some of the toppings we prepared were: tofu, carrots, basil, cilantro, mint, mushrooms, jalapenos, bean sprouts, ginger and scallions.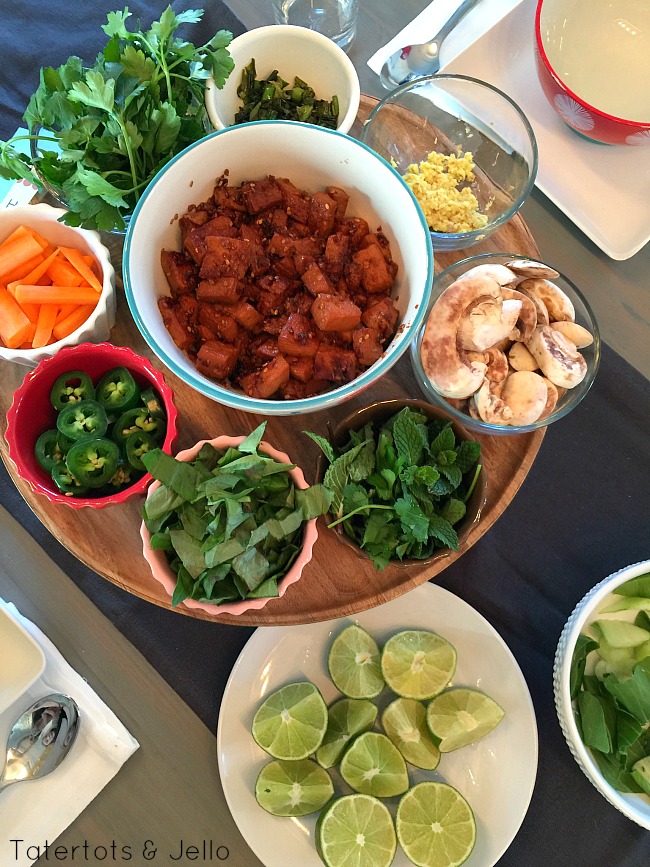 So the next time you think of teriyaki – give tofu a try!! You can vote for your favorite "bland" – tofu or rice – here!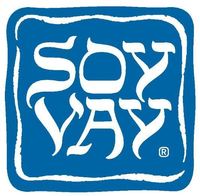 And for more about Soy Vay, visit Soy Vay on the Web, on Pinterest, Instagram, Twitter and Facebook!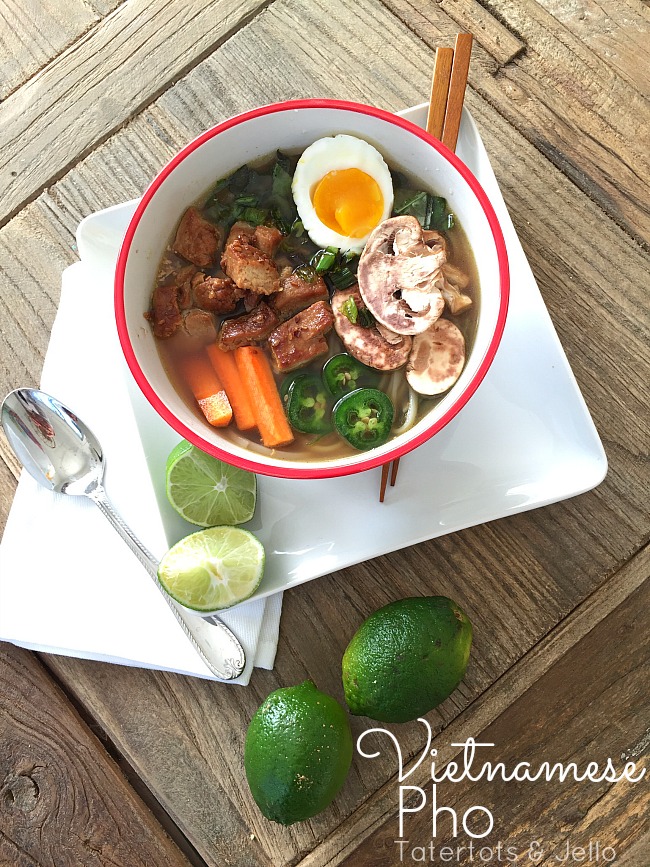 xoxo

This is a sponsored conversation written by me on behalf of Soy Vay. The opinions, recipe and text are all mine. See my disclosures.