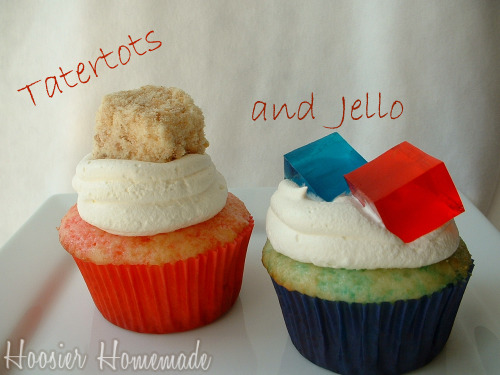 Hello, Tatertots and Jello fans! I'm Liz, the Hoosier Momma from Hoosier Homemade. I'm a SAHM of 3 teenage boys, that keep me running with their sports and school activities. I've been blogging a little over a year, I share lots of baked goods, Budget Friendly Meals, and decorating tips and tricks, all to help you "Make Your House a Home."
What would be fitting for the Tatertots and Jello Blog? Well…Tatertots and Jello Cupcakes, of course!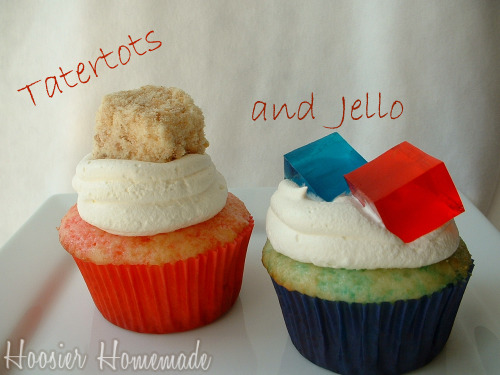 When Jen asked me to show you some of my cupcakes, and teach you how to make them, I knew exactly what I wanted to do.
Back in April, for my son's birthday, I made him Chicken Nuggets and Fry Cupcakes. I used the same concept that I made the nuggets with, and made Tatertots.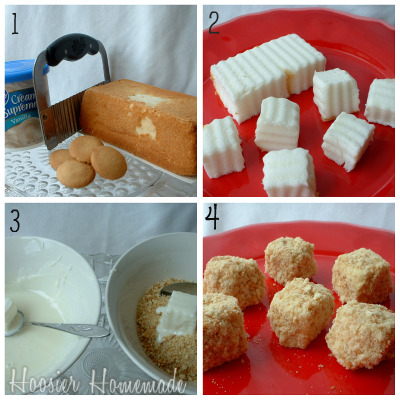 Tatertots Directions:
You will need…a pound cake or angel food cake (store bought because it has a better texture, believe me, I tried), a can of store bought frosting, vanilla (not whipped, I almost always make my own frosting, but for this, you need store bought), crinkle cut sharp blade of some type and vanilla wafers, crushed.
Cut the cake into chunks, about 1 inch square
Melt the frosting in the microwave about 15 seconds until very thin, dip cake chunks into frosting then into wafers
And…there you have it, Tatertots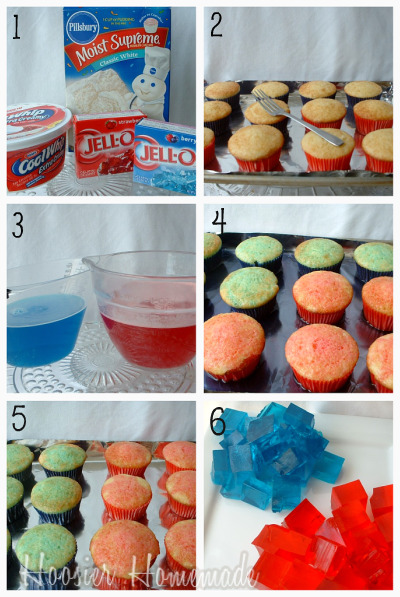 Jello Poke Cupcakes Directions:
You will need a plain white box cake mix, plus the ingredients to add (hop on over and check out my video on how to make your box mix taste homemade), jello and Cool Whip (for frosting)
Bake cupcakes, after they are cooled, place them on a foil lined cookie sheet and poke them several times with a fork
Mix Jello according to directions on the box. I used red and blue because of the upcoming Memorial Day weekend, but of course, any flavor you like is fine.
Gently pour jello over cupcakes, you can see there is lots of overflow, that's why you want to put them on a pan
Then line another cookie sheet with foil, wipe off the bottoms of the cupcakes and transfer them to the other pan (this way, when the jello sets up, the cupcake won't be all sticky on the bottom) Place in fridge for a couple hours.
I made finger jello with the extra jello for decorating the cupcakes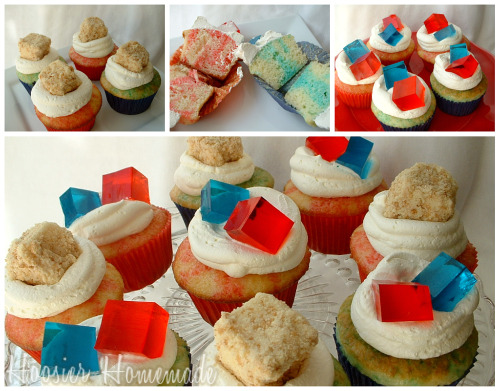 I'd love for you to head over and visit me at Hoosier Homemade. Earlier this week, I shared these cute Memorial Day Cupcakes and a video showing you how easy they are to make.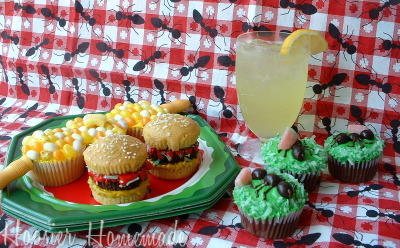 Enjoy and Thanks again to Jen for having me!
Liz – you are too cute!!! I wish I could have eaten one of those cupcakes. I will have to make some. Liz hosts a great party every Tuesday — Cupcake Tuesdays! You should go over and check it out. So many great cupcake recipes are linked up each week. And Liz comes up with the most creative cupcakes!
Happy Friday!
XOXO
PS – The Weekend Wrap Up Party starts tonight at 10 PM! Come link up your ideas – so I can showcase YOU!