Hi there Tatertots and Jello readers! It's me, Melissa of the Polka Dot Chair Blog back again to share another fun sewing project with you!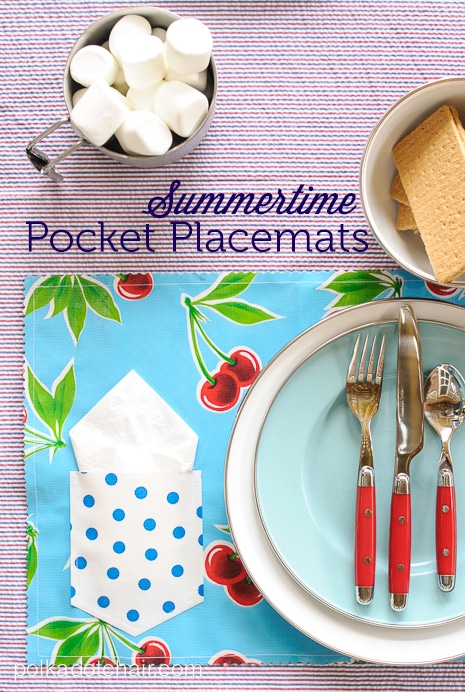 Summertime is in full swing here in Kentucky, man it was HOT this week! During the summer we love eating outside more than anything. Fire up a grill and throw on some burgers and I'm a happy girl! Since we eat outside so much, and our outdoor table can get a bit dusty, I thought it would be fun to have some wipeable placemats that we could use all summer. These summertime pocket placemats are made out of oilcloth, (making them so easy to clean) lined, and even have a fun little pocket on the front to hold your napkin!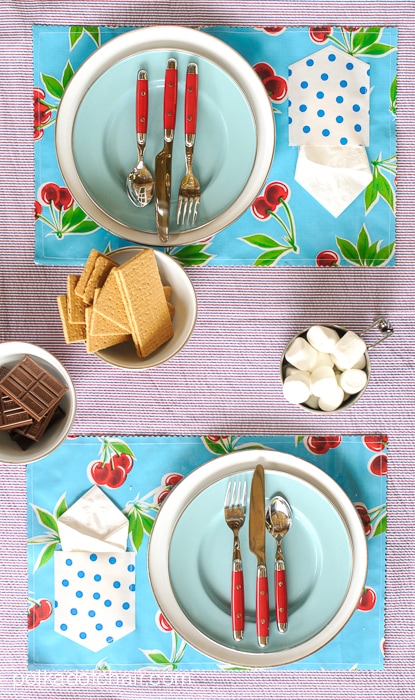 To keep it simple, to finish the edge of these placemats instead of sewing on bias tape, I just pinked the edges. The oilcloth is pretty easy to sew with you just need to know a few tips, which I'll share with you today.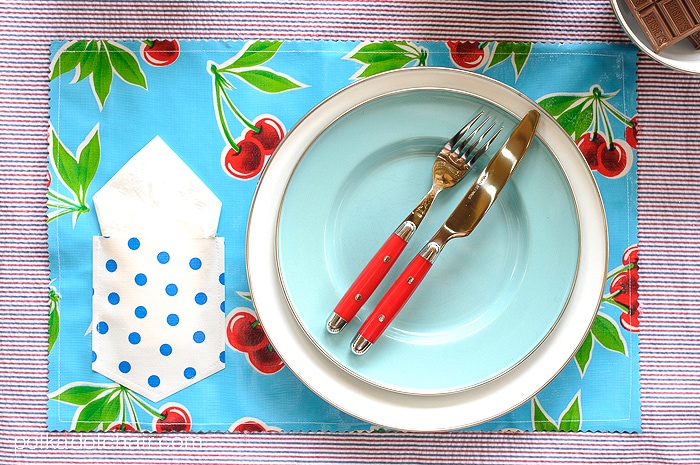 To make the placemats you'll need:
Oilcloth -yardage is up to you, you can get 3 placemats out of every 1/2 yard of 60″ wide oilcloth
Oilcloth for pocket- about 1/4 yard
1/2 yard of cotton fabric for the back of the placemats for every 3 placemats
Teflon Foot for your sewing machine (or you can use this trick if you don't have a teflon foot)
Glue Stick
Binding Clips
Pins
Pinking Blade for Rotary Cutter
Quilt Ruler
Template for the pocket- download here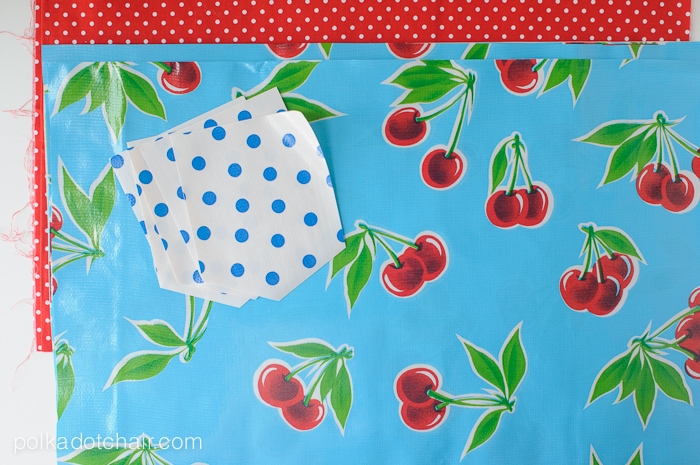 To begin cut out your oilcloth for the placemats. Each piece is 12″ x 18″ you will get the most yardage if you cut your oilcloth 12″ wide then into 18″ sections.
Cut out your lining fabric, it's also 12″ x 18″ but for this fabric cut it 18″ wide then cut that strip into 12″ sections.
Cut out the pocket pieces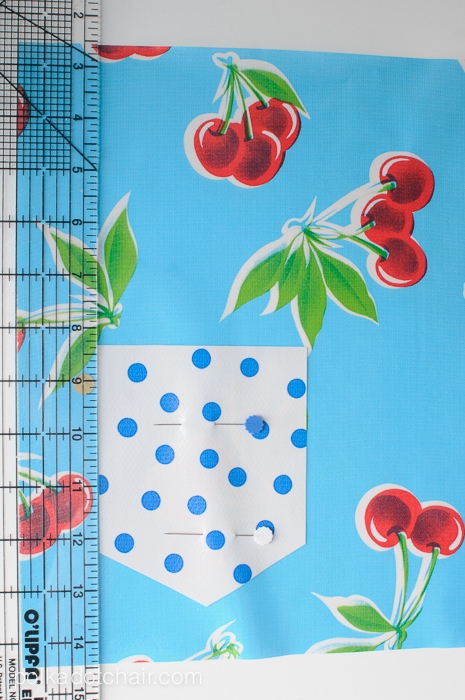 Normally I would tell you not to pin oilcloth, but this time we're going to have to. Using two pins, pin the pocket to the placemat front 1 1/2″ in from the edge and 1″ up from the bottom. Stitch pocket to placemat. Make sure you have the teflon foot on your sewing machine for this ENTIRE project.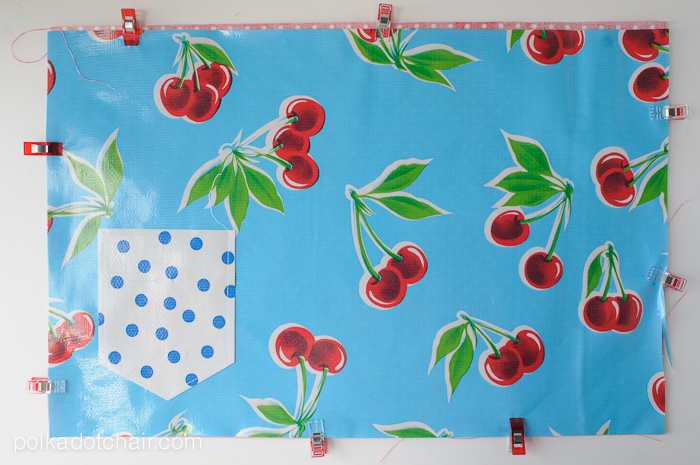 Using your glue stick put a bit of glue on the center of 12″ x 18″ lining piece of fabric. This will help keep the lining from sliding around while you're sewing it to the oilcloth. Glue the lining to the back of the oilcloth… wrong sides together. Secure with binding clips.
Stitch around the edge of the placemat (oilcloth facing up) using a 1/2″ seam allowance.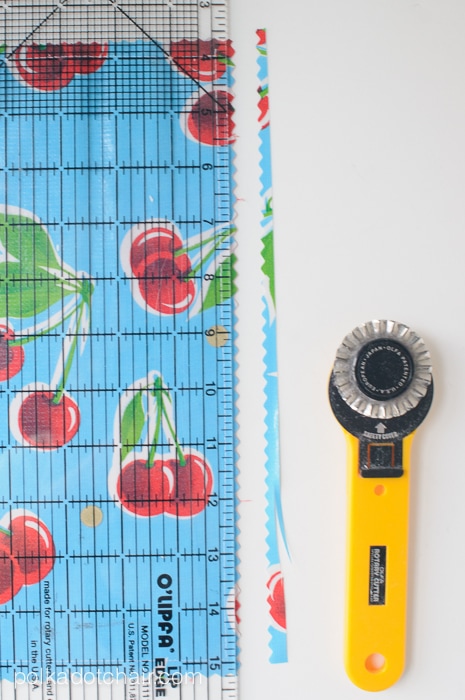 Using your quilt ruler and the pinking blade on your rotary cutter, cut off the edge of the placemat 1/4″ out from the seam you just stitched.
Clip your strings, and you're done!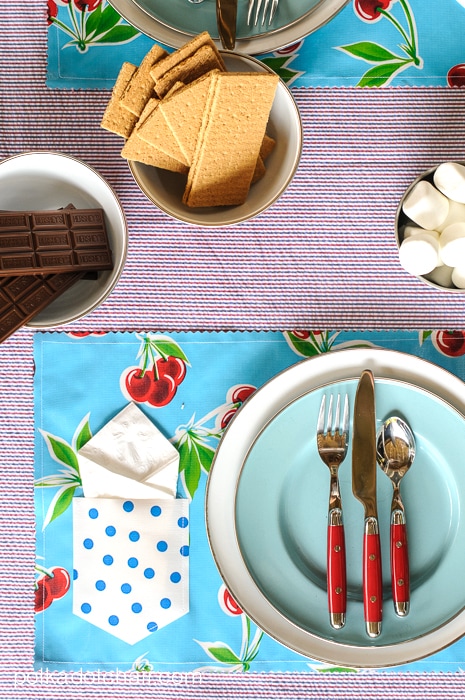 ************
Thanks Melissa!! Isn't she amazing? I just love those little placemats and the pocket for the napkin is just too cute. I have a feeling kids would love hiding all kinds of stuff in those little pockets.
Melissa is so talented, and I'm so lucky to have her as a contributor. Check out some of her other awesome projects that she's been working on: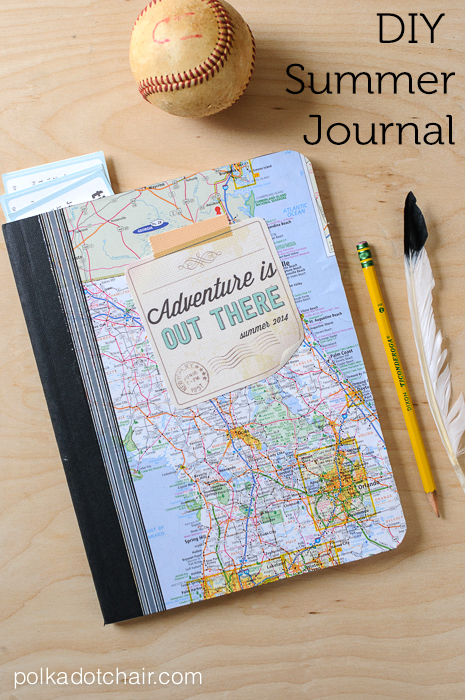 This is such a fun idea to help your kids stay busy, and have fun during the summer. A DIY Kids Summer Journal is the perfect way to help them learn how to journal, and document all their fun activities!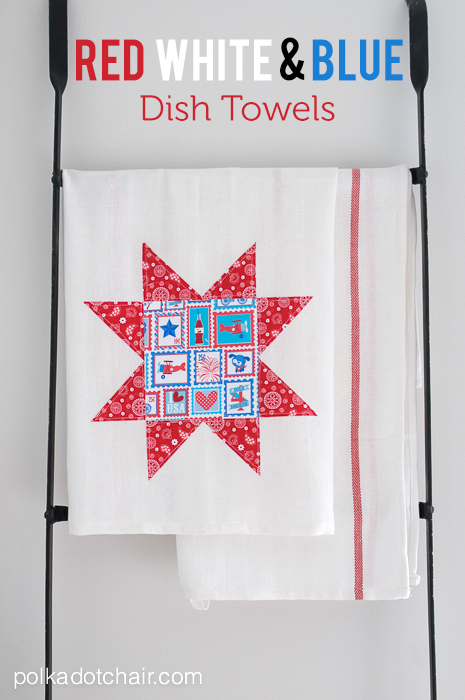 I also love her DIY Red, White, and Blue Dishtowels. So perfect for the 4th of July!!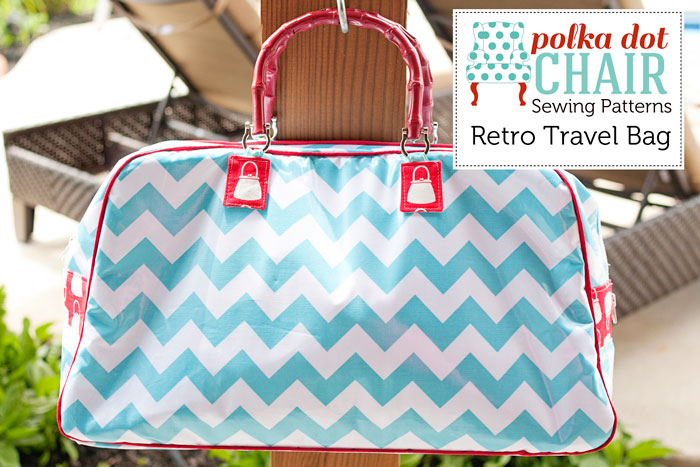 She also has an amazing online shop where she sells her sewing patterns. I'm in love with this Retro Travel Bag Sewing Pattern that she has in there right now!!
Visit Polka Dot Chair and




xoxo