I have some exciting news to share!!!
I am happy to announce a fun blog-hop monthly party!
I hope you will want to be a part of it!
–The Suspense is OVER–
–The Secret is OUT–
–Now let the FUN & Magic begin.–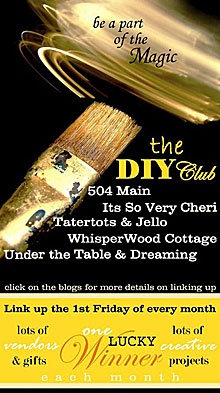 Welcome
and
let me introduce you to
The DIY Club.
The DIY Club is a group of 5 bloggers: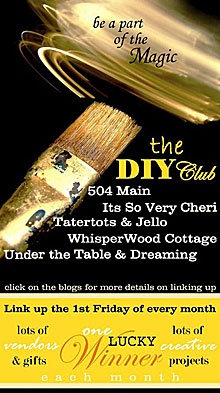 We will have a joint
Linky BLOG HOP
on the
1st FRIDAY of EVERY MONTH,
The 1st event will take place on MAY 7th
This event is
VENDOR SPONSORED
so you will need to use at least one of the products on the list.
You do not have to use all of them.
You can use more than one, if you would like, but you
MUST USE AT LEAST ONE OF THEM.
You MUST take a picture of your project and have the products you used in the photograph.
(DO NOT include products that are not on the list.)
There will NOT be a monthly theme—example burlap or door wreaths.
We will not ALL be using the same product each month.
You can do any project that you want as long as you use one of the vendor products and take a picture of your project with the products.
You can post as many projects as you would like but you want to post your best projects if you want to win. You only need to post (each of) your projects one time. You can post your projects on any of the 5 blogs and we will all see it. It is the same linked party, so there is no need to post to each blog. Since it is a BLOG HOP-grab the code (just under the linked pictures on the left) and post it to your blog to help pass the word and have more people see your project. Grab our button too and post it on your side bar
Each month
one lucky DIY MEMBER
(that would be all of you who post your projects)
will win the entire gift package for that month.
The Gift Package will include products from EACH of the vendors
plus other special give-a-ways we have that month.
Be sure to follow all 5 blogs.
If you have a product you would like to offer contact
T H E M A Y E V E N T

You can post projects from
May 7th – May 13th (11:59pm EST)
On Sunday morning, May 16th
we will post our TOP 10 list
and you can come over and vote for your favorites.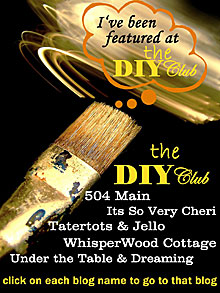 The TOP 10 will be able to grab the
"I've Been Featured by the DIY Club" button
and post it on your side bar.
You can call family and friends asking them to come over and vote,
you can Twitter and Facebook about it,
post it on your blog-
Don't be shy–ASK people for their vote.
Voting will be from Sunday, May 16th until Thursday, May 20th.
On May 21st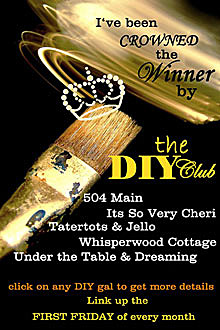 we will announce the
CROWNED WINNER
who received the most votes
and
announce the products for the next party.
We are all looking forward to seeing all of your creative projects.
THE VENDORS for M A Y
The vendors who have products being used in the linky contest/give-a-way will be participating for an entire year—some of the vendors may have a large list of products and so their products may rotate while others will have the same products every month.
The vendor list will be growing for the future months.
You can use
TEXTURE PRODUCTS and ELEGANT FINISHES
from DecoArt this month.
DecoArt
You can order products online directly through DecoArt www.decoart.com or they are available at most craft stores.
These products are located on pgs 36 (Elegant Finishes) and pgs 40-43 (Textures) of their online catalog.
They are working hand in hand with Home Depot on DIY projects, so be sure to check out their website www.decoart.com, you may see some of the DIY Club projects on their website (with links to the blogger who created the project).
We may be adding additional vendor products to the approved list through May 26th.
Gorilla Glue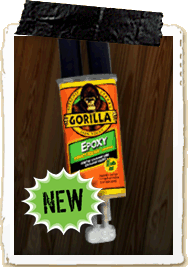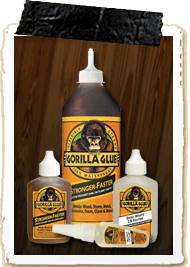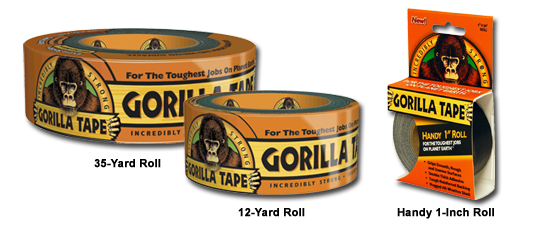 DISChangers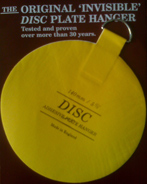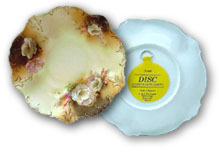 The Decoart give-a-way will be the Americana primary sampler set and the Mediums sampler set… with a special "Bonus" that will rotate every month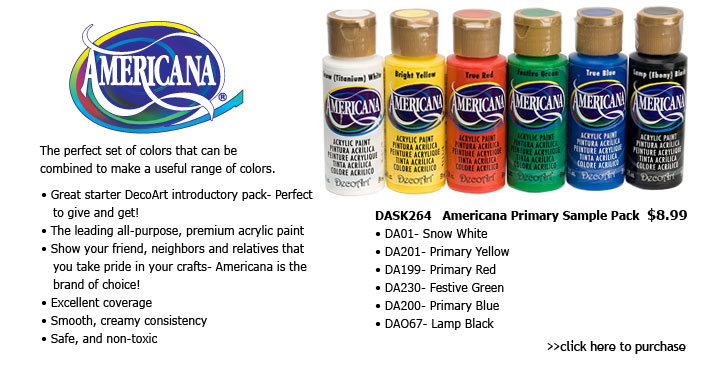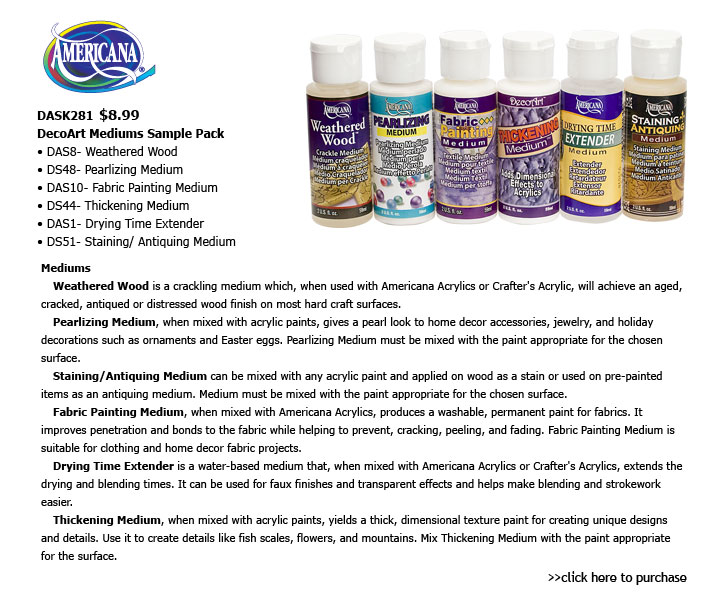 The extra give-a-ways for MAY
IS OFFERING A $50 Credit
on any clock in her etsy store or if you see one you like on her Clock Blog and want to custom order one.

You can check out her work and pick what you would like.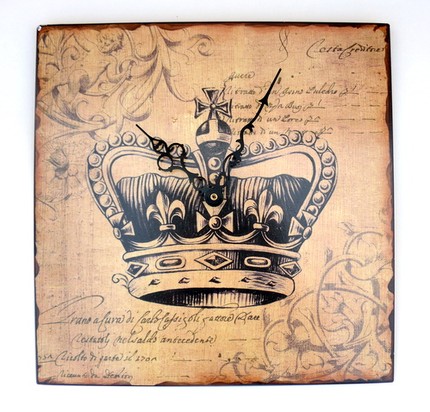 A Chalk Board Clock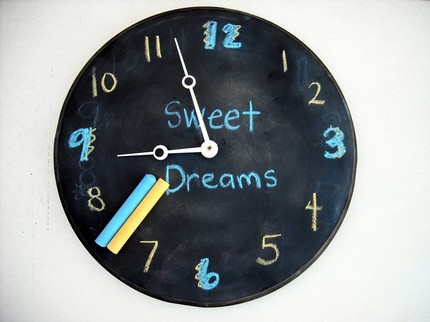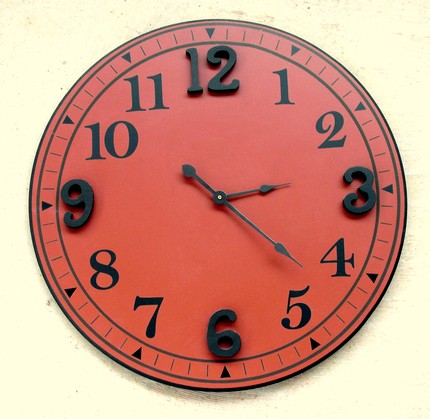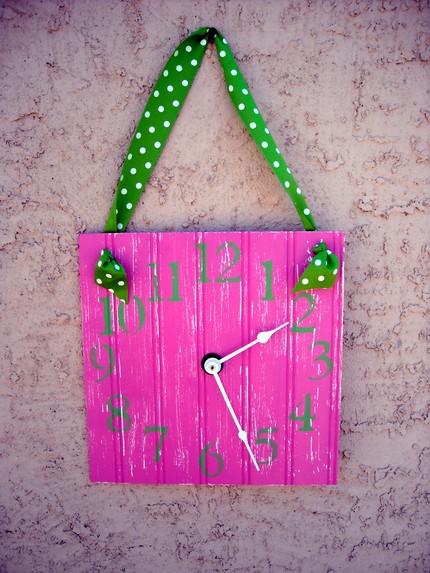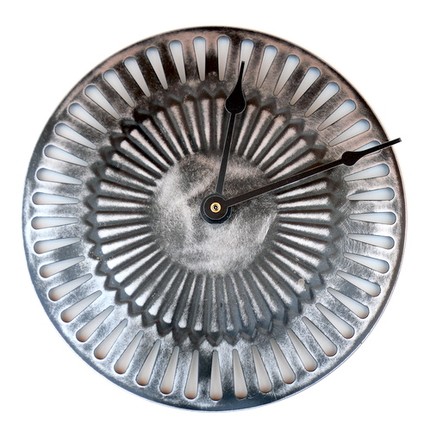 And as a thank you–Follow her,
pass her button around–
Spread the word about these amazing, creative clocks.
OUR BUTTONS
You can click on any of the blog names and it will take you to that blog.
Click on the YELLOW BOX at the bottom and it will take you to a page that will give you all the information you need about the party event that month, including the current vendors and all the extra give-a-ways for that month.
We will show a running list of our winners on the page as well.
*if you detect a problem with any of the buttons etc please let
[email protected]
know and she will work on it.
Have a Wonderful Night!
XOXO
Jen