Hi there Tatertots and Jello readers, I'm Ashley from Cherished Bliss and I'm so excited to stop in today and share this little tutorial with you!
This year I've really tried to use everything from our Christmas storage boxes and donate what I don't need anymore. As I was sorting through everything I came across these old Christmas village houses that I remember buying for my husband and I's first Christmas together! We didn't have any money and I'll never forget walking through Walgreens one night and being desperate to have our little apartment all decorated for the holidays we bought these little houses for $1 each! And they served us well!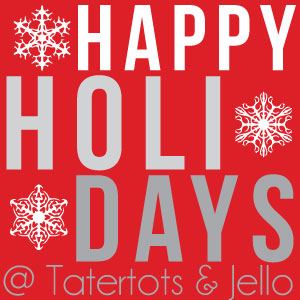 These little guys don't really fit my style anymore but I couldn't let go of such a cherished memory, so naturally…… I spray painted them ; ). I used Krylon's Chalky Finish in Ivory, and then once that dried I used the spray snow to give it a little dusting. I almost painted the houses all white, but I wanted a distinction from the paint and the snow.
I didn't originally plan on turning these into book ends. I honestly wasn't totally sure what I was going to do with them, so I brought them all inside and set them on a dresser next to a pile of old books. Then using them to hold up my books just kinda happened naturally. And that just so happens to be my favorite way to decorate. I never do good when I have a plan, I do better when I pile stuff up and find the beauty in the chaos!
I still have more of these houses that I'm not sure what to do with, but I'm hoping it will come with time because I love the simplicity of these little snow dusted houses. They make perfect snowy village book ends too!
I hope you enjoyed this simple and quick tutorial. Now, who's ready to go spray paint something? ; )
Thanks so much for having me over Jen!!
****
Thanks Ashley! What a cute idea to update something that has so much sentimental value! Ashley has great ideas on her blog. Here are a few I know you'll love:
She has this beautiful DIY Christmas Joy Sign that is so perfect for a mantel!
And how pretty is this Fruit Centerpiece?
And I can't believe how cute these Drop Cloth Stockings are!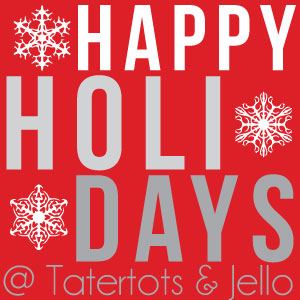 Follow the HAPPY Holidays Event at Tatertots & Jello
all through the holidays with awesome tutorials, recipes, decorating ideas and more from some amazing blogs!
xoxo