Root Beer Float In A Box – Free Printable & Gift Idea!
Happy July, Tatertots and Jello readers! It's Carli here today from DimplePrints sharing another fun free print idea!
With summer in full force, we thought it would be fun to share a Root Beer Float in a box idea and free printable as a fun and unique summer gift idea! The idea is simple…you need a gift box or wooden crate, some root beer, a mug, and an ice cream scoop. Use our prints to decorate the gift and even add some fun Cola Gummies to the mug for an extra treat!
We purchased the wooden crate at Michaels and decided to leave it unfinished because it kind of gives it a rustic look, but you could always stain or paint your crate…they're only $6.99!
In the box we put craft rootbeer, paper straws, an ice cream scoop, a mug (from World Market) and some cola gummies.
You can add shredded kraft paper or colored paper shreds for the crate filling.
Then you can adorn your box goodies with the free prints…there are some varieties to best fit your needs!
It's an easy idea, costs around $20 to put together and is only missing the ice cream! Depending on how far you have to deliver, you could put a small container of ice cream in the kit too. Fun, easy, and different!
You can see MORE Rootbeer Social ideas here….where we made prints for a full rootbeer social party that compliment these free prints.
Thanks again to Jen for having us and we look forward to visiting again next month with some more free prints for you!
DOWNLOAD YOUR ROOTBEER IN A BOX PRINTS USING THE LINKS BELOW:
* * * * *
Thanks Carli! I adore all of her awesome printables and projects at Dimple Prints!
Pink and Blue Nautical Baby Shower (It's nautical! And it says "Ella!")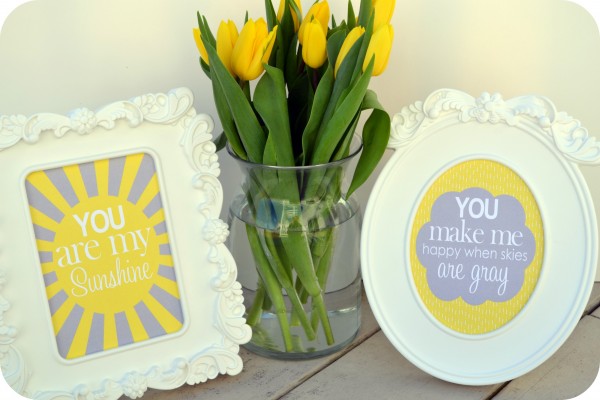 You are my sunshine free printables (originally featured on TTAJ, so I might be biased, but they are awesome!)

And finally, check out the awesome Summer Party Series where fun bloggers create parties this summer with Dimple Prints party printables. I can't wait to see all of the pictures and parties!
Have a wonderful Wednesday!
xoxo