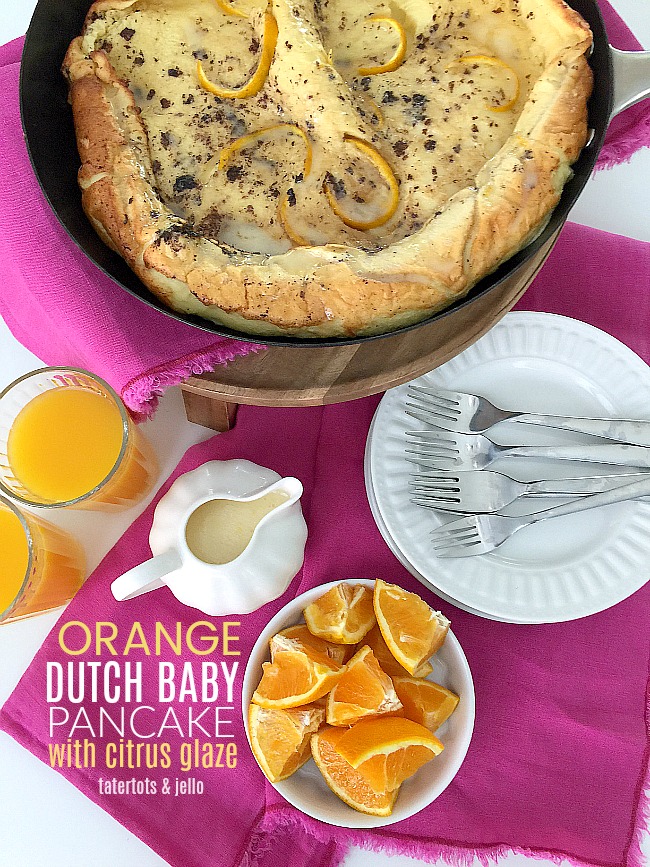 Orange Dutch Baby Pancake Citrus Glaze
We LOVE dutch babies. Have you ever made one? I keep trying different variations to see how many different kinds I can make! I do that alot. A few years ago it was burlap. I was determined to make 100 burlap projects and I think I made it to 60. Now burlap is kind of back so I guess I was ahead of the trend haha. Then it was subway art. I made a million subway art projects. We make Dutch Babies a lot during the holidays.
Orange Dutch Baby Pancake Citrus Glaze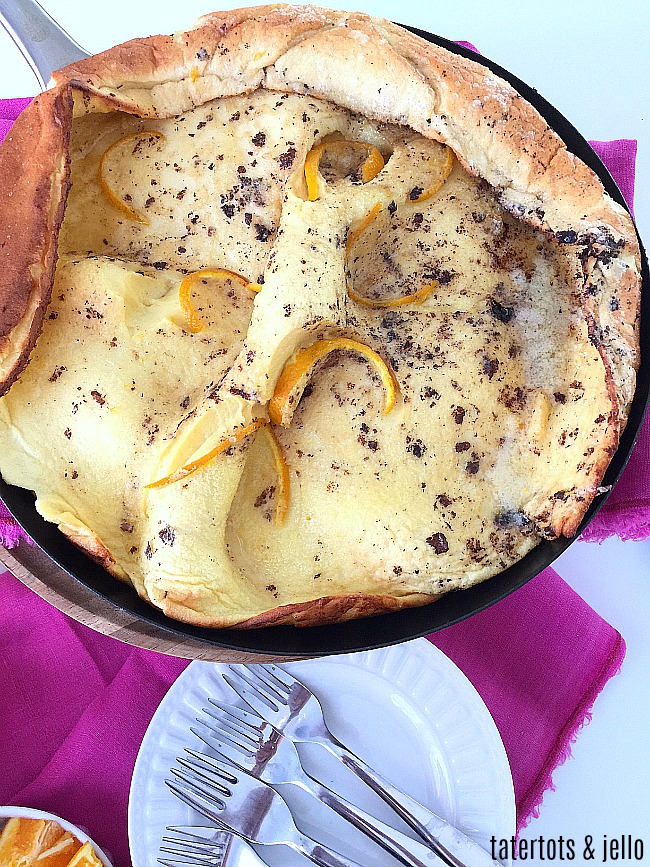 This dutch baby recipe uses fresh orange zest, very fine orange peels and orange marmalade to give it a special ooomph. Plus it has a delicious creamy citrus glaze that goes on top. It kind of reminds me of the orange rolls my mom made when I was growing up. The advantage of this recipe is that dutch babies are SO easy to make. Much easier than cinnamon rolls. The trick to Dutch Babies is heating the skillet in the over to heat the pan and melt the butter before you add the batter.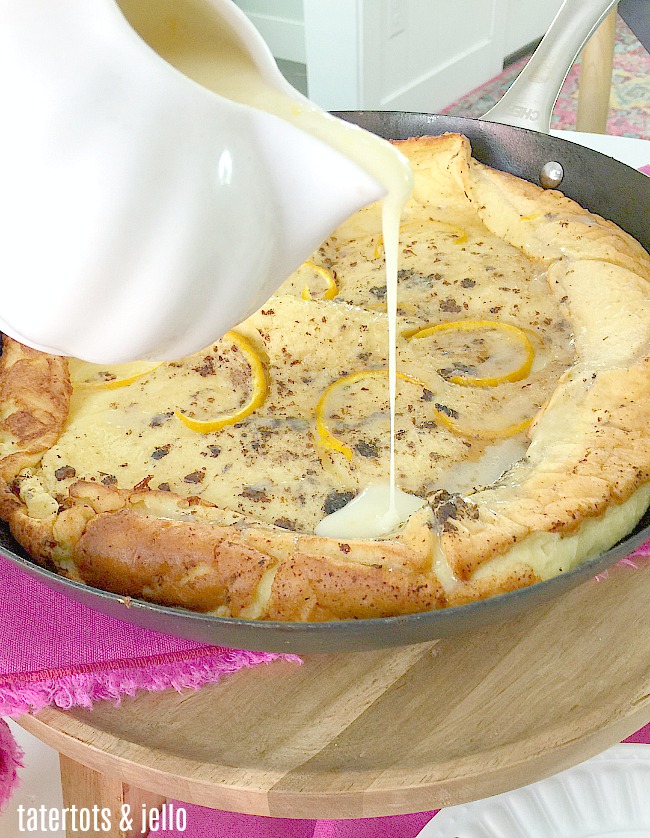 They are the perfect Sunday morning dish. And it is SO fun to see them puff up when you take them out of the oven. They are so light and fluffy. YUM!

Orange Dutch Baby Pancake Citrus Glaze
Orange Dutch Baby with Citrus Glaze
Recipe Type: Breakfast
Cuisine: American
Author:
Prep time:
Cook time:
Total time:
Serves: 8
Dutch Babies are giant pancakes that are light, fluffy and puff up when baked. This recipe is an orange dutch baby with zest on top, topped with a tangy citrus glaze.
Ingredients
1 1/4 cup milk
1 1/4 cup flour
5 eggs
pinch of salt (optional)
2 Tbs. orange marmalade
1 Tbs. orange zest
1 Tbs. orange peel, very very fine.
pinch of cinnamon (optional)
3 Tablespoons of butter
Instructions
Mix all ingredients, except for orange peels in a blende.r
Put butter in 9×12 pan or large skillet, put in oven and heat to 375 degrees.
When butter is melted, take the pans out and tilt them so butter covers the entire bottom.
Pour batter evenly onto the pans.
Add orange peels to the top of the batter.
Bake in 375-degree oven for 15-20 minutes, until edges are puffed and browned
Cut into serving-sized pieces and serve hot with glaze.
You can also serve with powdered sugar, syrup, lemon wedges, preserves or anything else desired
Glaze:
cups powdered sugar
Tbs. orange juice
Mix until desired consistency. You can add more orange juice if you want the glaze thinner.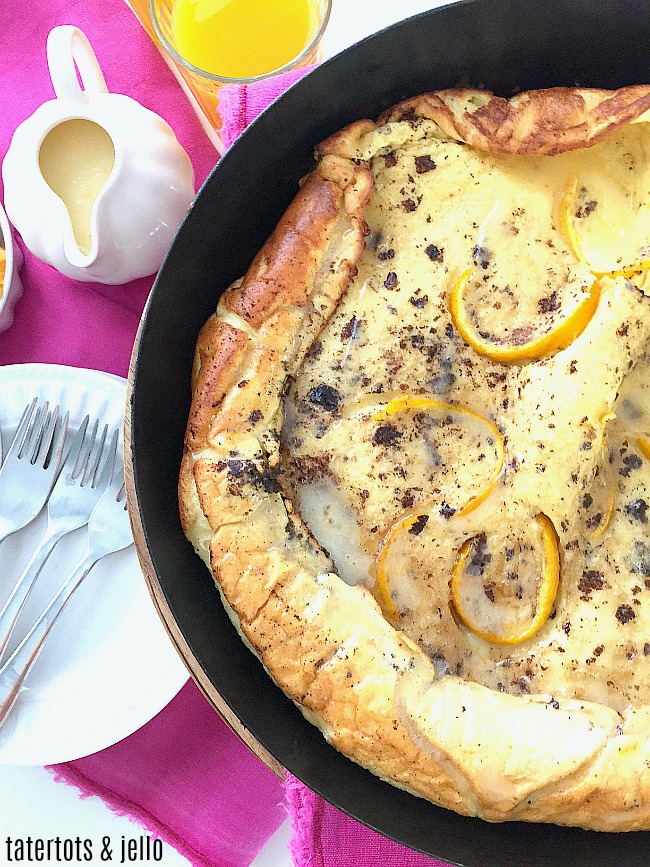 Here are a few other Dutch Baby Recipes we LOVE to make: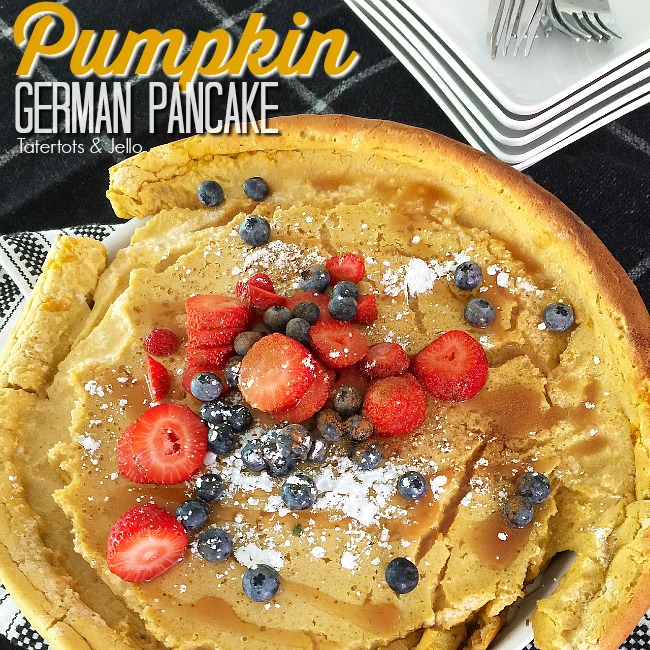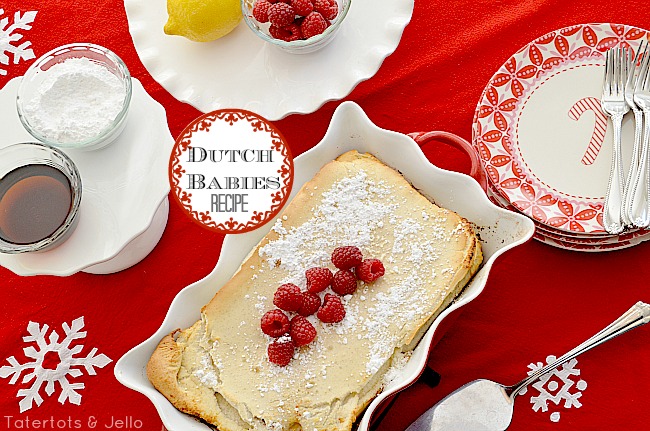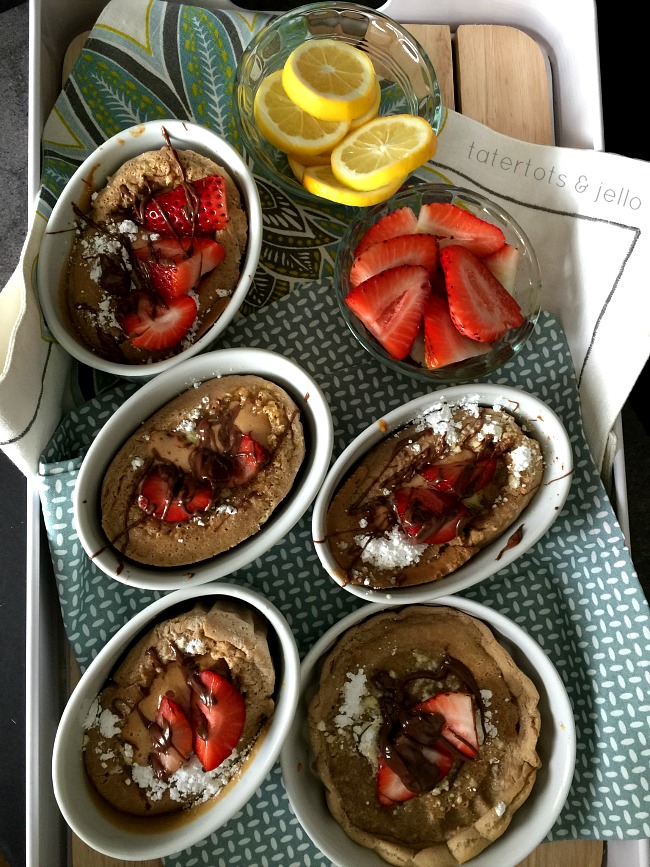 Mini Nutella Dutch Baby Recipe
Have you ever tried making Dutch Babies?
Have a YUMMY day!
xoxo