I may have a little obsession with Orzo pasta.
I love the shape, I love the the texture. And I love using it in salads!
Orzo Artichoke Salad Recipe.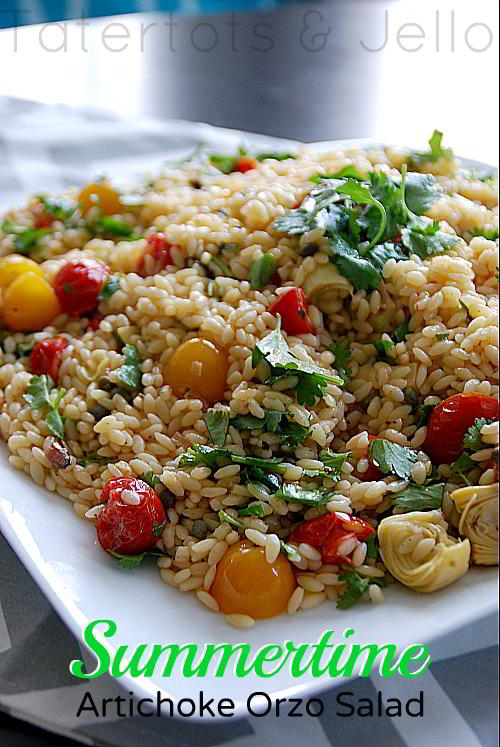 This is my all-time Summertime favorites —
Orzo Artichoke Salad.
This is a recipe that you can almost always find in my fridge in the summertime. I love orzo pasta, fresh veggies and the tanginess of the artichokes and capers. Yum. My kids even take it to school in a little container for lunch. And it tastes even better the second day. I can make a batch and eat it all week.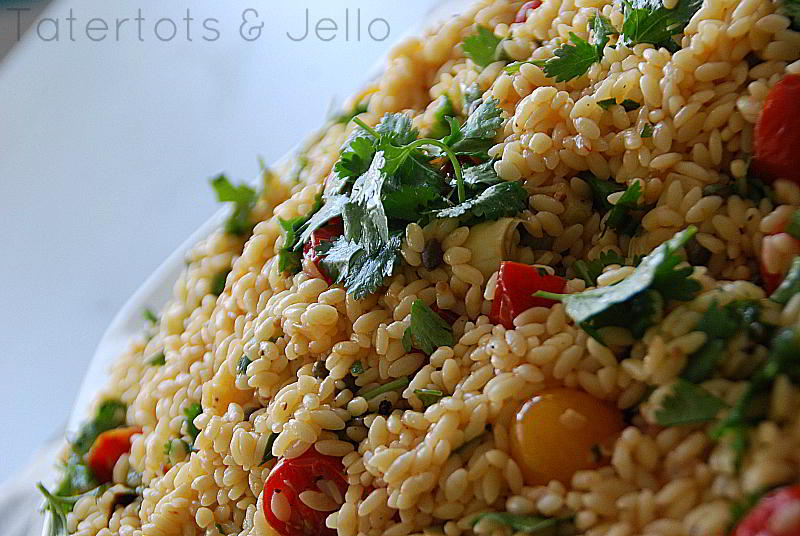 It's actually started with a recipe I got on the back of a box of Giada De Laurentis's orzo pasta. And since then, I've been making changes to it and now it's quite different from the original.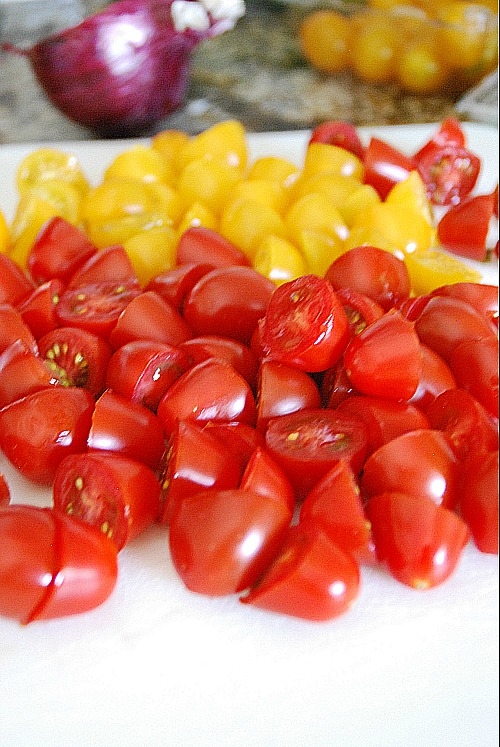 Here's the Orzo Artichoke Salad recipe:
Ingredients:
1/2 cup extra-virgin olive oil, divided
2 small red onion, chopped
1.5 pints of cherry tomatoes, sliced (I like to use a couple varieties)
8 oz. artichoke hearts in oil (I buy mine from Costco)
3 Tablespoons Capers, drained
5 Tablespoons Cilantro (you can use less if you want, or even substitute the cilantro for Thyme if you don't like Cilantro)
1 teaspoon Sea Salt and 1/2 teaspoon pepper or lemon pepper is good too (to taste)
If you want to add protein — you can add some cooked and sliced chicken breast
Directions:
Cook Orzo according to directions
Drain, reserving about 1 cup of the pasta water. Pour the reserved liquid back in with the orzo. This liquid helps create a "sauce" when the other ingredients are added.
In large skillet, heat 1/4 cup olive oil over medium-high heat.
Add onion and cook until the onion becomes transparent.
Then add garlic and cook for about 1 minute.
Add tomatoes, chicken if you are going to use it, artichoke hearts, capers and cook until the tomatoes start to soften. They will start to get a little wrinkly about 5-8 minutes — take off the heat.
Add pasta and stir in the remaining 1/4 cup olive oil and cilantro, chopped. Heat the whole mixture up until it's all heated through and then take off the heat.
Season with salt and pepper to your taste.
You can serve this dish warm, room temperature, or I even prefer it the next day straight out of the refrigerator.
You can't go wrong!! Makes 8-10 servings. You can even add some chopped romaine lettuce to the salad once it's cooled and it makes a wonderful green/pasta salad.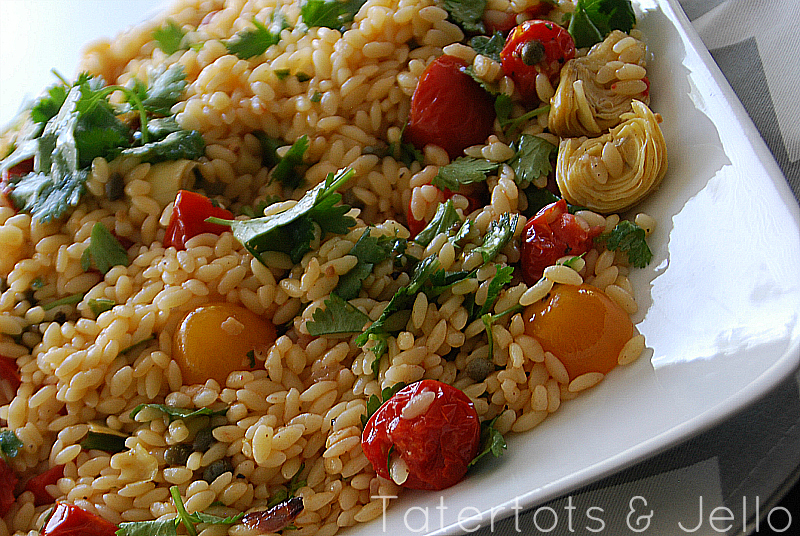 **I cook low fat as much as possible. I have experimented with different types of artichoke hearts. I found that the artichoke hearts packed in oil are much more flavorful and since this salad doesn't have a dressing, per se, the oil in the artichoke hearts adds some oil to the salad and really acts as a dressing. Plus, you are only adding a small percentage of artichoke hearts to the salad and the fat overall is minimal.
This is a dish that you can bring to a BBQ or reunion this summer and everyone will want the recipe!!
Do you have a Summer Recipe you would like to share??
I'm including a link below so everyone can share their favorite summer recipes!!
I'm excited to try out YOUR recipe this summer.
Have a Beautiful Day!!
xoxo