Marbled Easter Egg!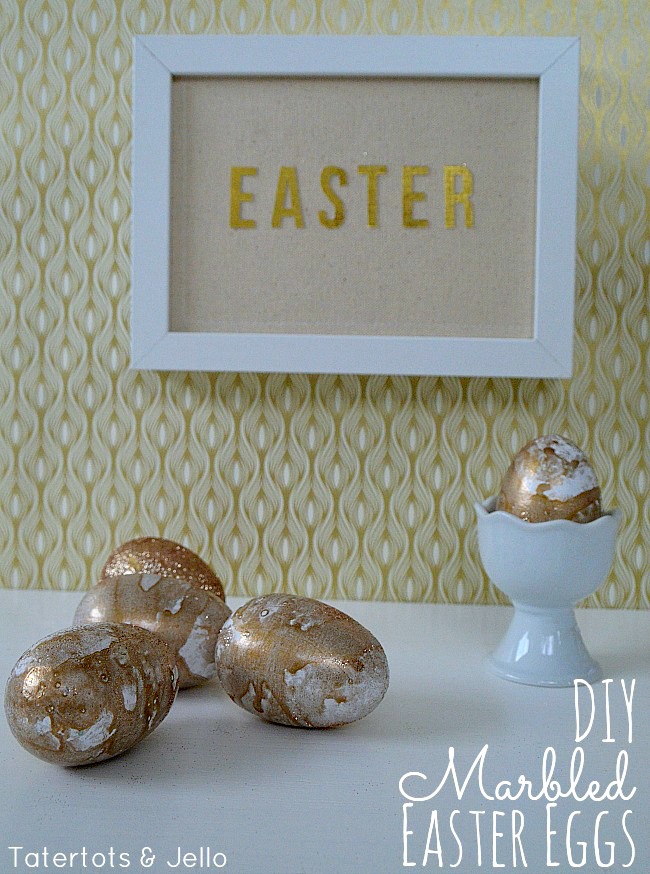 Easter is such a fun time of the year!
I always get excited to decorate for Easter because of what it symbolizes and also it means that SPRING is on the way!!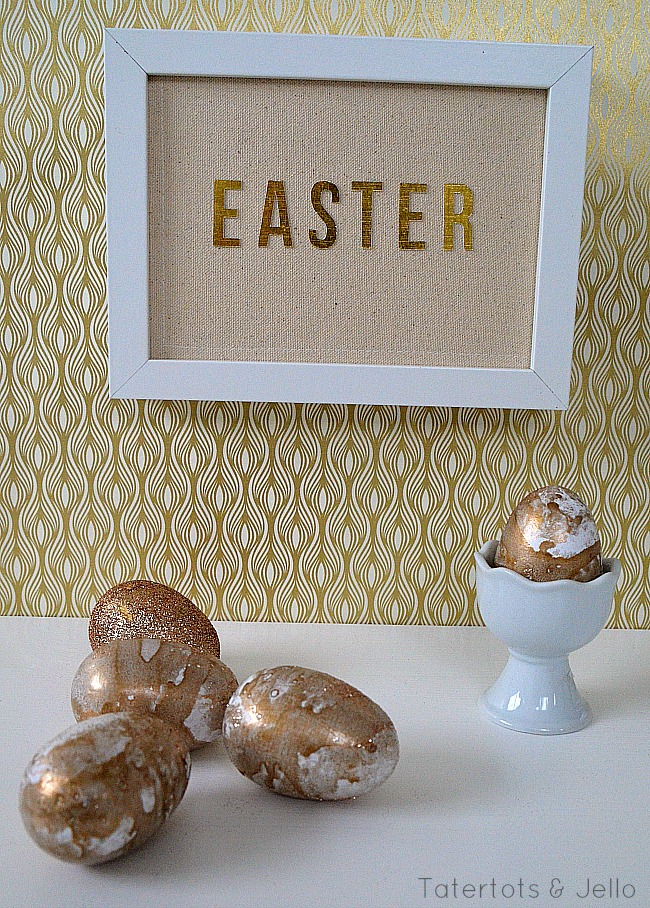 I love gold and I love glitter.
So I thought it would be fun to try my hand at Marbled Gold Easter Eggs!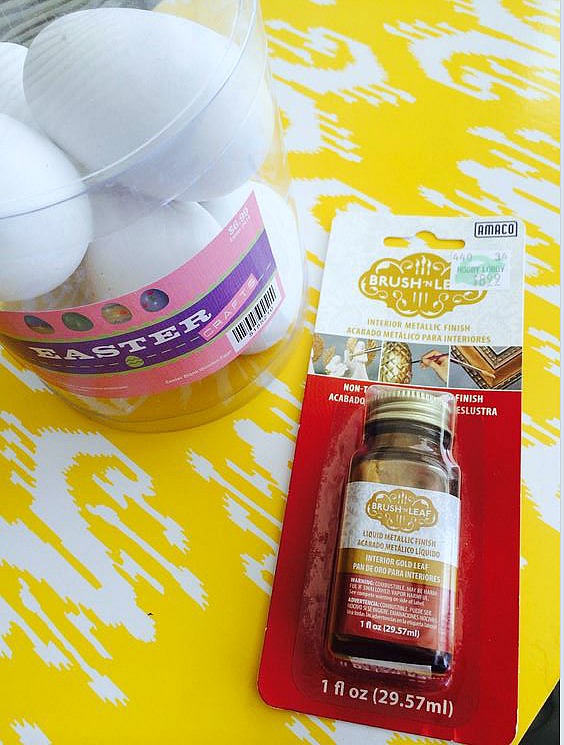 I started off with some gold oil-based paint from the craft store.
I used resin eggs I found at Hobby Lobby.
Here's how I made the Gold and Glitter Marbled Eggs:
Supplies:
Resin Eggs
Gold oil-based paint
plastic cup or bowl
water
glitter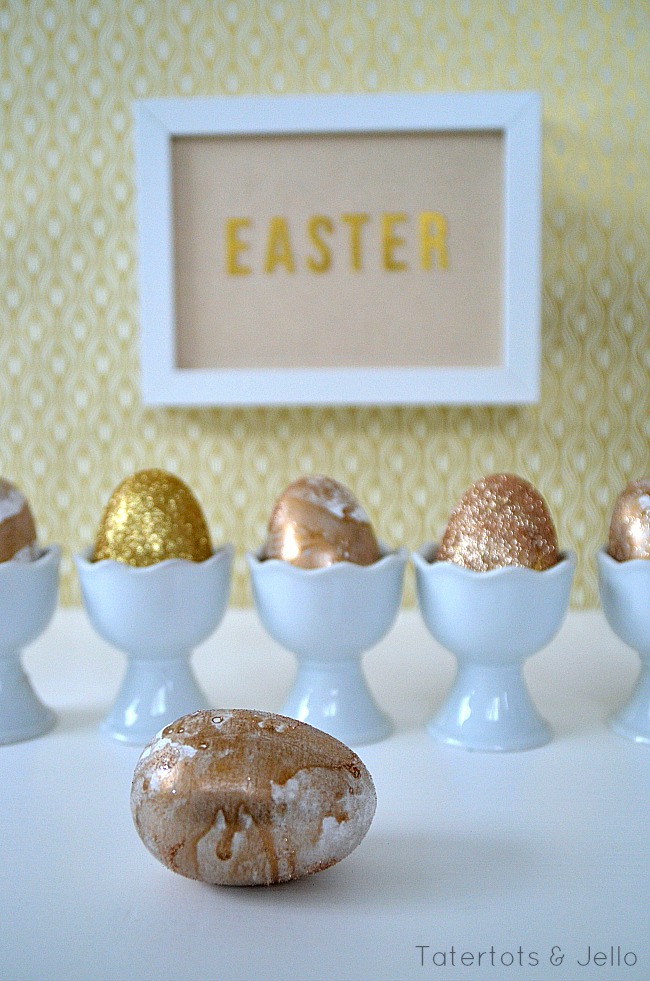 First of all, this type of paint is very strong. It eats through styrofoam and thin plastic. So if you are dipping your eggs in a cheap plastic cup, you need to add a couple of cups on the outside just in case the paint eats through the plastic.
Here's a tip — fill the cup half way with room-temperature water.
When you pour the paint into the cup, if the temperature is right, the paint will float on the surface of the water.
Then be sure to wear gloves to protect your hands.
Dip the egg into the water and roll it around until it grabs the paint.
Then lay it onto wax paper.
The last thing I did was I sprinkled some gold glitter onto the eggs while they were stil wet so the glitter would stick.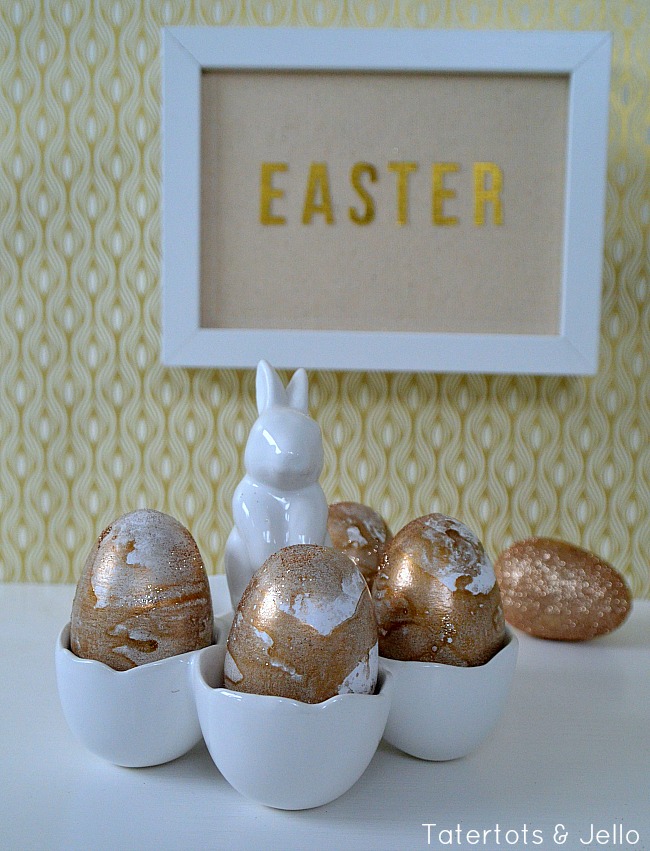 I love the contrast of the white with the gold.
It's so pretty!!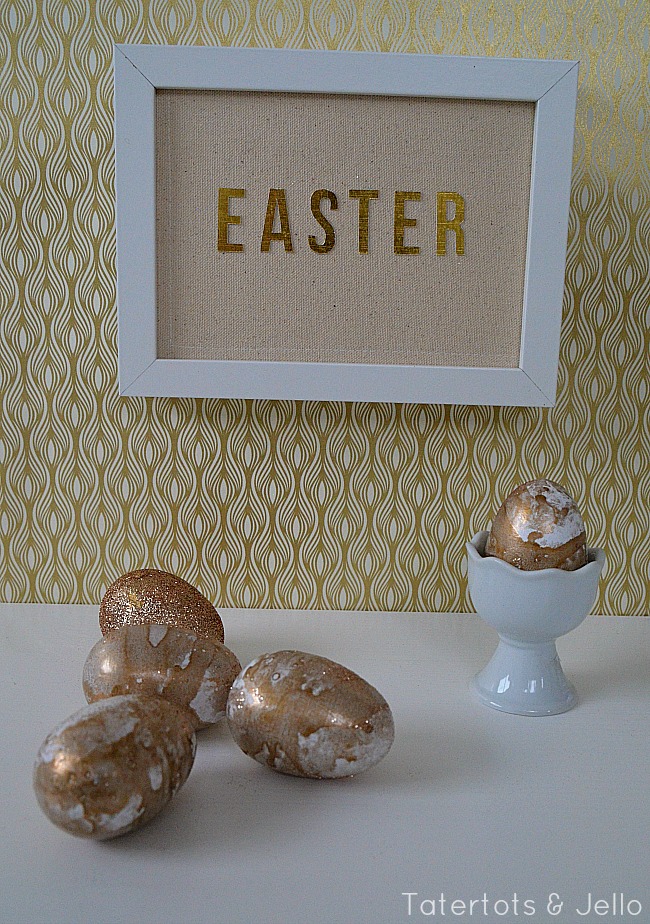 Now that I've shared my fun Easter creation, some of my favorite creative friends and I are pleased to invite YOU to wow us with yours!
INSERT THE EASTER PARTY GRAPHIC HERE
The Easter-themed Year of Celebrations Pinterest party will be held this Sunday, March 30, and y'all are all cordially invited to join in!
Hosted by…
The monthly Year of Celebrations Pinterest Party is the place to find THE most comprehensive, inspiring Pinterest board on the block. Each and every month, we'll be focusing on a different holiday or celebration, and this month is all about Easter!
Here are all of the details for how YOU can participate:
What: A Pinterest Party to celebrate all things Easter!

When: THIS Sunday, March 30 at 9 p.m. EST/ 8 p.m. Central/ 7 p.m. MST/ 6 p.m. PST
How you can participate:
Round up YOUR favorite Easter projects and recipes. Anything goes: crafts, decor, sweet treats, and more!
When the party kicks off, tweet YOUR favorite Valentine's Day project and/or link using the hashtag #yearofcelebrations. Helpful hint: We highly recommend putting the hashtag at the beginning of your tweet to ensure it doesn't get cut off.
On Sunday, March 30, tune in at the appointed time and watch as we build a board full of amazing ideas – including yours!
Be sure to follow along during the party to repin and comment on the board's posts using the hashtag #yearofcelebrations.
We are so excited to PIN and SHARE all of your amazing projects!
See y'all there! 🙂
Have a HAPPY Day!
xoxo

PS: I've linked up this post to these fabulous blogs this week!