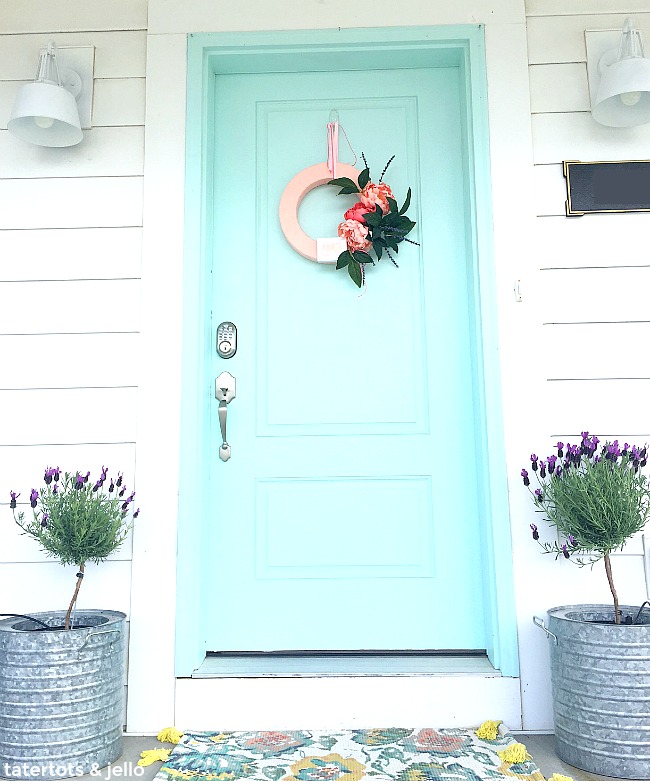 10-Minute Summer Peony Wreath
I am excited for the weather to warm up!! I love Spring and Summer. The other day I was at Costco and I found the cutest lavender topiaries. I potted them in inexpensive galvanized containers on both sides of my front door. I love the way they look! But the purple didn't look great with my wreath. So I made a new one. I love peonies and I thought using peonies and lavender on a wreath would be summery and pretty! 10-Minute Summer Peony Wreath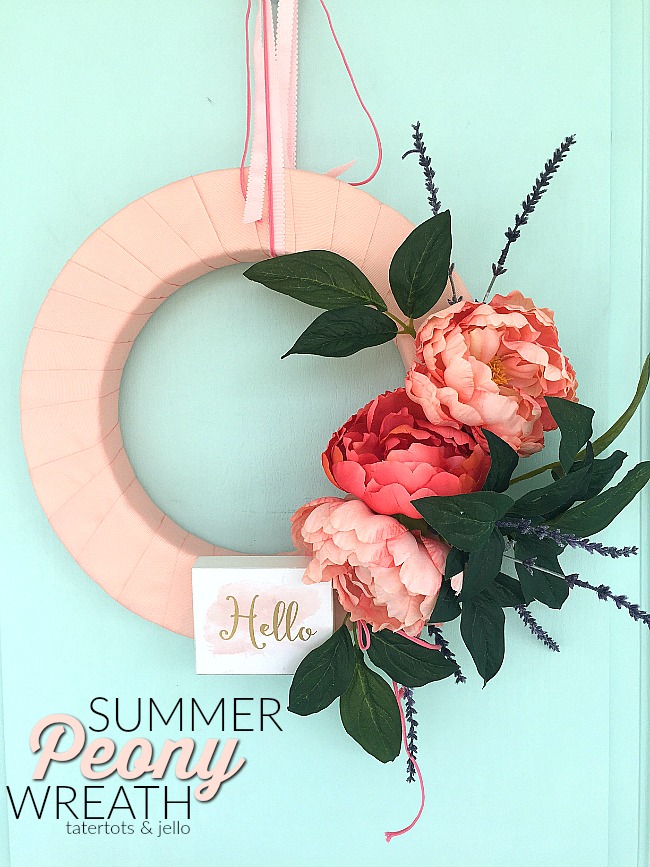 Make a 10-Minute Summer Peony Wreath
I LOVE making wreaths. My friends have often told me I could have a wreath JUST about wreaths and be happy and I think that's true! This one is simple and it takes about 10 minutes to create!

So make one and hang it up!! Tag me @tatertotsandjello on Instagram so I can see it if you do! I would love to see what YOU are doing!!
Here's how to make this 10-minute Summer Peony Wreath:
Supplies:
2-3 spools of thick ribbon. I bought three but only ended up using two. My ribbon was 12 feet long in each spool .
3 peonies (artificial of course)
6-8 springs of lavender (artificial)
two smaller ribbon for accents
A little saying block. You can make one with a wood block and vinyl or buy one (optional)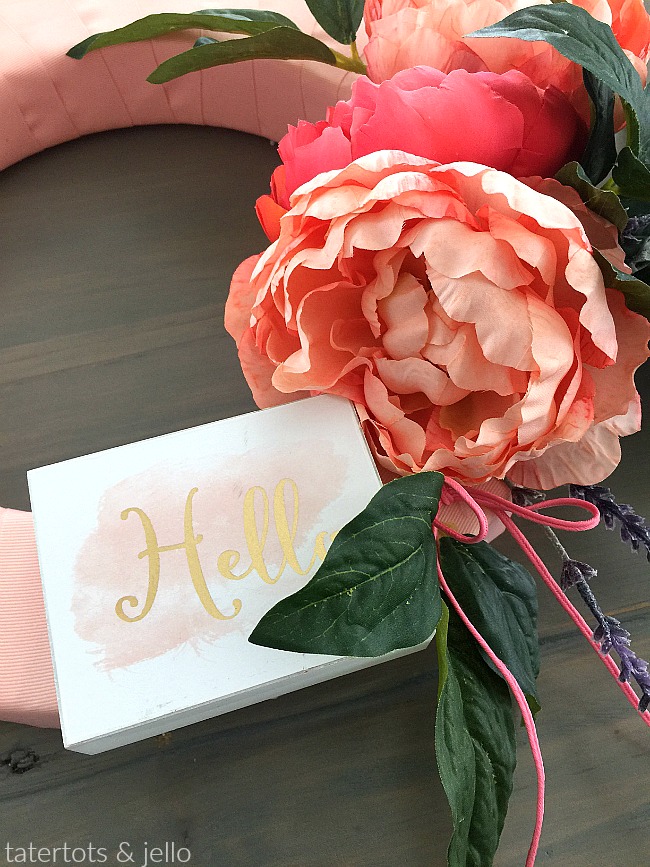 Make a 10-Minute Summer Peony Wreath
Directions:
Wrap your wreath with the wide ribbon, overlapping the ends of the two spools in the back of the wreath and attaching them together with hot glue.
Cut the stems off the peonies and lavender and arrange them on the wreath, then hot glue them on.
Hot glue your saying block on the wreath if you want to use one.
Add a hanger on the back of the wreath with ribbon, or wrap ribbon around the top of the wreath to hang it on your hook. My door has a hook that's pretty high, so I wrapped ribbon around the top so it would hang down on the door. If you don't like the look of the ribbon at the top you can add a little ribbon to the back and use that to hang it onto your hook.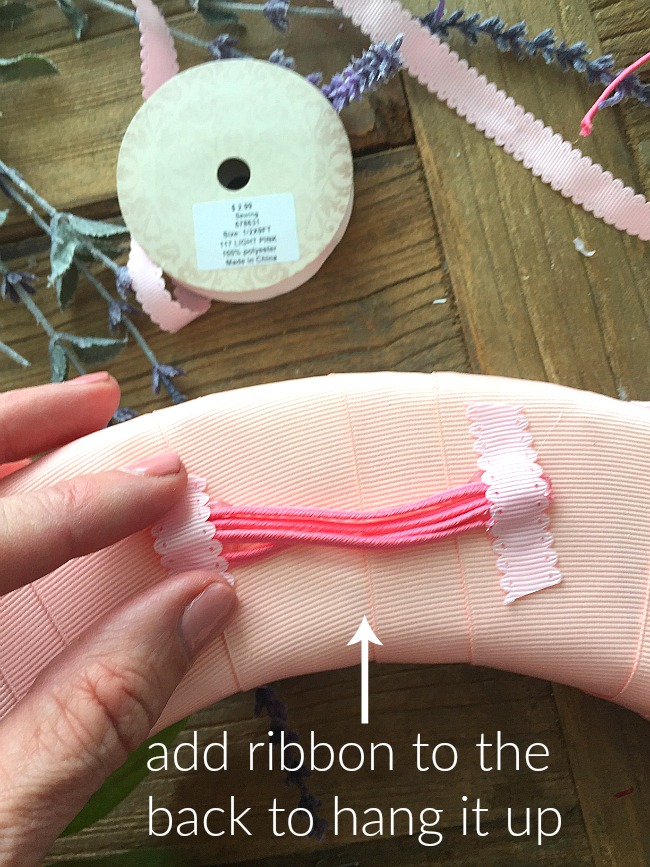 Now all I need is sunshine and I am ready for Summer. Bring it on!!!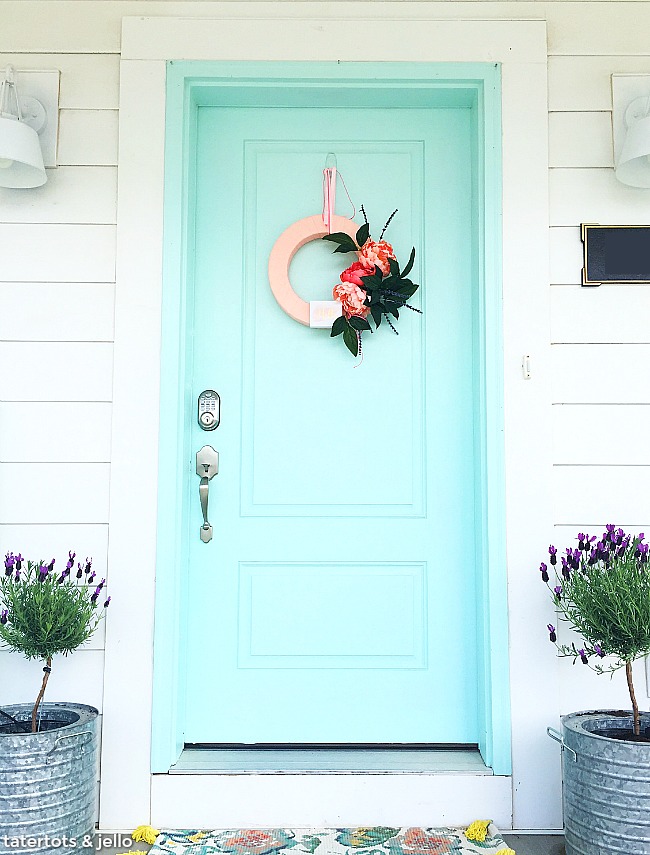 Here are a few other wreaths I have made and love: