This is a sponsored post written by me on behalf of Hobby Lobby. All opinions are 100% mine.
License to Grill Father's Day Gift Basket. Celebrate the dads in your life by creating a fun grilling gift basket with personalized basket and BBQ apron!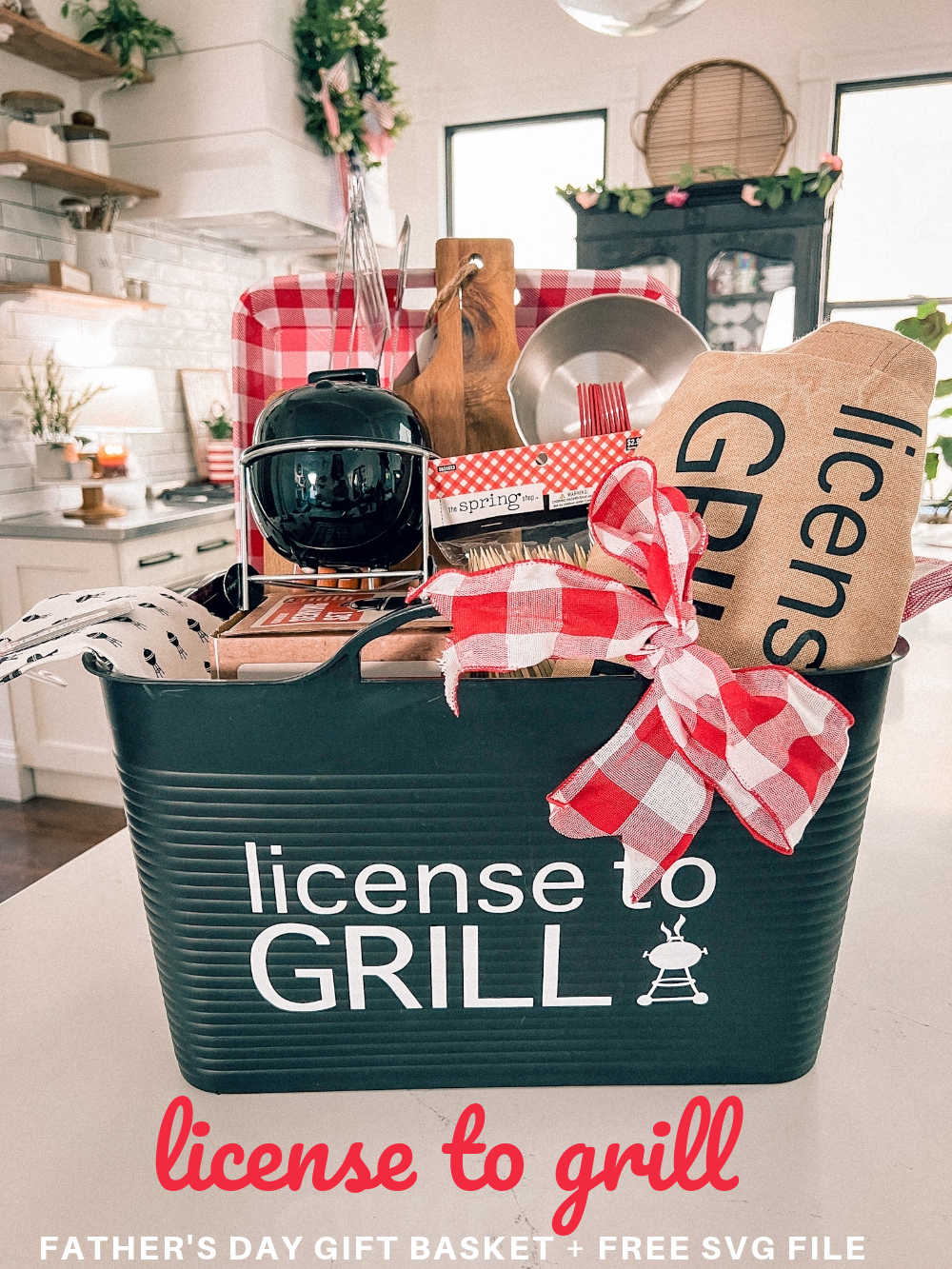 License to Grill Father's Day Gift Basket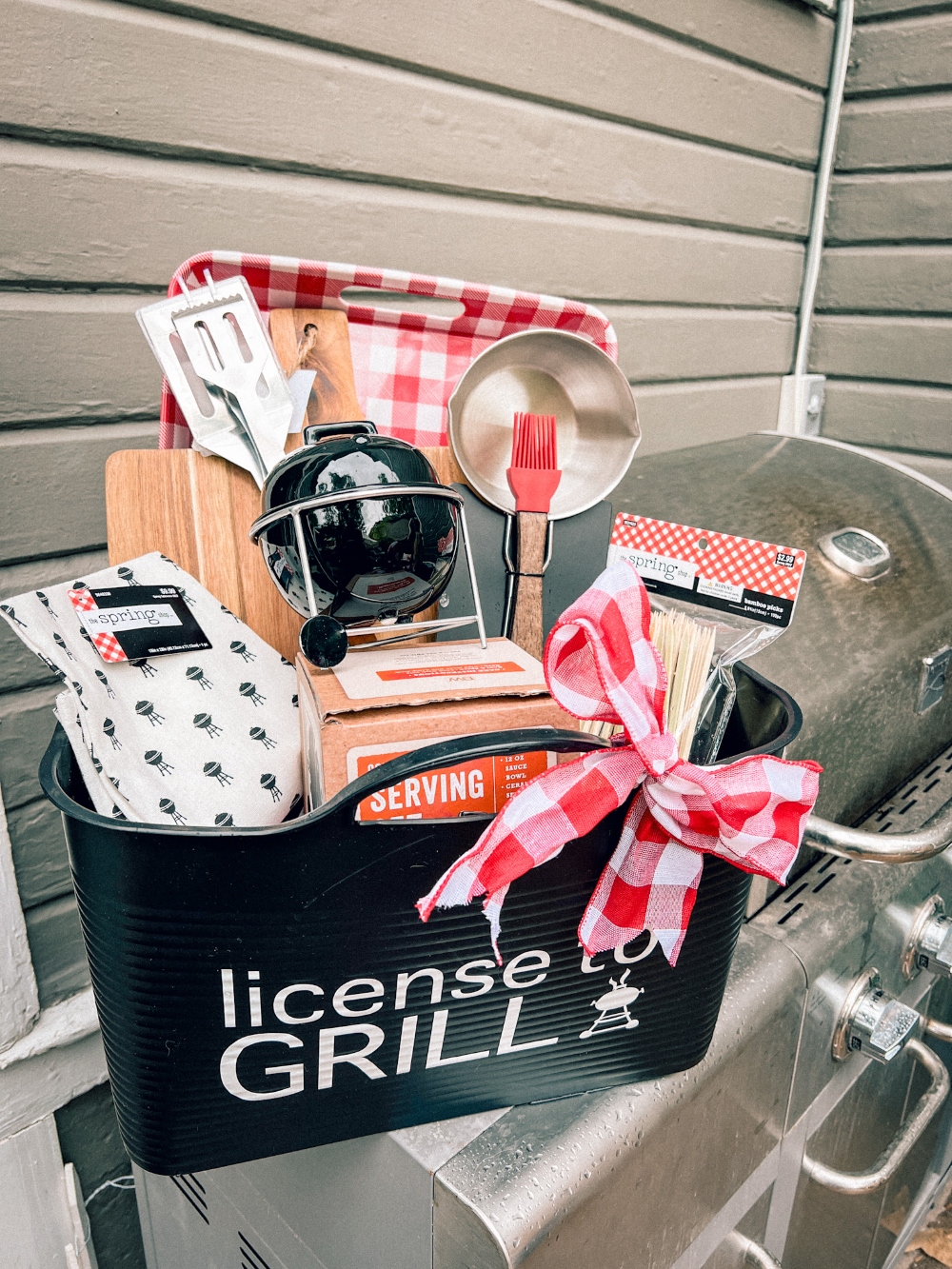 It's June, time to celebrate the fathers in our lives! I love creating something fun and useful to give my cute husband for Father's Day. He loves to grill so I thought it would be exciting to create a BBQ-themed gift basket. He also loves the James Bond movies and I came up with a "License to Grill" theme which is a spin on the 007 "License to Kill" from the James Bond movies.
Use a Tote as a Gift Basket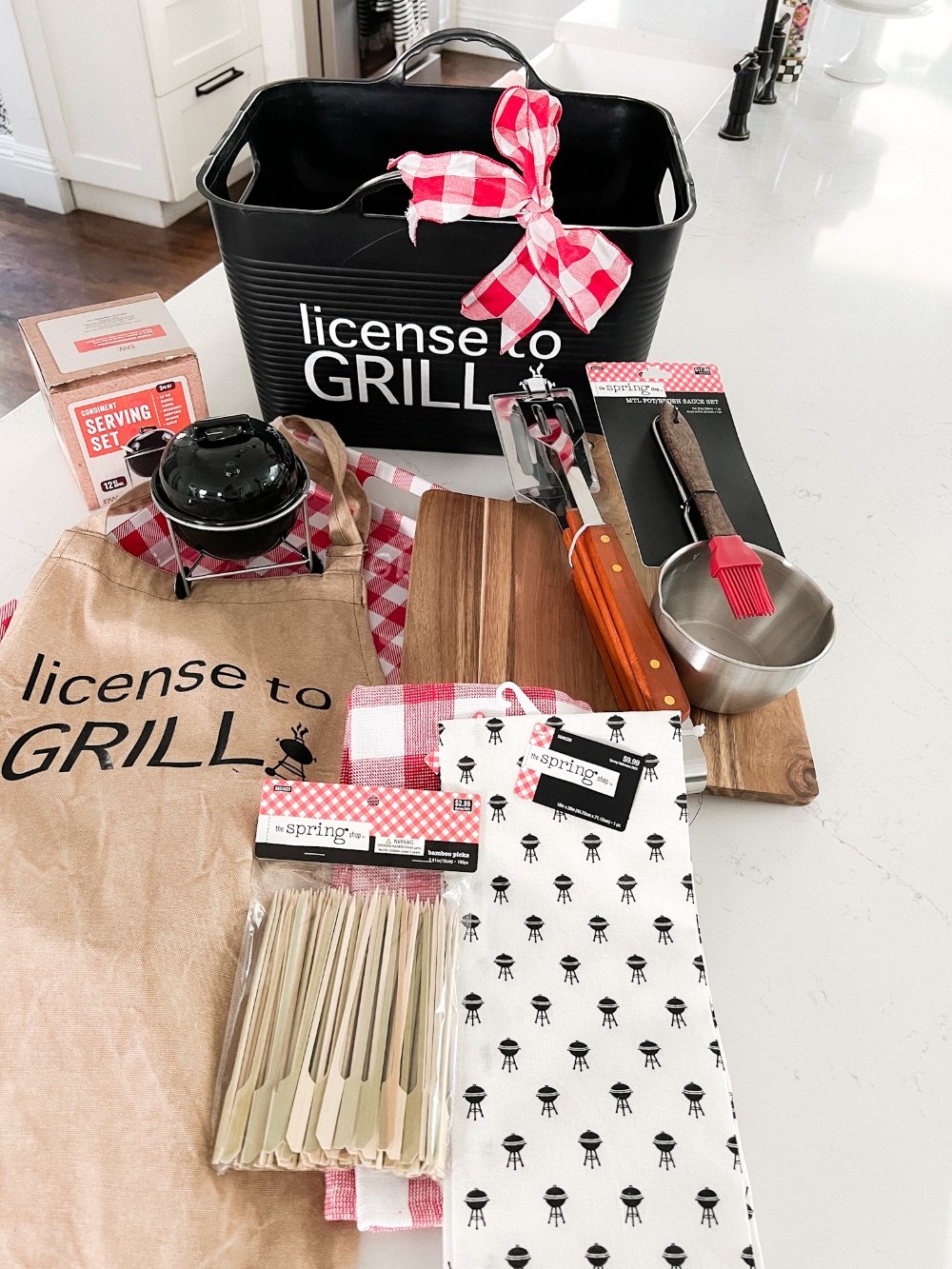 Instead of a traditional woven basket, I used a plastic tote from Hobby Lobby's Spring Shop. It's perfect to display the BBQ gift items but it's also useful for him to corral all of his BBQ tools to store during the year!
Fill With BBQ Items
Hobby Lobby's Spring Shop has SO many great BBQ tools, towels, dishes and themed accessories. I had a hard time narrowing them down to just a few! I decided to go with a red and white picnic theme which seemed perfect for the BBQ gift basket. I found a great Red and White Gingham Tray which I placed in the back of the tote. Then I added this beautiful Wood Acacia Cutting Board which will be perfect for cutting and serving BBQ items. I placed the cutting board in front of the gingham tray. I added some useful tools like these Grilling Tools, with a two-pronged BBQ fork, slotted tongs with serrated tips, and a slotted turner with a tapered tip. He can hang these up on the grill or keep them with the other BBQ items in his new bin. I also found some festive towels which are perfect for cleaning up BBQ messes and also displaying! The Buffalo Check Towel and White and Black Grills Kitchen Towel are perfect for this BBQ theme! I fell in love with this retro Black BBQ Grill Bowl – perfect for condiments. The last item I grabbed was this beautiful Natural Stone-Washed Apron with Pockets!
Personalize BBQ Items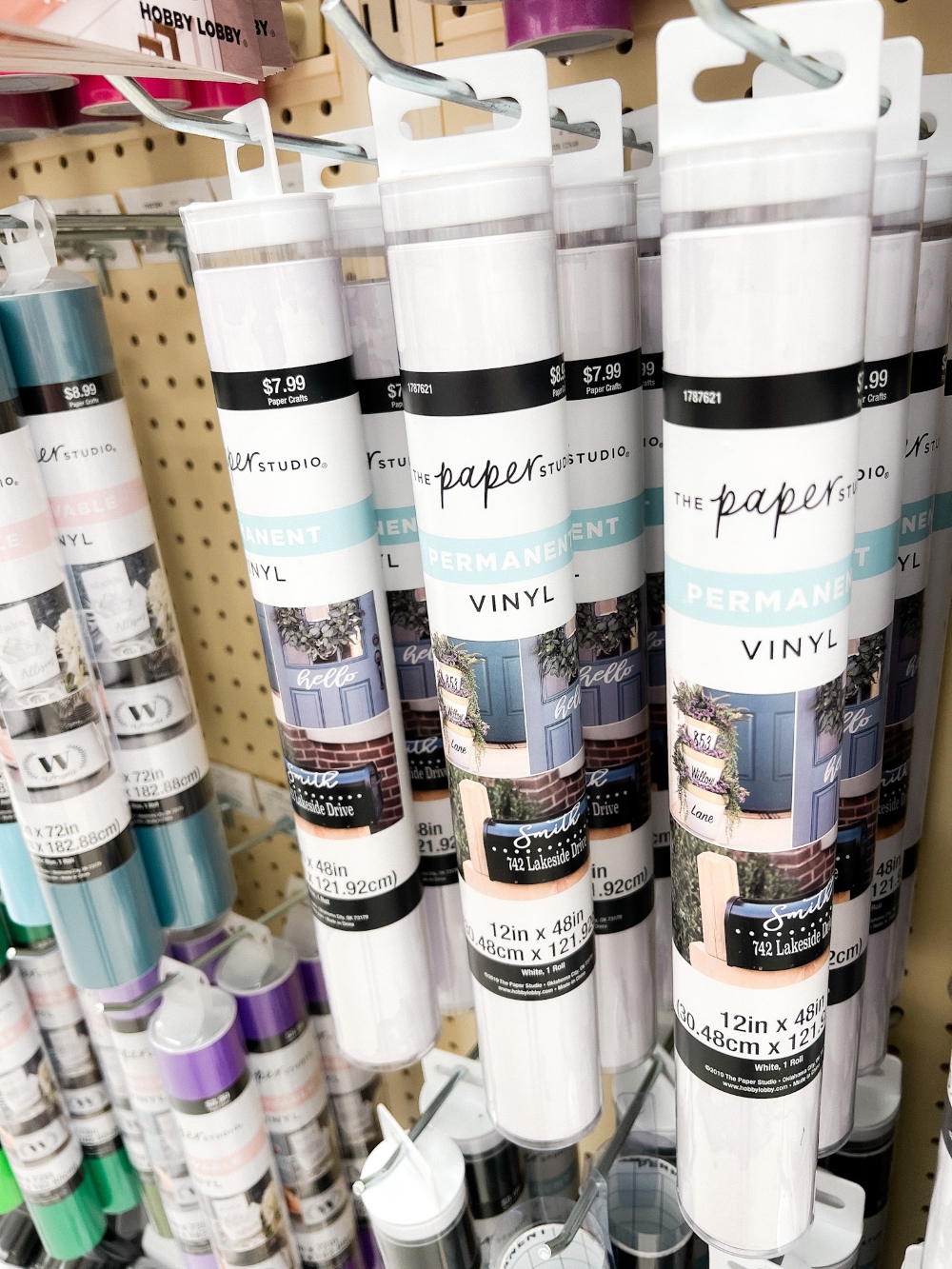 I wanted to make this Father's Day gift basket extra special by personalizing some of the items. I chose to personalize the gift tote and the beautiful natural apron.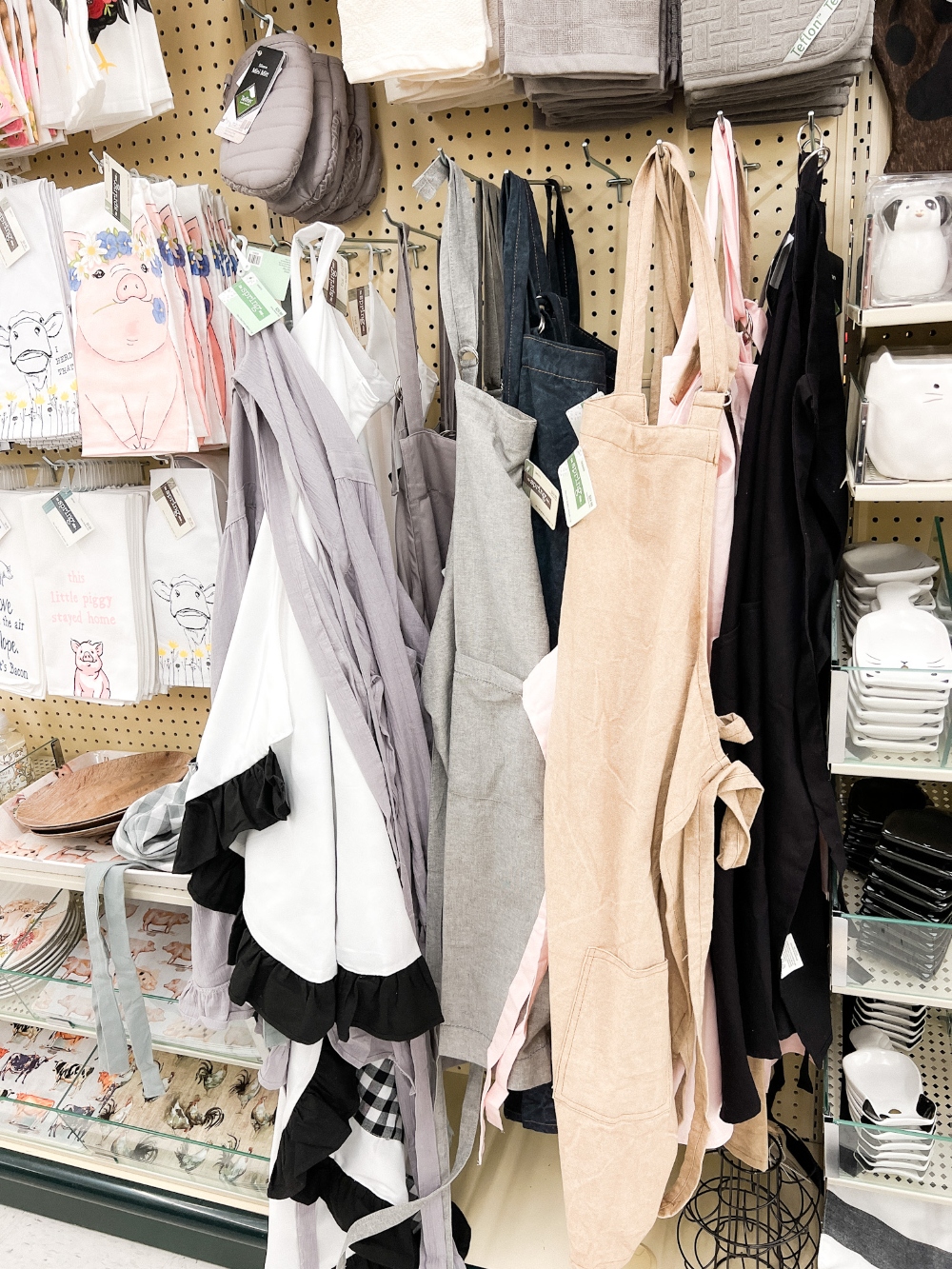 I headed over to Hobby Lobby's Craft Deaprtment and picked up a roll of White Paper Studio Permanent Vinyl, Black Paper Studio Iron-On Heat Transfer Vinyl and some Paper Studio Transfer Tape. Using a craft cutting machine is an easy way to personalize gifts.
How to Personalize an Apron with Heat Transfer Vinyl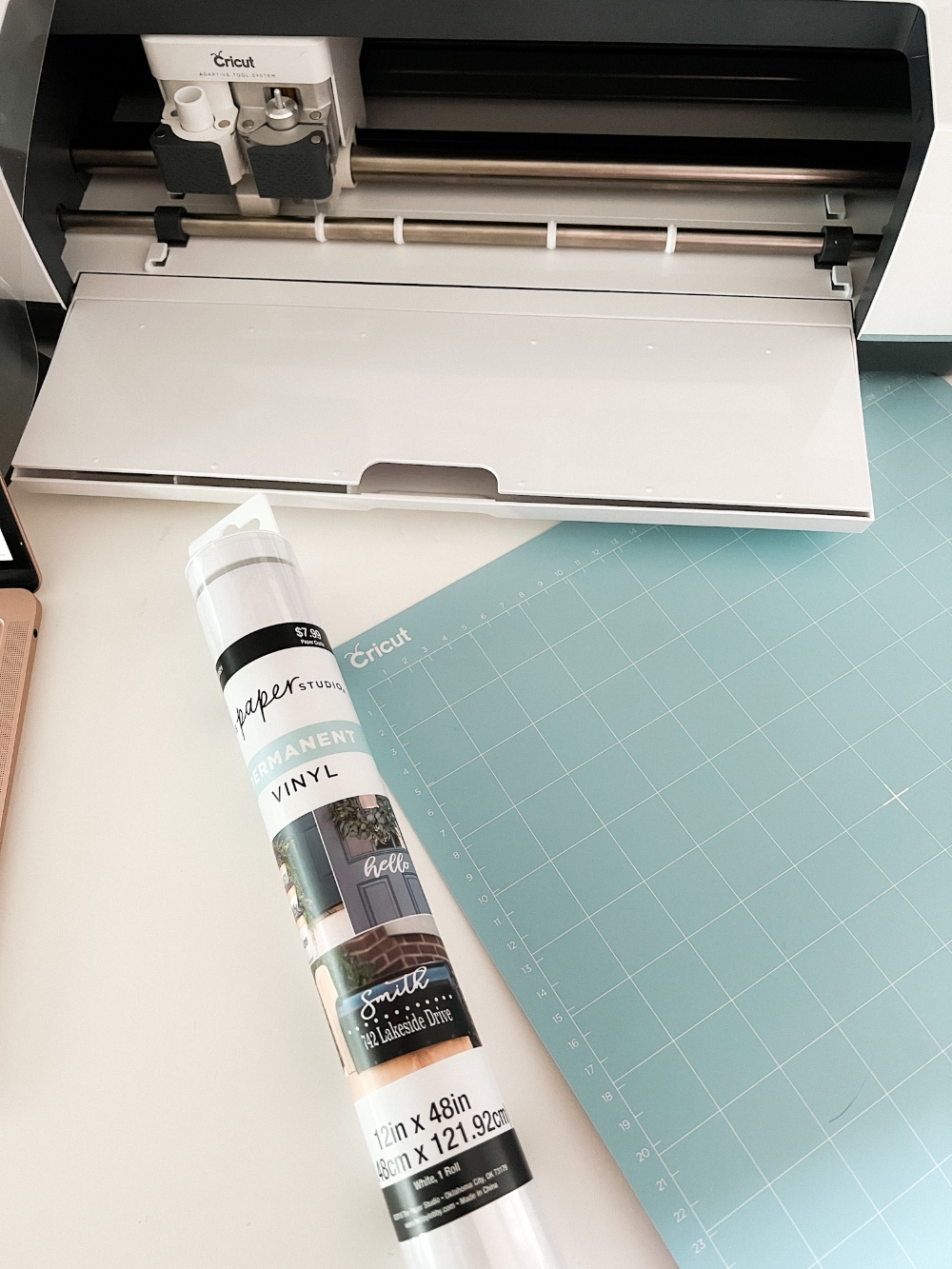 There are a few tips that make using heat transfer vinyl very easy. The first is once you create your image, you need to mirror the image. Heat transfer vinyl is cut using a mirrored image. You insert the vinyl into the craft cutting machine with the shiny backing side down. Cut the image and then peel off the excess vinyl. Heat transfer vinyl is adhered to the fabric through heat. I set my iron to a steamless setting. Then you lay the heat transfer vinyl on top of the apron with the shiny side up. Apply pressure while ironing and evenly distribute the heat. After about a minute I peel some of the vinyl away to see if the letters are sticking to the apron or are still sticking to the back of the vinyl. If the letters aren't adhering to the apron, keep ironing evenly for another minute and check. If the letters seem to be sticking to the apron, stop ironing and let the vinyl cool. Once the vinyl is cool, gently peel the vinyl back and you have your personalized image. Heat transfer vinyl is washable!
Personalize Your Tote with Permanent Vinyl
Now cut out your vinyl image for the tote. You can also personalize the back of the cutting board if you want. Your image should appear on screen the same way you want it to look on the tote. There is no need to mirror your image if you are using regular vinyl. Cut out the image, then peel back the uncut vinyl, revealing the saying or image you are using. Then add the transfer tape over the top of the image. The sticky side should be down on top of the image you cut out. Now flip the vinyl over and peel off the back of the original vinyl image. Lay the image in the center of the tote. Rub the vinyl onto the tote with your hand or a credit card. Peel off the vinyl tape, the white vinyl is now attached to the tote. Use your hand or a credit card to smooth out any bubbles and make sure all of the edges are sticking to the tote. I used permanent vinyl, not temporary vinyl. This type of vinyl is very sturdy and even water-proof. If you do add a vinyl saying to the back of the cutting board, be sure to hand-wash the cutting board. Don't put it inside the dishwasher where the hot temperatures can damage the vinyl.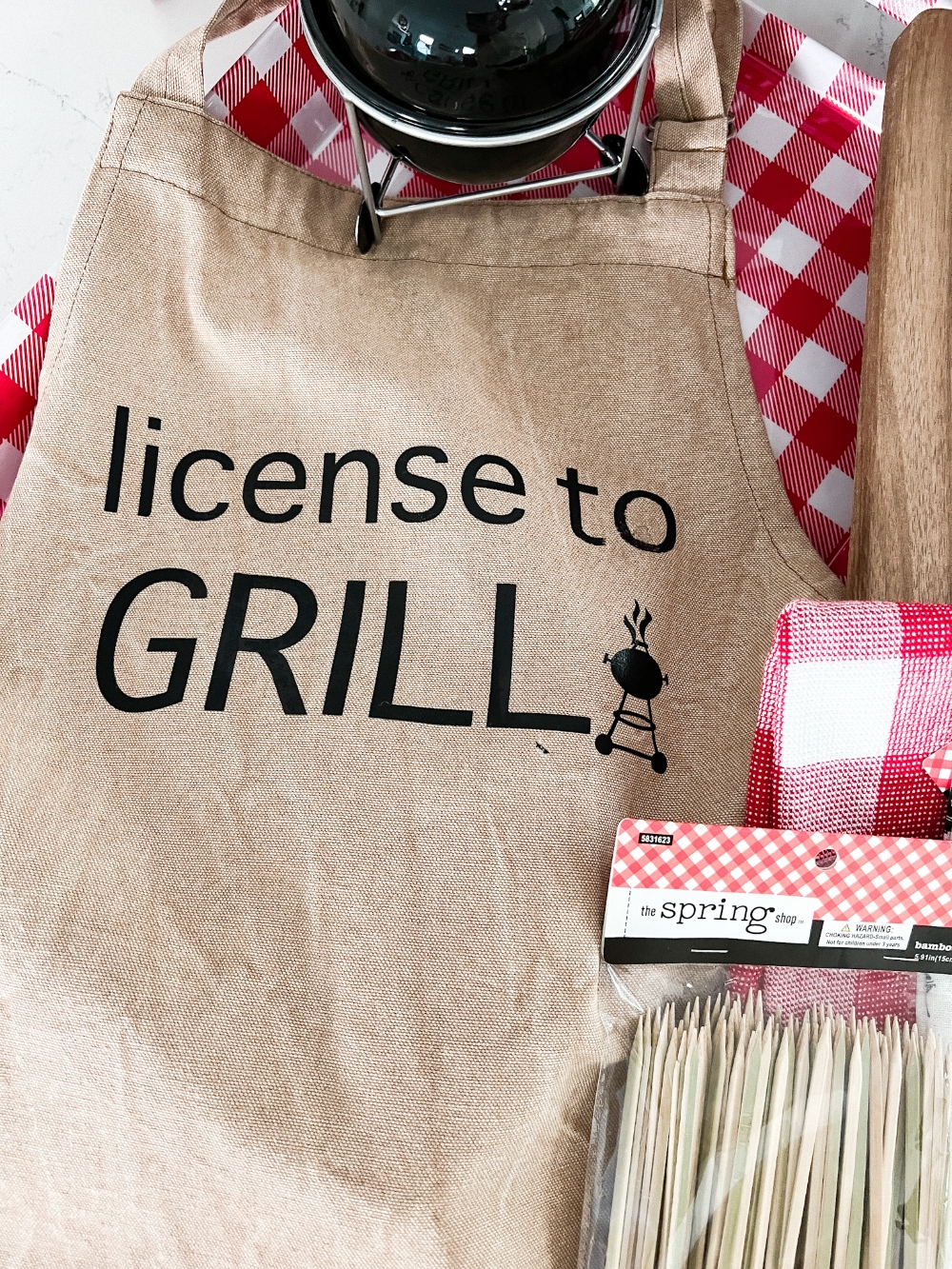 Free SVG License to Grill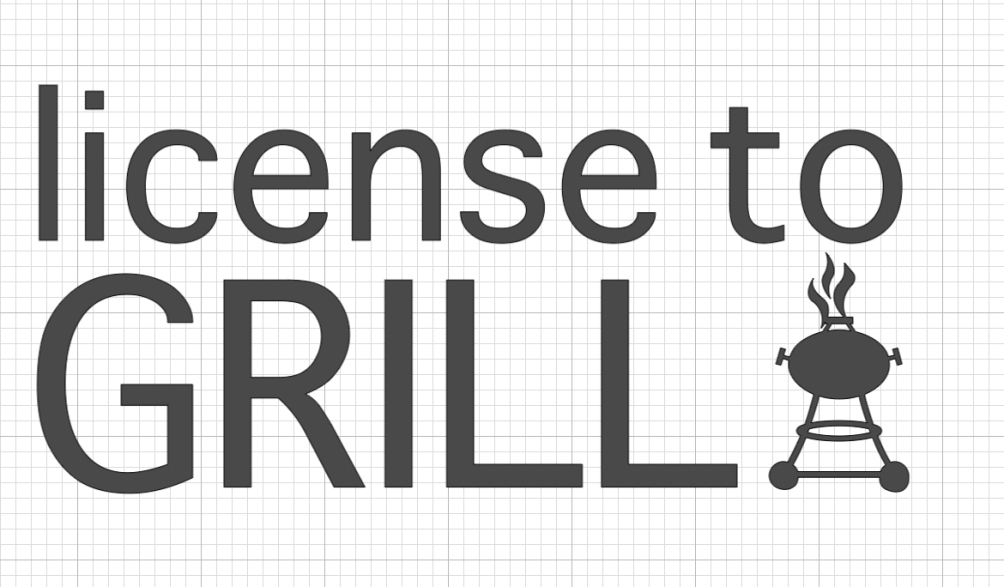 I created this License to Grill image for this project and I am sharing it as a FREE SVG file! Just right-click on the link below to save the image and use it! I have an Instagram reel showing how to use the SVG and create this fun Father's Day gift basket on my Instagram at @tatertotsandjello!
Hobby Lobby's Spring Shop and Craft Department are on Sale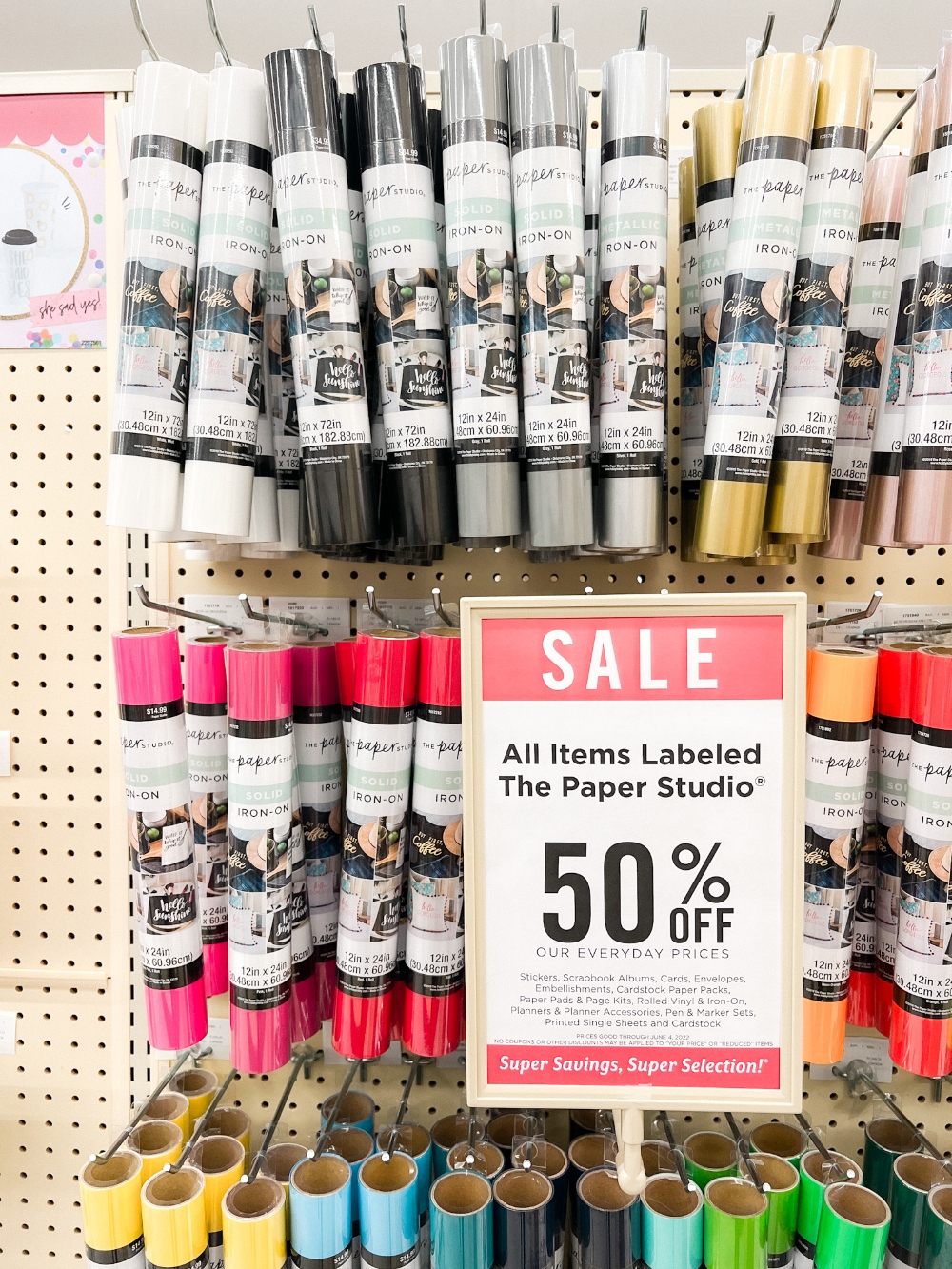 Right now ALL of Hobby Lobby's Spring Shop and their Craft Department items are 50% off!!! It's an amazing sale so be sure to head over and stock up on your craft supplies! I love the Paper Studio line of supplies so much!! You can grab paper packs, stickers, vinyl and craft cutting supplies, pens, buttons and so many craft supplies for future projects. And the Spring Shop is full of beautiful table and entertaining items, placemats, tablecloths, serving pieces, BBQ items, signs, home decor, storage items and beautiful yard signs and decor for summer decorating!
Thanks Hobby Lobby for helping me create this dreamy Father's Day Gift Basket for my cute hubby!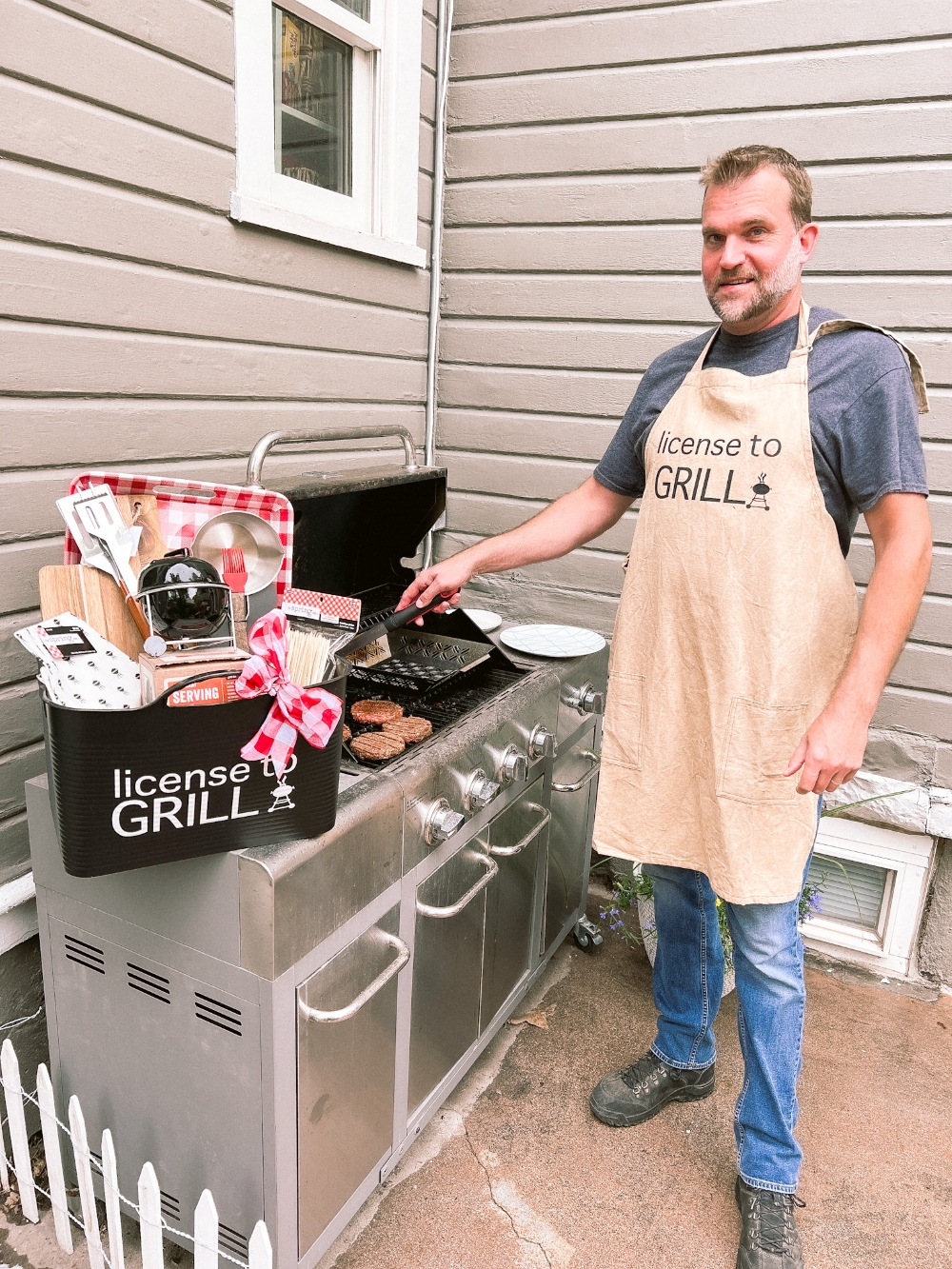 Follow Hobby Lobby to see what's new and all kinds of project inspiration!
Have a creative day!
xoxo