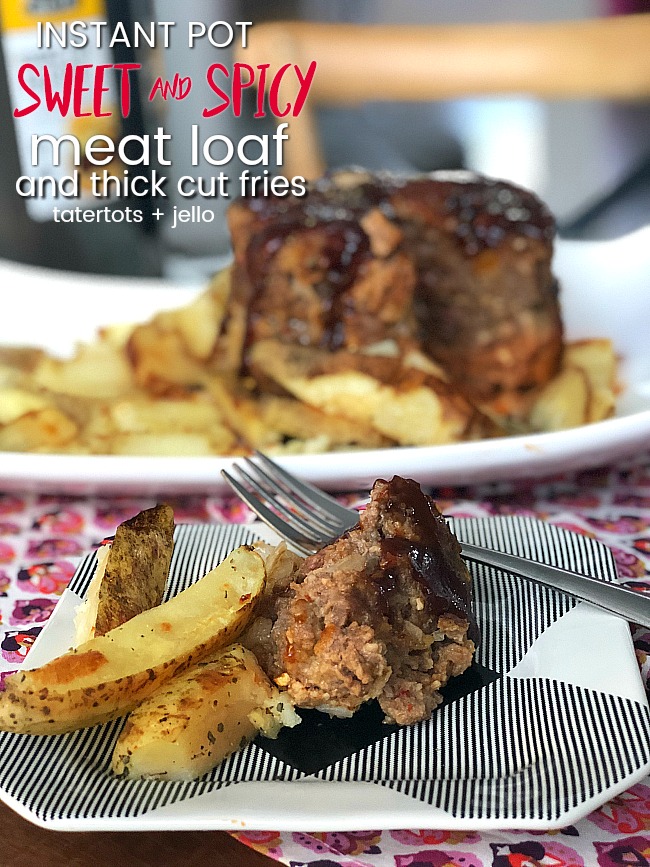 Instant Pot Sweet and Spicy Meatloaf + Thick Cut Fries
My Instant Pot saves me so much time! Over time I have found ways to be even MORE efficient. Like being able to cook more than one thing at a time in my Instant Pot, which is a game-changer. After a long day I can toss a whole dinner in the Instant Pot and it's done in half an hour. Like meatloaf AND fries in less than half the time they would take in the oven. It makes mom-life so much easier! Instant Pot Sweet and Spicy Meatloaf + Thick Cut Fries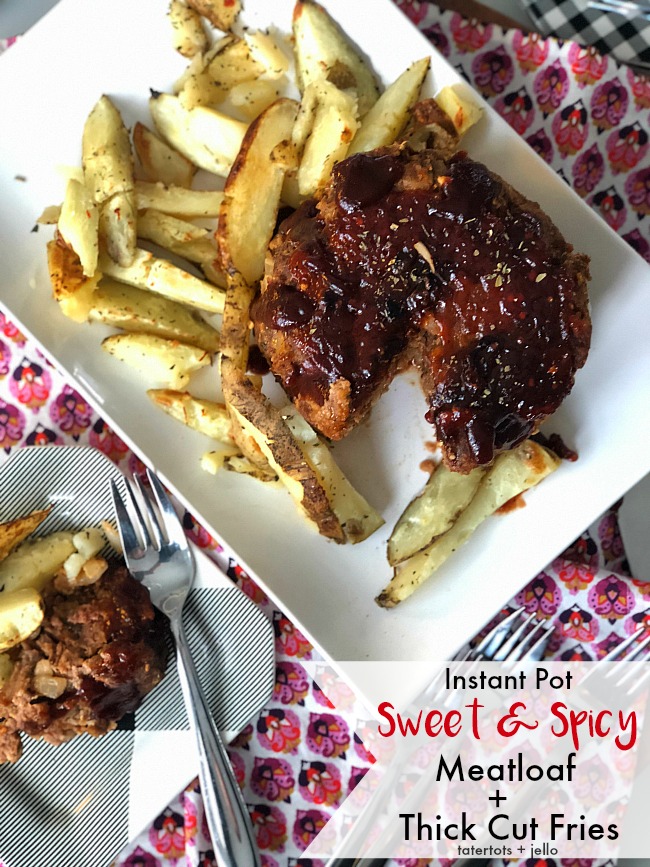 And the trick to making these fries AMAZING is I took them out and put them on a baking sheet with some herbs and BROILED them for a few minutes to get the outside crispy. Who wants floppy fries, right??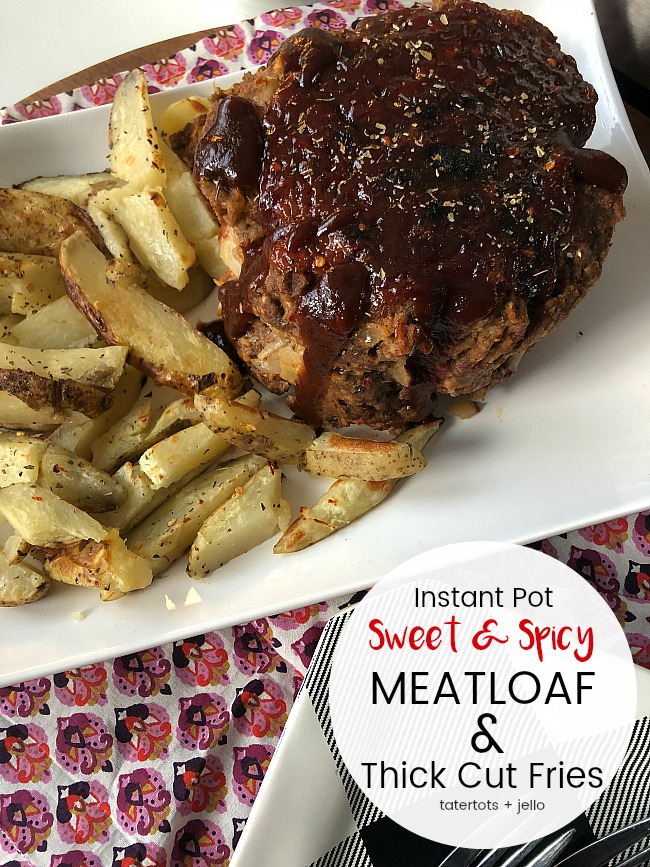 The thing that sets this meatloaf apart from regular meatloaf is the sweet, tangy and subtly spicy sauce. I cooked the sauce as my Instant Pot pressure reduced and drizzled it on top of the meatloaf while the fries cooked. YUM!
This is a homestyle meal that is comforting as well as delicious. Your kids will love the addition of the fries. And you will love that the fries are lower in calories and fat than fries that have been fried. A win-win for everyone! Here's the recipe for Instant Pot Sweet and Spicy Meatloaf + Thick Cut Fries :


Instant Pot Sweet and Spicy Pepper Meatloaf + Thick Cut Fries
Instant Pot Sweet and Spicy Pepper Meatloaf and Thick Cut Fries - a meal that everyone will love in less than half the time of cooking in the oven!
Prep Time 5 minutes
Cook Time 40 minutes
Total Time 45 minutes
Ingredients
.75 pounds lean ground beef
.75 pounds sweet ground sausage
1/2 onion, diced
4 cloves garlic, minced
1 Tbs. dry or fresh Italian Spices
1 cup breadcrumbs
2 Tbs. BBQ sauce
2 Tbs. Dijon mustard
1 tsp. Red pepper flakes
1/2 tsp. black pepper
1/2 tsp. salt
2 eggs
1/8 tsp. Cayenne pepper
4-5 medium Potatoes, cut into long thick sections
2 cups water
Sweet + Spicy Pepper Sauce
1 cup BBQ sauce
4 Tbs. Dark corn syrup
2 tsp. Red pepper flakes
1/8 tsp. Cayenne Pepper
1 Tbs. Italian Seasoning
2 Tbs. Butter, heated up
Instructions
In a large mixing bowl all ingredients, except for potatoes and water. Mix well. I use my hands to get everything mixed well.

Spray pan with non-stick spray. I used a 8-inch cake pan.

Put meatloaf mixture inside the pan, press mixture firmly into pan.

I put a small bowl at the bottom of my Instant Pot to elevate the baking pan. This gives room for the potatoes to cook. Put the small bowl upside down at the bottom of the Instant pot liner.

Pour water at the bottom of the pan. I added a little salt to the water too.

Add potatoes to the water. Then put the cake pan on top of the inverted bowl.

Lock Instant Pot lid in place, close the pressure valve and set at high pressure for 30 minutes.

While the meatloaf cooks, put the ingredients for the Sweet and Spicy Pepper sauce in a small saucepan and cook on low until it reduces about 10 minutes. The mixture will get thicker and darker. Stir occasionally until the desired consistency. Once at consistency, leave on warm. Or turn off and put a lid on the sauce.

When the Instant Pot time is up, let it come to pressure, or you can quick release the pressure by manually turning the valve and letting the steam out. Caution - it is HOT.

Once the meatloaf is down to pressure, take it out and put it on your serving platter and put tin foil over the top to keep it warm. Then drain the potatoes and put them on a foil-lined baking sheet.

Drizzle or brush butter on potatoes. Then sprinkle the potatoes with Italian Seasoning, fresh herbs or even a little cheese if you want. Put the potatoes under the broiler for 5-7 minutes, or until they start to brown.

While potatoes are broiling, take tin foil off meatloaf and drizzle the sweet and spicy pepper sauce over the top. Add garnishes like green onions or parsley if desired.

Take potatoes out of oven and put them on the meatloaf platter. Serve!

Enjoy your Instant Pot Meatloaf and Fries!!
And here is why we love our Instant Pot and a few other Instant Pot recipes we love to make:
Instant Pot Buffalo Chicken Dip
The Easiest Instant Pot Mashed Potatoes
(I made these over the weekend – so good!!)
Instant Pot Creamy Tomato Bisque Soup
If you are looking into getting an Instant Pot, you can order it on Amazon and it will come right to your house.
They have great prices and sales too!
Have a YUMMY day!!
xoxo