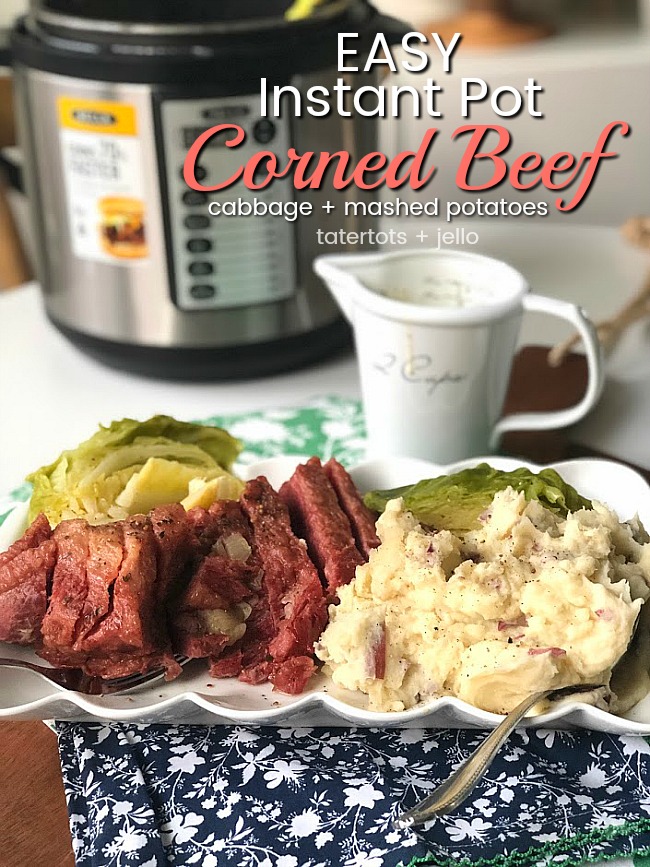 Corned Beef wasn't a dish I grew up eating. But my husband's family LOVED it and his mom made it all the time! So when corned beef was on sale at the grocery store for St. Patrick's Day, I picked some up, along with cabbage and decided to give it a try! Of course after researching about it and seeing how LONG it traditionally takes to make – cook for NINE TO TEN HOURS in the crockpot??? I decided to give it a try in my trusty Instant Pot.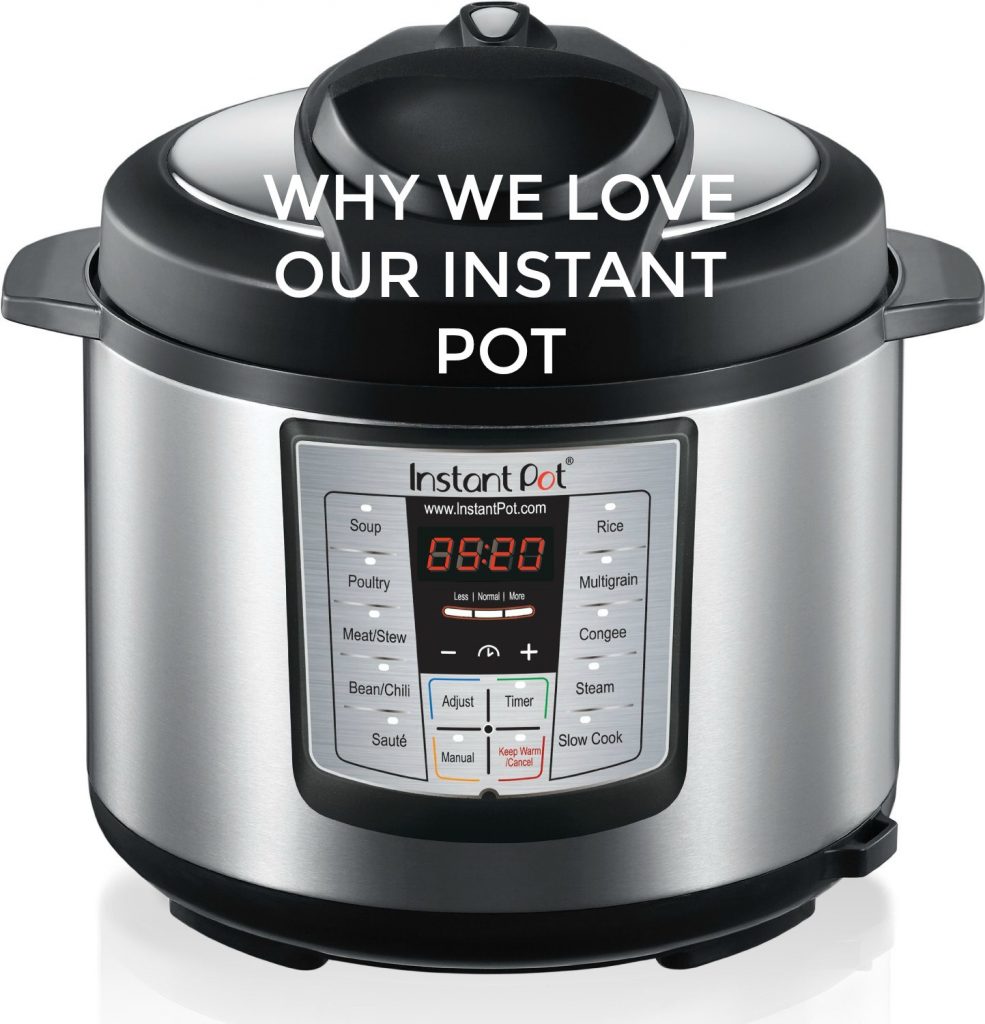 Seriously, what did I do before this baby came into my life?? Of course I still love my slow cooker to make food while I am away (yes I have seen This Is Us) and it is magically done when I get home. But for quick, easy dinners I LOVE our Instant Pot. It saves me SO much time. And as a mom of four (now five), I am constantly multi-tasking and anything that saves me time is my new best friend.

So – as I was saying I made Corned Beef, Cabbage AND Mashed Potatoes in my Instant Pot. And all in the same pot – yes, it's true! It's really NOT hard. If I can do it, so can you!
All I did was I put 2 cups of beef broth (you can use chicken if you want too) in the bottom of my Instant Pot (inner cooking pot), then I cut a BIG onion into quarters and put that at the bottom of the pot, along with garlic cloves. I then rinsed off the corned beef and laid it, fat side up, on top of the onion and in the broth. The corned beef comes with a seasoning packet. I sprinkled the seasoning on top of the corned beef. Then I locked the lid in place and set my instant pot (mine is a cheap knock off actually but it works) to the highest heat setting for NINETY minutes and let it go.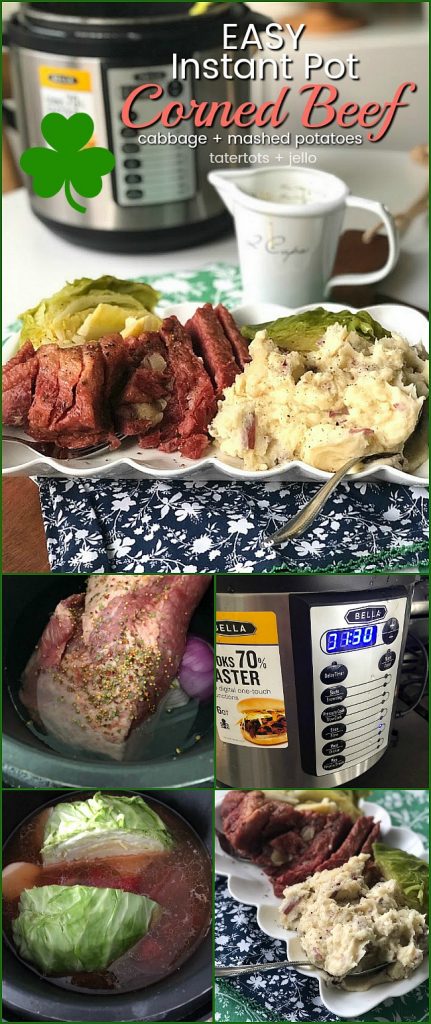 When the time was up I quick released the heat because it was getting late, but you can also let the pressure subside naturally and then open the lid. The meat was HOT. Be careful. I took the meat out and put it on a baking sheet and covered it with tin foil to keep it hot.
At the bottom of the pot there is still a lot of liquid, the onions have boiled down. I diced up about 8 red potatoes and put the in that broth. Then I quartered a cabbage and put the pieces on top of the potatoes. They are on top of the broth but it's fine because the Instant Pot will keep everything very wet. I put the lid back on and set the pressure to high again and the time to FIVE minutes.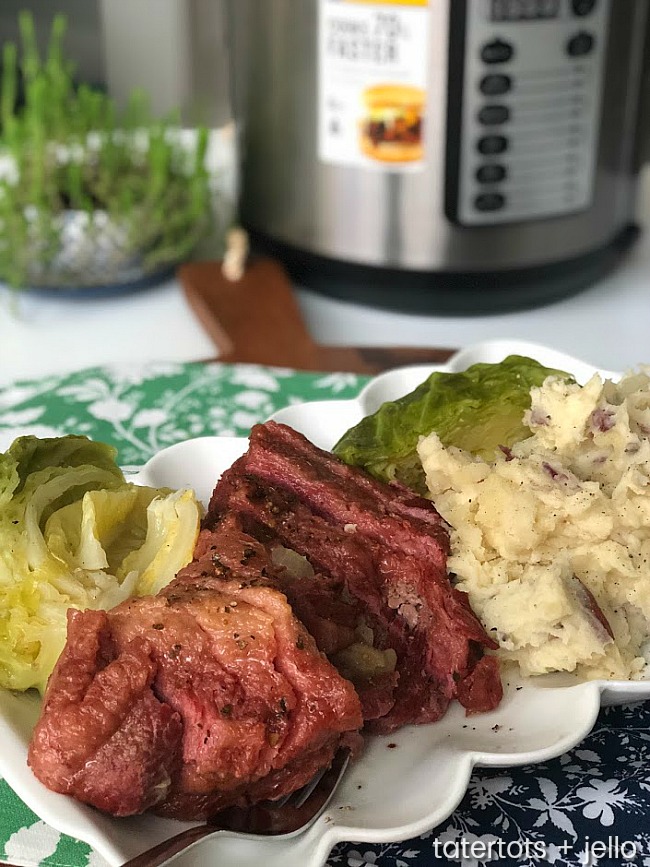 After five minutes I again manually released the pressure, but you can also let it naturally release. I was just in a hurry. I took the lid off and then took the cabbage out and put it on the baking pan next to the corned beef and put the tin foil over it. Then I drained the rest of the liquid, leaving the potatoes and onions. I then got my hand mixer out and whipped the potatoes right in the Instant Pot container, along with 4 tablespoons of butter and 1/2 cup milk until they were fluffy. And you can totally serve the cooked potatoes without whipping them if your family prefers them that way.
Then I put the corned beef, cabbage and potatoes on a platter and we ate! Oh, by the way, the white on the corned beef are the onion and garlic pieces that were cooked in the broth – they give the corned beef a really beautiful flavor!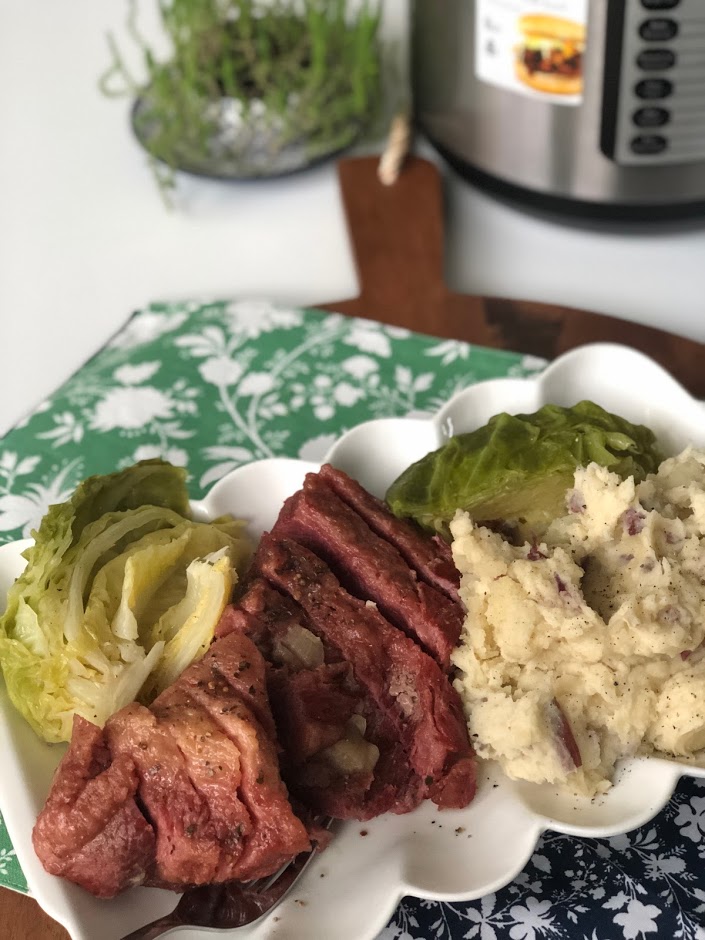 It was really good! My kids had never had corned beef before and were a little wary about the color (bright pink) of the meat but they all agreed at the end that it was REALLY good! It's something I will make again. They even liked the cabbage! Also – the recipe made about twice as many potatoes as in the picture. I just didn't have room on the platter for all of them. Leftovers!!
Here's the printable recipe, in case you want to print it off and give it a try!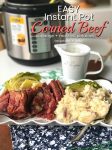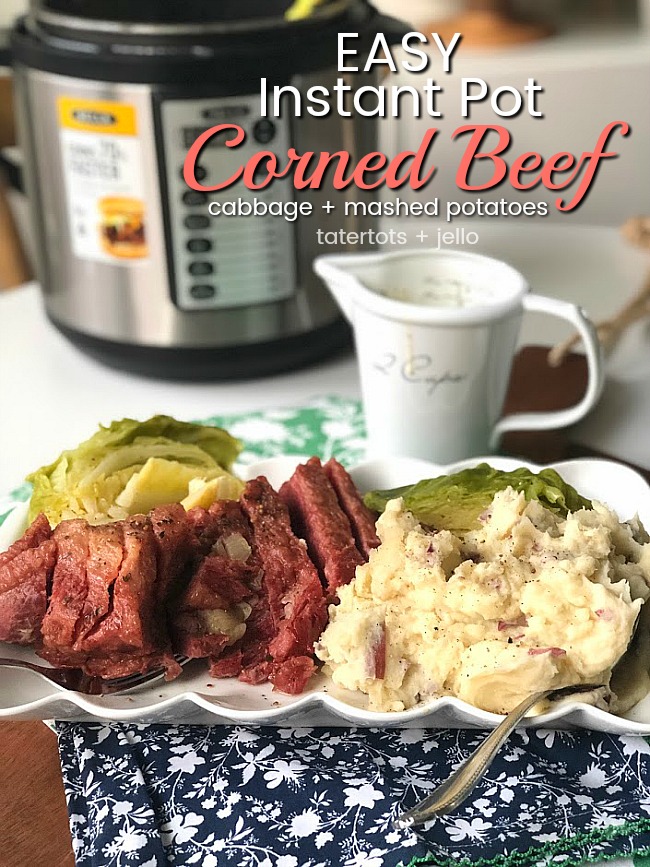 Easy Instant Pot Corned Beef, Cabbage and Mashed Potatoes
Corned Beef, Cabbage and Mashed Potatoes all in the Instant Pot - SO much faster and even more tender than cooking it in the oven!
Prep Time 5 minutes
Cook Time 1 hour 35 minutes
Total Time 1 hour 40 minutes
Ingredients
1 2-3 lb. Corned Beef Brisket
1 large Onion, quartered
4 cloves garlic, whole
2 cups Chicken or Beef Stock
10 small Red Potatoes, diced
1 head Cabbage, quartered
4 Tbs. butter
1/2 cup milk
Instructions
Add quartered onion to the bottom of the pot.

Put corned beef brisket on top of onions, fat side up. And sprinkle with included seasoning mix.

Lock Instant Pot lid and set pressure to highest pressure and timer to 90 minutes.

Let pressure naturally release or you can do a quick release.

Take brisket out of pot and put on a baking sheet, cover it with tin foil.




Add potatoes to broth in the pot.

Then put the cabbage pieces on top of the potatoes

Set Instant Pot back to highest temperature and timer for 5 minutes.

After timer is done, let pressure naturally release or manually release the pressure




Take cabbage out of pot and put on baking sheet with the corned beef. Cover both with tin foil.

Drain remaining broth and whip potatoes. Add butter and milk.
Overall a big win for mom! Yay! Give it a try. It's SO much faster making it in the Instant Pot than cooking it in the crockpot or stove. Let me know what you think!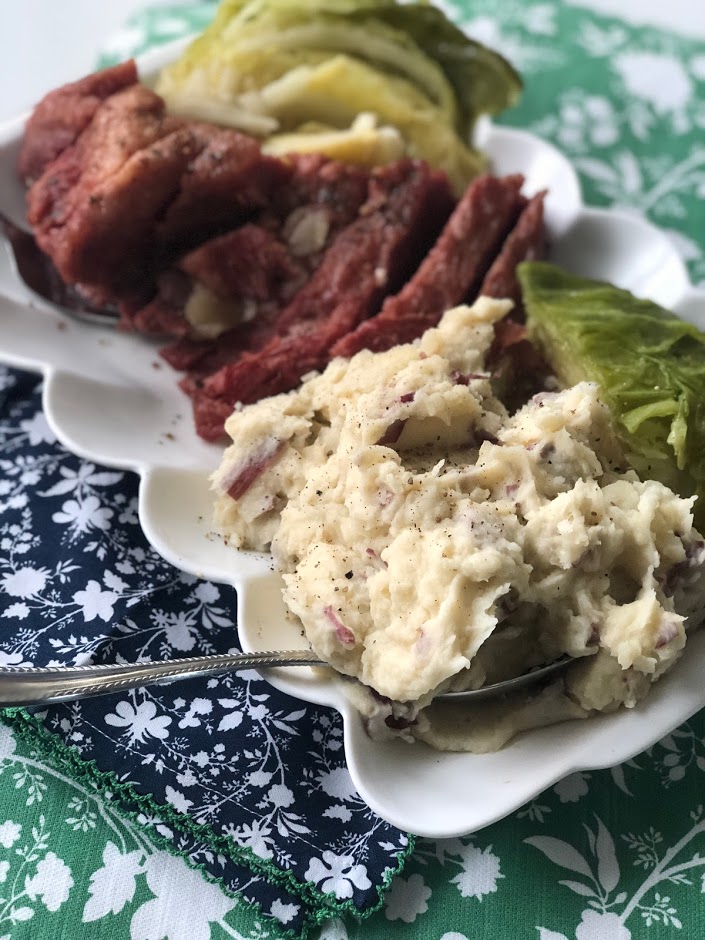 Here are a few other recipes we love making in our Instant Pot – in case you want to try them out!
Instant Pot Buffalo Chicken Dip
The Easiest Instant Pot Mashed Potatoes
Instant Pot Creamy Tomato Bisque Soup
Have a YUMMY day!!
xoxo