This post was sponsored by Crunchmaster® Crackers. All opinions are my own.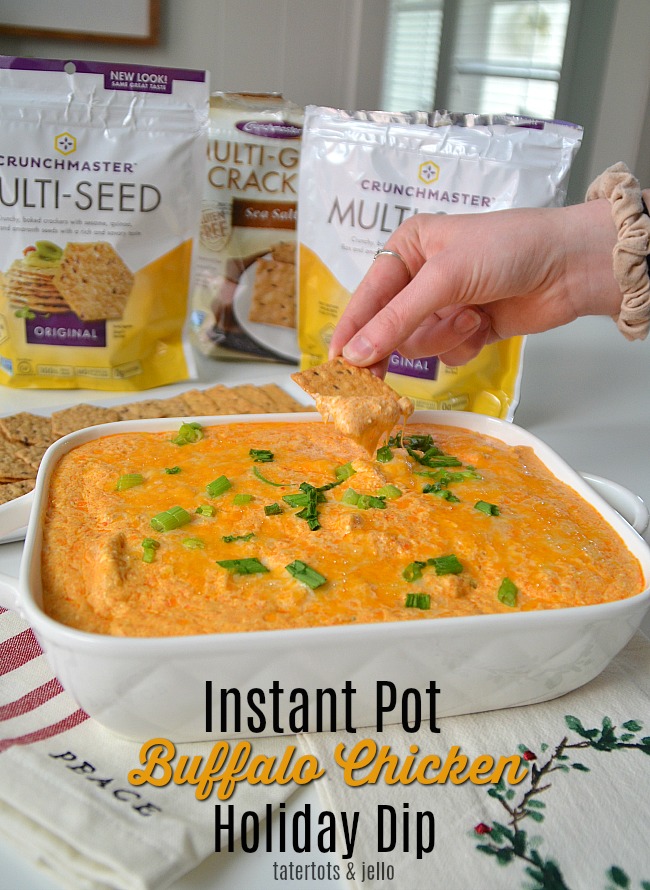 Instant Pot Buffalo Chicken Dip – the perfect easy dip to make for holiday parties!
One of my favorite things about the holidays are all of the yummy party food! It's so fun to bring your favorite appetizer or dip to holiday parties and sample all of the creative food recipes everyone loves! We love cheesy buffalo chicken dip. I wanted to make a version in my Instant Pot that is even easier to make and pair it with our favorite gluten-free Crunchmaster® crackers. It's a match made in heaven!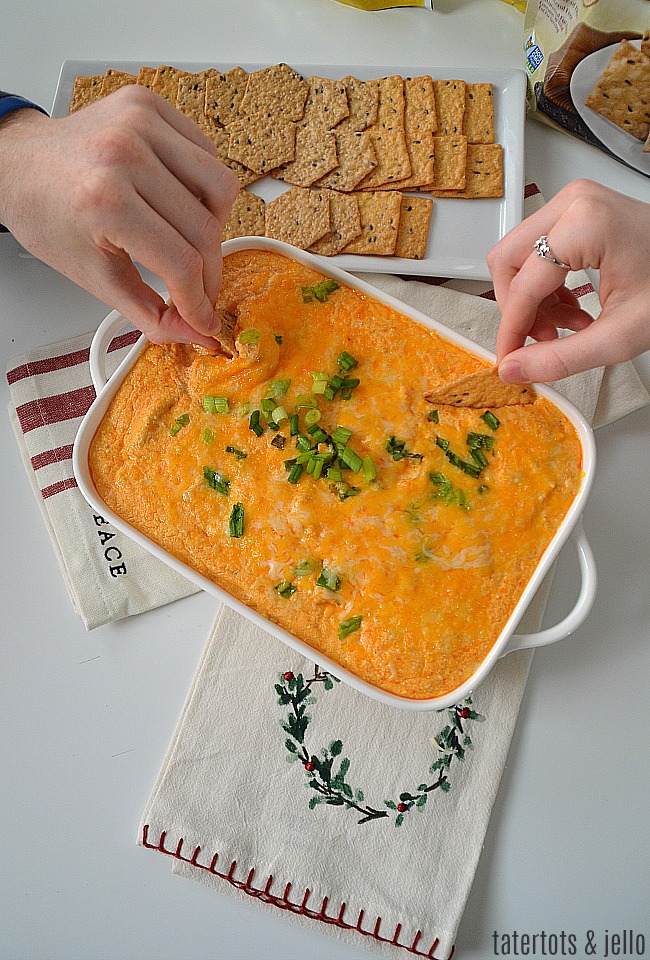 Instant Pot Buffalo Chicken Dip
I am trying to cut down on my gluten intake. I just feel better when I do. Over the past year or so I've sampled all kinds of gluten-free chips and crackers. I was so excited when I discovered Crunchmaster Crackers. I crave the crunchy texture of the grains and seeds in all of their crackers. They are light, crunch and SO satisfying! I also love that they are made with whole grains and seeds and are Non-GMO — perfect for guilt-free snacking on-the-go AND for holiday entertaining!
My two favorite Crunchmaster Crackers flavors are the Sea Salt and Multi-Seed Crackers. I can't decide which is my favorite. The Crunchmaster Multi-Seed Crackers have all kinds of yummy crunch seeds and nuts – like sesame, quinoa, flax and amaranth. It gives them a really hearty feeling which contrasts so well with the thin, crisp crunch. I think the light, nutty texture and taste of the crackers was perfect the PERFECT compliment with the gooey, cheesy, spicy Buffalo Chicken Dip. Everyone loved it!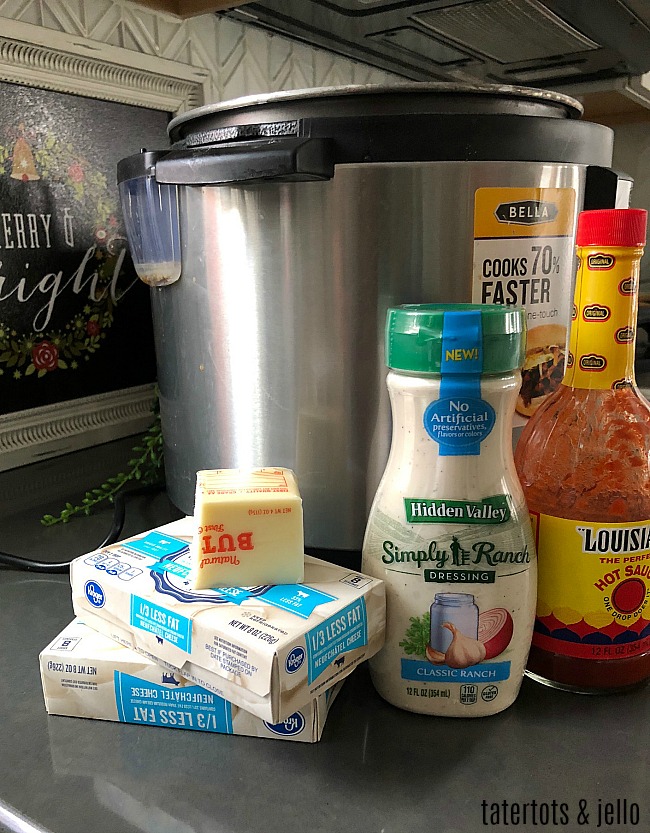 The best part of the dip is that I used frozen chicken breasts and cooked everything in the Instant Pot in about 20 minutes. So this is the perfect holiday dip to make. It would be awesome to keep the ingredients on hand in case of unexpected visitors this holiday season! Also be sure to stock your pantry with lots of Crunchmaster crackers. They are the perfect accompaniment to any dips or cheese platters and perfect to serve this holiday season!
Here's the recipe for Instant Pot Buffalo Chicken Dip —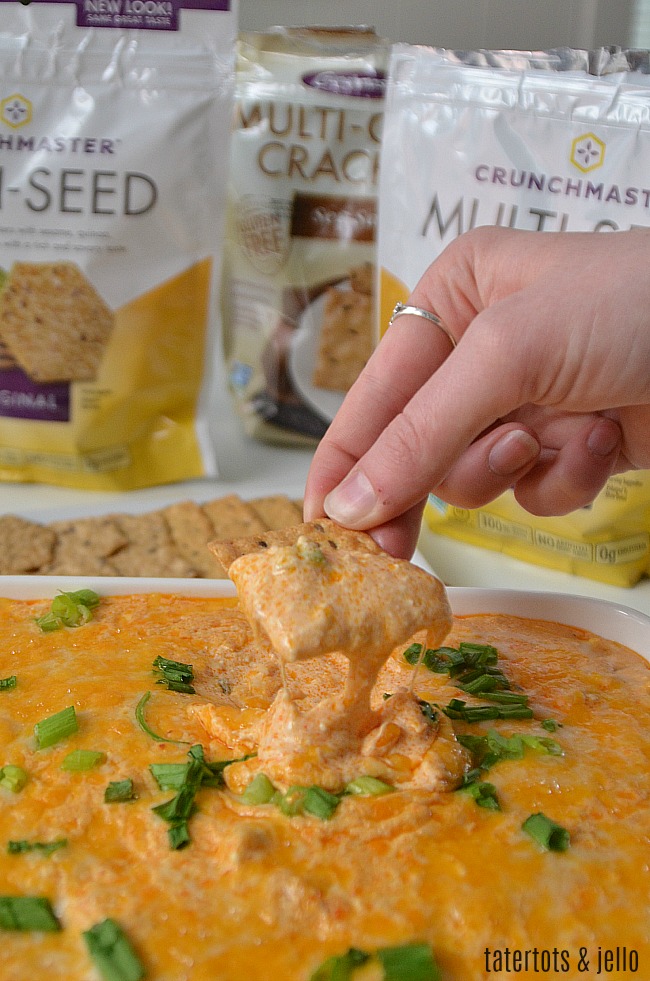 Instant Pot Buffalo Chicken Dip
Instant Pot Buffalo Chicken Dip
Recipe Type: Appetizer
Cuisine: Buffalo Chicken Dip
Author:
Prep time:
Cook time:
Total time:
Serves: 15
Instant Pot Buffalo Chicken Dip is perfect for the holidays! It only take minutes to make and the spicy flavor contrasts perfectly with Crunchmaster Crackers.
Ingredients
2 chicken breasts
2 (8-ounce) packages of cream cheese (I used low-fat)
1 cup ranch dressing or you can use blue cheese dressing if you want
3/4 cup Louisiana hot sauce
2 cups shredded cheddar cheese
3 Tbs. butter
2 green onions, chopped
2-3 packages of Crunchmaster Crackers
Note – I used frozen chicken breasts. Also this makes a lot of dip. At least enough for a party. If you are making it for your family I would cut it in half.
Instructions
Put chicken, cream cheese, butter, hot sauce, ranch in Instant Pot and cook on high for 20 minutes.
Use manual release and release the pressure.
Take the chicken breasts out and shred them on a plate. Then put them back in and mix it up.
Add most of the cheese and mix it gently.
Pour the dip into a casserole dish.
Add the remaining cheese over the top and put it in the over under BROIL for 2 minutes until the cheese gets bubbly.
Add green onions.
Serve with Crunchmaster Cracker.
Be sure to try Crunchmaster Crackers this holiday season. They are my favorite on-the-go snack as well. I keep a package in my car for my kids and I when we are busy running errands or carpooling during the week!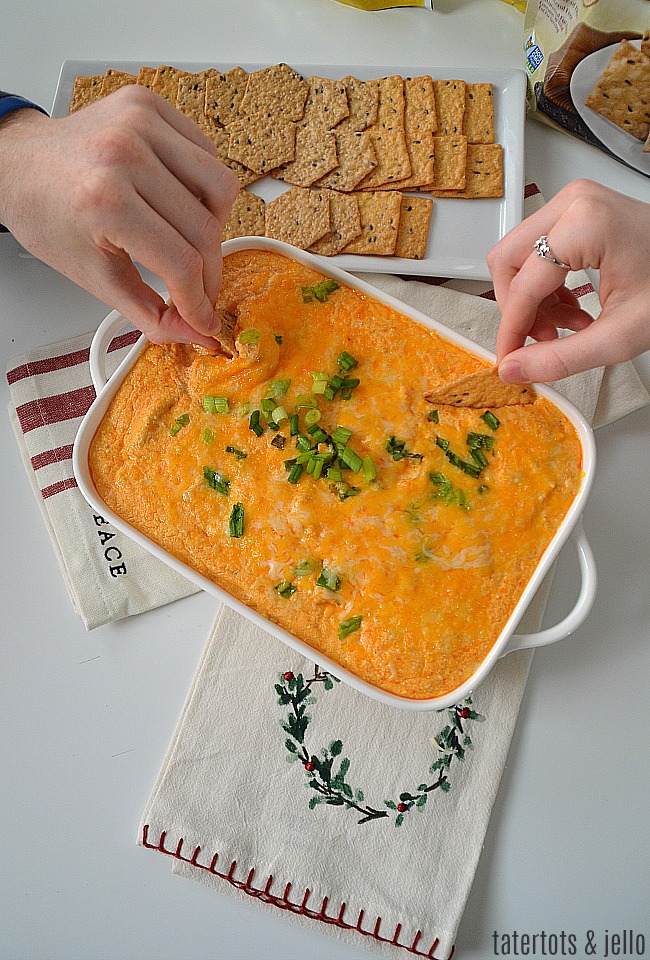 Learn more about Crunchmaster Crackers on their website, which can be found here: https://crunchmaster.com/. I buy my Crunchmaster Crackers at Target. They are readily available in grocery and mass stores nationwide including Kroger, Publix, Safeway, Albertsons, Target and recently new distribution at Walmart.
You can follow along with Crunchmaster Crackers —
Crunchmaster Crackers on Facebook
Have a YUMMY day!
xoxo

This is a sponsored conversation written by me on behalf of TH Foods. The opinions and text are all mine.