Welcome to the Summer of Paper series – where we've invited fabulous guests to create projects using supplies from my Home + Made paper decor line.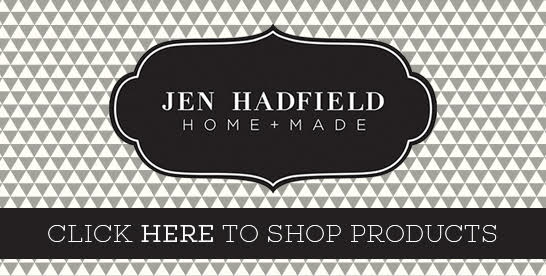 Hello there Tatertots and Jello readers! I'm Ashley and I blog over at Cherished Bliss where I share DIY projects, furniture plans, and anything else that gets thrown in ; ) I've very excited to be here today sharing with you how I used some of Jen's products from her Home + Made line. I was extremely inspired by this line since I am currently in the middle of decorating our basement living area. I wanted it to have a little bit of a man cave feel, but it also needs to be fun for the kiddos too. So today I'm sharing with you some of the Playroom wall art I made.
I typically lean towards a cottage farmhouse look but lately I have really been enjoying a little bit of industrial thrown in so that came out a little! I think my industrial kick all started with my kitchen, but you'll come to know how often my decorating changes! My husband always jokes that I want to paint everything white, but I think I'm going through a black phase now. I kinda have a thing with color. I'm not good at it. I'm a neutrals kinda girl, what can I say? : )
This wall art is so easy to make! My favorite piece is definitely the alphabet one. Two of my three kids already know how to write all their letters, but I've got a 2 year old who will be learning soon and it was super awesome to always have some sort of alphabet displayed for them to use when writing.
Obviously I needed to incorporate this in to my decor! : ) My kids love it, I love it, and my husband loves it… it's a win-win-WIN! You just can't beat that. Let's talk about how to make these, it's really easy but I'll tell you everything you need to know!
Supplies:
– Picture Frames
– Scrapbook paper
– Thickers (Alphabet Stickers)
– Number Washi Tape
– Scissors
How to make DIY Playroom Wall Art:
First I took the scrapbook paper and cut it down to the correct sizes for each frame. See.. super easy!
Then I just took my Thickers and laid them out until I was happy with the configuration. Since you can't take the thickers off of the backing without it sticking I cut around each one leaving it attached so I could move it around…. you know in case I changed my mind (which I do all the time).
I did this for both the "alphabet" and "imagine" wall art pieces.
Now for the "best day ever" picture I used more scrapbook paper as my background and added some of the number washi tape to the top and bottom. The adorable "best day ever" quote comes from one of the pieces of paper in Jen's collection. I adore the fonts she used!!
I also used some more of these cute little quotes in a little shutter wall hanging I got from Walmart.
I also just framed a piece of scrapbook paper by itself because it was too cute not to! Now I have to say… I don't have an awesome chalkboard wall in my basement, this is actually just photographed on my oversized chalkboard I built for our Entryway, but it's got me thinking I might need a wall like this down there! : ) It's still a big work in progress and I haven't decided exactly what walls my new favorite pictures will be hanging on, but I'm feeling like they will go with the kids future art station. Maybe I'll add in some storage ideas to keep all their drawings organized! hehe… I just used the word organized when referring to a space my kids will actually touch. Trying to stay positive! ; )
So much of Jen's Home + Made Line inspired me so you will definitely be seeing more of it in our future playroom/man cave/living area. The papers are just plain adorable and so many cute little accessories too!
It was such a pleasure to be here today! Thanks again for having me over Jen!
*********
Thanks Ashley! I just love that wall art! Such great ideas for a playroom, too! Ashley has so many amazing ideas on her blog. Here are a few I know you'll love:
She has this amazing tutorial for a DIY Herringbone Outdoor Table. Isn't it gorgeous?
And, her Industrial Farmhouse Kitchen Makeover is stunning!
And, I love how her DIY Entryway Bench has so much storage space, too!




And if you'd like to try this project she shared today, you can find my
Home + Made line
at craft and hobby stores near you!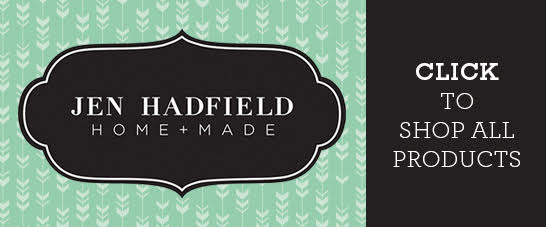 xoxo