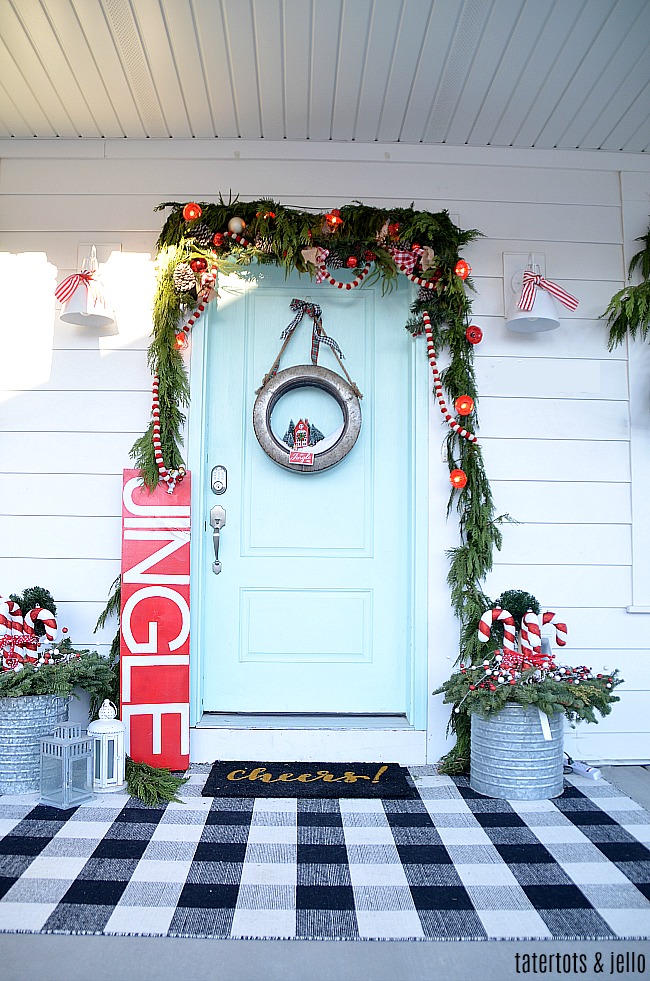 Holiday Home Tour Candy Cane Porch
Hi there! Welcome! I'm so excited to be taking part of the Ten Days of Christmas Tour. I have LOVED seeing all of the amazing holiday projects. If you are stopping by from The Idea Room, I am sure you LOVED seeing Amy's home. I love those tags she made. We have known each other for years and she is absolutely amazing!!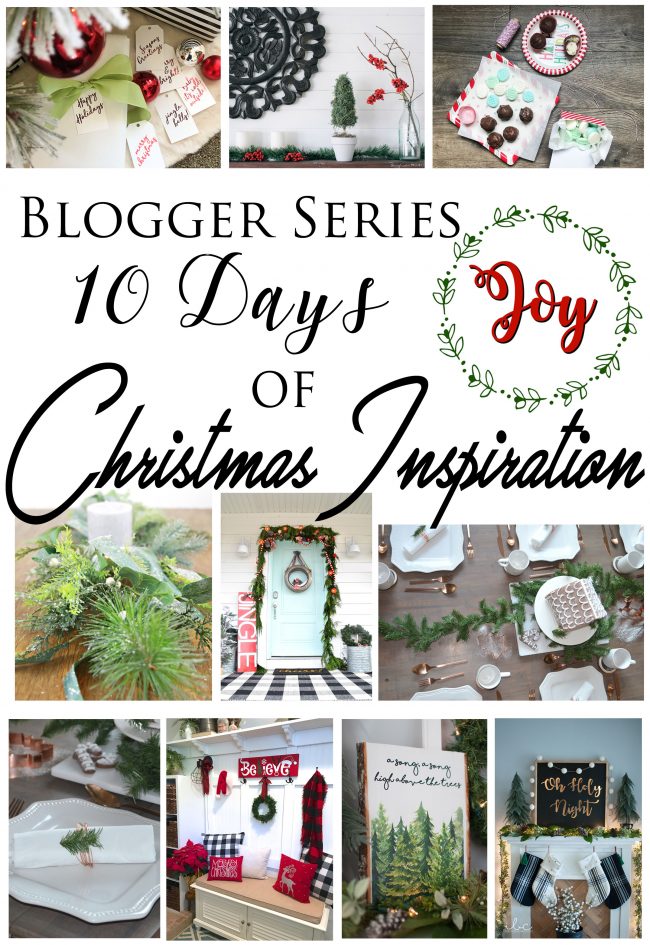 Today I am so excited to share my Holiday Plaid Candy Cane Porch!! There's something magical about red and white at Christmas. Throw in some black and white plaid and you have a match made in heaven!
I kept things pretty simple with fresh Costco garlands around the door and windows. I had some red and white felt balls I wrapped around everything.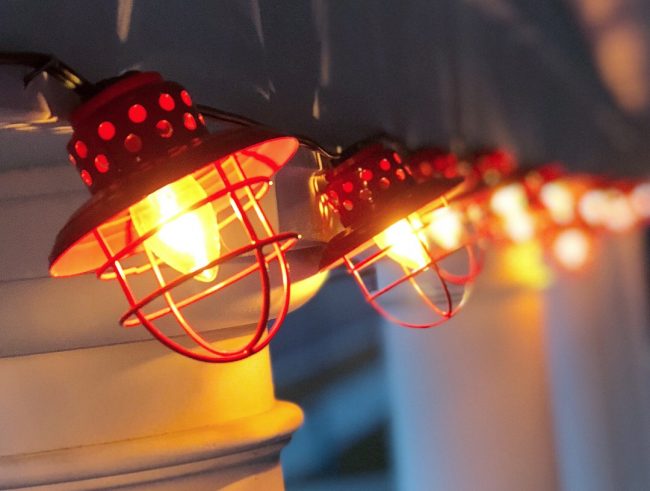 One of my favorite elements are the TINY red lantern lights. I found them on clearance last year and I am SO happy I scooped them up. I wrapped a strand around the door.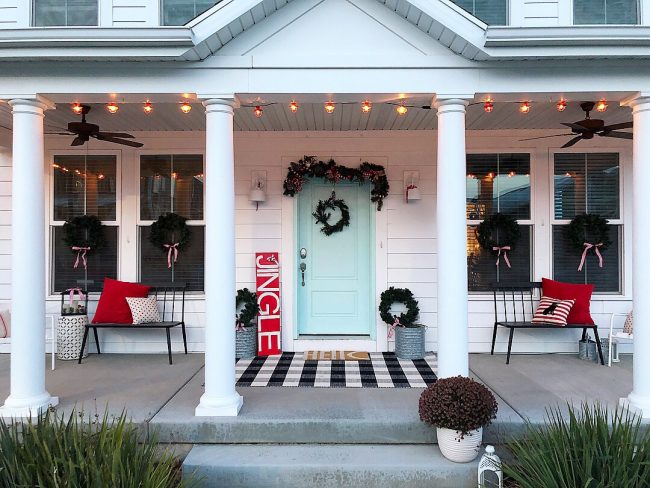 I also hung them all across the top of my porch. The glow is so beautiful at night. There is just something special about tiny lights.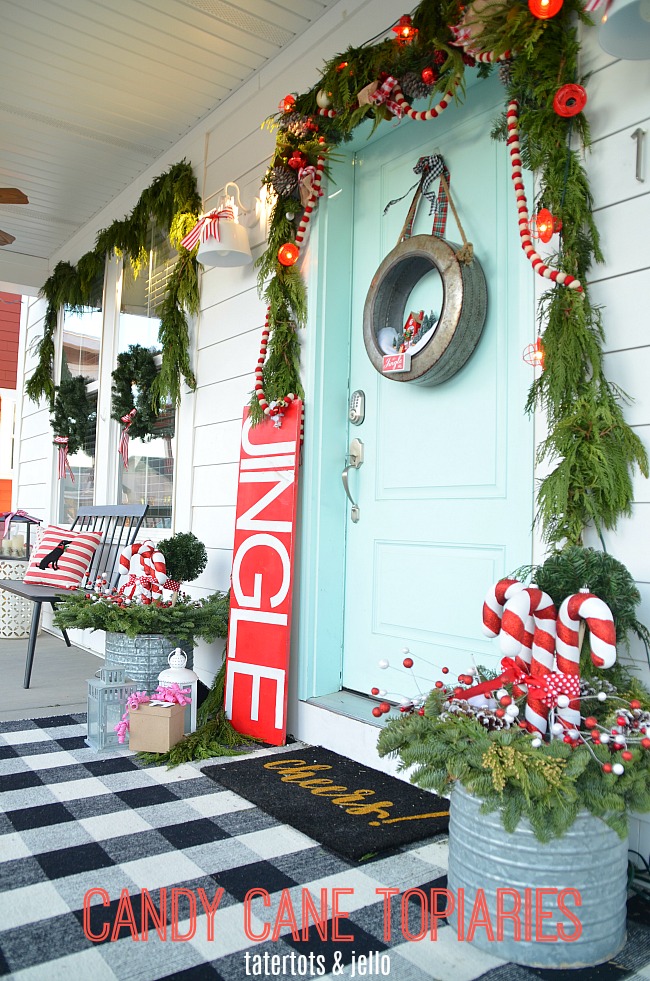 Holiday Home Tour Candy Cane Porch
I had a difficult time with my planters. I had some pretty lavender trees in the planters throughout the spring and summer. The lavender couldn't withstand the cold. I wanted to plant some green ball topiaries but they were so expensive. I ended up making $5 candy cane topiaries. I took some round mistletoe balls and put them on dowels. Then I put some big candy canes around the topiaries and tied it all up with a big bow. On top of the topiaries I placd a fresh green wreath (also from Costco). I think it looks so festive!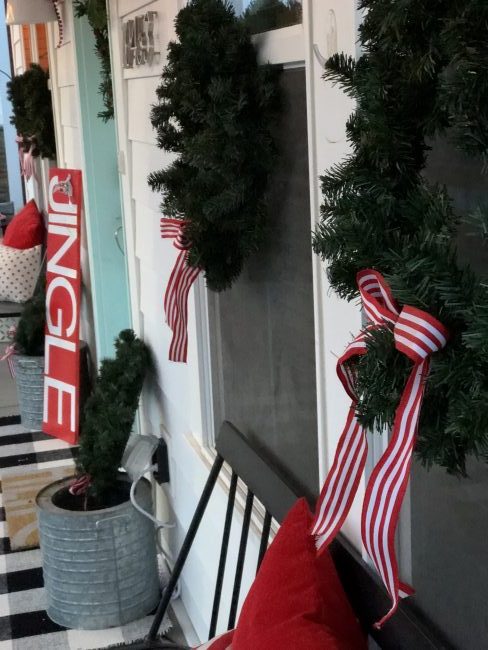 I added wreaths to each of my windows with red and white striped ribbon.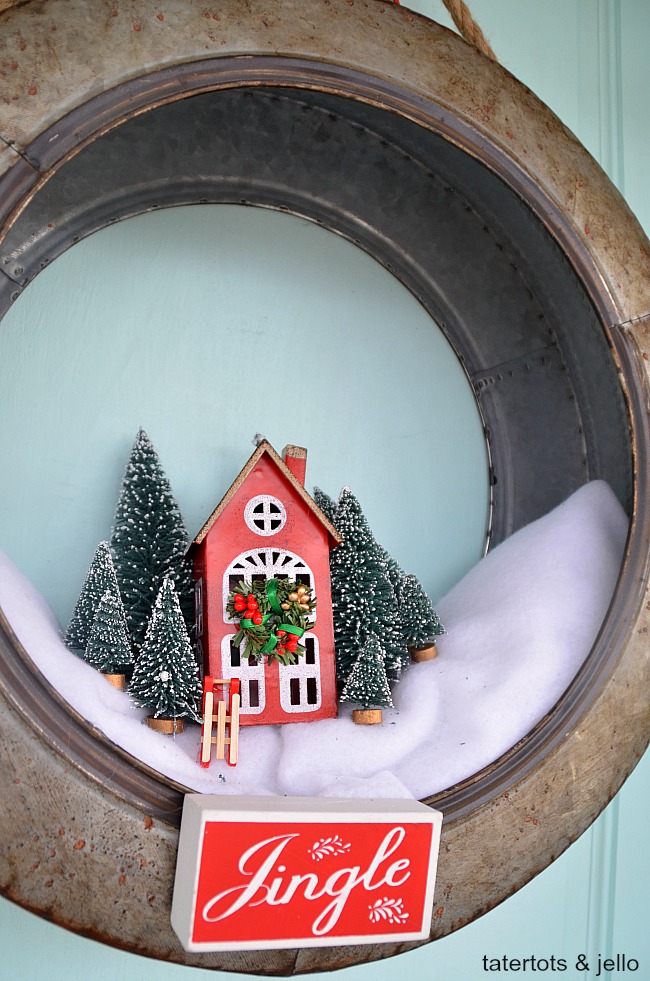 On the door I made a sweet little JINGLE village galvanized wreath. You can read more about my wreath on my Holiday Galvanized Wreath Tutorial.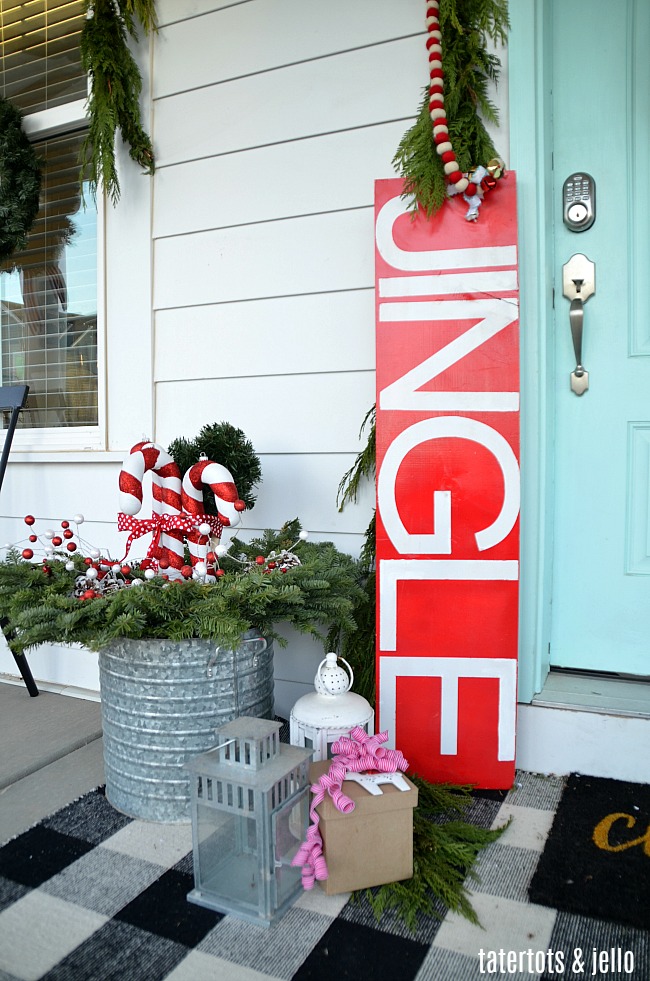 By the door I placed my GIANT Jingle Sign. I love making giant signs for different holidays and occasions. They are so simple to make and the cost is just a few dollars!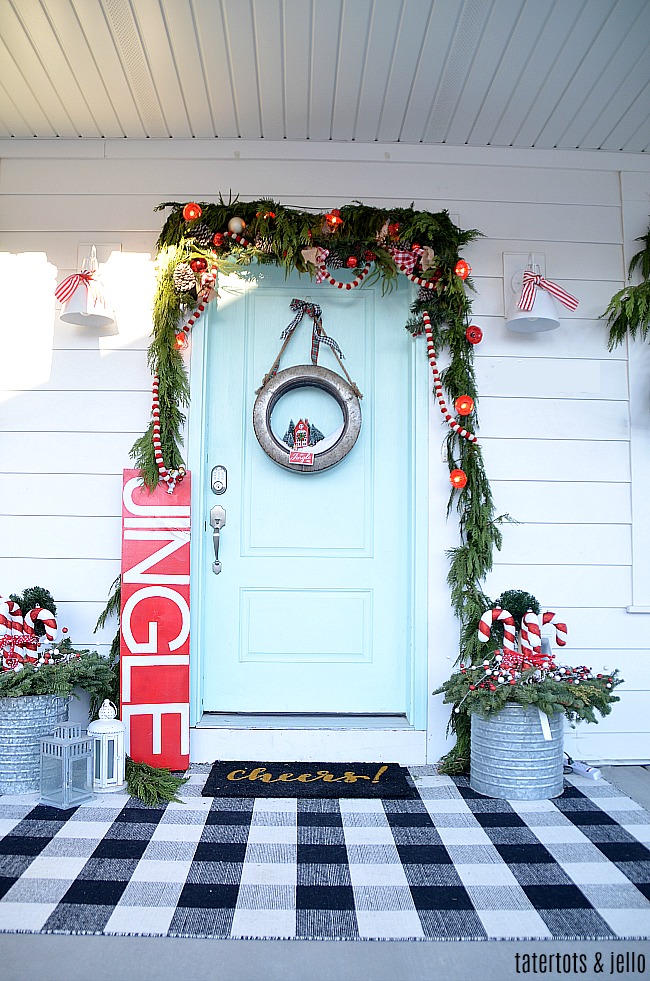 The finishing touch was adding a little ribbon to the porch lights and some bright pillows.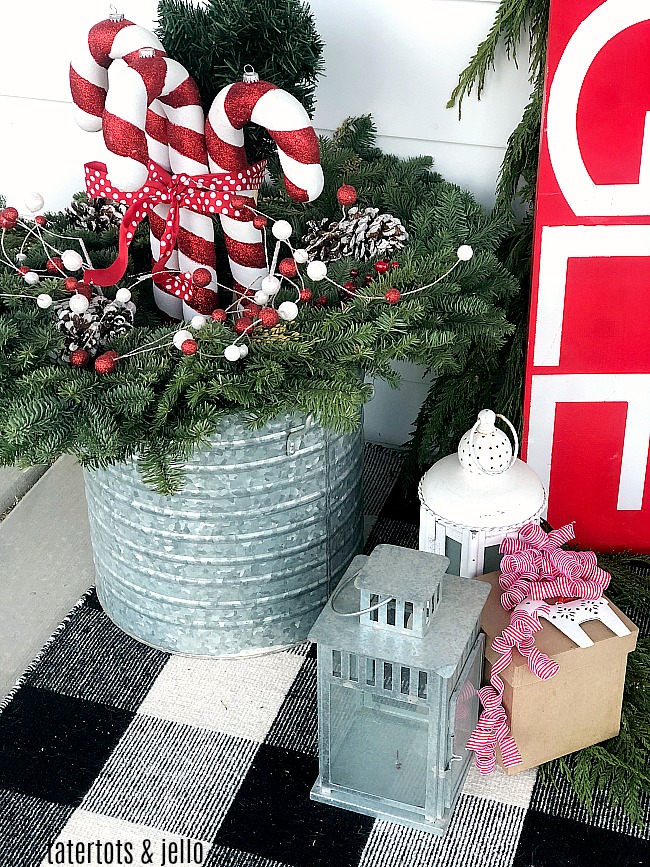 I think the red and white look so pretty with my little blue door.
And the rug is a favorite! I found it on Overstock.com.
I hope you enjoyed my little porch tour!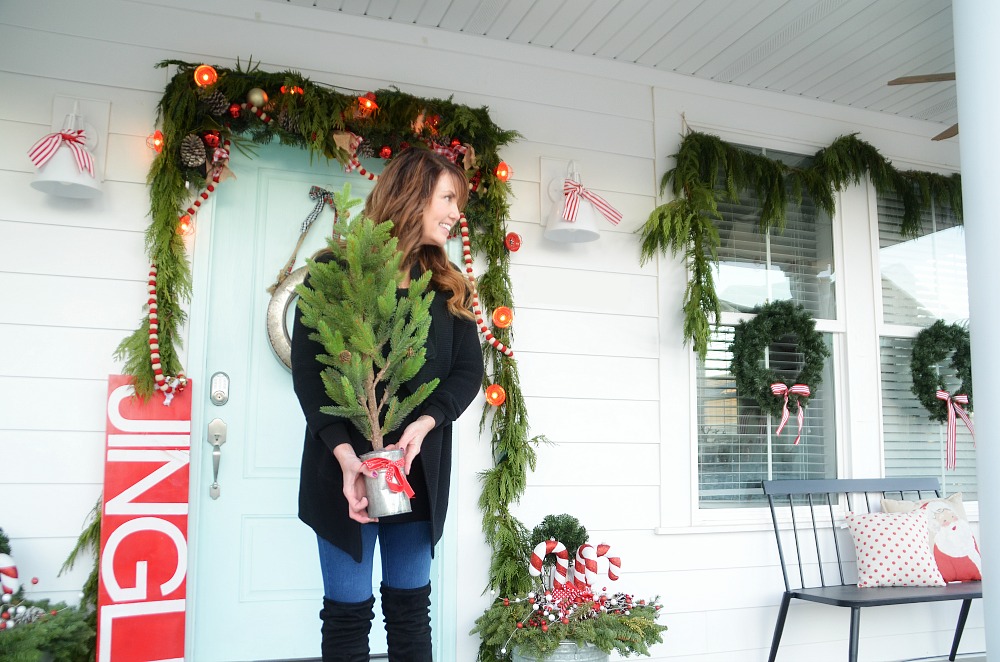 Be sure to head over to The Unfinished Project for the next holiday tutorial!
Here is a complete list of the blogs to see The Ten Days of Christmas Tour!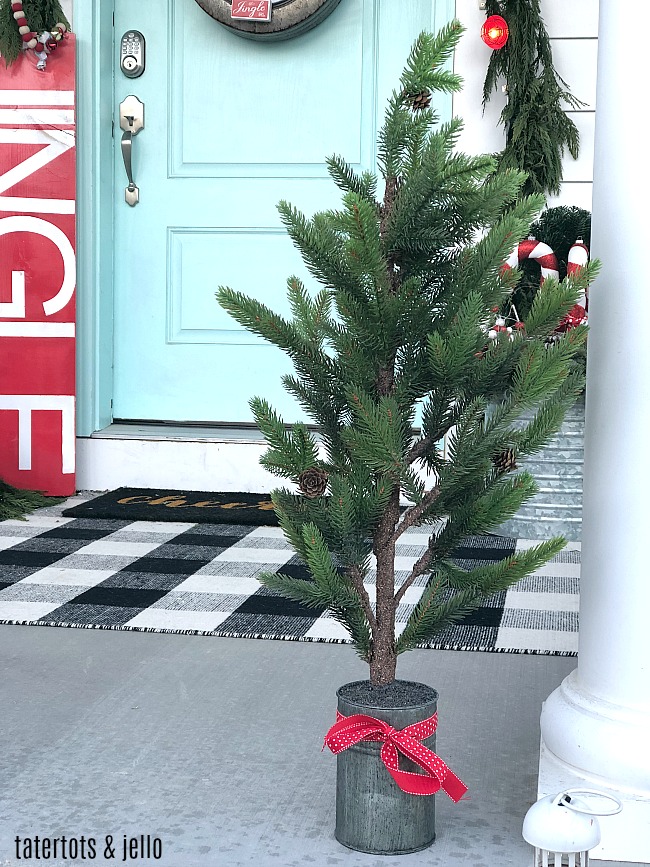 December 5th
December 6th
December 7th
December 8th
December 11th
www.theunfinishedprojectblog.com
December 12th
December 13th
December 14th
December 15th
Have a BEAUTIFUL Day!
xoxo