Halloween Kitchen Display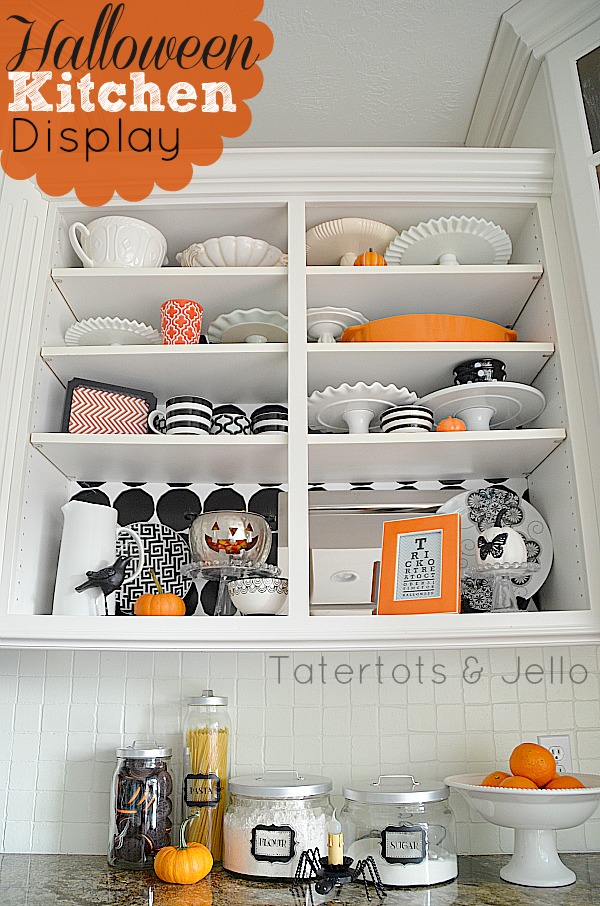 You might not have a mantel to decorate for Fall, but you can find a little space in your home for festive decor.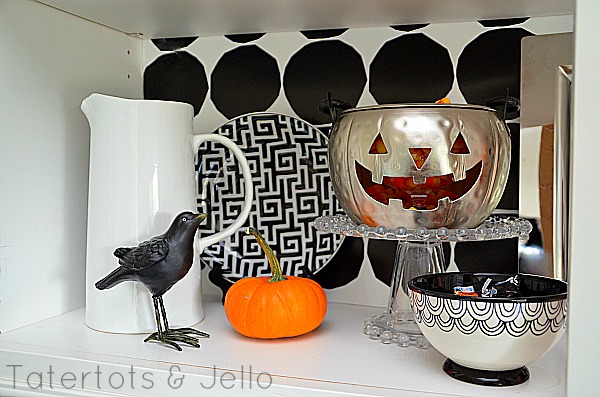 When we finished our kitchen remodel last year I left a couple of doors off of a cabinet next to my sink. I cut and painted a square of beadboard to go in the back of the cabinet the same color as my island — it was a fun little area to display pretty dishes, cake plates and bowls.
For this Halloween idea, I scrounged around and found everything I could that was orange to display — including this orange casserole dish that was hiding in one of my cabinets. I think it looks so festive on display.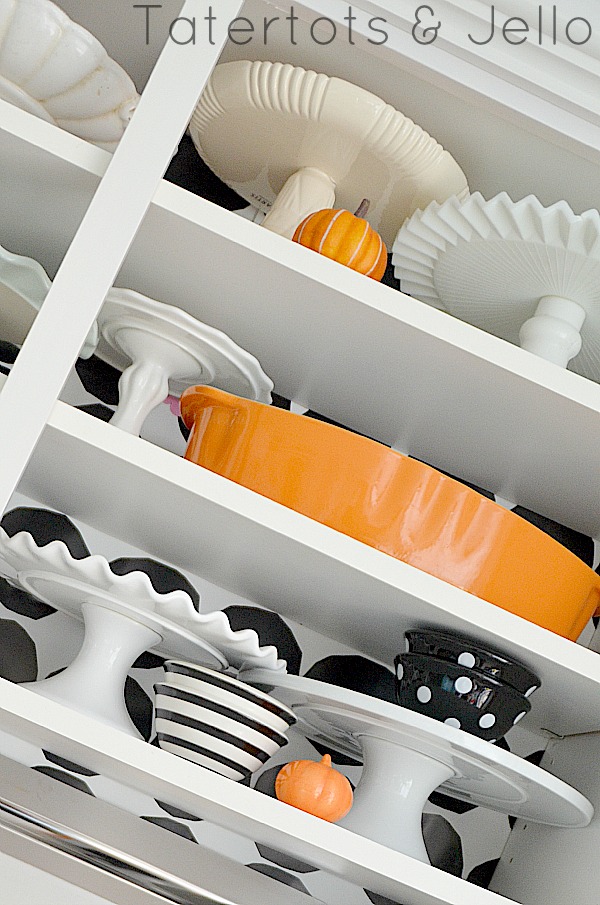 I found some wrapping paper and wrapped it around the beadboard. Then I put the board in the back of the cabinet, with the shelves in front. The wrapping paper changes up the whole look of the cabinet — adding a spooky element.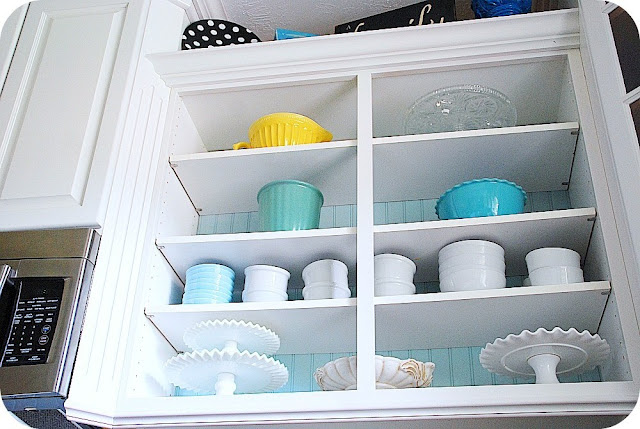 (Beadboard Kitchen Cabinet Project)
I put the same cake plates back in the shelf, along with some graphic mugs I picked up at Crate & Barrel, some pretty striped and polka-dotted bowls from TJ Maxx and a couple black and white plates.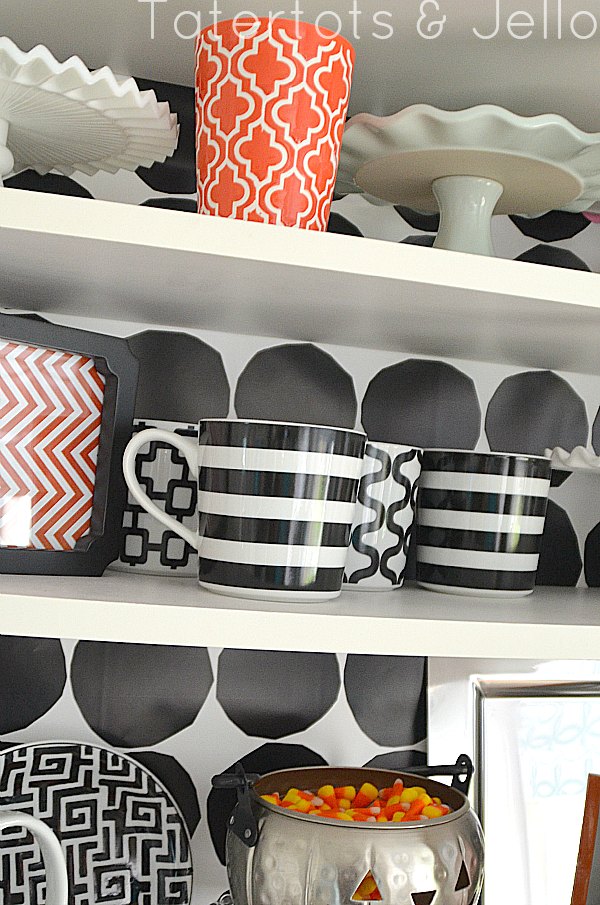 I also took the Halloween Eye Chart printable I made last year and tweaked it alittle for 2012. I made the design a little bolder and then I framed it in a modern orange frame. I also took the orange pattern and made that bolder and framed it in a cheap black frame.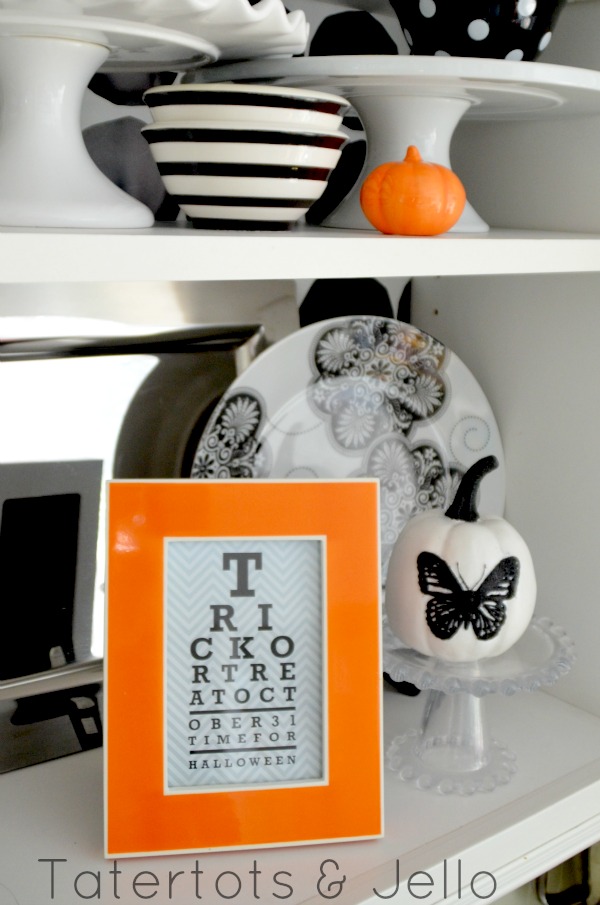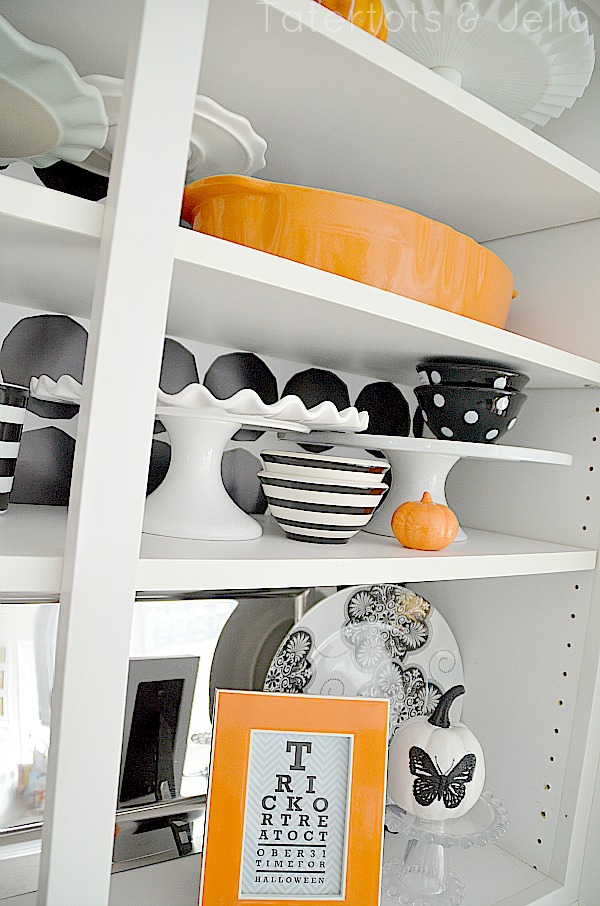 I also added a little modern element with some silver accents. I found a silver pumpkin at TJ Maxx as well as a silver tray from Target. I love the way they shine.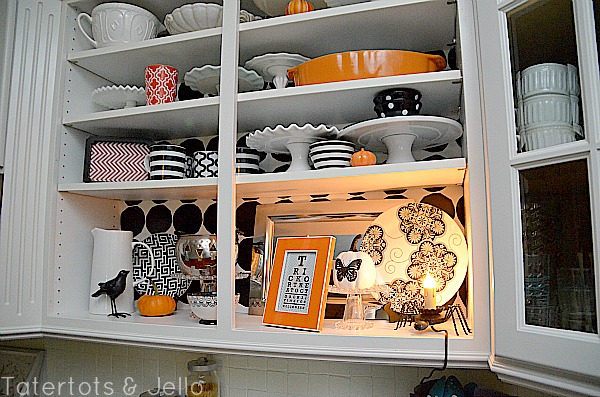 And I reused a small spider light I bought many years ago, and on a whim I added it to the bottom shelf of the display — I love the way it looks all lit up at night. So cozy.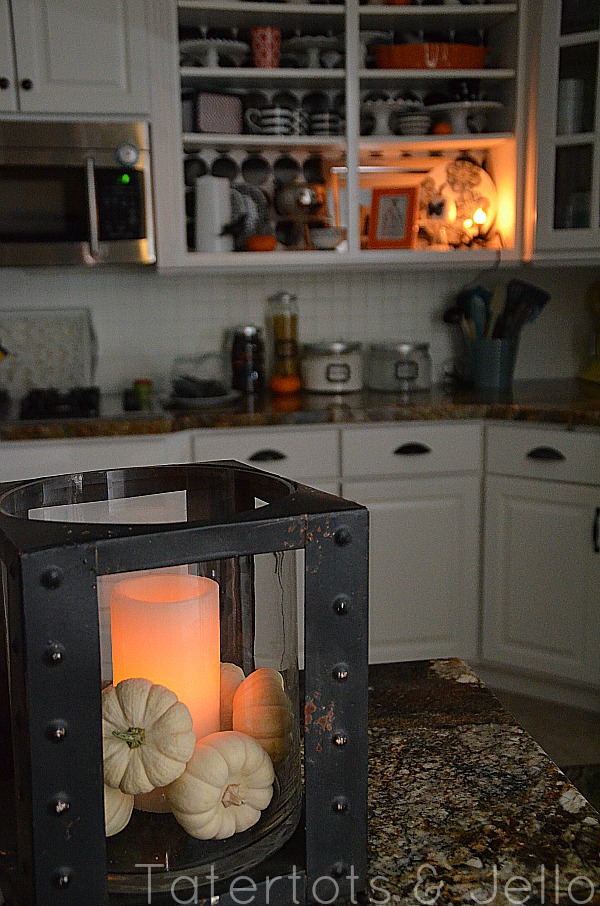 I also think it's great that I can take the wrapping paper off after Halloween and add a different wrapping paper for Thanksgiving or Christmas and easily change up the look.
So fun!!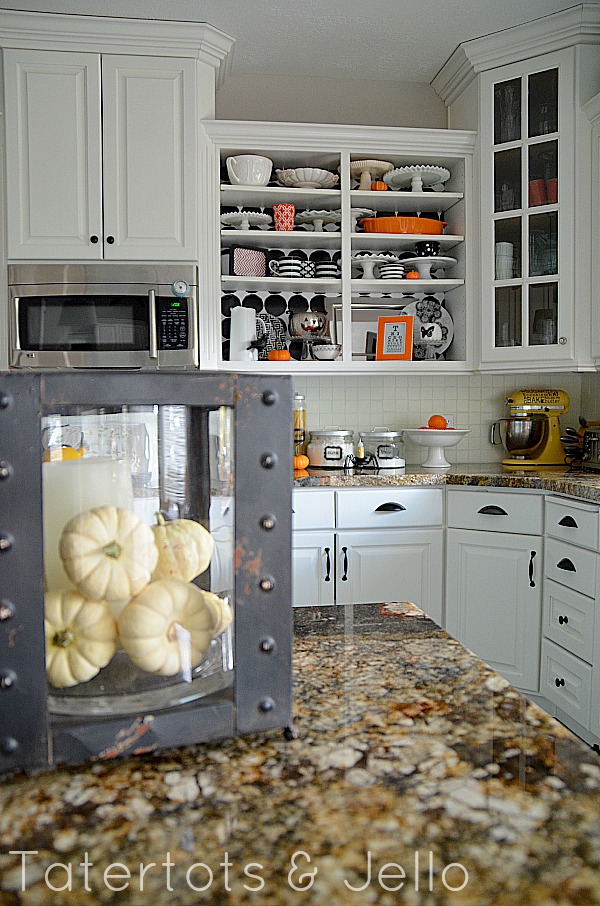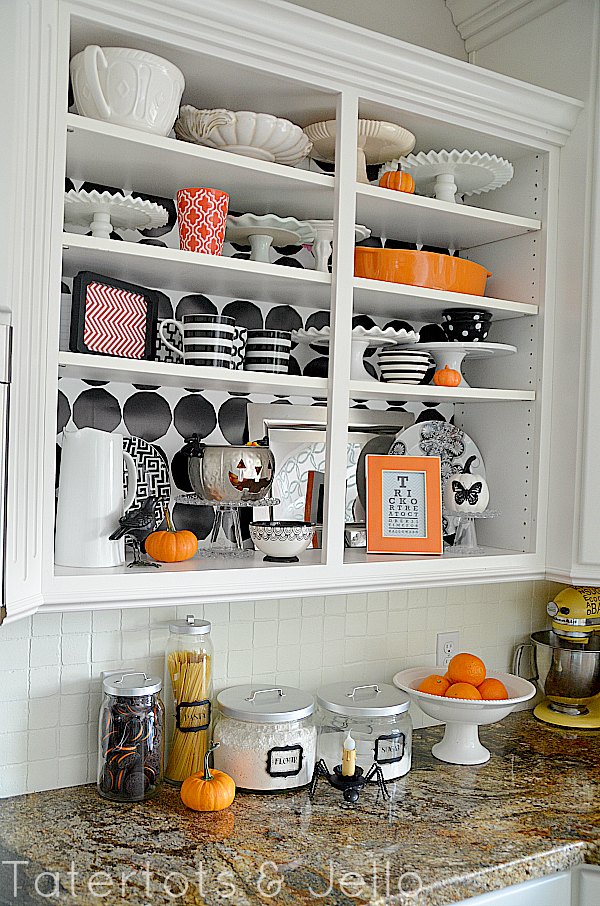 Here are four new printable pages, updated from last year's Halloween Eye Chart project! These are the printouts I used in this year's display. I've included them as a PDF since you will likely not print them at a commercial photo printer (like Costco).
In this PDF, you'll find four pages total: two pages of two different shades of orange chevron, a black/grey/white eye chart with darker chevron than last year, and then a blank page of the same grey on grey chevron pattern.
And here are the files from last year if you don't want to hunt them down:
You can choose between Orange or Grey.
The one I printed fits PERFECTLY in an Ikea 19 3/4 x 15 1/2 frame (IKEA Ribba (200.783.33)). You can send the file down to Costco and they can print it up THE SAME DAY. It cost $6 to print!!!


Here's the full collection of PDF printables, hosted on Scribd.
Just click the download button to download the PDF. If you're going to print these at Costco or some other photo processing shop, you might prefer to use the .JPG or .PNG files, linked below the Scribd files.
Note that there are five (5!) versions. The first is a "fancy" version that includes all of the classic eye chart numbers and frippery.
The two 8.5 x 11 ones are above, and here's the PDF version of the "fancy" one in 8.5 x 11. After that I've linked all the sizes in PDF, JPG and PNG.
Halloween Eye Chart 8.5×11 (Orange Fancy) tatertotsandjello.com
If you don't want to use the scribd links above, you can download the PDF versions to print at home using these links:
8.5×11 "Fancy" Orange PDF
8.5×11 Orange PDF
8.5×11 Gray PDF
(Bigger sizes won't work for PDF)
If you're planning to print these at Costco or another photo printing place, I recommend you use these JPG files. Warning: they're huge files, especially the ones for the large frames.
8.5×11 "Fancy" Orange JPG
8.5×11 Orange JPG
8.5×11 Gray JPG
Big Frame Orange JPG
Big Frame Gray JPG
And if the JPG files aren't working for you, you can also use these PNG file links instead. Warning: they're fairly large files, especially the ones for the large frames.
8.5×11 "Fancy" Orange PNG
8.5×11 Orange PNG
8.5×11 Gray PNG
Big Frame Orange PNG
Big Frame Gray PNG
+++++
Do YOU have an area in your home that you love to decorate for the holidays?
? I would love to see YOUR ideas — leave me your ideas and links in the comments.
Have a HAPPY Day!!
xxo

PS — I'm linking up to TidyMom's I'm Loving It Party