It's that gift giving time of year again!!!
I love hearing about people's favorite things — favorite things that people love and give as gifts.
And I am so excited to tell you about something REALLY fun!! 25 creative bloggers have gathered together to share THEIR favorite things in a gift giving guide, and nearly all of the items are under $25! This list can offer a long lasting gift guide to refer back to when you need that special gift, along with links to where you can get them. Sometimes, giving a practical household item is just as exciting as the extravagant gift you are stress-fully looking for, but we also have super cutesy and impractical, too!
I am so excited to share my favorite things, along with these other creative bloggers. Even more fun, is that you have the opportunity to win a gift basket mailed right to your door! Yay!!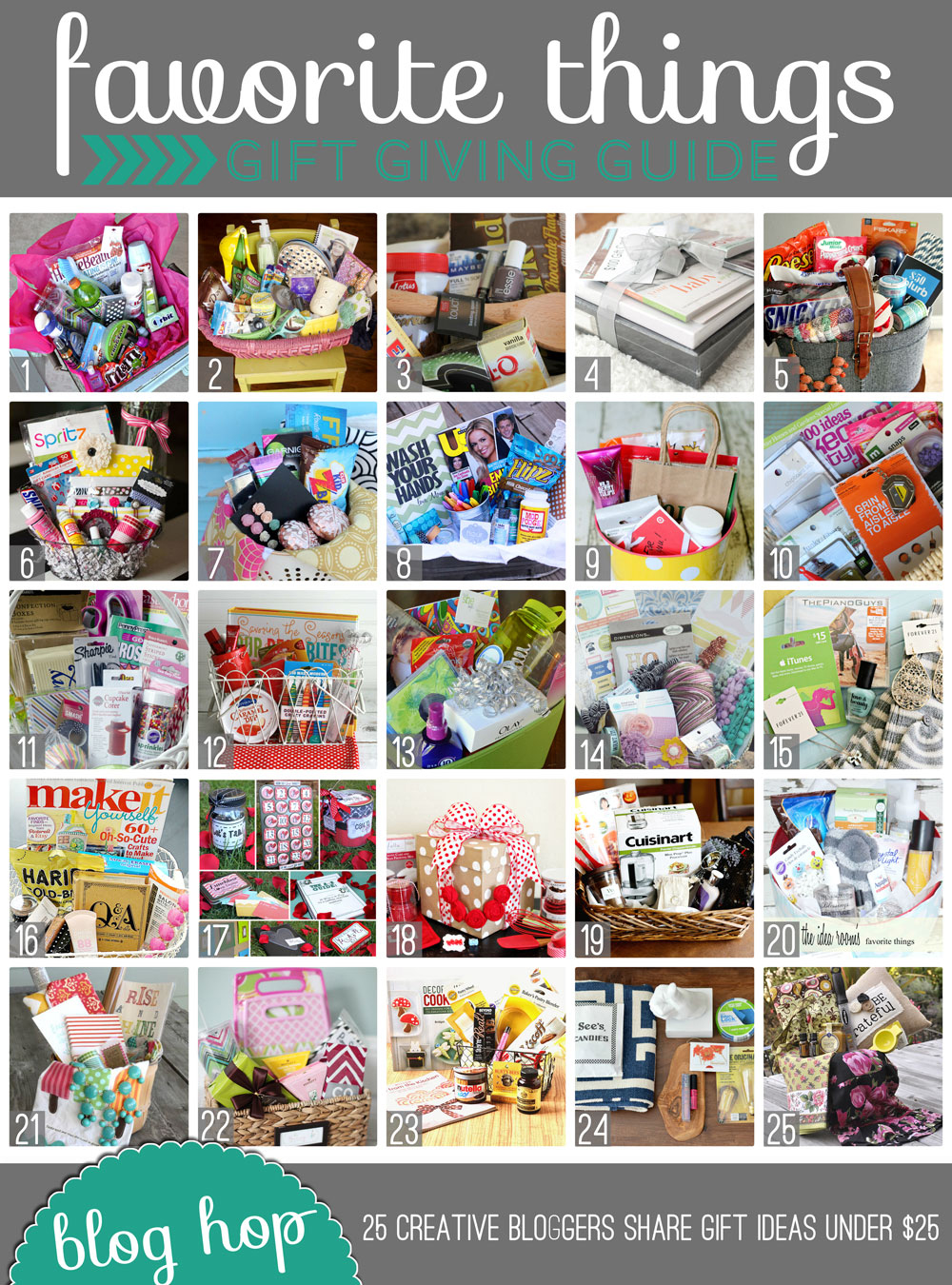 Here's what to do:
Check out all of the FUN favorite things in the collage above
Scroll to the bottom to see mine up close with details and links of where to buy my favorite items
Enter to win my gift basket at the giveaway at the bottom of the post ($100+ value)
HOP to all of the other sites to enter to win their gifts!
Look around and enjoy the sites of the 25 creative bloggers–they will not disappoint!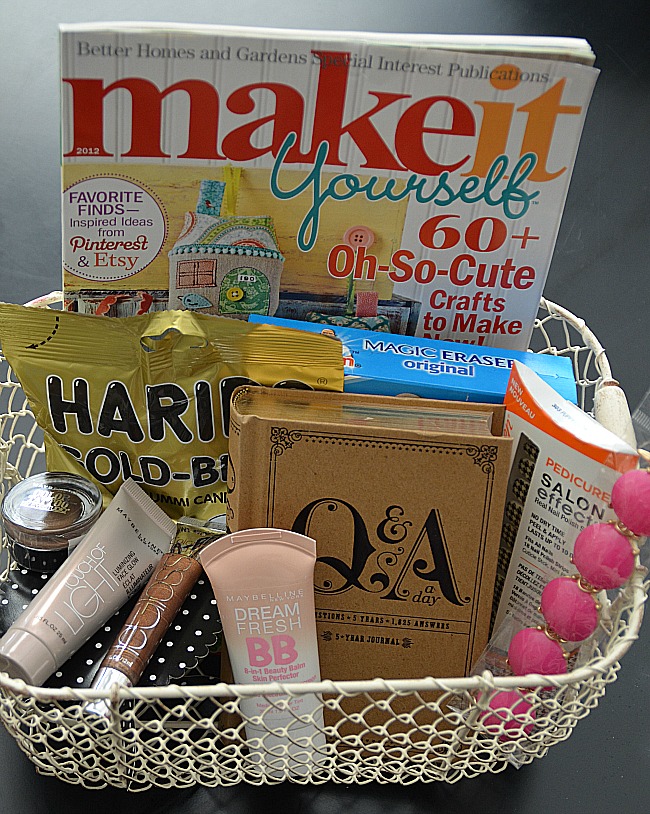 1. A copy of Better Homes and Gardens Make it Yourself — with over 60 awesome gifts and instructions on how to make them for everyone on your list this year.
2. Q&A — 365 questions — 5 years — 1,825nswers — 5 year journal. This is such a cool journal. You can see how your answers change over the years. Great idea for a woman or man.
3. Mr Clean Magic Erasers — it really is magic.
4. Haribo Gold-Bears. The perfect texture of gummy bears.
5. Polka Dot Cupcake Stand — perfect little stand to give with a cupcake for a friend or neighbor's birthday.
6. Sally Hansen Houndstooth Pedicure Nail Polish Strips. So easy to apply and they last a long time. Girls of all ages will love this.
7. Bubble Bracelet in hot pink. I love this color and this bracelet would make a great stocking stuffer.
8. Maybelline Dream Fresh BB Foundation — 8-in-one skin perfector. I love this foundation. It makes getting ready really easy. It has sunscreen, primer, brightener and foundation in one. Plus it doesn't make me break out.
9. Maybelline Touch of Light — Luminizing Face Glow. This is a great product to wear in the winter. It makes your face glow. You can wear it instead of foundation, or over foundation. (sorry I can't find a link for this one. I bought mine at Walgreens)
10. . I love this color for the holidays. It's so pretty and sparkly.
11. Maybelline Color Tattoo — Rich Mahogany. I love these eye shadows. They are super sparkly, but they go on with a wet texture, so you don't have glitter all over your cheeks all day. And they stay on all day long. I think this color is a limited-edition one for the holidays. So pretty.
12. Plus, I am throwing in a little box of my favorite craft supplies — so you can make some handmade gifts for those people on your list. Glitter, paper, embellishments and more!!
Those are a few of my favorite things. And I am so excited to be joining in with 24 other blogs who are also sharing their favorite things and giving them away too.
So fun!!
Be sure to HOP over to the other blogs to see THEIR favorite things and for a chance to WIN those gift baskets too!!

2. Capturing Joy with Kristen Duke
5. Eighteen25
7. kojodesigns
9. Lil' Luna
10. Lolly Jane
11. Love the Day
13. Or So She Says
19. The Girl Who Ate Everything
20. The Idea Room
23. TidyMom
24. Vintage Revivals
Here's how to enter to win MY Favorite Things Gift Basket:
I can't wait to hear about YOUR favorite things too!!
xoxo