I'm so excited to get more organized this fall!
My main goal for 2013 has been to get my family organized.
I've been slowly working on it as I organize my home. But my biggest challenge has been keeping my family's schedule organized. I sometimes feel like I'm just running from one thing to the next — with my business, kids from elementary school to college, and a husband who travels frequently. Once I even accidentally left my youngest at soccer practice because I was off picking up someone else at the same time! Luckily another soccer mom took pity on me and brought her home — but how embarrassing! Has that ever happened to you?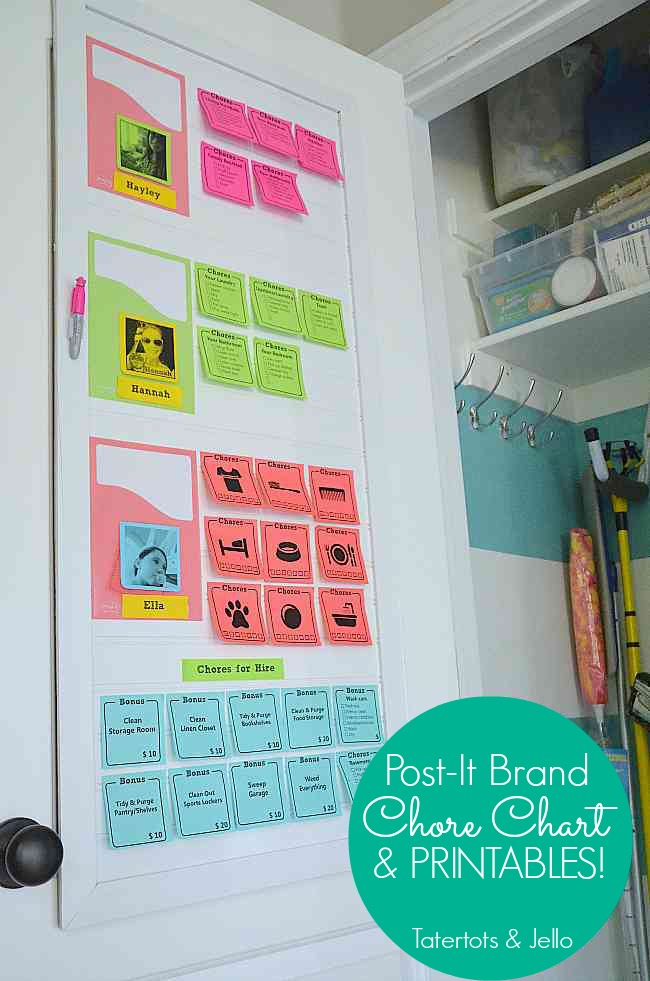 My Post-it Note Chore Chart has really helped keep the family more organized this year. So when I was at the Evernote Conference (thanks to Post-it Brand), I couldn't wait get home and try combining the Post-it Notes my family already uses with Evernote to keep us even more organized!
I've found three awesome ways to use Post-it Notes and Evernote to keep the family more organized.

I'm using Post-it Brand with Evernote to help us keep track of family travel, to help us be even more organized with chores, and to help us revitalize our family meal planning. Here's how:
The color coding is so cool because when I take pictures of my Post-it Notes with Evernote, they can automatically get filed where I want them. (I mentioned this in my last post about Post-It Notes, and now I'm actually doing it!)
I've assigned Neon Pink to travel, Limeade to chores, and Electric Yellow to food:

It's easy to assign them in the iPhone app: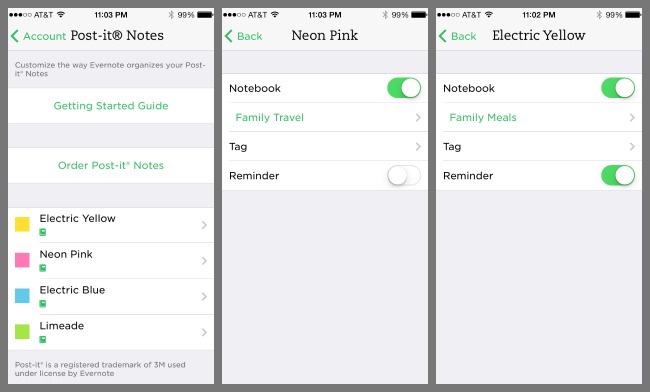 (I like how you can also automatically set tags and reminders, too!)
Here's how you do it: click the camera icon at the bottom left of the "Type a quick note" section in the Evernote app on your iPhone or iPad. (Right now, this Post-it Note picture feature is only in the iOS7 app.)
Then, in the camera mode, you can take a quick snapshot of your Post-it Notes — you just choose Post-it Note mode from the bottom menu.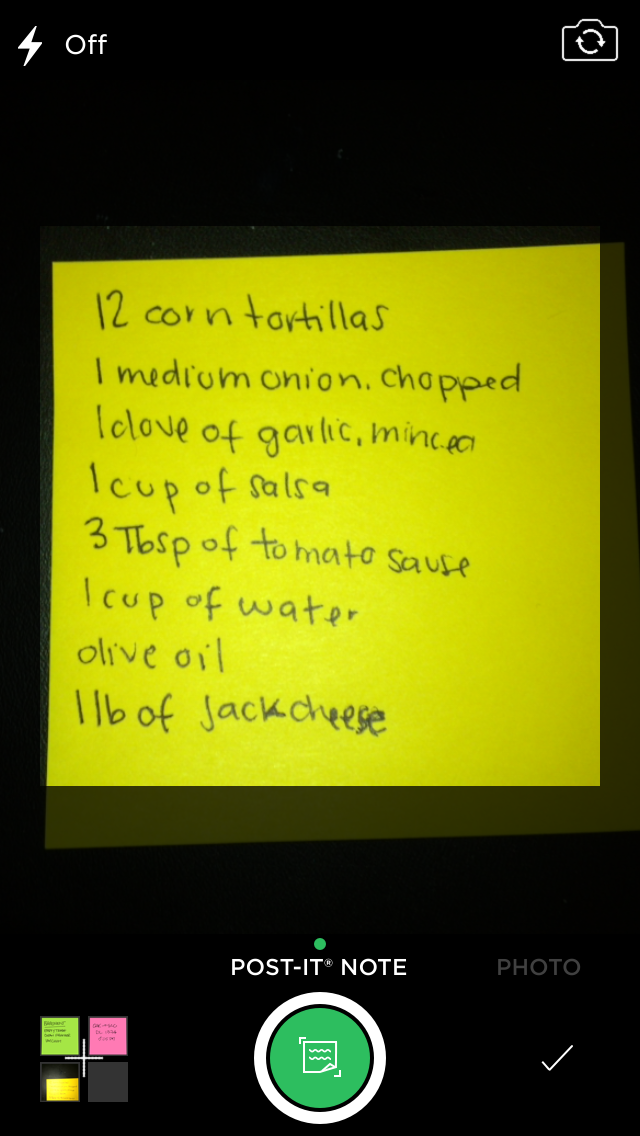 Did you see the little grid of Post-it Notes on the bottom left? You can take pictures of one after another with the camera and then just touch the checkmark button on the bottom right when you're done.
Tip: although it's easy to cut and paste Post-it Note images from one note to another once they're captured, it's even easier to simply take pictures of the Post-it Notes as you'd like them to be grouped in Evernote. So if you have a few chores, as I show in a moment, you can take a picture of all four of those Post-it Notes, one after another, and then when you press the checkmark, they'll all be loaded in one note together.
Here are three ways I'm using Post-it Notes and Evernote to make our family more organized:
1. Keeping Track of Family Travel (Neon Pink Post-it Notes)
With both my husband and I working, and kids who are getting older (one's in college!), sometimes it's a challenge to remember who is where when. Besides our keeping track with a family shared calendar, we've been using Post-it Notes that would normally have been left on a desk or on the fridge and capturing them electronically!
For example, my husband can now just jot down when we need to pick him up from the airport on a Neon Pink Post-it Note.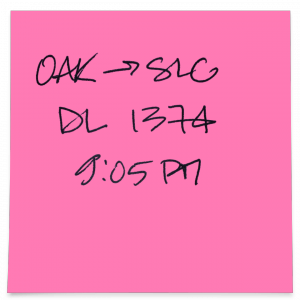 I (or he) can take a picture of it with the Evernote App — and since I've told Evernote to assign pink Post-it Notes to the Family Travel notebook, it will appear automatically where I need it to. I can go into the note and even set a reminder — one of my favorite features.
We can also use the Evernote clipper to remind us of articles and other things we find on the Web and mix them with our Post-it Notes where we've jotted ideas, itineraries, and so forth. We're looking forward to another trip to Moab, for example, so we have been using the shared folder to combine our Post-it Note ideas with cool links we find on the Web. (The new Evernote Web Clipper add-in for your Web browser is awesome. You should check it out: you can save full articles, simplified articles, bookmarks, images — and annotate them all before you share or save them in Evernote! It's the gray bar on the right in the image below:)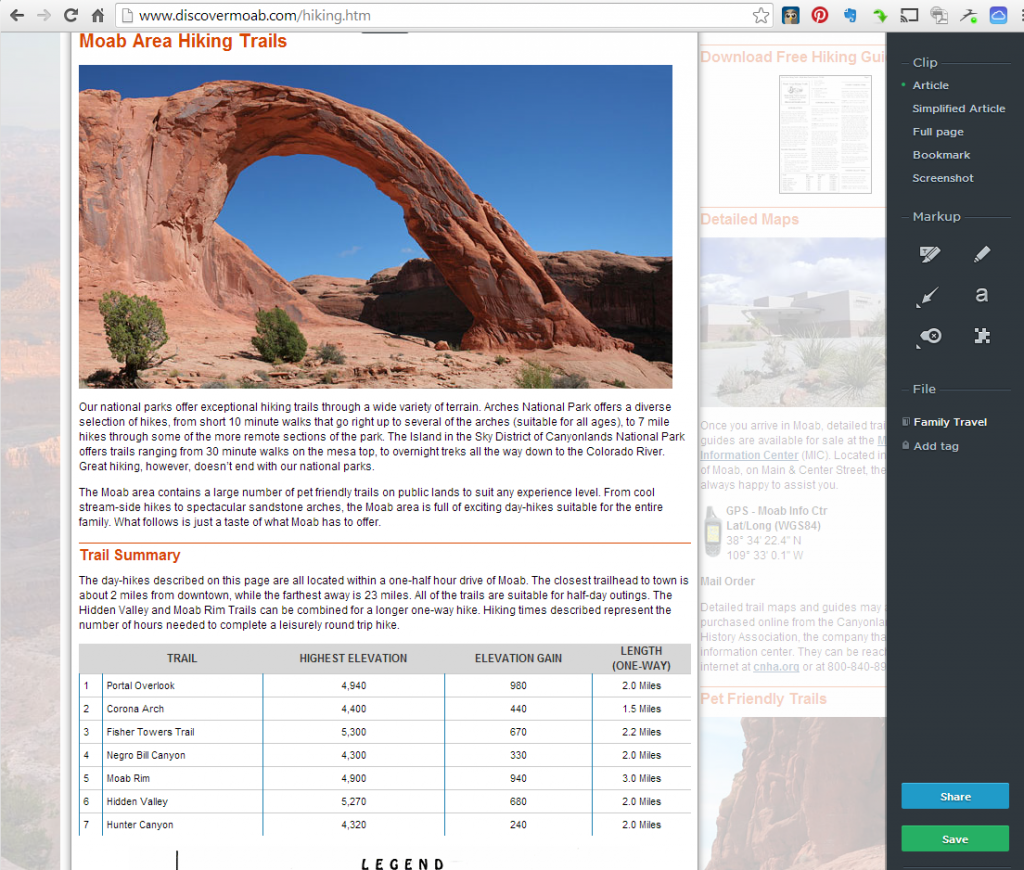 (Can I just mention how I appreciate the design of how Post-it Notes appear inside the notes in Evernote? Look how cool they look: the bottom has a bit of a shadow so the color looks a bit like a Post-it Note, and the logo even appears subtly at the end of the note:)

2. Being Even More Organized With Chores (Limeade Post-it Notes)
We're still using our Post-it Note Chore Chart, and we love it.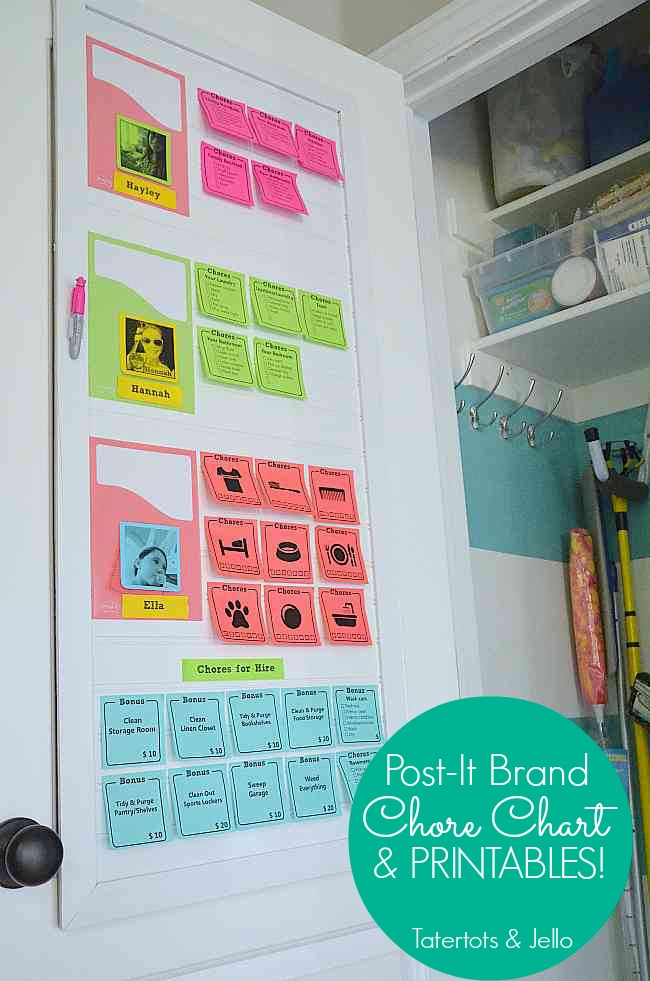 (Since my Chore Chart still uses some other Post-it Note colors, I just tell Evernote to treat those Post-it Note pictures as if they were Limeade – Chores.)
But my kids still need a bit of a reminder to get the chores done.
So now that all but my youngest have iPhones, I've set them up with their own (free) Evernote accounts.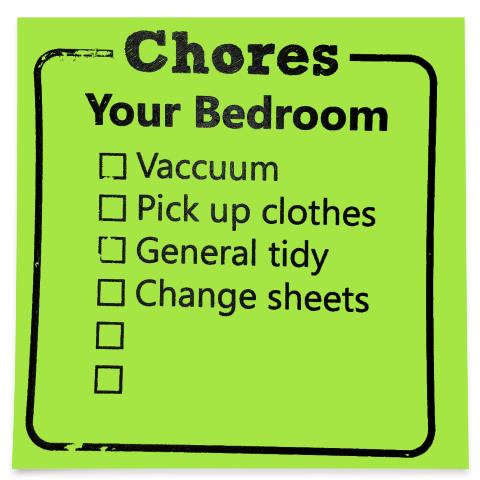 I can take pictures of the chores I've printed on Post-it Notes. I've told Evernote to save any Limeade Post-it Notes as "Chores."
(You can take pictures of more than one Post-it Note at a time. It's super easy to group Post-it Notes if you take them all in one batch: they then appear all in one Note. (If you don't do that, it's easy to cut and paste Post-it pictures from one note to another.))
But my favorite of these favorite features is this: I can set a reminder on the chore notes so that the kids get a reminder that it's chore time on their phones — with a direct link to their to-do lists! I love it!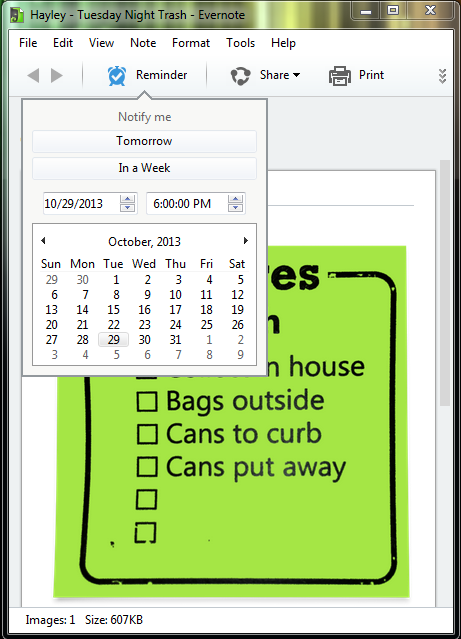 For example, since our trash day is Wednesday, I can set a reminder for Tuesday evening for Hayley to do the trash. (Tuesday night trash is a family honor traditionally bestowed upon the eldest child at home.) The picture above is from the Evernote Windows app.
When I take a picture of a Post-it Note using the iOS7 app, I can change the name of the Note (by default it's just saved as "Note from" and then your location), and then set a reminder: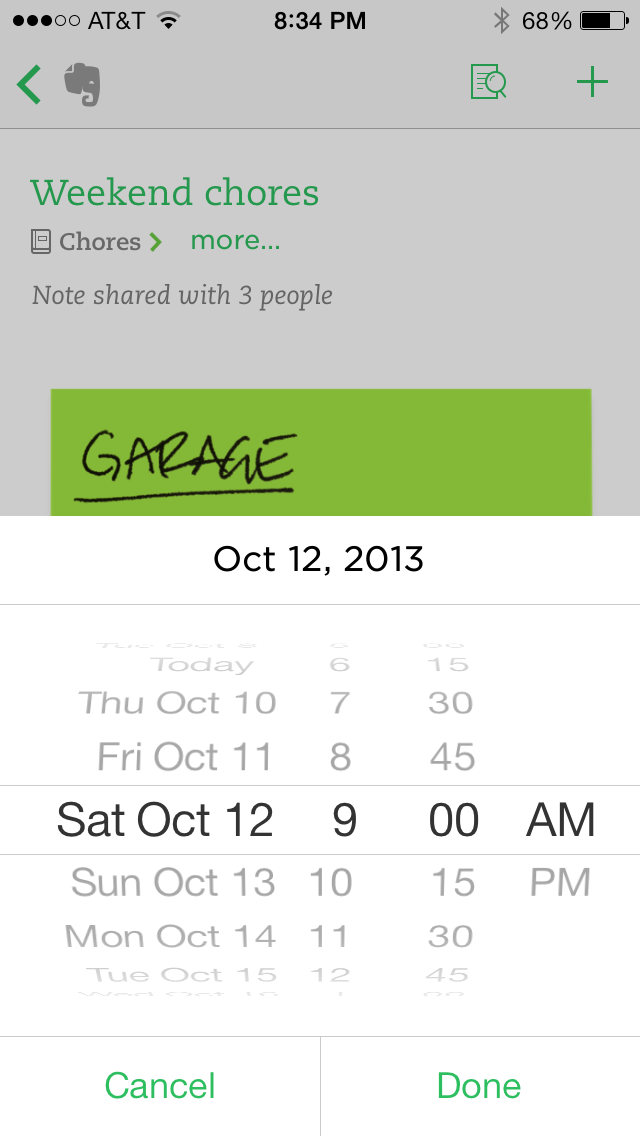 3. Meal Planning, Recipes and Shopping (Electric Yellow)
For a few years, we've assigned a day a week to each of the kids to be in charge of dinner.
"In charge of dinner" means:
Choosing a recipe
Making the shopping list
Making sure the food gets bought ahead of time — so the shopping list needs to be done before the next grocery store trip
Helping shop
Cooking
Setting the table
Serving and cleanup
One of the hardest parts of doing this consistently has been having the right ingredients purchased — and in the right quantities. For example, if Hayley were going to make enchiladas, often I'd find myself at the grocery store guessing at quantities and ingredients. "Hmmm … I should buy some tortillas, and maybe some enchilada sauce. I like peppers; I'll get some of those too."
Now, the kids have been choosing a recipe the previous week — in some cases, taking a picture or a web capture and saving the recipe to Evernote.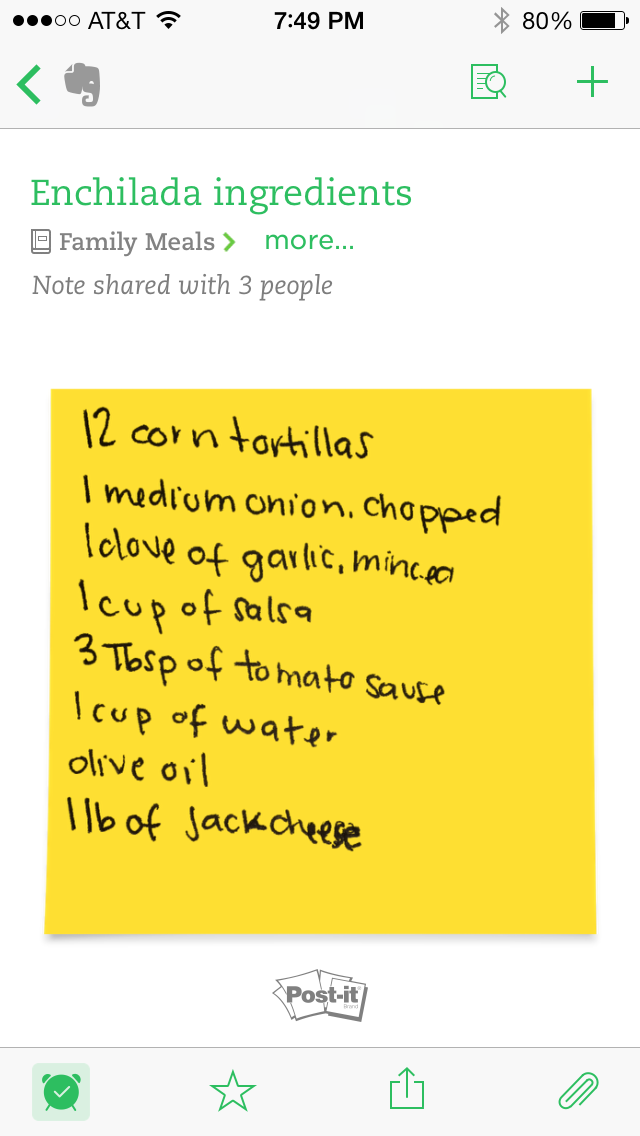 Usually they pull down a favorite cookbook. I just have them write an ingredient list on an Electric Yellow Post-it Note. I can take a picture of the Post-it Note ingredient list, and Evernote automatically files that Post-It Note in the Family Meals Notebook. They can put the Post-it Note on the side of the fridge to remind the family which ingredients are off-limits for use in a recipe. And then I have my shopping list all in one place in Evernote — filed in the right place — when I do my weekend grocery shopping. Note that this is in a shared notebook — so whether it's me or my husband doing the shopping we have it handy. We use the same shared notebook to keep track of the weekly meal schedule and recipes!
(And the text is all searchable in your notes, including in the Post-it Notes!)
I also like how I can share any of the scanned Post-it Notes with anyone from the iOS7 app.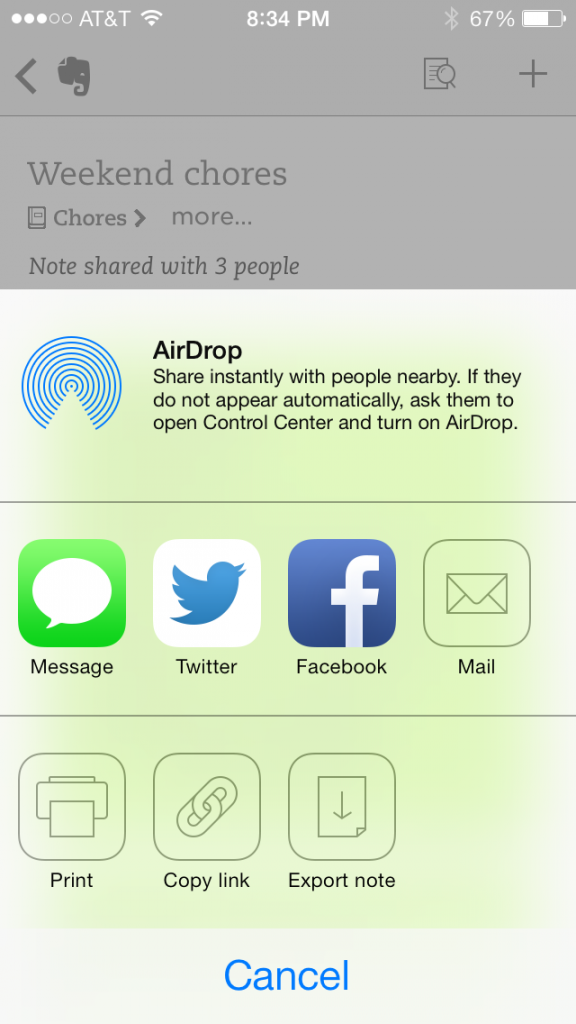 … so I can just send it via text message or email if I need to!
Learn more about Post-it Brand and Evernote by visiting your local office supply store or by visiting Postit.com/Evernote, Post-it Brand on Twitter (@postitproducts) or Facebook (http://facebook.com/postit).
You can find the packs of Post-it® Notes with the green Evernote stripe at Staples stores and online through Staples.com, Officemax.com, Officedepot.com, and Quill.com. (These Evernote packs and the Limeade Post-It Big Pad packs also come with one month of Evernote Premium. You can pre-order Evernote Note Holders through the Evernote Market; they'll to be available by the end of this month.)
Check out the new Post-it Brand and Evernote partnership.
How do YOU keep your family organized??
I would love to know YOUR ideas!
xoxo
This is a sponsored post on behalf of Post-it Brand. Regardless, content and opinions are mine. See my disclosures.