I'm Holly from My Sister's Suitcase, and I am thrilled to be a member of Jen's contributor team this year! I can't wait to share some of my home decor and DIY ideas with all of you over the next few months.
One thing you should know about me… when it comes to home decor, I have West Elm taste on a thrift store budget! I have been drooling over some of the gorgeous pieces in the West Elm catalog recently, and I'm really loving the look of different colors of stained wood mixed together. I definitely can't afford the thousand dollar price tag, so I decided to update my own dresser. For less than $40, I am obsessed with my new wood shim dresser!
I marked the shims with a pencil so I would know where I needed to cut each one. An easy way to do it is to cut about 12 of the shims in half, and then you can add 2 of those halves to one full-length shim to create one row of your pattern. On alternating rows, I slightly overlapped 2 full-length shims. Just keep playing with it until you like the look, and make sure all of the shims are laying as flat as possible.
When you are ready to stain, start with one color at a time, and take the pieces you want to stain in that color off of each drawer. When you are staining the wood shims, brush the stain on with a natural bristle brush (the cheap ones work great for this!) and then let the color sit on there for 2-5 minutes. The longer you leave it, the more the stain will penetrate. Wipe off all excess stain and then place those pieces back into your pattern on the drawer front. Continue doing this for each stain color until every drawer is complete!
I let them dry overnight, and this is what they looked like in the morning. All ready to be glued on!
Here is the hardest part. I'm not gonna lie…. getting them adhered to the drawers was kind of tricky at times, but after my first drawer it got easier 🙂 I used this Power Grab adhesive to stick the wood shims to the dresser drawers.
This stuff is pretty powerful once adhered! But it is repositionable for 15-20 minutes, so you have to make sure they are in place and weighted down if necessary for at least that amount of time. I used heavy cans from my pantry to keep some of the shims in place.
I put a nice sized glob of the construction adhesive in a few spots on the back of each shim. Make sure you have enough at each end, and some in the middle. You have to get a feel for it because you don't want it squishing out the ends either!
I glued them on, one shim at a time so I could keep the pattern in tact. Here is one of the drawers when I was done gluing:
One secret… I did have to use some hot glue on a few of the pieces that weren't staying flat. It worked well to keep them in place until the adhesive was dry. When all the drawers were done, I let them dry for about an hour just to make sure everything was secure, and then I put them back in the dresser to see the final result.
The bottom of the dresser still had the old-school curvy detailing that I didn't love, so I took a piece of thin plywood, stained it, cut it to fit the width of the dresser and attached it to the bottom.
That's it! It sounds more complicated than it actually was, and I finished this entire project in less than 24 hours. It is like I have a brand new piece of furniture in my room and I love it!!
************
Thanks Holly! That dresser turned out amazing! And, it really looks like a more expensive piece too. I love it. My Sister's Suitcase is full of awesome ideas like this one. Here are a few recent projects of theirs that I love: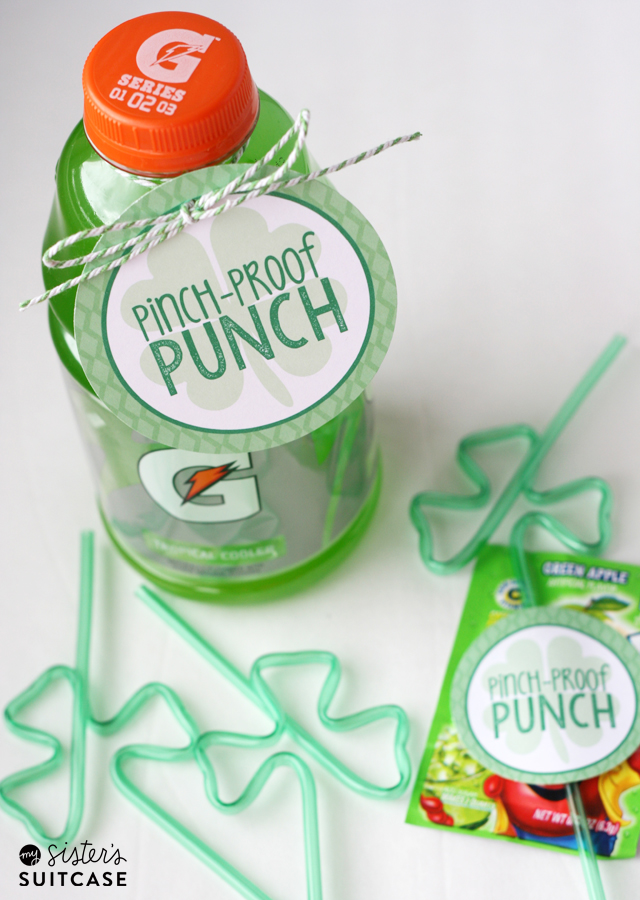 If you're still looking for a last minute St. Patrick's Day Idea, I love these Free Pinch Proof Punch Printables they created!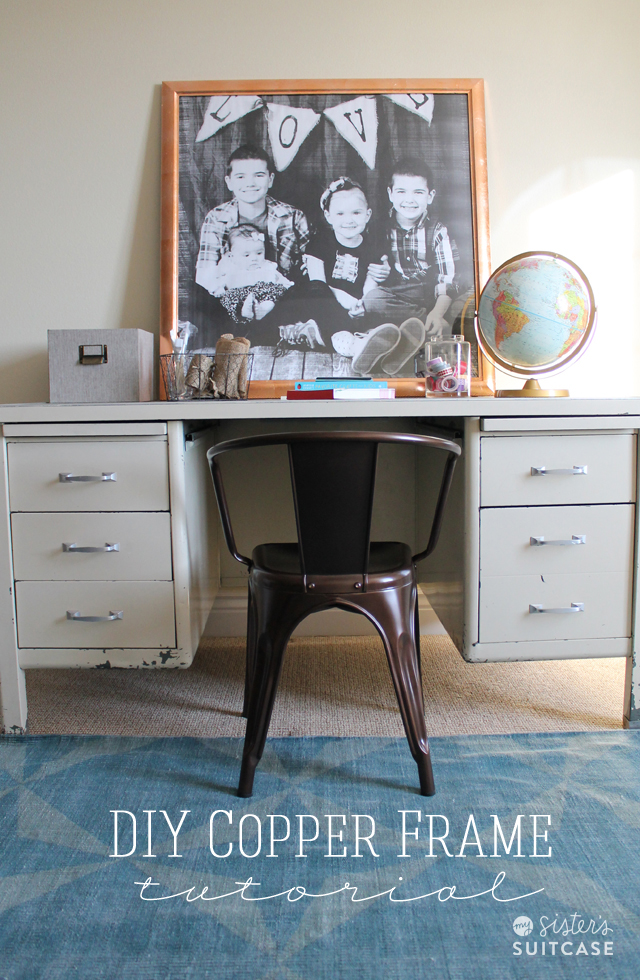 I love the way she took an old frame, and gave it a more updated look with this DIY Copper Frame Tutorial. In the same post, they share how you can change any photo to a B&W Engineering print too!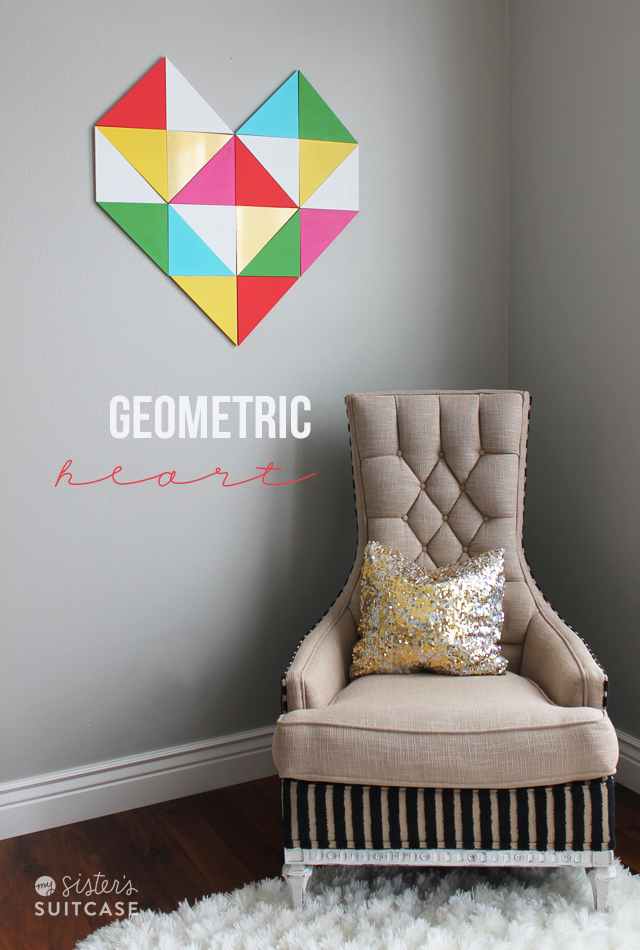 This Geometric Heart Wall Treatment she created for Valentine's Day is so fun I could see it hanging up year round!
Make sure to follow My Sister's Suitcase.
I am so happy to have My Sister's Suitcase as one of my contributors for this year – they are one of my very favorite blogs! I can't wait to see the other projects they have to share throughout the year!
xoxo