You may have noticed the light featured in the #1905Cottage Pantry Industrial Shelving post: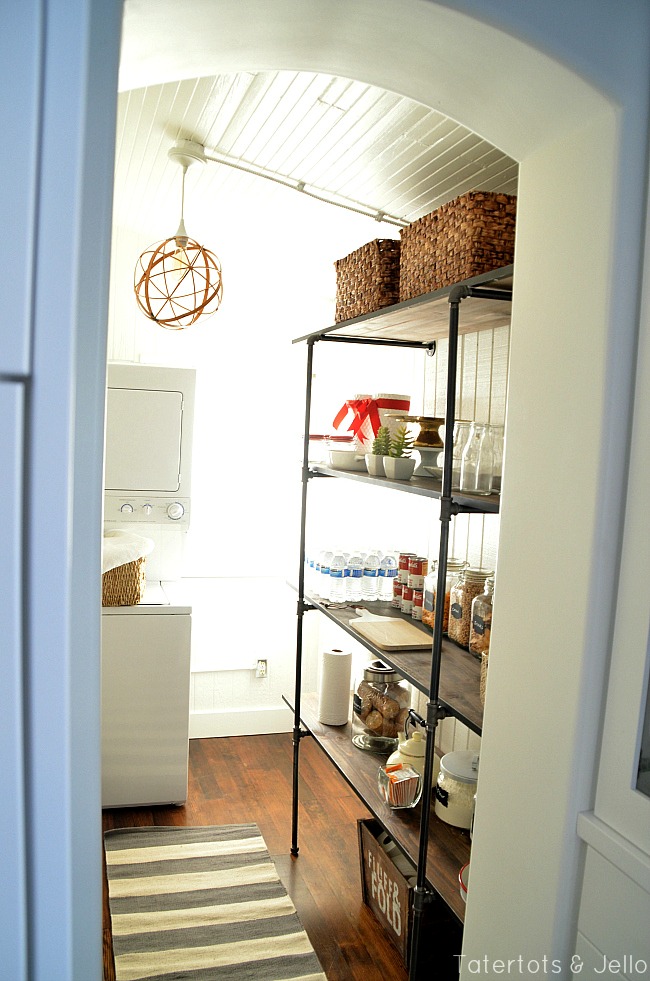 Guess what: it's super easy to make one of them for yourself! If you simply want to replace your existing ceiling fixture with one of these, you need to buy three things. Only three things, including a lightbulb!
Here's everything you need and how to put it together, along with a few tips if you need to run new conduit like I did:
What you need:
Decorative metal globe in whatever size you like (probably 12-18 inches across). I found mine at HomeGoods.
Mini Pendant Light Kit (I got mine at Lowe's. I chose the white finish, but they have a variety of finishes. It was under $20.)
Light bulb. (Check the package on your pendant light kit; mine had a 60w limit, so I picked up a 60-watt Edison-style bulb at Lowe's for a unique look)
What to do:

Assemble your materials in one place. Grab your screwdriver, pliers, electrical tape, wire nuts, and so forth, too.
Turn off the light switch to the light and turn off the power at the breaker. Consult a professional electrician if you have any questions or are unfamiliar with replacing light fixtures. I'm not a professional electrician — I have just replaced a lot of fixtures — so ask an expert!
Remove the old light fixture and bracket. There should be a basic electrical ceiling box there.
Open the pendant light box and read the instructions. Hold the pendant light fixture up and make sure it will fit in your ceiling box (it should, unless there's something odd about your ceiling box. I'm not judging your ceiling box if it is odd. Check with your electrician or hardware store if something looks off.)
See the white plastic twist-on bracket on the pendant light? (You can see it removed in the left picture above and screwed on in the center and right pictures. Yes, that pendant in those pictures is the bronze color. I changed my mind and bought a white one instead but I had already taken these pictures.) Remove that white plastic twist-on bracket.
Here comes the tricky part: find an intersection of bands on your metal globe that is relatively flat and in which the white ceramic light fixture fits fairly snugly. Screw the white plastic bracket onto the fixture until it fits very tightly. If you were extra paranoid you could put a drop of silicone adhesive on the bracket and the fixture. Here's a closeup of how yours should fit before you screw the bracket on tightly:
Now hang your pendant according to the directions in the package. It should take just a bit of wiring and a couple of screws. Put the light bulb in last.
You're done!
Extra things I had to do
Note: check with your local electrical code before you run any electrical conduit or engage in any other fancy shenanigans as I had to.
The original light fixture was on the right wall — right where I was putting my industrial shelves. So I had to move the light fixture to the ceiling. I didn't have any attic access — this part of the roof isn't accessible from the attic (it's part of the original porch). So, since I was going with an industrial aesthetic, I decided to put a plate on the existing wall box, run metal conduit from that box to a surface-mounted new ceiling box, and run the electrical wire through that. It conformed to our electrical code — as far as I can determine — and solved my light location issue.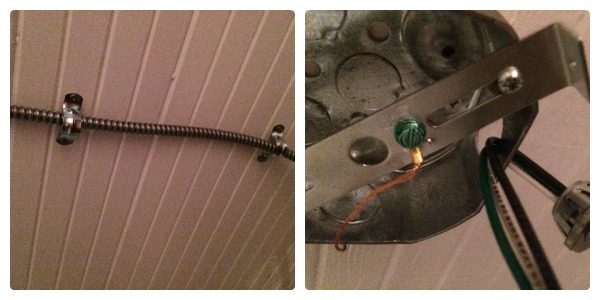 As you might have guessed, the bright and shiny conduit was a bit much for my pantry, so I painted it all white with the wall and ceiling paint color when I was all done.
* * * * *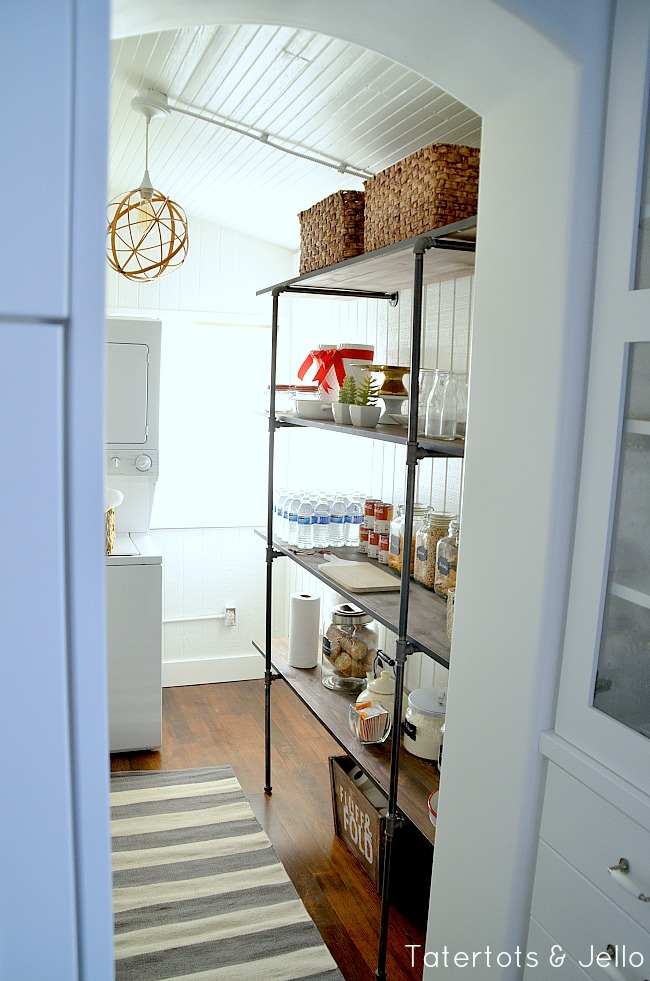 That's it! So easy!
Where might you create a DIY pendant globe light?
You can find out more about how to create the Industrial Pantry Shelves here:
xoxo