DIY Halloween Pumpkin Paper Party Bags. Turn sheet of paper into festive pumpkin-shaped Halloween party bags and fill them with treats. Plus easy Halloween Party Ideas!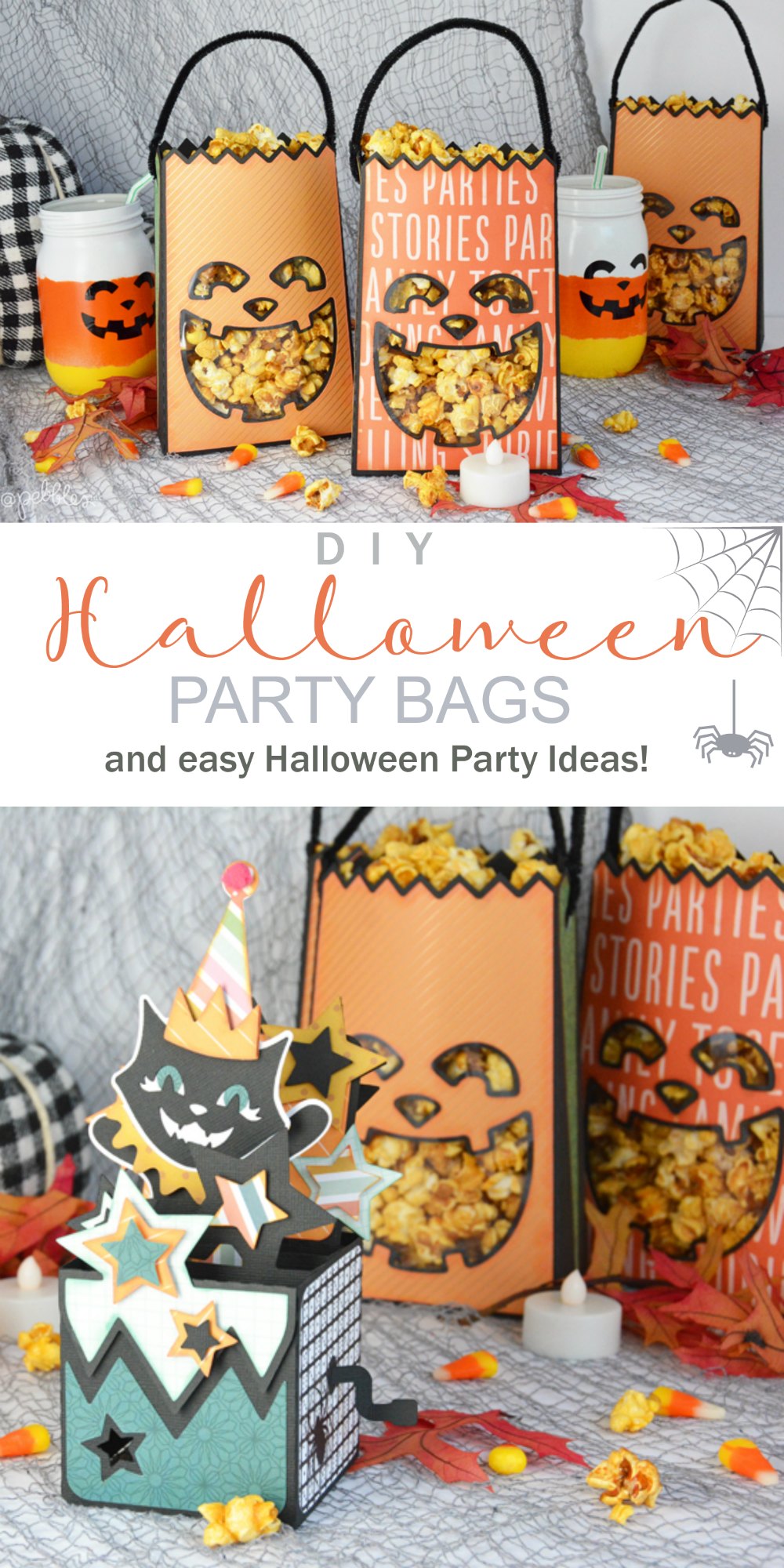 Hello everybody! Marcia here today. I am so excited to be back guest designing for Jen!
DIY Halloween Pumpkin Paper Party Bags
I love throwing Halloween parties. And it's fun to decorate the house and invite people over whether its a pumpkin carving party or a Halloween costume party. Have fun creating some party favors to help set the mood. Here is what I came up with using the Pebbles This is Family collection that Jen designed …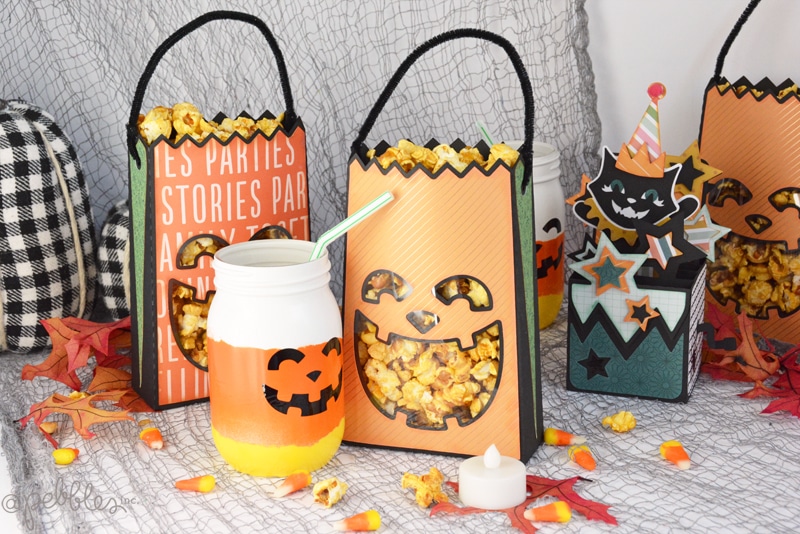 Use an SVG Cut File to Create the Bags
Although this collection is not Halloween based, the colors of the pattern papers have a Fall air about them! The kids will get a kick out of these pumpkin treat bags. I used a svg cut file from SVGcuts called Barn Party.
Clear Acetate Sheets Show the Treats
Clear Acetate Sheets Show the Treats. Fill the treat bags with candy or even popcorn. A clear acetate sheet let's you see just what treats are inside.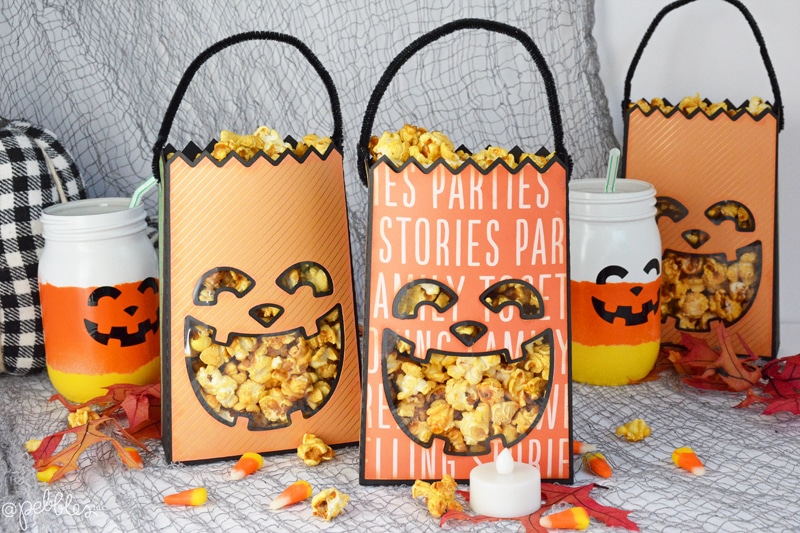 Easy Halloween Party Ideas
Here are a few other easy ways to throw a Halloween party! Gather your friends or family together and make memories!
Candy Corn Mason Jars
Then I spray painted the outside of some pint sized mason jars to look like candy corn. A trick here to prevent overspray is to wrap some scrap paper around the jar and affix with a rubber binder. I spray painted my jars with the opening face down to prevent getting any paint inside the jar.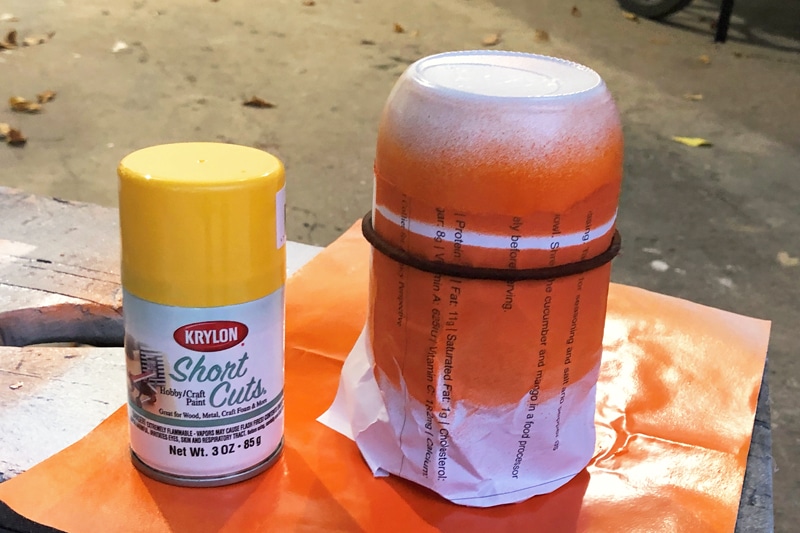 Create a Faces for the Mason Jars
After the paint was dry, I cut faces from black vinyl to adhere to the jars.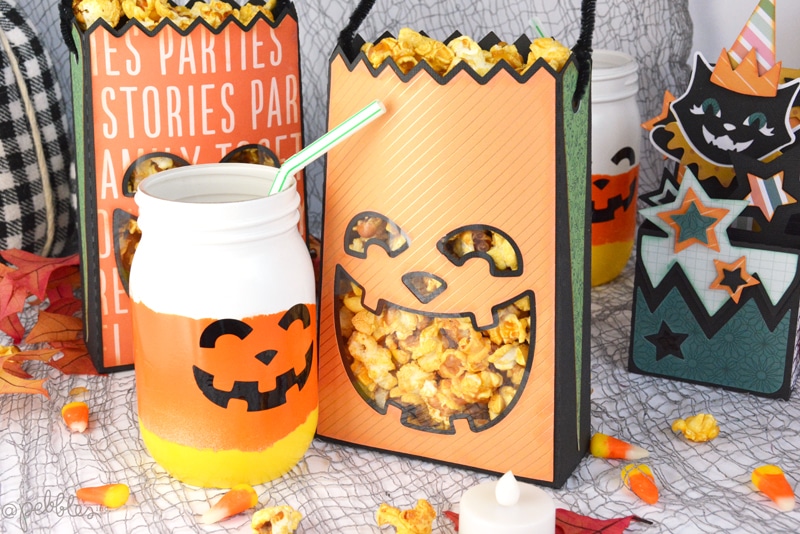 Box Cards Make Cute Halloween Decor
Box cards make great table decor on your buffet table. This Jack-In-The-Box black cat isn't too scary. I happen to have a couple of black cats that I took in as strays so it was hard to resist making this box card. The svg cut file is also from SVGcuts and is called Halloween Box Cards. Also, the card folds flat in case you wanted to mail it.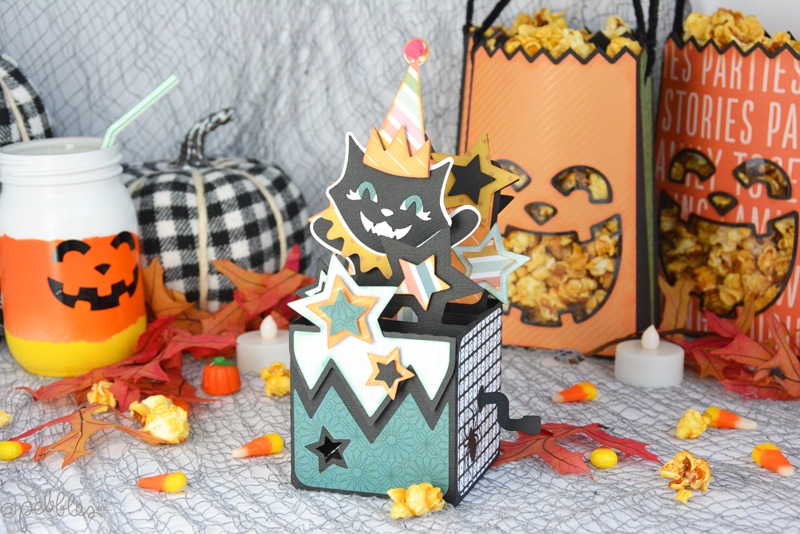 I hope this gives you some ideas if you are planning on throwing a Halloween party.
This Is Family is NOW at JoAnn Fabric Stores!
Halloween Party Bag SUPPLIES:
Pattern Papers – Pebbles This Is Family collection
734162 This is Family Patterned Paper Fresh Picked
734164 This is Family Patterned Paper Bike Ride
734167 This is Family Patterned Paper Picnic
734168 This is Family Patterned Paper We Are Family
734170 This is Family Patterned Paper Fall Time
734175 This is Family Patterned Paper Growing Together
734181 This is Family Patterned Paper Chit Chat
734183 This is Family Patterned Paper Tag You're It
734196 This is Family 6×8 Paper Pad with Copper Foil Accents
American Crafts Cardstock
Thanks Marcia! Your bags are adorable and I LOVE all of the Halloween party ideas! Be sure to follow along with Marcia!
Scrapping with Marcia on Facebook
You can get my new This Is Family line at JoAnn Stores now!!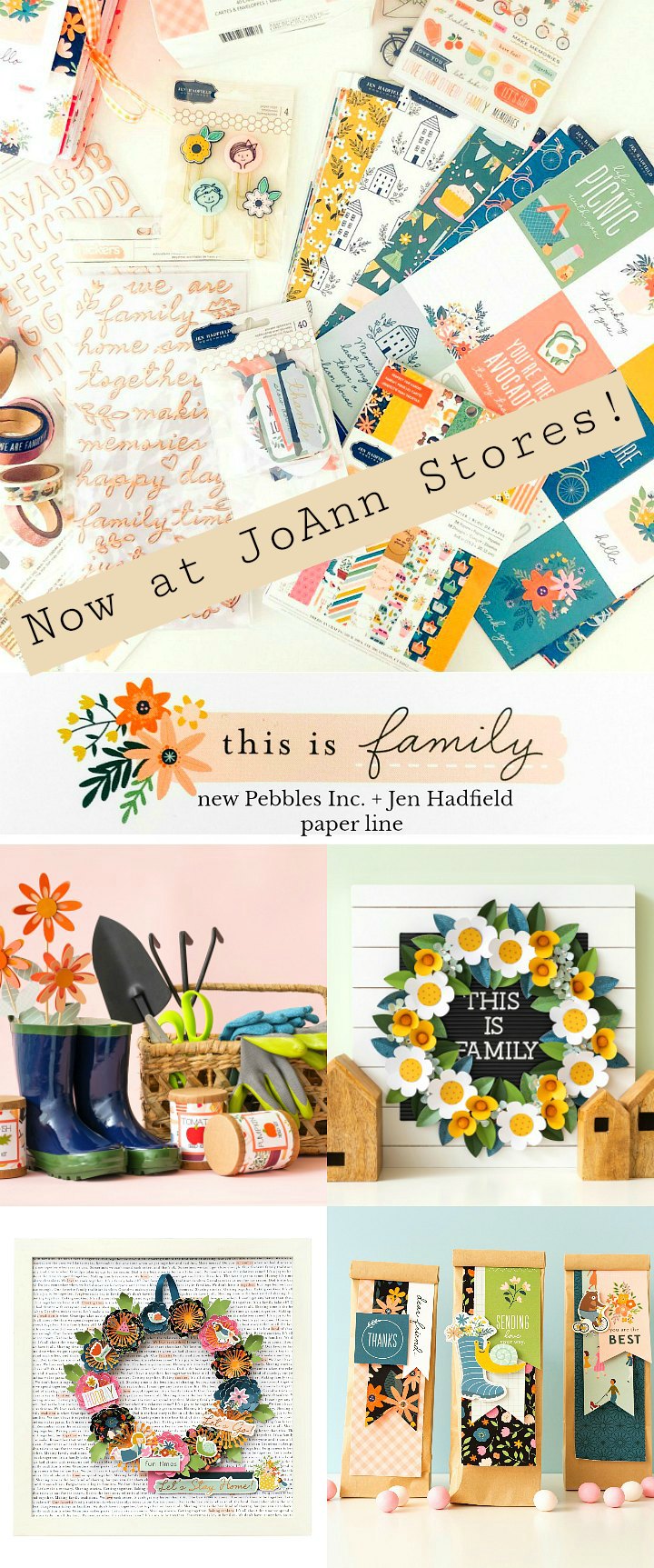 More Awesome Halloween Party Ideas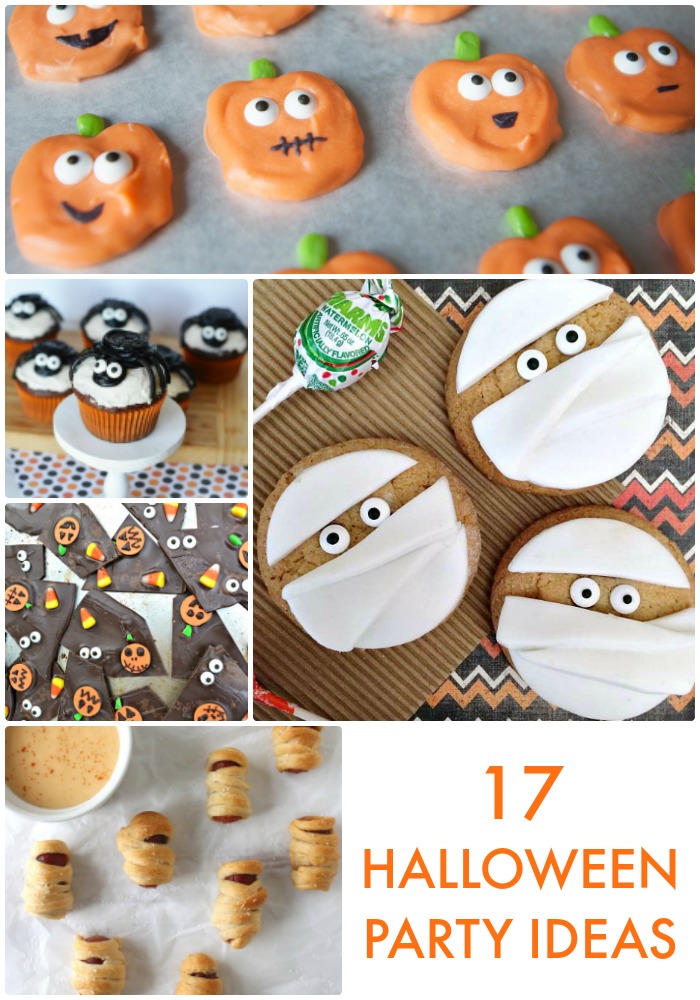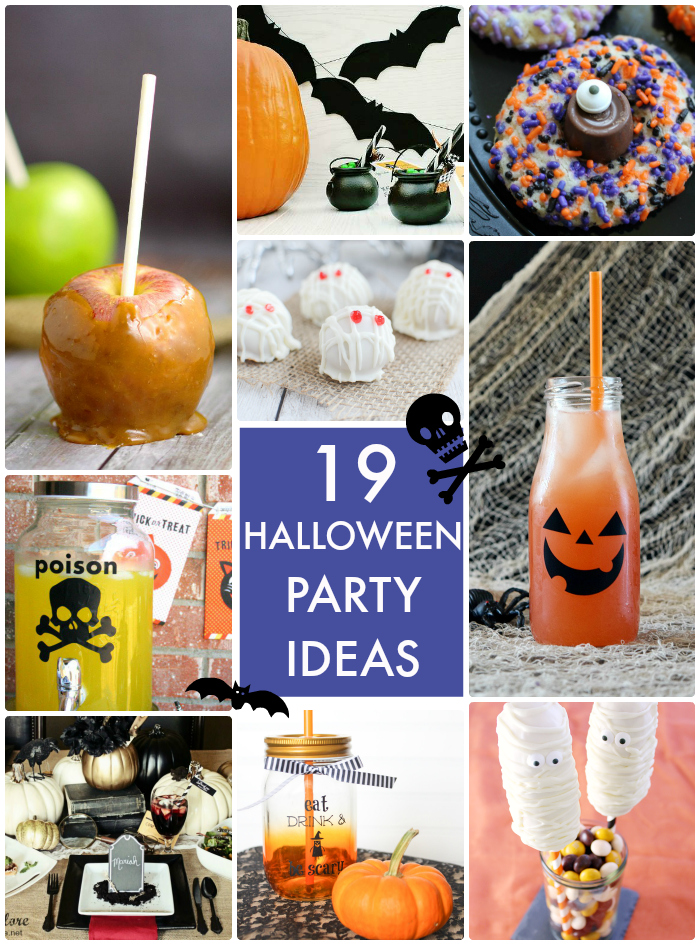 Have a Spooky Day!
xoxo