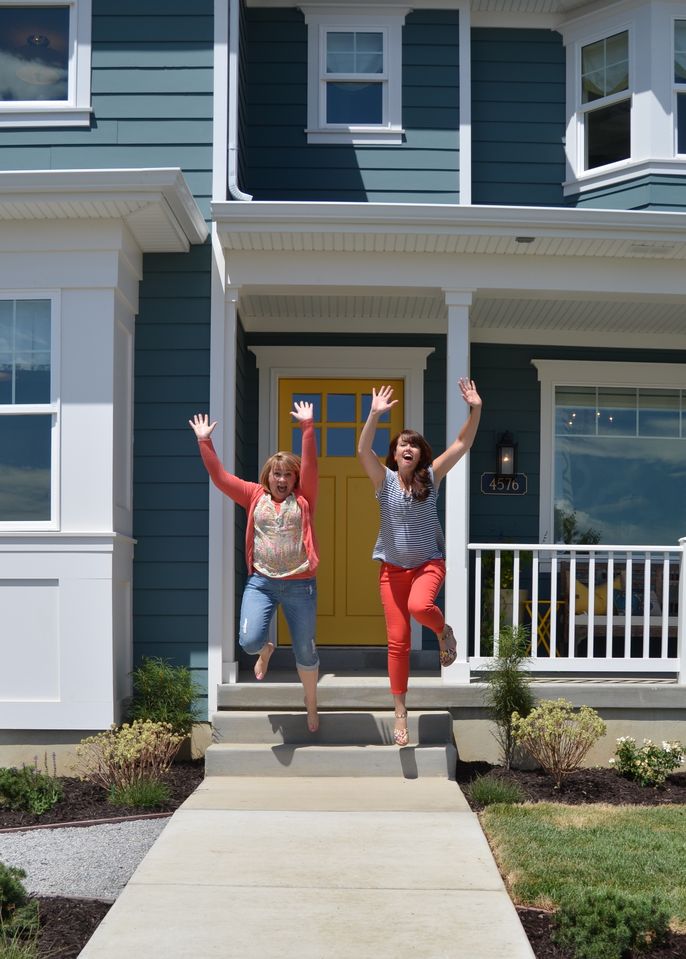 Whew!! The house is ready.
It has been a blast working on this project.
I feel like it was a once-in-a-lifetime dream and frankly, I am a little emotional about it. I couldn't have wished for a better group of people to work with. My fun blogger friends Char, Lara, Shelley and Amy. Brian Clark is amazing — so gifted at what he does. I also found Cynthia Bee delightful and she is such a hard worker! Plus Cameron and Aly from Daybreak were fabulous.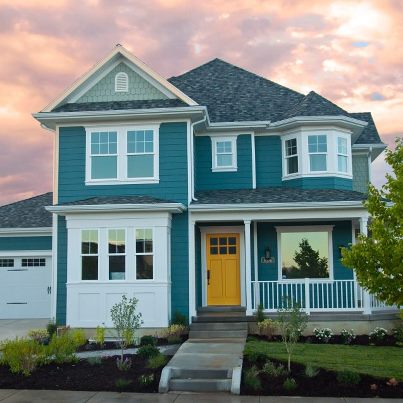 Here is the office that I worked on.
I really wanted to incorporate built-in shelves in the office. I think there is no point in having an office unless it gets used. So it's great to have a place to display items that you use as you work. Plus, having doors on some of the shelves lets the homeowner keep useful things in the office that might not be lovely to look at. Plus, I thought it was important to put french doors on the space. That way if you are on a phone call and your kids are running around on a sugar high, you can still get things done.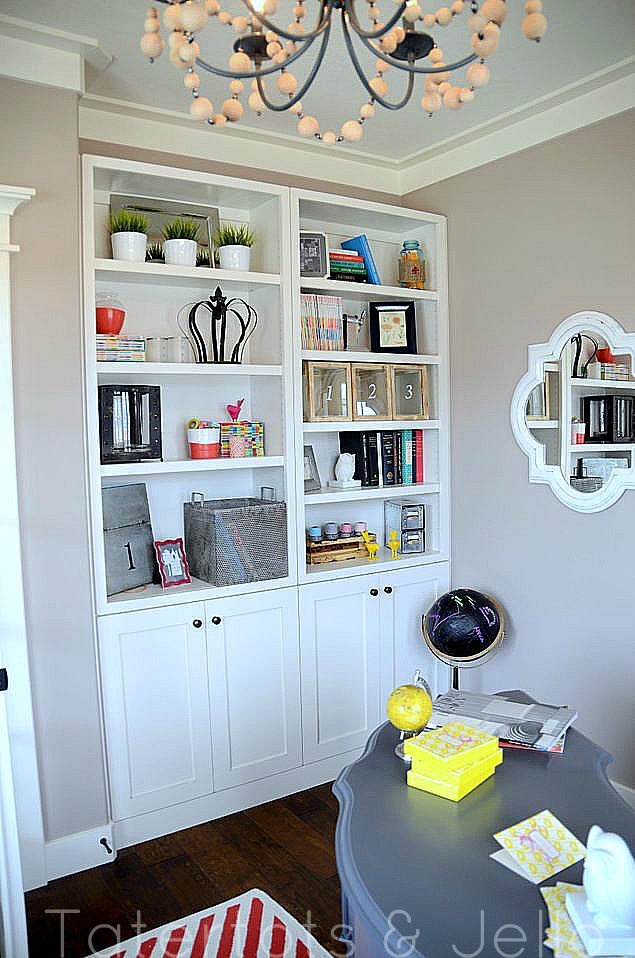 Another thing I really wanted to see happen in the office was making the space light and inviting. I painted a dark desk dark grey and added pretty porcelain knobs to make the piece a little more feminine. But the grey color also makes it masculine enough for a man to use.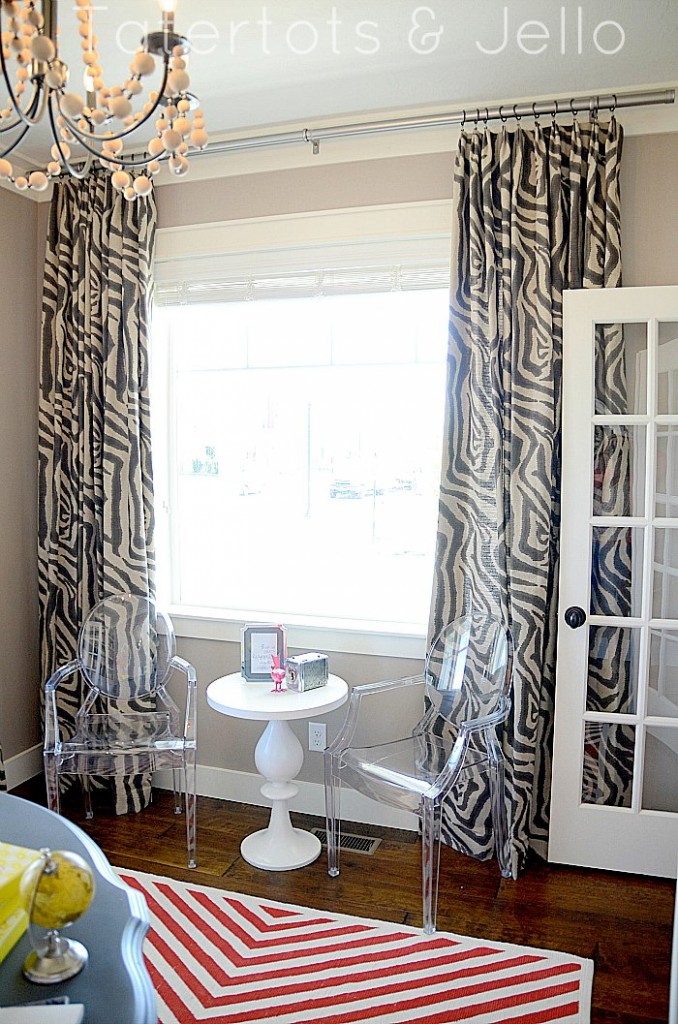 The home overall has a "beachy" feel so to being that feeling into the office, I made a beachy chandelier. I spray painted the chandelier and then strung wooden balls that I had drilled as well as black gems.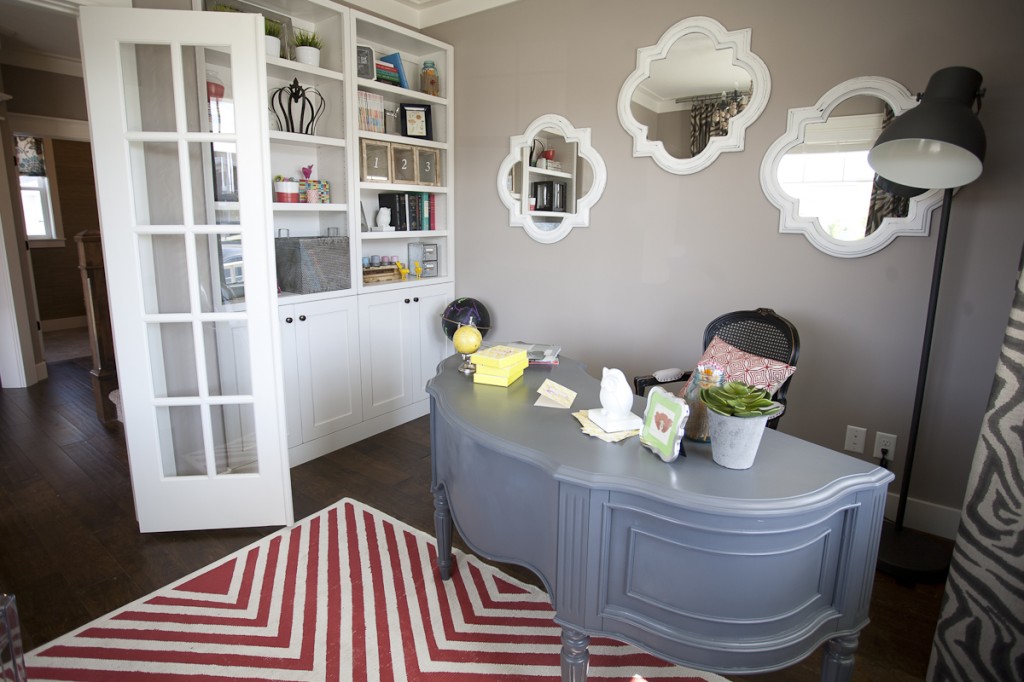 Brian the designer wanted to bring in a coral color to the home, so I used painting tape to tape off a pattern on an Ikea rug and then I painted it. Since the space is so small, instead of putting regular upholstered chairs in here, we used some ghost chairs, which are acrylic chairs. I love that they are transparent and they seem to take up no space at all. Yet, they offer seating in this space. All of the quirky accessories are fun too. We punched up the space with bright birds and objects in the built in shelves. And also on the table in between the chairs. I also love that we took a traditional desk and gave the room a more modern spin with the graphic print in the rug and the modern chairs and little table. Putting unexpected elements together gives the space more personality.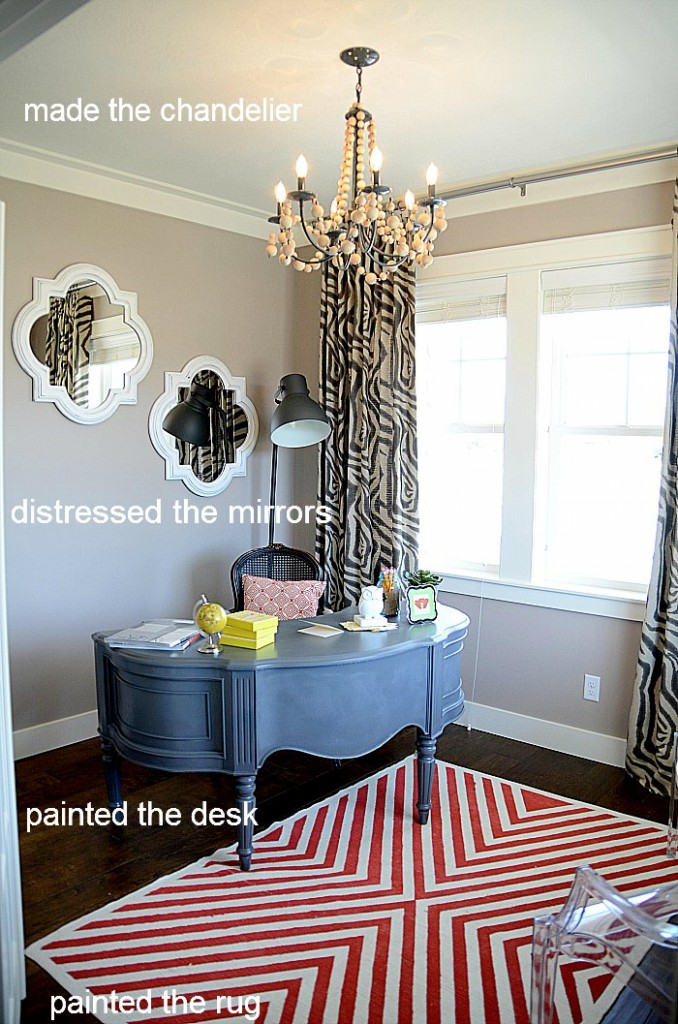 Another project that was fun was we took a thrift store globe and spray painted it with chalkboard paint. Then we used chalkboard pens to write words and places on the globe.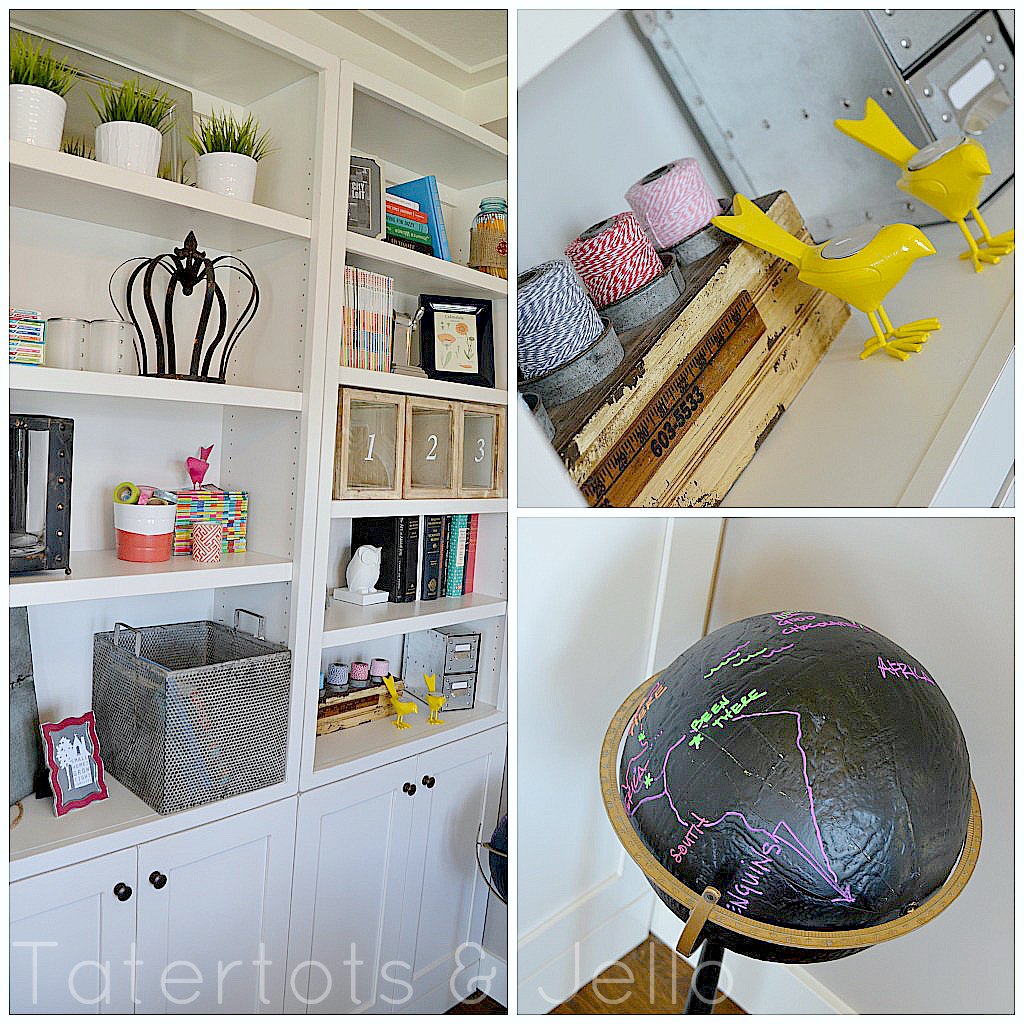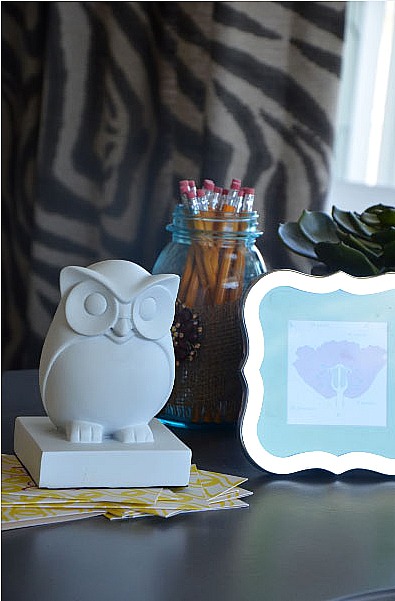 Right across the entryway is the living room. Brian designed this space. I love how he took the Board and Batten look that is so popular right now and translated that into a ceiling treatment. This treatment is actually very affordable. The slats are all MDF and very inexpensive.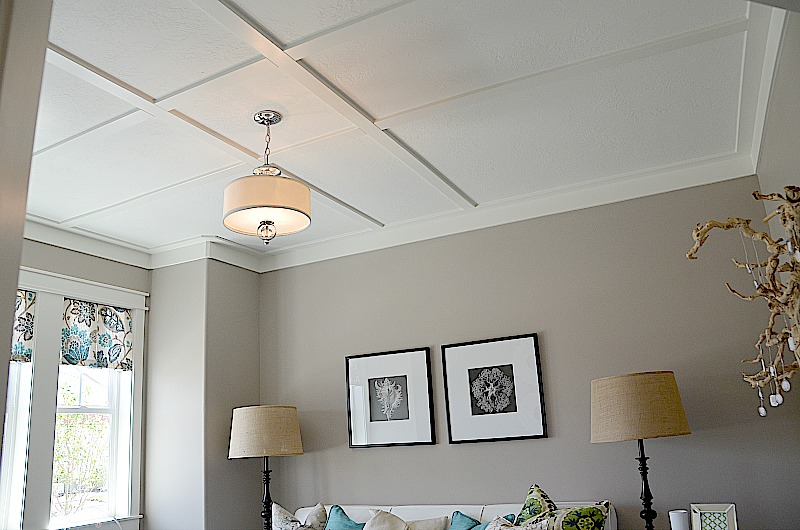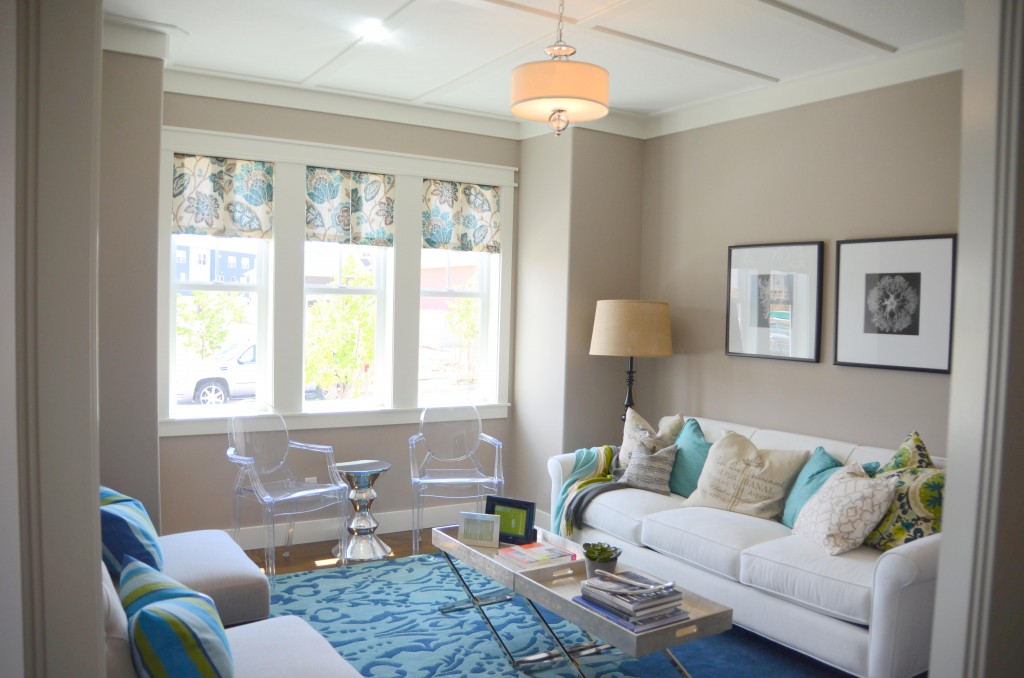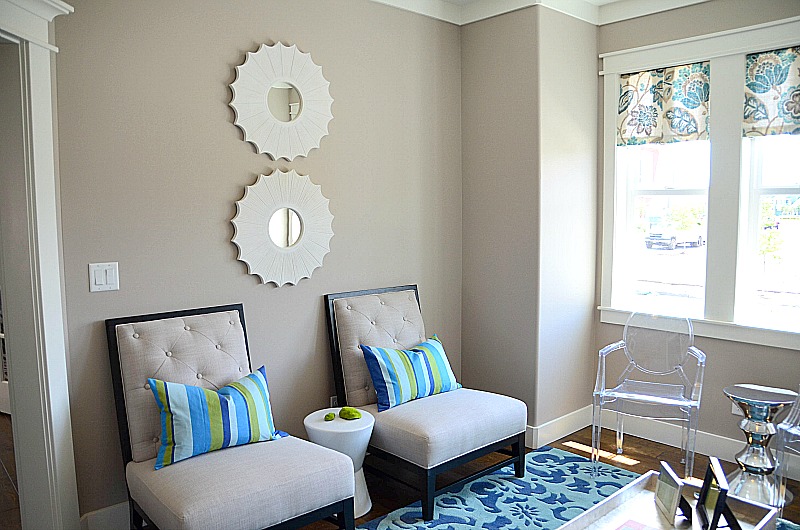 And the beachy theme continues in the living room with family tree wall art. Char took silhouette files and cut them out with her Silhouette Cutting Machine and then we attached them to metal jewelry frames from the craft store and hung them on the branches. This was Brian's idea and I love the way it turned out!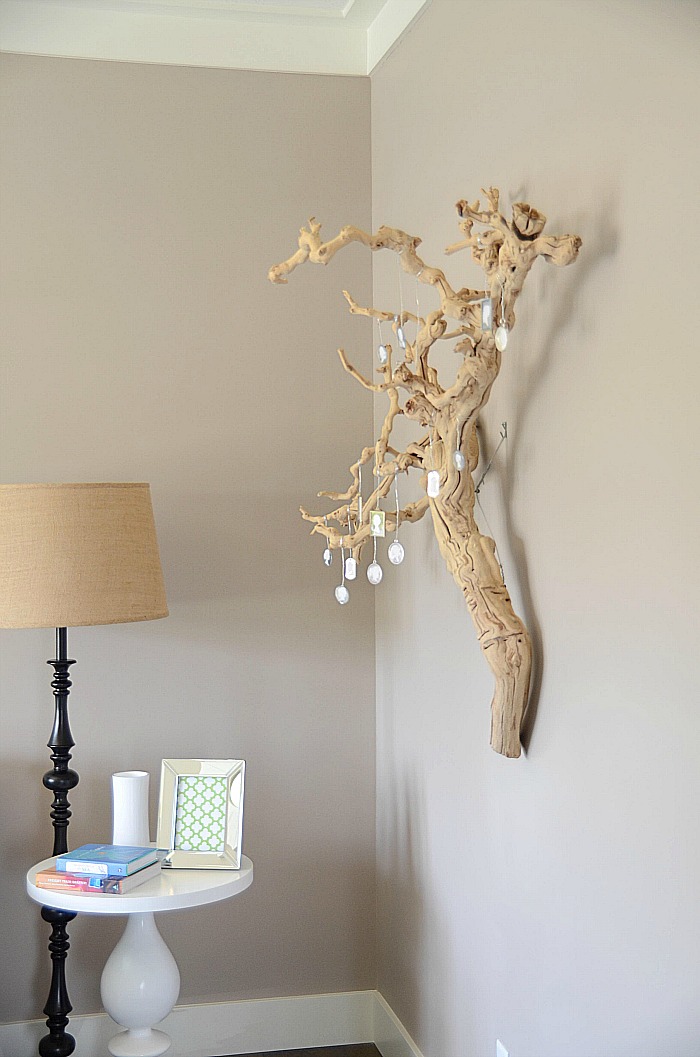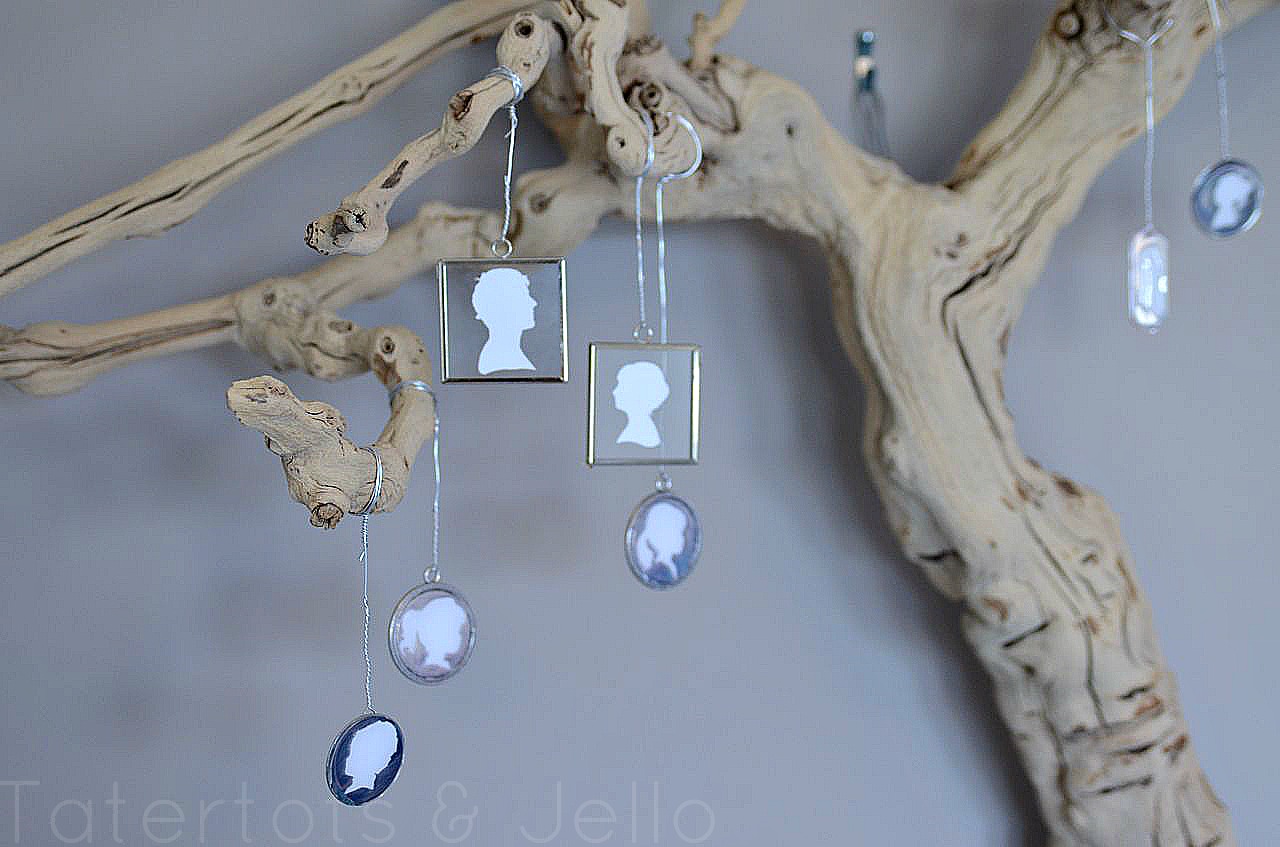 The entire house is full of awesome ideas. The beachy wall treatment continues down the main hall with MDF boards spaced a few inches apart and then the whole wall is painted in a semi-gloss that matches the trim. The semi-gloss paint is easy to clean up too.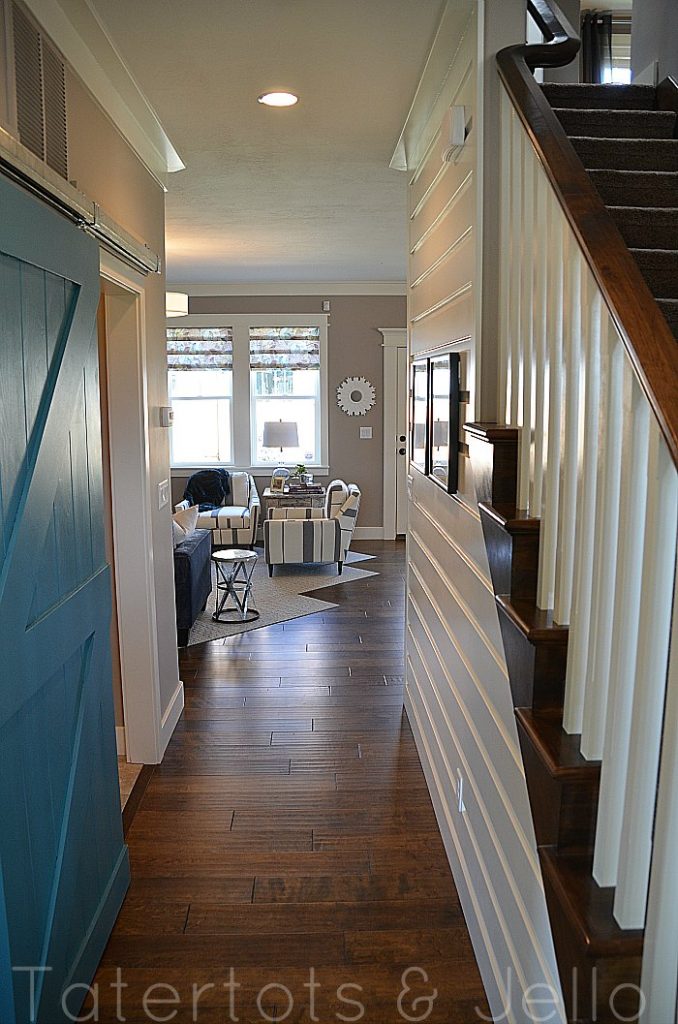 There's even a barn door that pulls in the turquoise accent color that you can see throughout the house.
To see more of the home, be sure to check out the other blogs: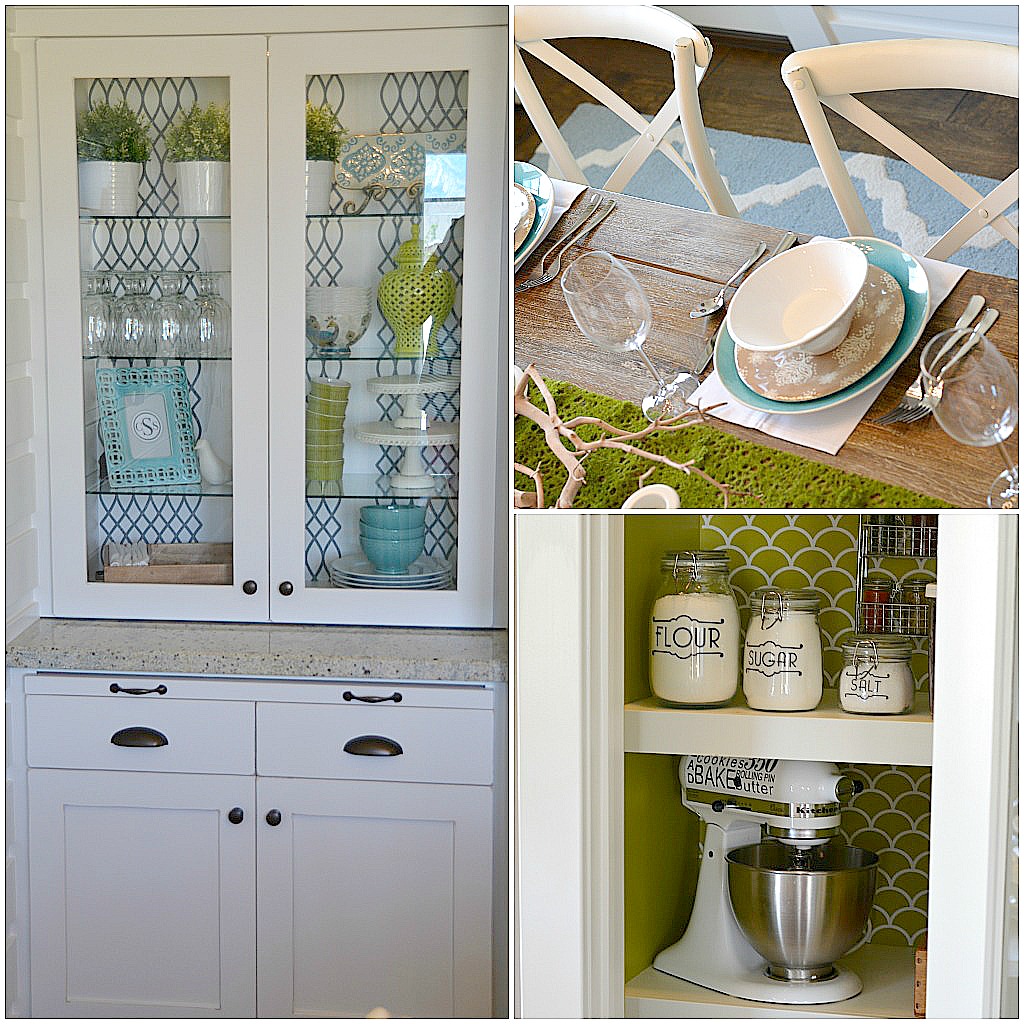 Shelley is sharing her gorgeous space which includes the dining room, pantry (of course!!!) and kitchen.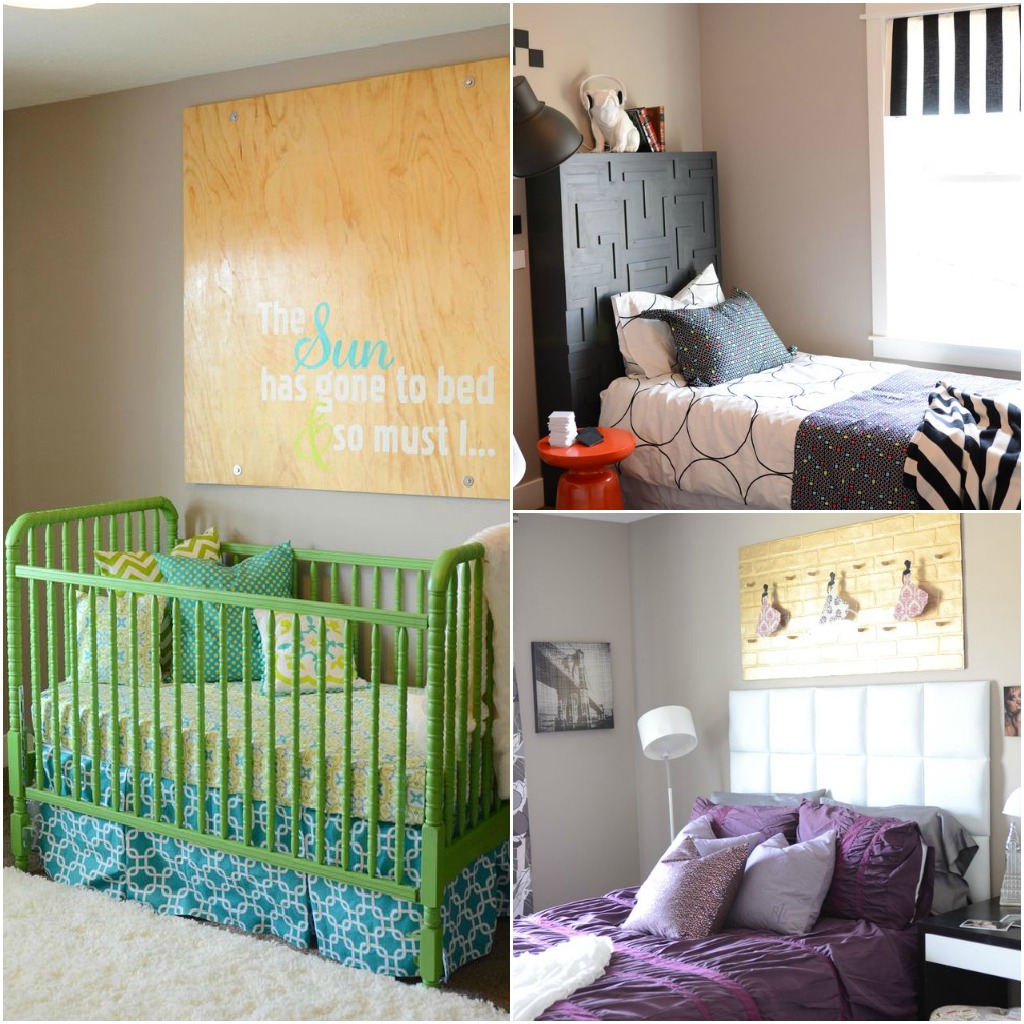 Char and Lara collaborated on the kids' bedrooms and they are fab! They are both sharing those spaces.
(plus the girl's room has a wonderful story behind it)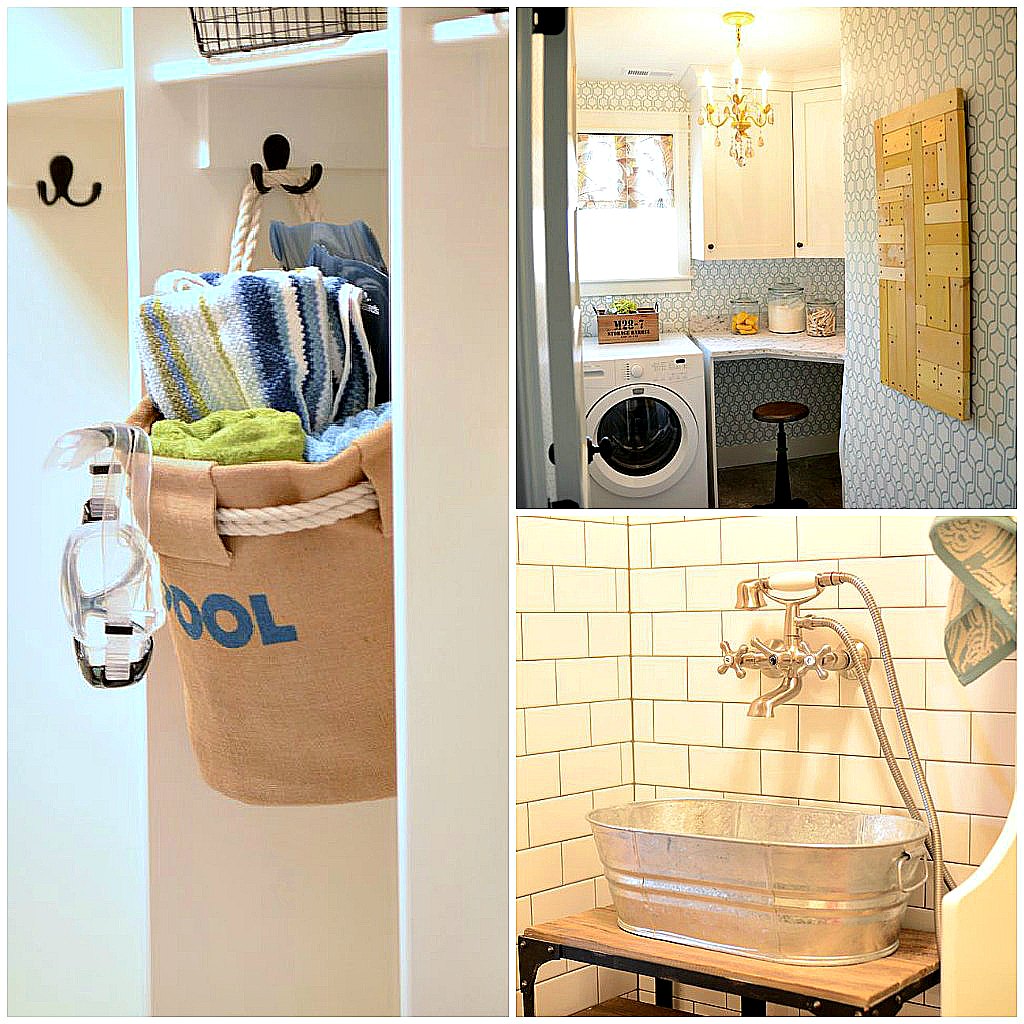 Amy did an awesome job on the mudroom and laundry room spaces. She took spaces that can become mundane and made them light-filled happy places.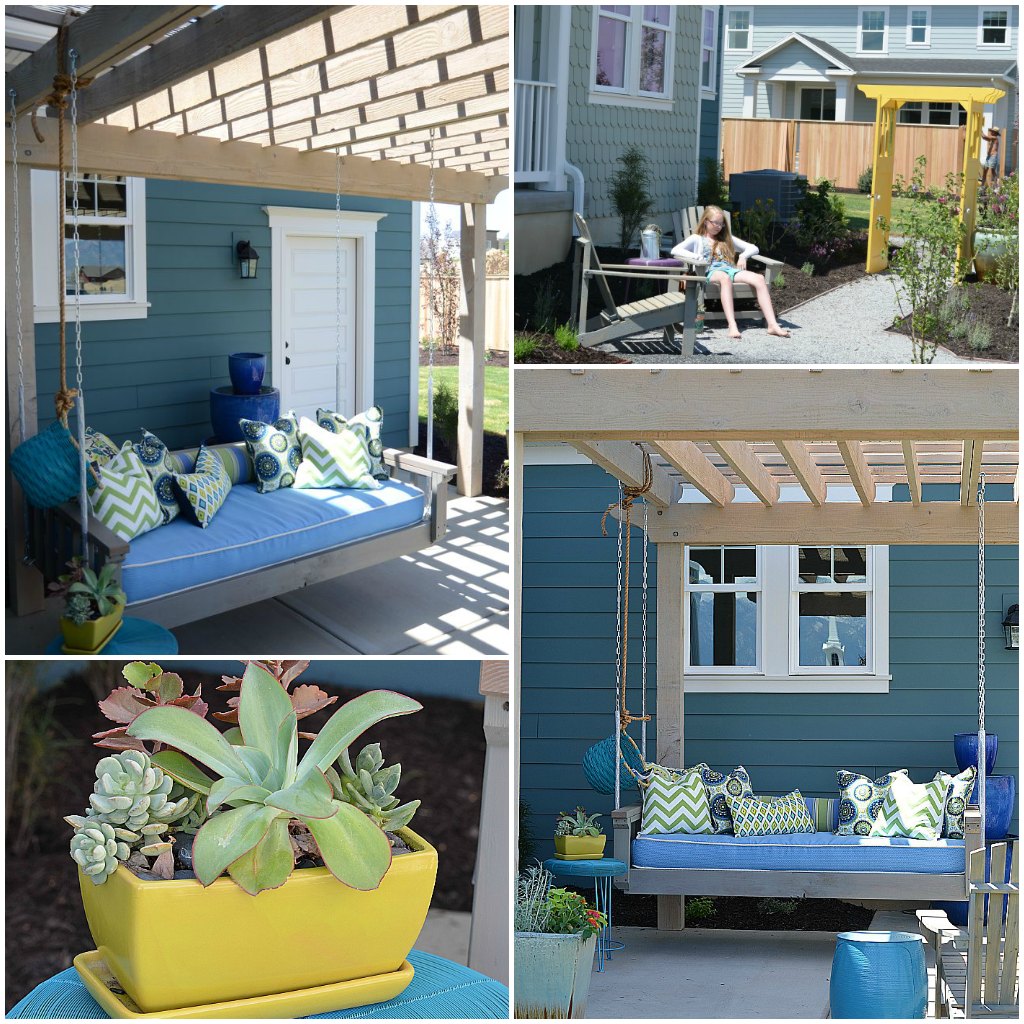 Cynthia Bee made the outside spaces amazing with a hanging bed swing, portable fire pit, a pretty fountain and an amazing trellis she built using old doors! And the landscaping will save the home owner 40% on water bills. Plus, Stay tuned on her blog for a DIY tutorial on how to make that hanging bed swing. I want one!!!!!!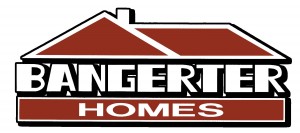 Thanks to Bangerter Homes for taking a chance on us! They were so wonderful to work with.
And a big thanks to Brian Clark, our designer, he kept us in line, worked so hard and made the home's design pop!!
And a HUGE thank you to the folks at Daybreak — especially Cameron and Aly. It was so fun!!!
More pictures to come. And more in-depth tutorials on the projects.

If you are local to Salt Lake, be sure to come see it, as well as the other amazing homes, in person at the Salt Lake City Parade of Homes.
The Parade begins on Friday!!