As my kids have gotten older, it's become even harder to keep track of what everyone has going on, needs to get done, and needs to get! So when Post-it Brand asked me to take a look at how I could organize my family with The Post-it Brand Evernote Collection, I knew immediately how I wanted have them work together to help us get more organized!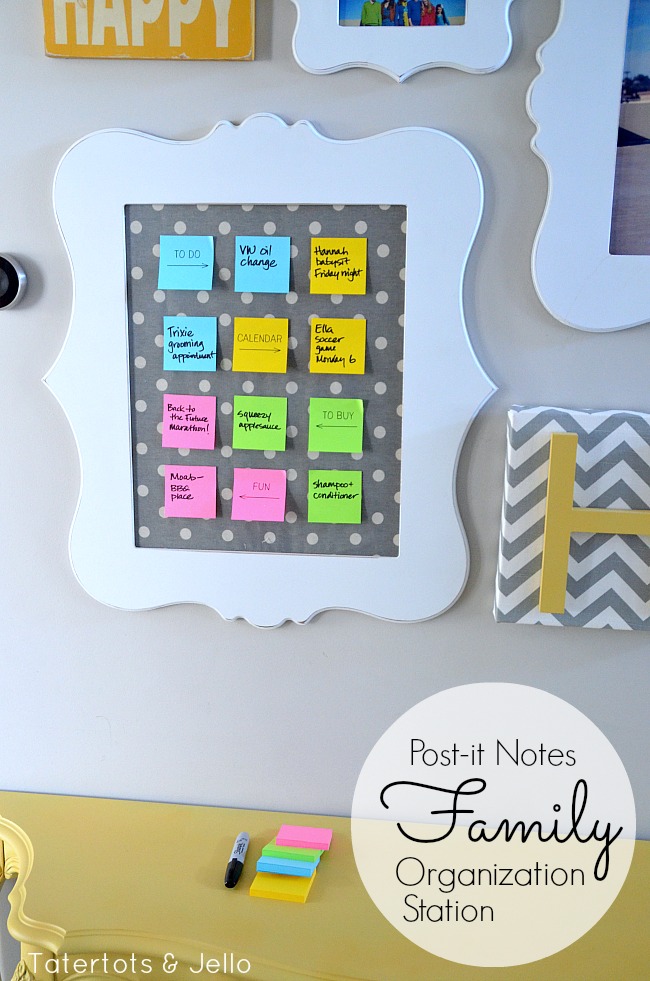 To make a family organization center, you can use any frame big enough to fit enough Post-it Notes. I used a frame with an inside opening of 11 x 14 inches, including glass, for mine. (Why 11×14? See below — I'm making a 3 by 4 grid of Post-it Notes, and each is 3″ square, so that's the perfect size.)
I put some fabric behind the glass — and left the glass in because I knew the Post-it Notes would stick best to the glass. But since the Post-it Notes are Super Sticky, they'll hold well on just about anything.
To make it easy, pick up the Post-it Note Holder, Quad from the Post-it Products Evernote Collection with four colors of Post-it Super Sticky Notes in Limeade, Neon Pink, Electric Blue and Electric Yellow, like this: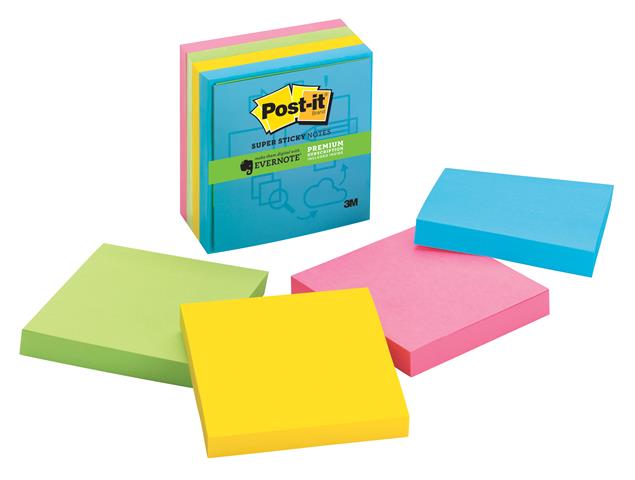 You can choose any frame you like as long as it accommodates your "system." Here's what we created: Each color stands for one specific thing to help me keep track of everything that needs to be done. Here's what we chose:
Calendar items (dates, times, what it is): Electric Yellow
To Do items: Limeade
To Buy: Electric Blue
Just for Fun: Neon Pink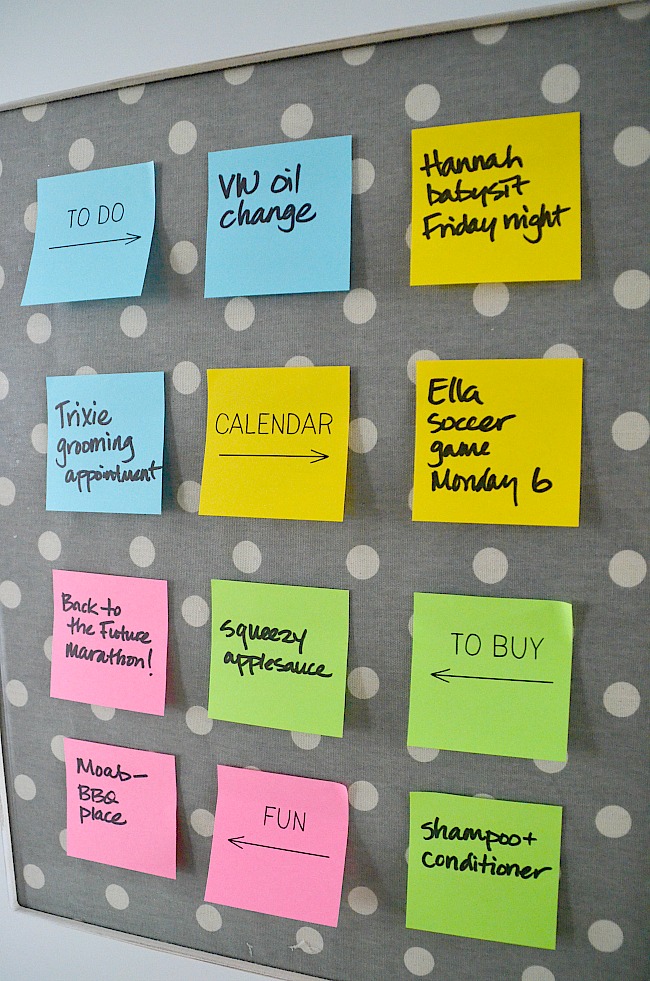 This way, everyone in the family can make a note on whichever color makes sense for what they want to share! Academic awards ceremony? Electric Yellow. Time for an oil change? Limeade. Out of baking soda? Add it to the shopping list with Electric Blue, and so on. This simple system will make it easy to put everything in the right place! (Later I'll show you how to make these automatically appear in the right place with Evernote.)
Here's the idea: to make it super simple, you're just going to make a 3 x 4 grid of Post-it Notes – 3 across and 4 down, like this picture: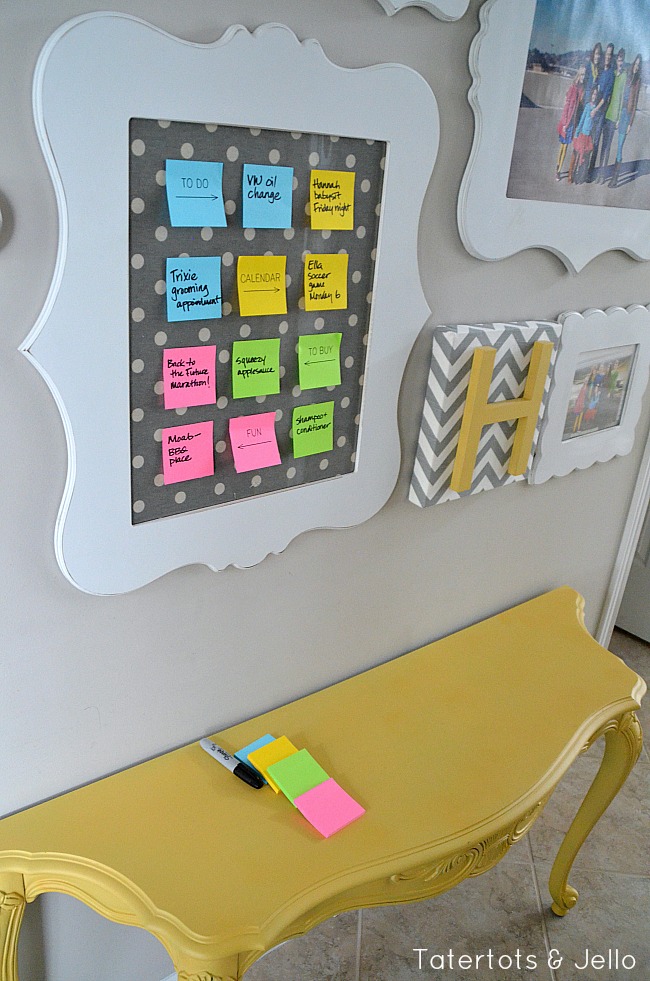 You'll have three spaces for each color – one reminding everyone what the color means, one of empty (blank) notes, and one of written-on notes to review. You can do them like the picture to mix it up a bit, or do them in straight rows.
You can simply write on one of each note color to indicate its category!
* * * * *
So now that we've created the family organization station, combined it with two important things to help us get even more organized.
First, having a weekly planning meeting — even if it's only 10 minutes — to review the coming weeks is something that we've been doing and it has made our lives run much more smoothly. And when we have our weekly meetings, we review Post-it Notes from our family organization board.
The second thing we've been doing is using the capabilities of the new Evernote and Post-it Brand partnership to automatically upload the Post-it Notes from our family organization board, categorize them, and share them automatically with our family. It's so cool and it really has made a difference in helping us communicate.
I'll show you how you can do this with YOUR family.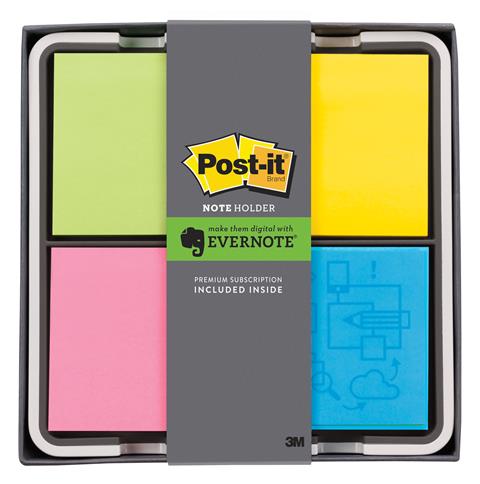 In our family organization board we created four categories for each color of Post-it Note:
Calendar items (dates, times, what it is): Electric Yellow
To Do items: Electric Blue
To Buy: Limeade
Just for Fun: Neon Pink
(you can choose the type of categories that make sense for YOUR family)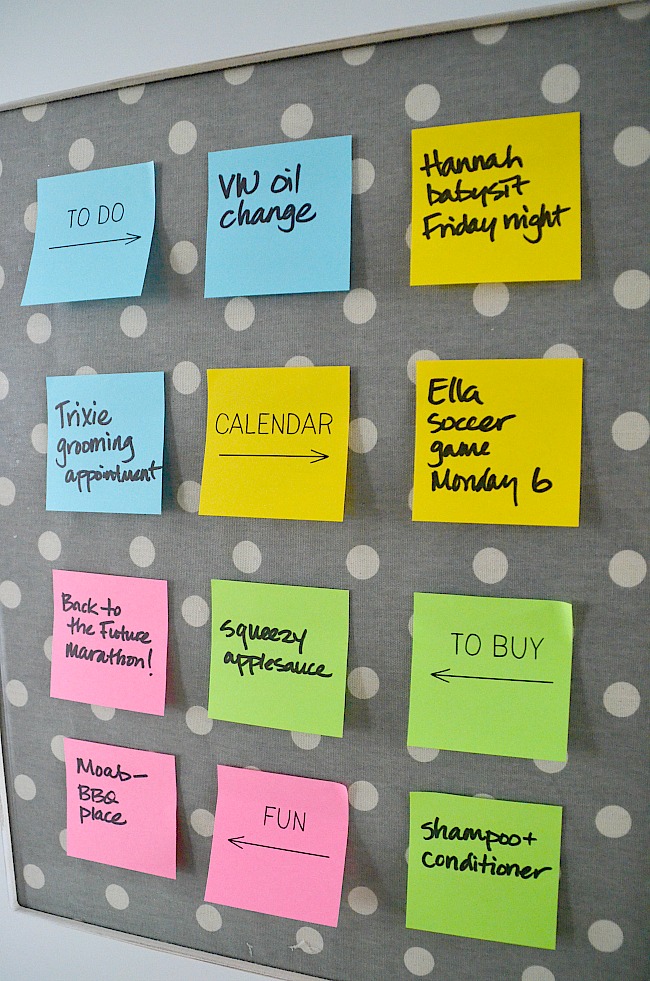 So, here's what you need to do: first, set up Evernote so you can share it with your family. Make sure each member of your family has Evernote installed and has an account – and you know the email address they used to sign up. You can use just the free accounts for everyone — you don't need to upgrade (unless you want to!).
When you organize notes in Evernote — which can be anything: pictures, notes, handwriting, and Post-it Notes — you can place them in specific notebooks. You can create a notebook that's just for your family and share it just with them.
Setting up Evernote to Share with Your Family
In the iPhone iOS7 Evernote app, first, create a new notebook by tapping the notebook heading, then tapping "new notebook." I cleverly named my first one "Calendar." Do the same thing to create to do, to buy, and just for fun notebooks.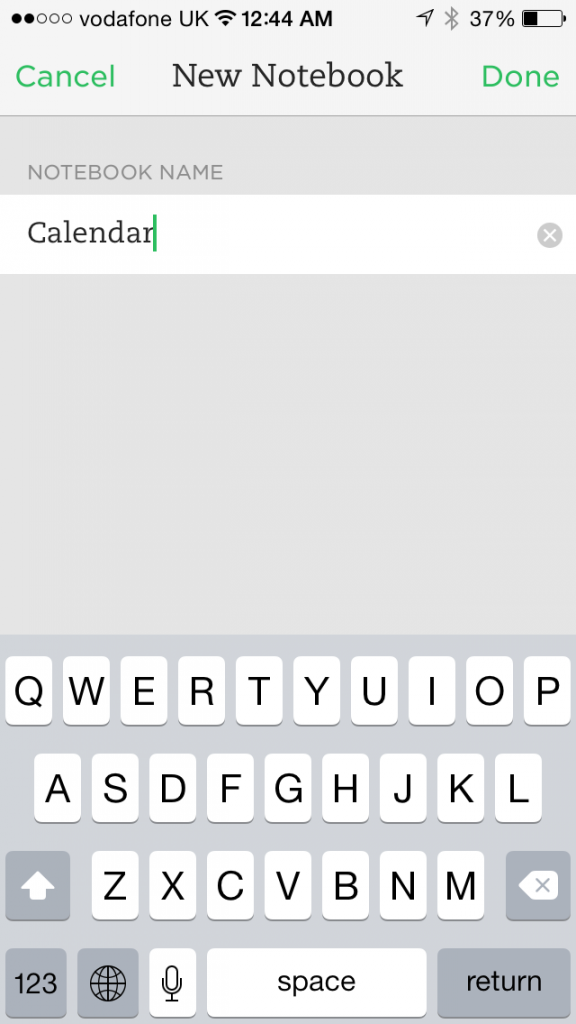 Once they're created and you're viewing the list of notebooks, tap "Edit" in the top right corner, then the arrow coming out of a box icon to the right of your new calendar notebook. Then choose "Invite Individuals," type in your family's email addresses and tap "Share." Then, back on the list of notebooks, tap the little "i" in a circle icon next to your new calendar notebook and then tap "stack." For the first notebook, choose "create a stack," name it whatever you like (mine is "family notebooks), and tap Done. Now do the same things for the other three notebooks you made – except you can add them to the stack you made instead of creating a new one.
Setting up Evernote to Automatically File Post-it Notes
I love the Post-it Note Camera feature in Evernote: you can tell it what you want it to do with each of the four colors from the Post-it Brand Evernote Collection. You can color-code your Post-it Notes so that they can be automatically organized by color, flagged with a reminder and tagged with a keyword for future reference.
Here's how it works: you click the camera icon at the bottom left of the "Type a quick note" section in the Evernote app on your iPhone or iPad:

(Remember, Evernote works on PCs and many devices — it's just this photo feature that's unique to the iOS7 app right now.)
Then, in the camera mode, you can take a quick snapshot of your Post-it Notes — you just choose Post-it Note Camera function from the bottom menu. You can also customize your note colors to be categorized however you like – it's easy, as you can see below.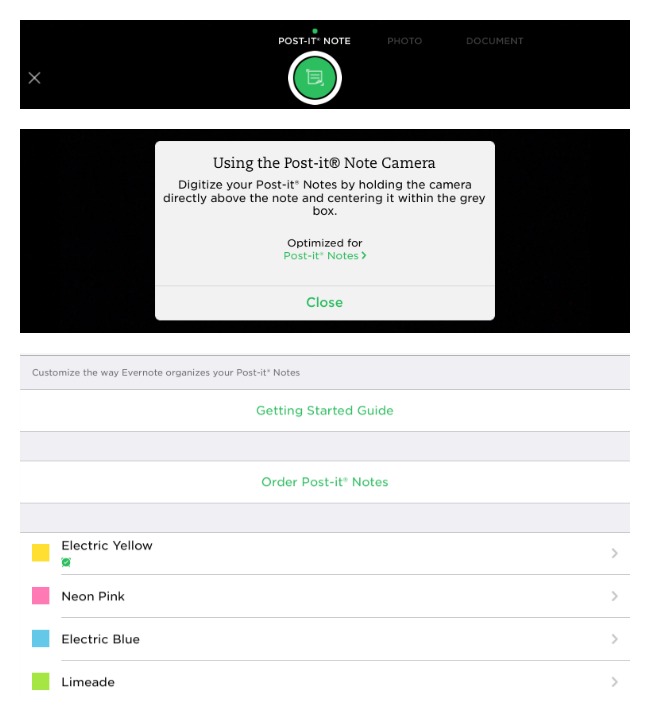 So here's how to set it up:
From the main Evernote app menu, tap the gear icon in the top left to open the settings. Tap General, then Camera. Tap Post-it Notes and you'll see the four special colors listed.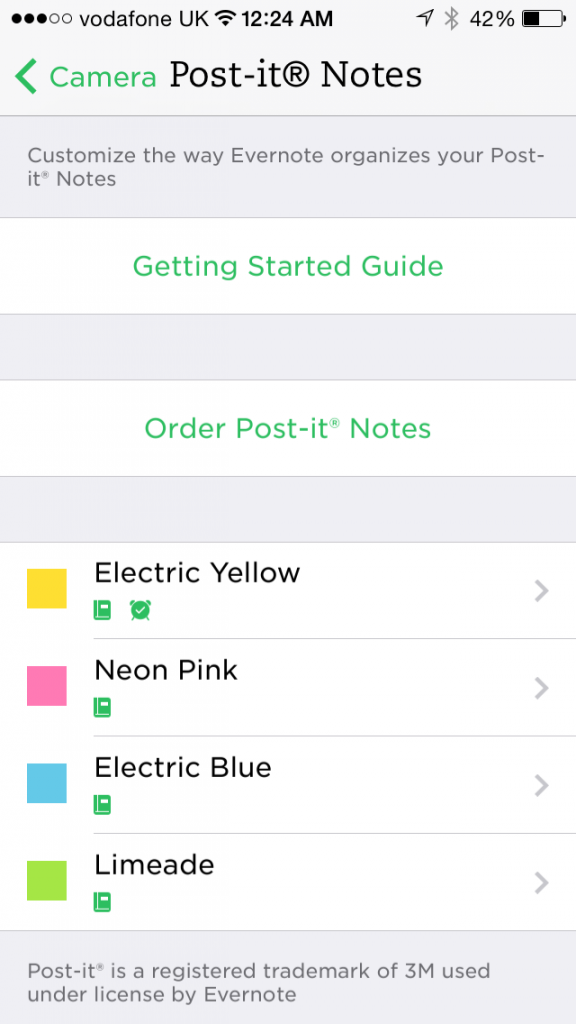 Tap "Electric Yellow," then tap the button to the right of "Notebook." Tap the list of notebooks below and choose the notebook you want the Electric Yellow notes filed in — in my case, it's "Calendar." Repeat this for the three remaining colors.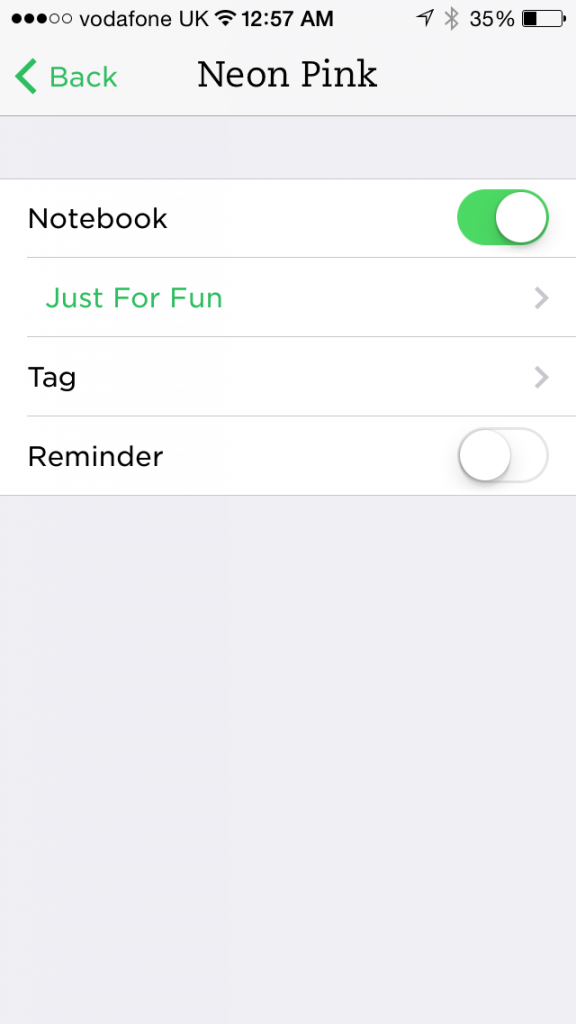 Now, when you tap the "Camera" icon from the main Evernote screen, you can capture your family's Post-it Notes from the command center and have them all in one place for later review — like the "To Buy" when you're at the grocery store!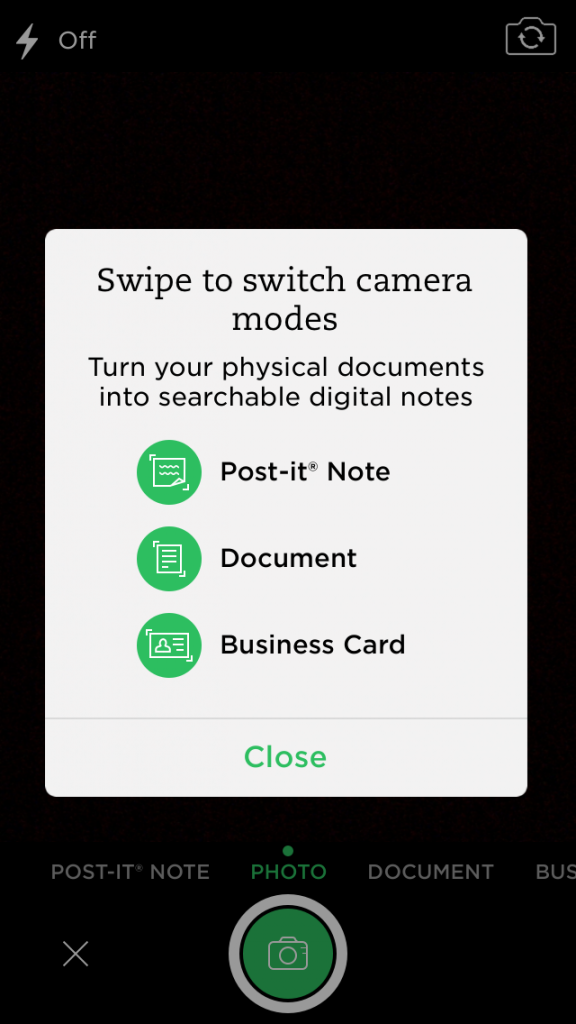 It's so hard to keep track of all of the little bits of information in our family — but this will help!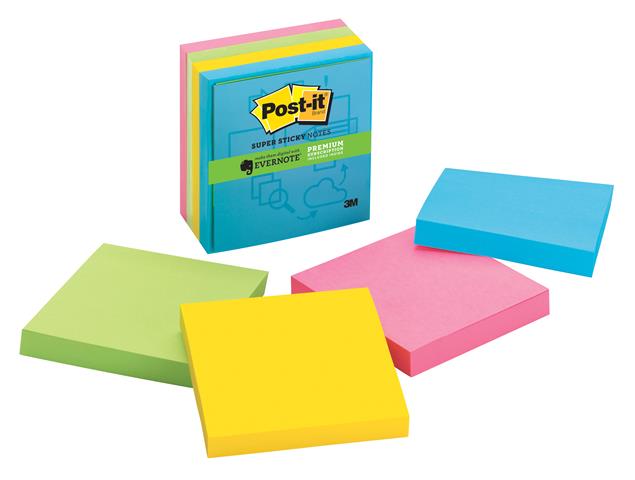 Learn more about Post-it Brand and Evernote by visiting your local office supply store or by visiting Postit.com/Evernote, Post-it Brand on Twitter (@postitproducts) or Facebook (http://facebook.com/postit).
Check out the new Post-it Brand Evernote Collection, Have you tried Evernote? Have you tried the new Post-it Brand features? Let me know!
xoxo

This is a sponsored post on behalf of Post-it Brand. Regardless, content and opinions are mine. See my disclosures.