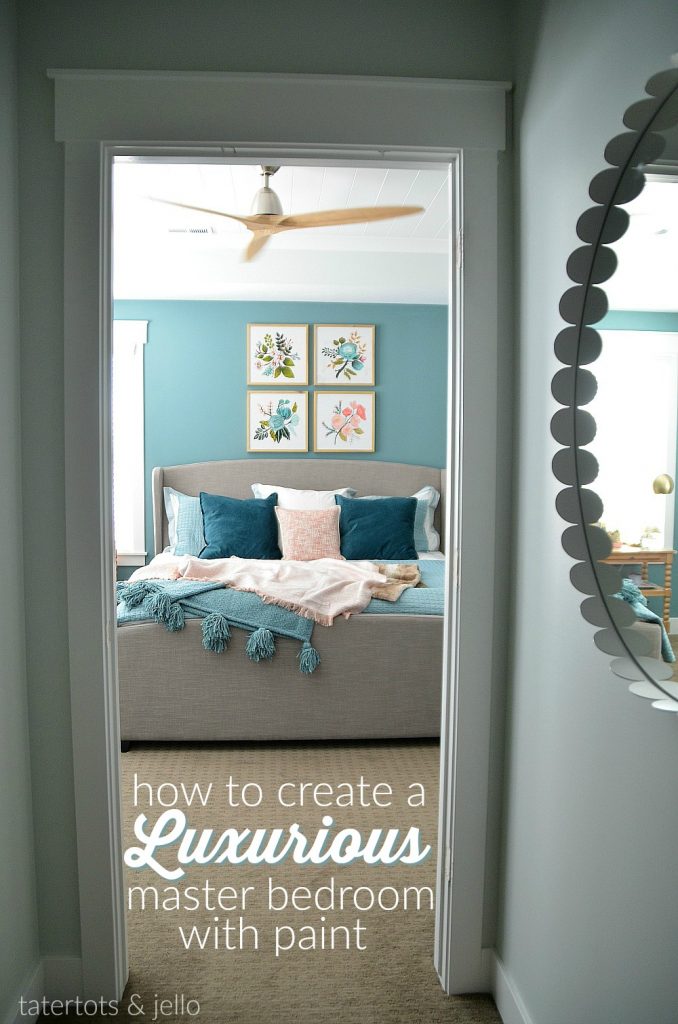 How to Create a Luxurious Master Bedroom using Paint
I think one of the last places that we tend to decorate is our bedrooms. For me, I always seem to be more focused on the main areas of the home that people see first – like the front rooms, kitchen or family room. But truthfully we spend a lot of time in our bedrooms and they should be a place we love! We have lived in our home almost a year and my bedroom has truthfully been a mess. So when BEHR® contacted me to see if I would be interested in making over a room in my home I just knew it had to be my bedroom!! I used BEHR® paint to create an upscale, luxurious and comfortable master bedroom and it is an OASIS for me!! I am so excited to show you around and give you THREE painting tips I used to give me a bedroom I love!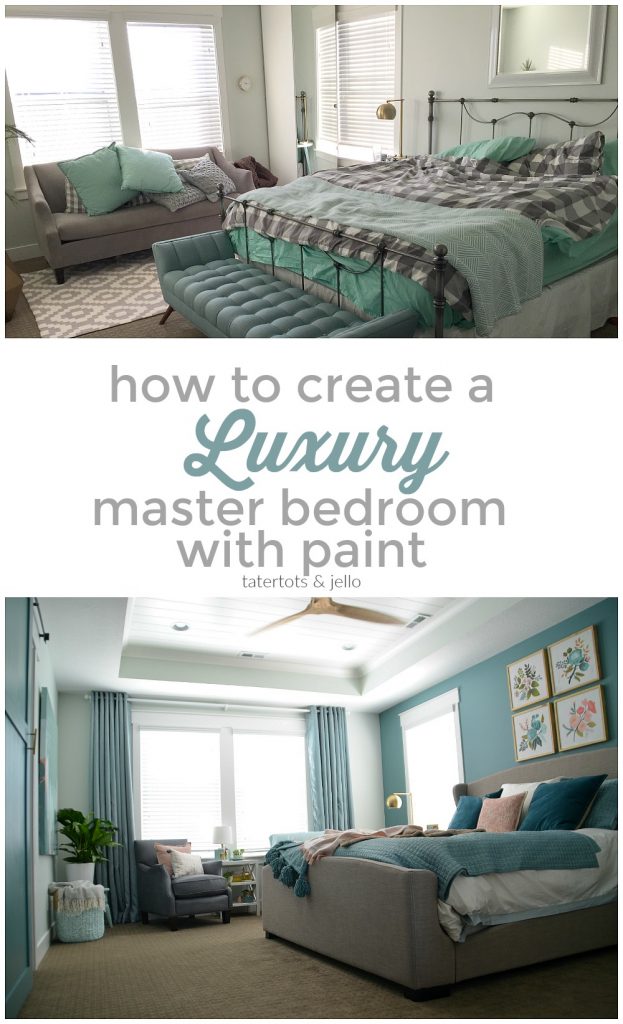 There are some great color selection tools from BEHR® that can make picking out a paint color so much easier! My favorite is Paint Your Place®. Simply upload a digital photo and preview colors with your own décor and in your own lighting conditions with Paint Your Place®. Don't have an image to upload? Use one of BEHR®'s images for a bedroom, bathroom, living room, kitchen, dining room, exterior and other home spaces. I love uploading a picture of my room and seeing how it looks painted different colors. It takes ALL of the scariness out of painting a room!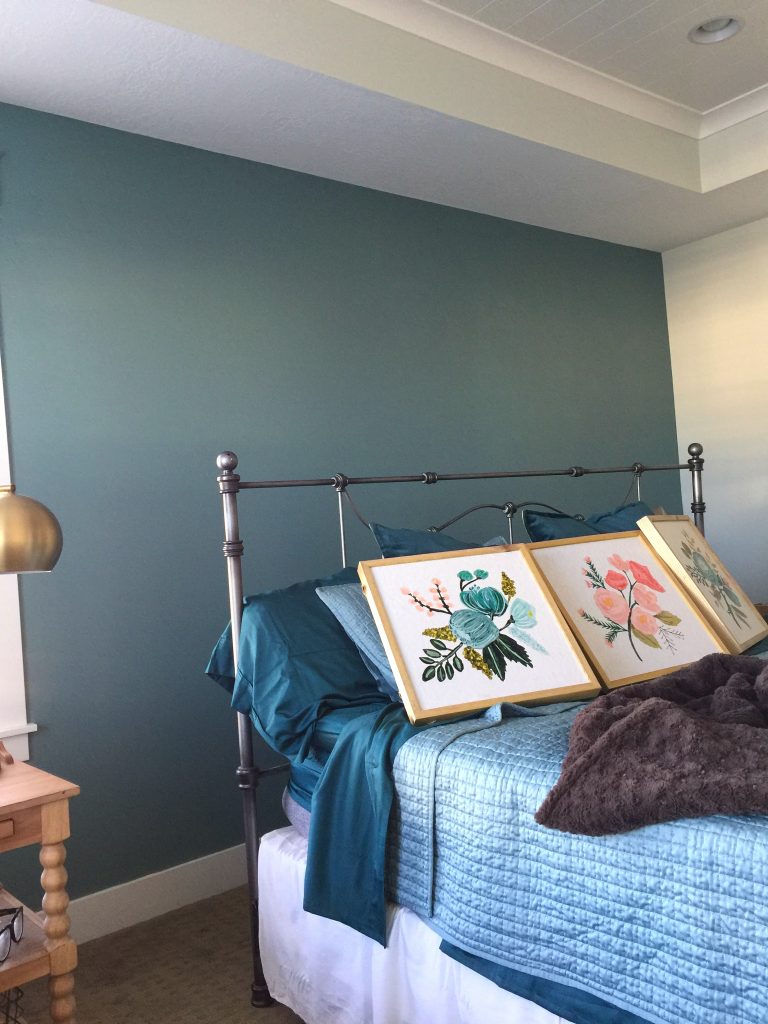 My paint palette colors are below. You can see how MY paint palette would look in YOUR room by clicking on my BEHR® paint color palette: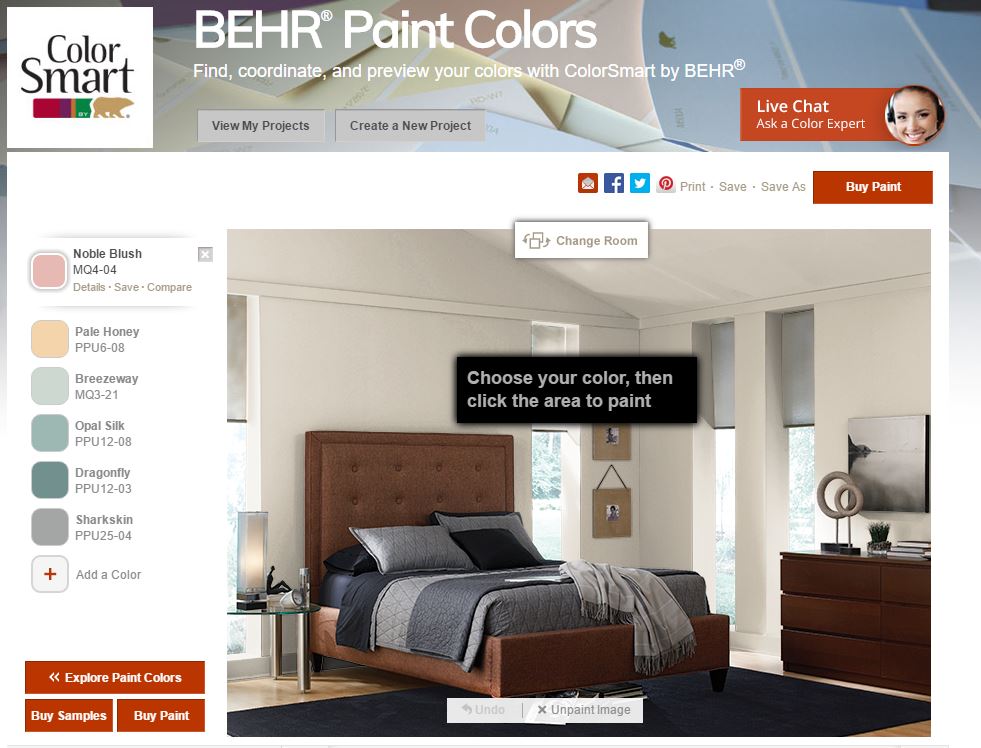 Here are THREE painting tips to create a luxurious, upscale master bedroom!
Start with a print or picture as inspiration for your room. I used a set of four floral prints I LOVED as my inspiration. I loved these florals and the colors seemed so beautiful together. I used them as the beginning point in dreaming up what I wanted for the room.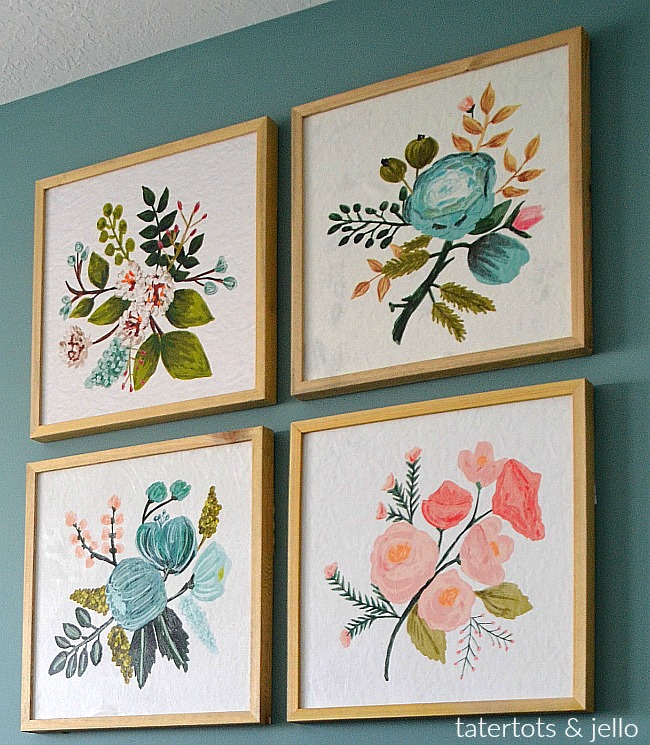 Use different shades of one color to achieve an upscale, luxurious feel. I naturally gravitate to blue shades, so I used three different blue shades in my home together and I think it brings a multi-toned feel that is luxurious.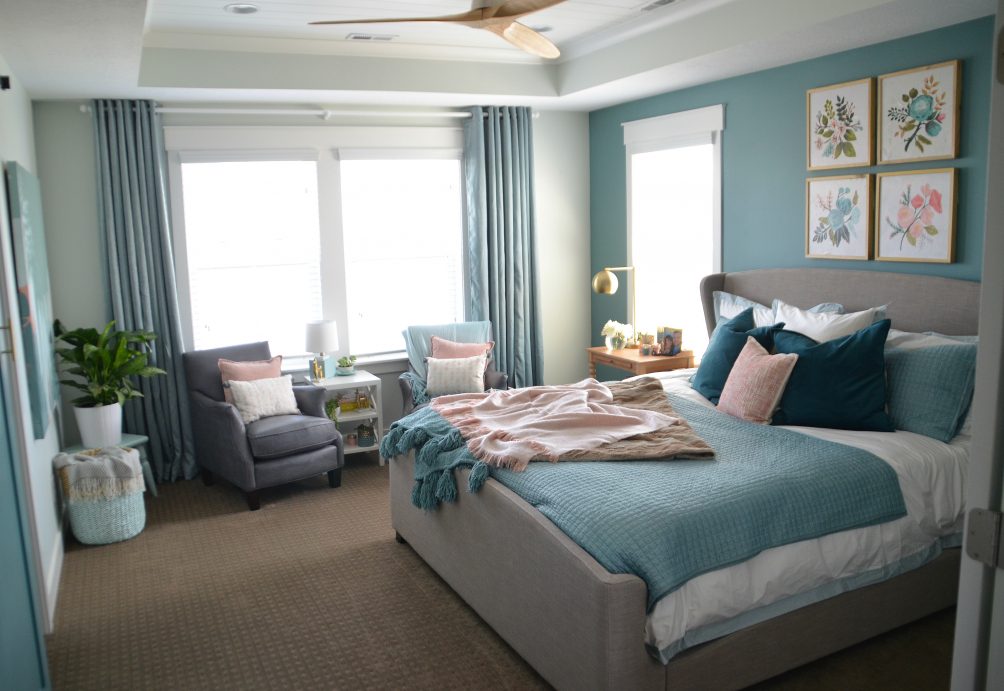 Don't be afraid of dark or bright colors. Dark or bright colors can be intimidating. Instead of being afraid of color, consider painting one focal wall in your room that bright or dark color. It will bring the richness of the color into the room without the heaviness or overwhelming feeling of painting the whole room that color. In my room I chose BEHR Premium Plus Ultra® Dragonfly which is a vibrant green/blue. I also used is use pops of contrasting color to create interest in the room. I love using pops of a bright color to bring the eye around the room. In my palette I picked out a gorgeous shade of yellow – BEHR® Premium Plus Ultra Pale Honey and a blush pink – BEHR® Premium Plus Ultra Noble Blush. I ended up using the blush pink the most in the room. I love the contrast of the shades of blue with the beautiful pink color.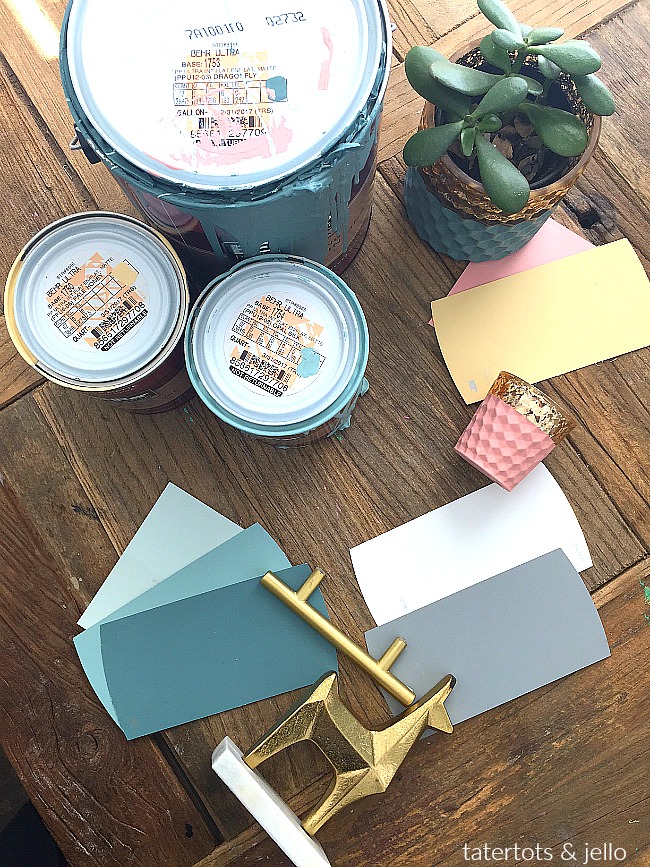 I brought my prints into Home Depot® and picked out my paint chips using the colors from the prints.
I used BEHR Premium Plus Ultra® Paint and love it for a few reasons. The first is that it is best-in-class for value and durability. PLUS it is paint and primer which saves me time because it really covers. BEHR® Premium Plus Ultra paint colors work harmoniously together, which was great for this project because I was using two different wall colors in the same room. BEHR® Premium Plus Ultra paint really wears well too.
I used BEHR Premium Plus Ultra® flat paint on the walls of the room. And the same Dragonfly shade on the barndoor, but in a satin finish since it will get more use since it's a door. I painted the other three bedroom walls BEHR® Ultra Premium Breezeway which is a beautiful light green color. It's so light that you don't notice the color at first, but you can see it as it is contrasted with the white trim. It's very peaceful and makes the room seem spa-like!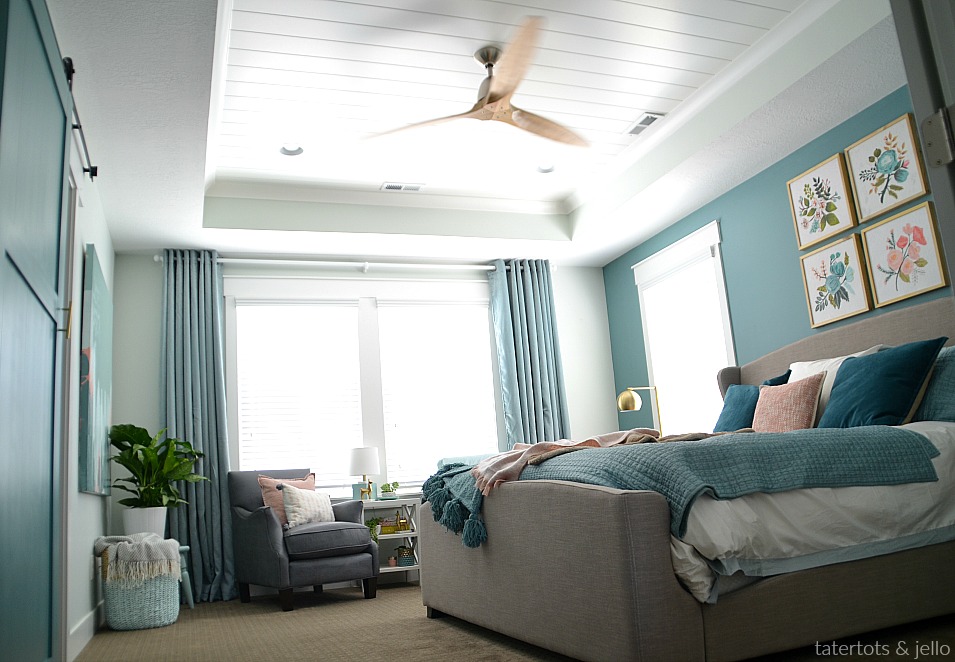 How to Create a Luxurious Master Bedroom using Paint
Once I had my paint chips picked out, I found accessories and bedding to accent my paint choices. I also thought of a few unexpected ways to bring my paint colors to life in the room. One was I replaced a door to my closet and bathroom with a barn door kit from Home Depot®!! Isn't that fun?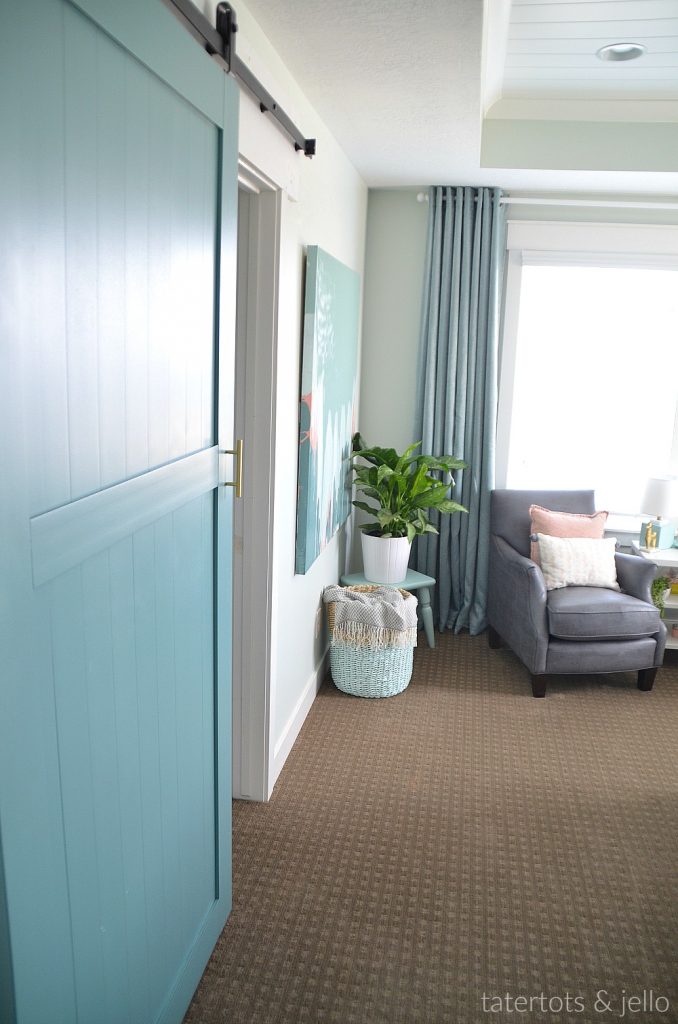 I painted the barn door the same color as my accent wall. The barn door hangs on the opposite wall and it echoes the beautiful blue/green color of the opposite wall. I love the contrast between the dark green of the barn door and the very light green of the Breezeway color on the wall behind it.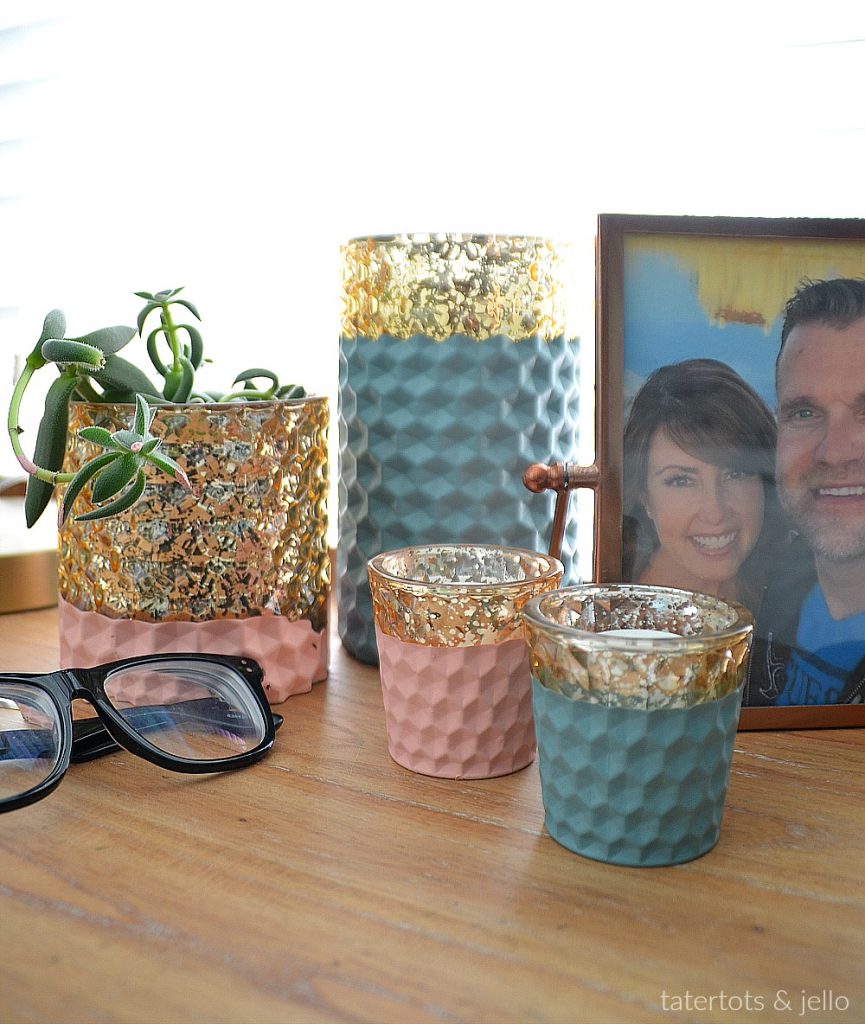 Another way I brought my paint colors into the room is through painting some accessories in the room. I painted wood shallow crates the blush pink color and put them on the shelf of the nightstands. When you look at the nightstands, the gorgeous pink color shines against the darker blue/green of the accent wall behind them.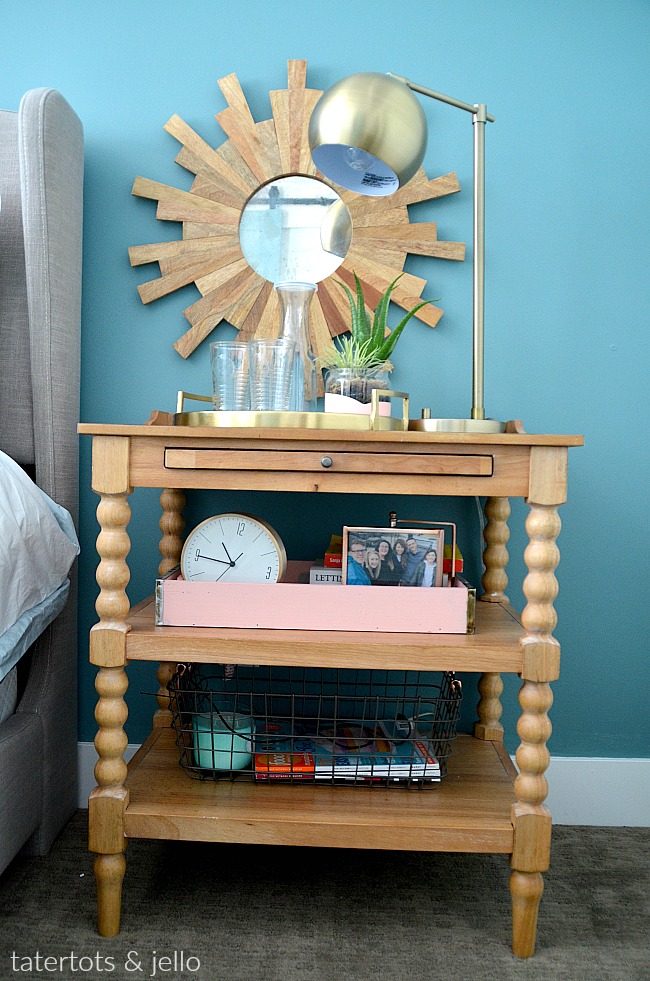 I also "dipped" a natural basket and I keep blankets in the basket. Right next to the basket is a little stool that I painted and I have it as a plant stand in the corner of the room.
On the nightstands and small cabinet in between the chairs in the room are some candle holders that I dipped into the paint cans. I love the way they look around the room, drawing your eye throughout the bedroom.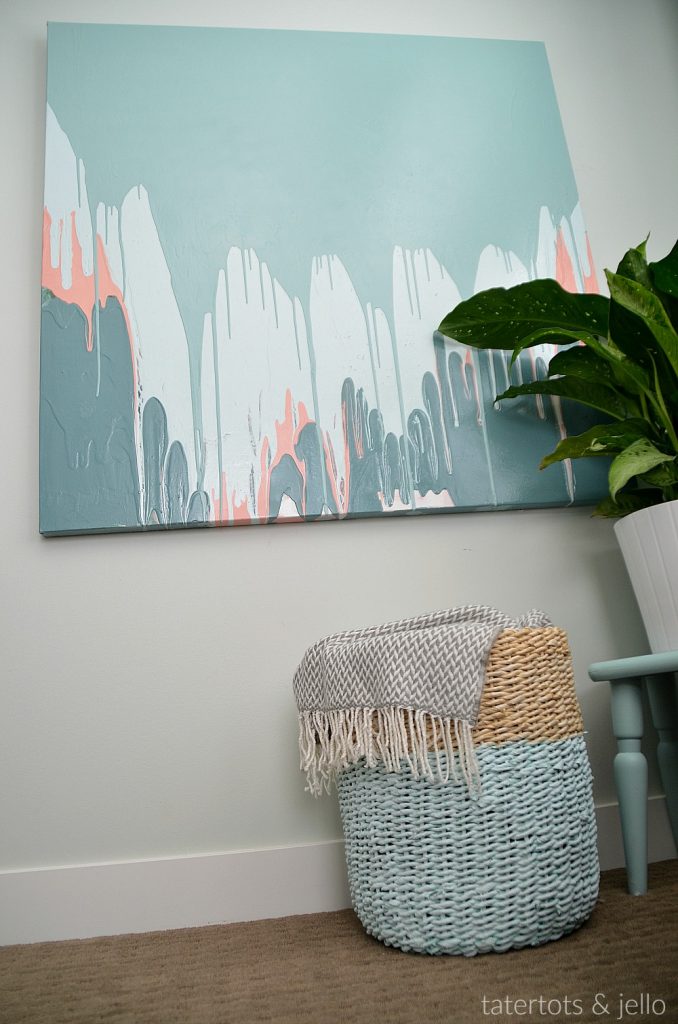 How to Create an Upscale Master Bedroom using Paint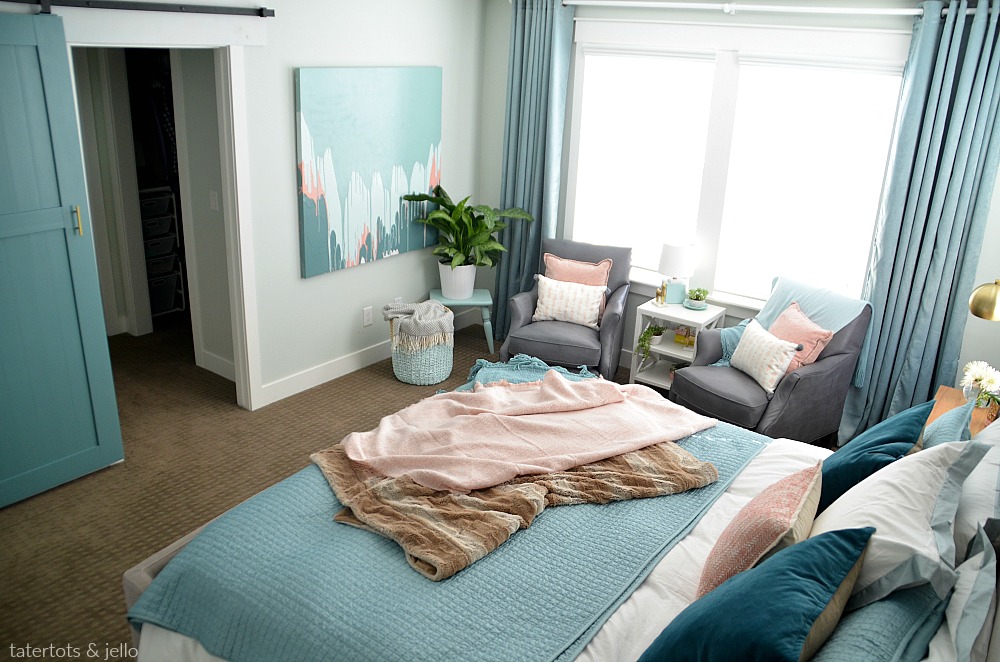 Probably my favorite way that I brought my paint palette to life is through the original artwork I created on a giant canvas that hangs on the same wall as the barn door. The scale of the canvas creates a striking focal point. I spent a few days experimenting with different types of artwork to see what I liked best. I am going to do a separate post on how to create the art, but I decided that I love the simplicity of the paint dripping down the canvas, layering colors on top of each other to create a colorful work-of-art that showcases the paints in the room.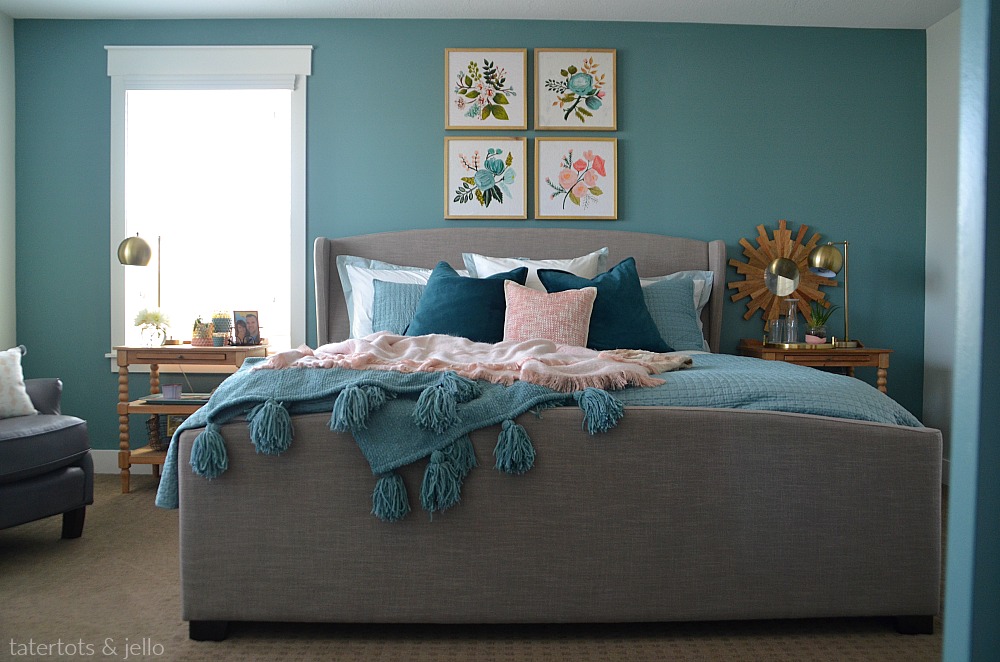 I also love to use fresh plants in the room. I think adding a natural element always brings a room to life.
I contrasted the rich, beautiful paint colors with natural wood. I think the feeling of the woods throughout the room — in the fan above, the nightstands and the frames above the bed gives warmth to the room and is a beautiful, warm contrast. For the bed linens I used a beautiful white Linden Porcelain Green duvet with matching pillow cases. I used Crane & Canopy in my Guest Room Makeover a few years ago and I love their luxury linens. They make your bedroom feel like a "lux" hotel room! All of the accessory sources are listed at the bottom of the post.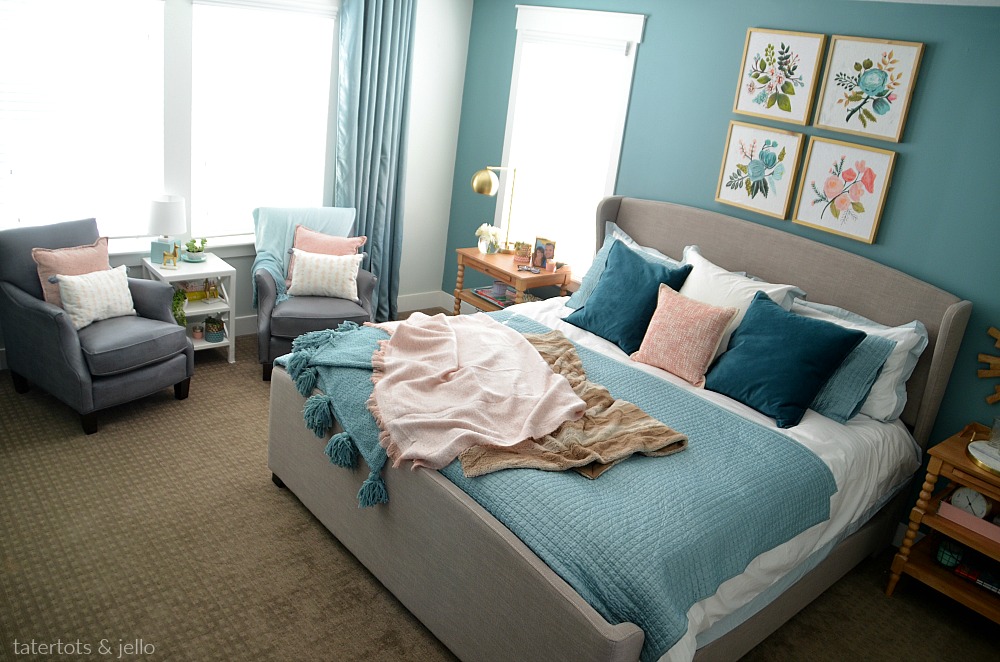 I also think the room appears taller because of the accent wall. It emphasizes the ceiling and the curtains on the other wall bring the wall color over there and draw the eye upward too!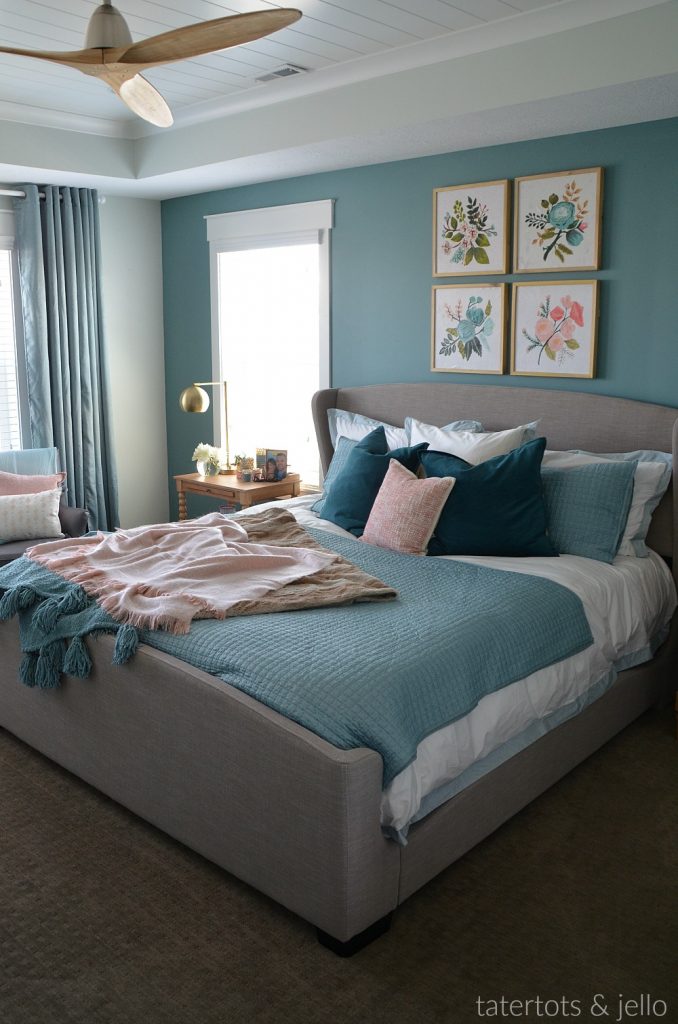 Now my bedroom is a place I can't wait to be every night. The room seems so much bigger and brighter and more luxurious. It truly is a haven for me!
Win $10,000 and more with the BEHR® Color Clinic
On April 20-21 from 7 a.m. to 5 p.m. PST
Do YOU want to make over a room in YOUR home? I have some awesome information for you — it's called the BEHR® Color Clinic.
Deciding on the next color for YOUR home DIY project is hard. Let the BEHR® Color Clinic experts help!! The BEHR® Color Clinic offers professional help to help you get paint on the walls! The BEHR® Color Clinic is a 2-day social media event where color and design experts will help YOU along on YOUR journey by sharing advice, inspirational room makeover projects and custom color palettes.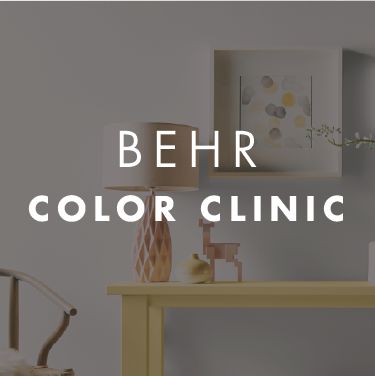 On April 20-21 from 7 a.m. to 5 p.m. PST
This is how it works:
On April 20-21 from 7 a.m. to 5 p.m. PST, visit BEHR® on Facebook, Instagram or Twitter to join the BEHR® Color Clinic for live color and design counseling!! YOU can ask questions, seek advice or share a project with the hashtag #BEHRColorClinicSweepstakes for a chance to receive a response from a BEHR® Color Clinic expert and be entered for a chance to win one of the following sweepstakes prizes: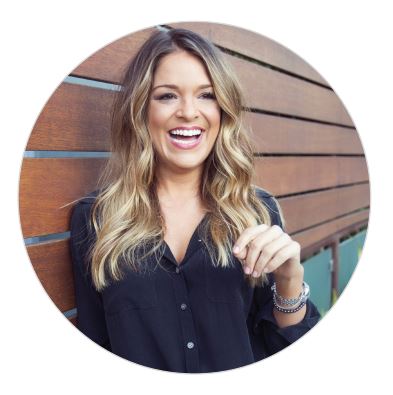 Grand Prize — One $10,000 room makeover and a video chat with Sabrina Soto.
First Prize (four) — $200 Home Depot® gift cards and a 15-minute video chat with a color and design expert (one of them will be ME)
The sweepstakes will remain open through May 19,2017 11:59pm PST. Find out ALL the details at the BEHR® Color Clinic Page!! I will be answering questions on their Facebook page too – I can't wait to answer YOUR questions!! I will be on the BEHR® Facebook page answering questions, Friday April 21st from 11am PST – 1 pm PST!
Follow along with Home Depot® and BEHR®:
I hope one of YOU wins!!
What would YOU do in YOUR home with $10,000???
Let us know in the comments!
xoxo

This room makeover was sponsored by BEHR paint! All opinions are my own.
Master Bedroom Sources:
Paint – BEHR Premium Plus Ultra® Home Depot®
Barn Door – Home Depot®
Floral Prints – Hobby Lobby
Bed – Joss & Main
Nightstands – Joss & Main
Chairs – DownEast Furniture
Lamps – Target
Bedding – Crane & Canopy
Blue Tassel Throw – HomeGoods
Pink Throw – Target
Blue Throw Pillows – HomeGoods
Pink Throw Pillow and Pillows on Chairs – Target
Tray on Nightstand and Glasses – Target
Baskets in Nightstands – Target
Lama Bookends – Target
Lamp on Nightstand – Target