Happy Monday!! I love December and getting my home ready for the holidays! decorating my porch is one of my favorite parts of the holiday season. Even if you don't have a porch, decorating your front door and creating a pretty first impression of your home is such a good idea. Check out the Green and White Christmas Porch and Entryway at the 1905 Cottage!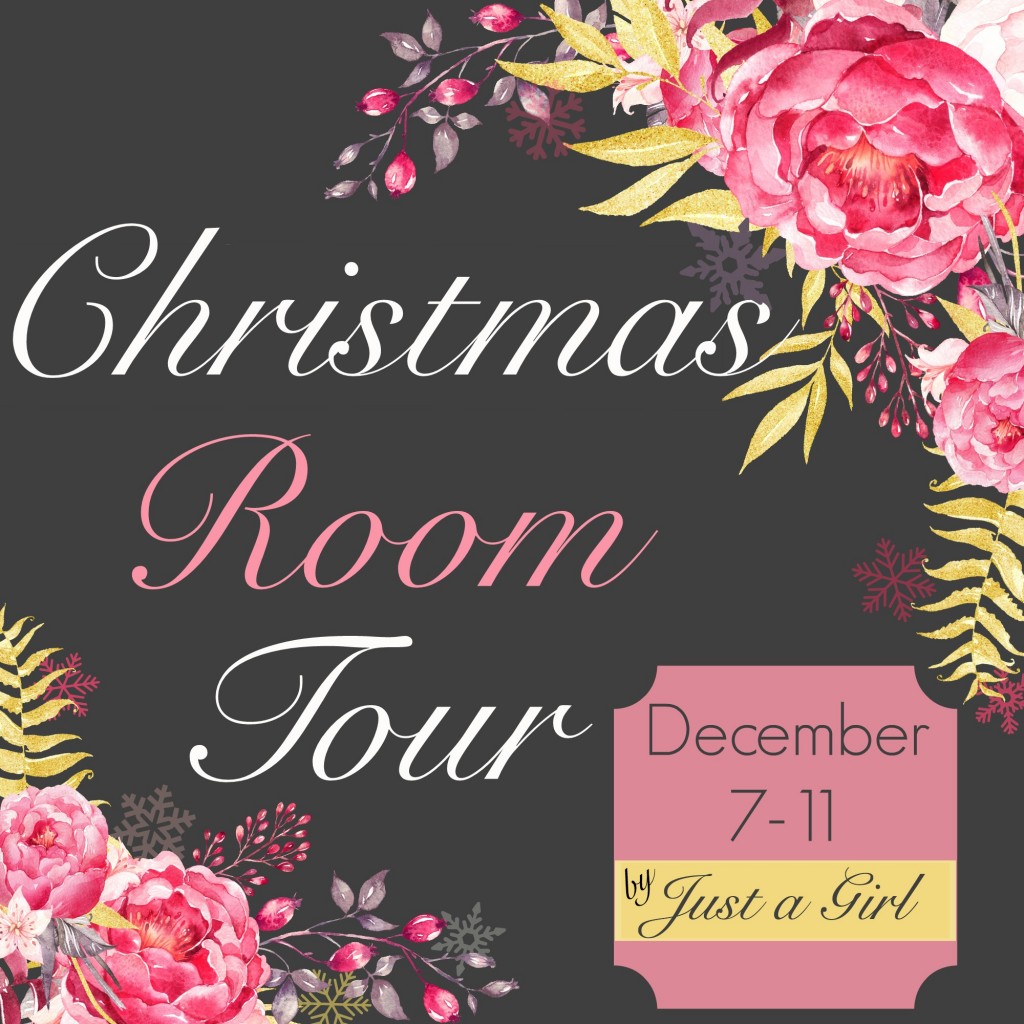 I'm sharing my 2015 Christmas porch and entryway today as part of Just a Girl's Holiday Room Tour. I am so excited to see all of the rooms on this tour. It's going to be so fun!! Hello to those of you hopping over from French Country Cottage!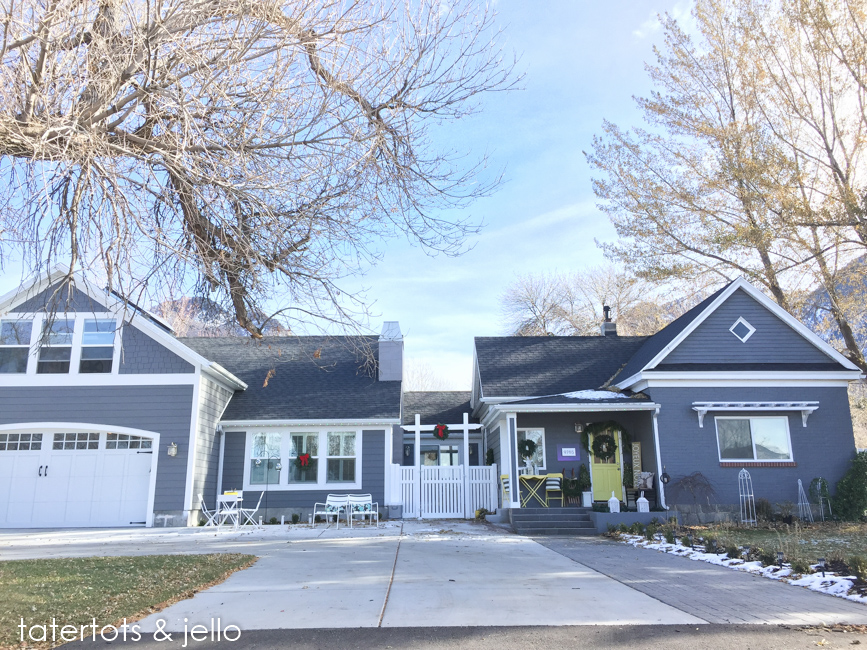 This year I decided to do a natural type of look for the porch in shades of green and grey.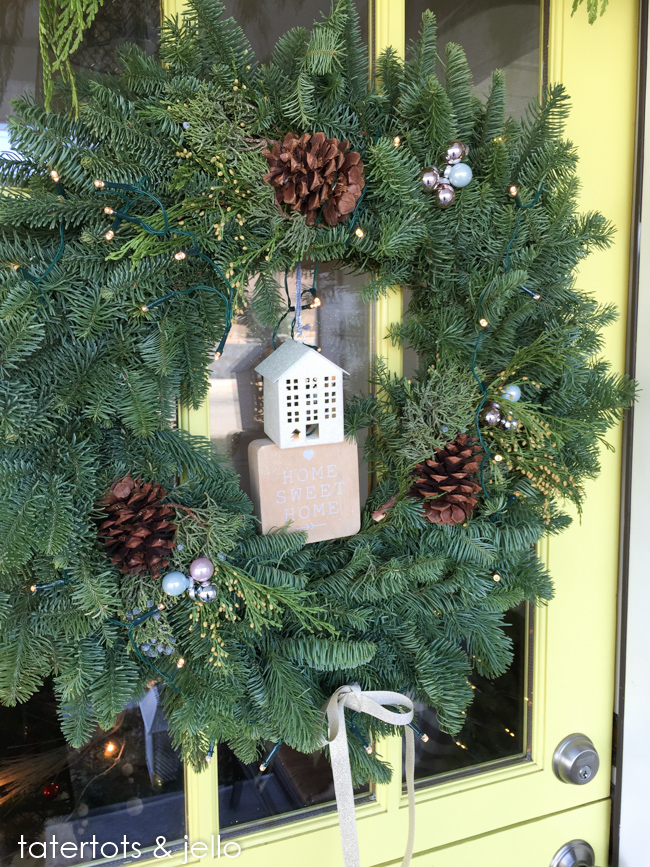 The first thing I did was I made a 10-minute wreath for the door. So easy!! Since I was going for a natural look this year, I picked up a fresh everygreen wreath. And here's how I created the 10 minute wreath:
I found a little house ornament and hung it at the top of the wreath.
I found some battery-operated lights and wrapped them around the wreath and inside of the house.
I added a bow to the bottom.
I hot glued some tiny ornaments on the wreath.
I added a Home Sweet Home block under the house.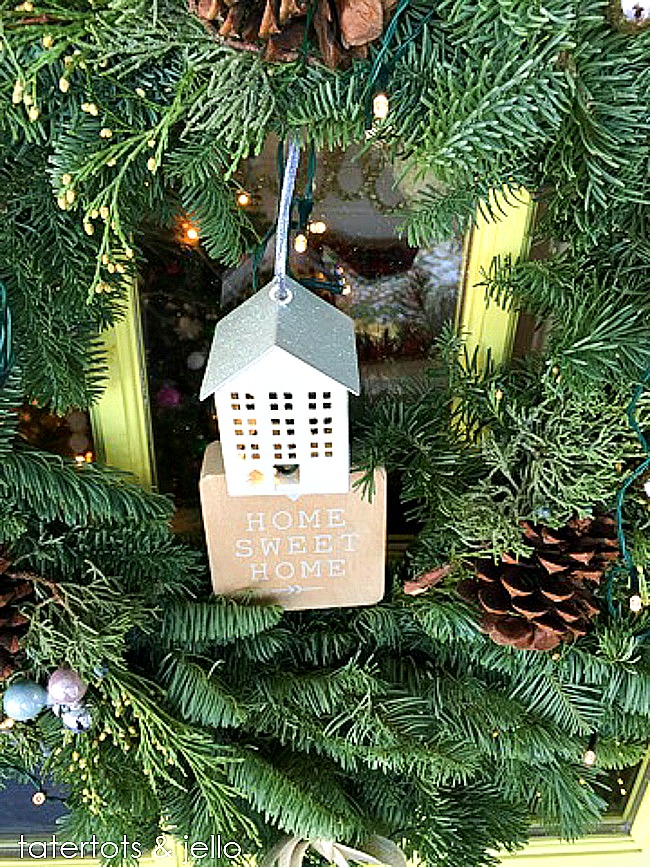 I love the way the house shines with the lights.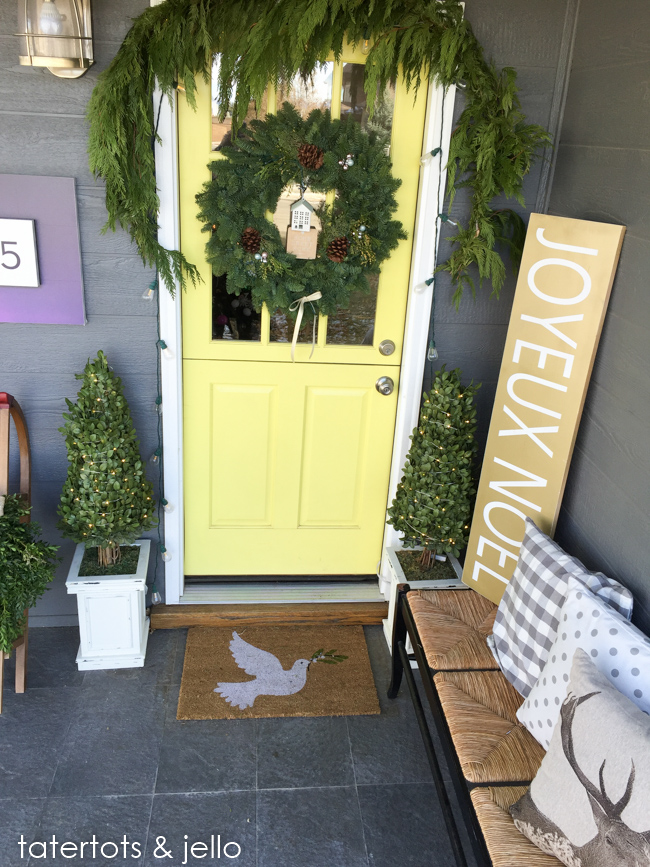 I also added frresh greens to the top of the door. And a fresh wreath on a little sled.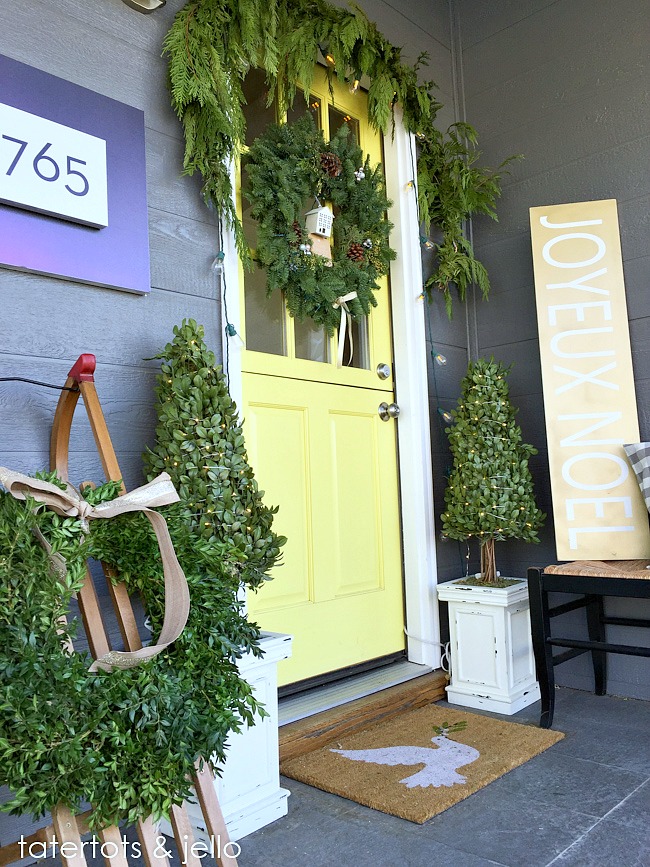 The topiaries I used used to be in my other house and I was going to donate them but then I thought they might be really cute on the porch of the cottage. And the sign I made for $7 with spray paint and my craft cutting machine.
I found some little white twinkle lights and wrapped them around the topiaries.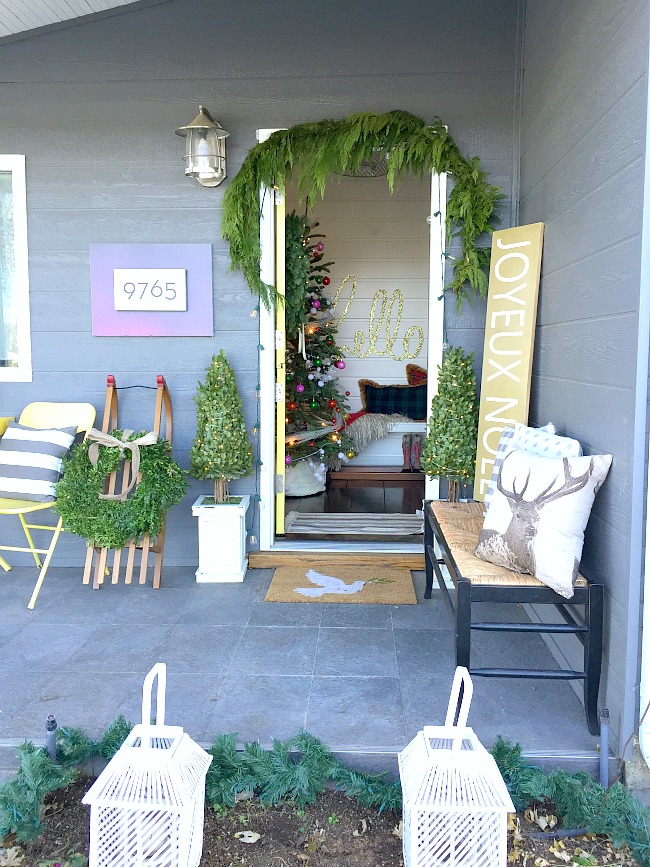 So come on in! Here's my entryway: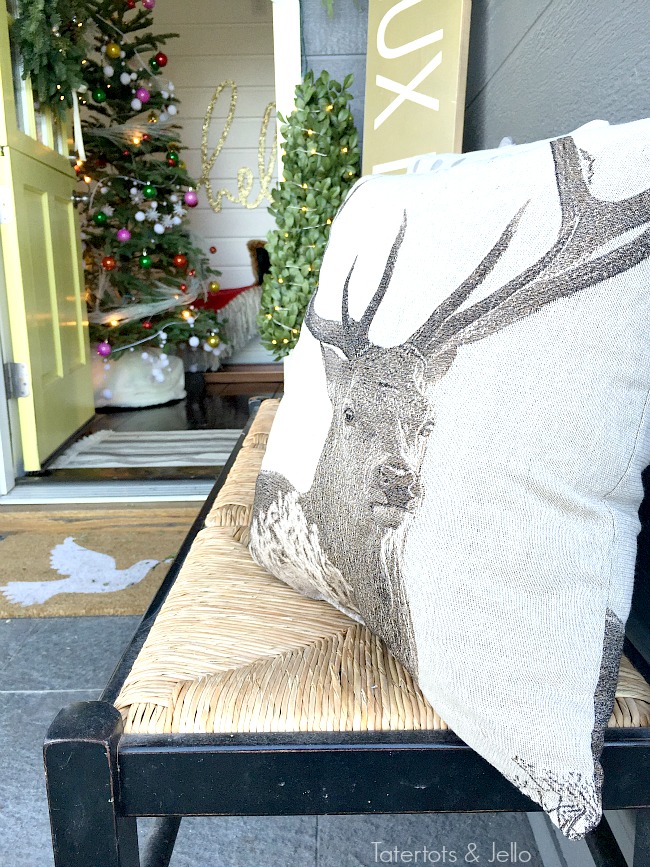 I picked up a fresh tree on a whim the other night. I love the way fresh trees smell!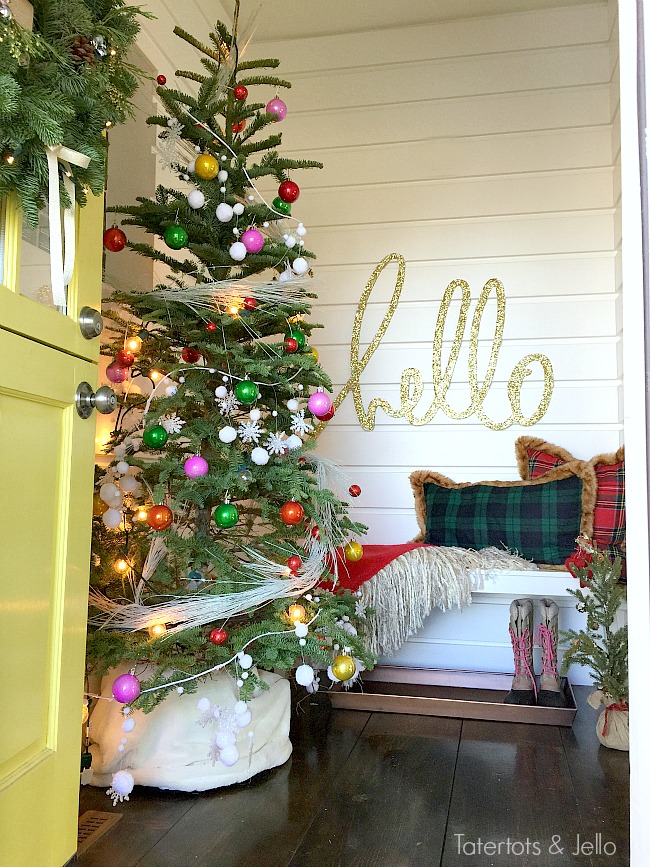 I kept a little bench in the entryway so people can come in and take off their shoes. I love this copper boot tray.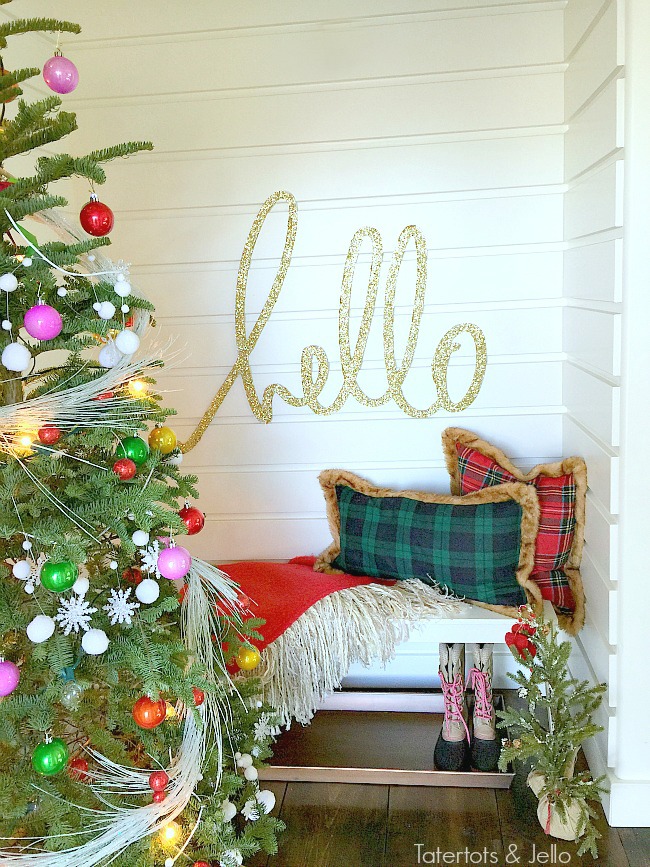 And plaid! I am really into plaid this year. These pillows with the fur edging are fun for wintertime.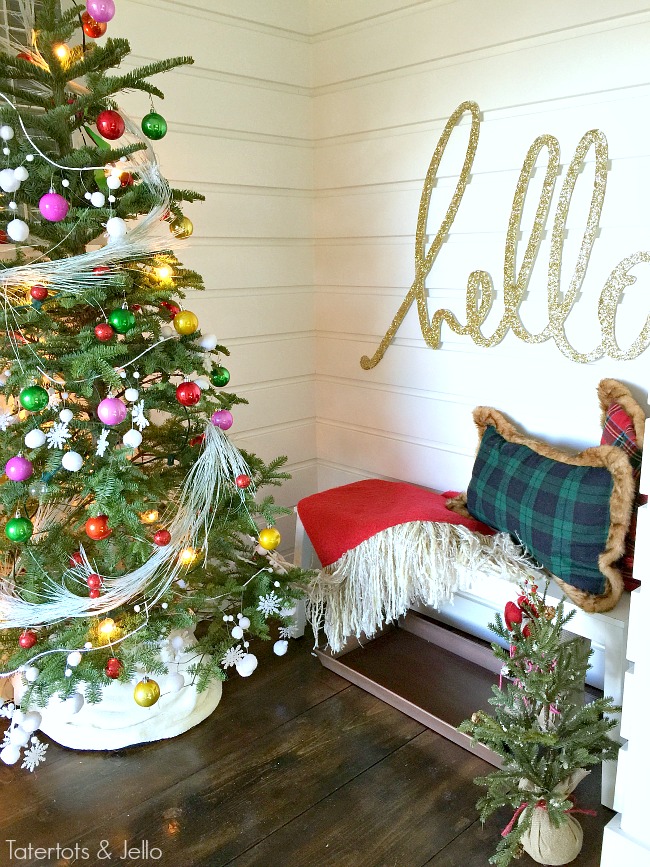 And of course, I love my Heidi Swapp HELLO sign that Ella and I glittered. It's so sparkly.
I had my cookie exchange at the cottage over the weekend and having the front of my home all festive made me so happy!!

Be sure to head over to My Sweet Savannah's for the next stop on the tour. I can't wait to see her room!!
Have a FESTIVE day!
xoxo