This post is sponsored by De'Longhi. All opinions are my own.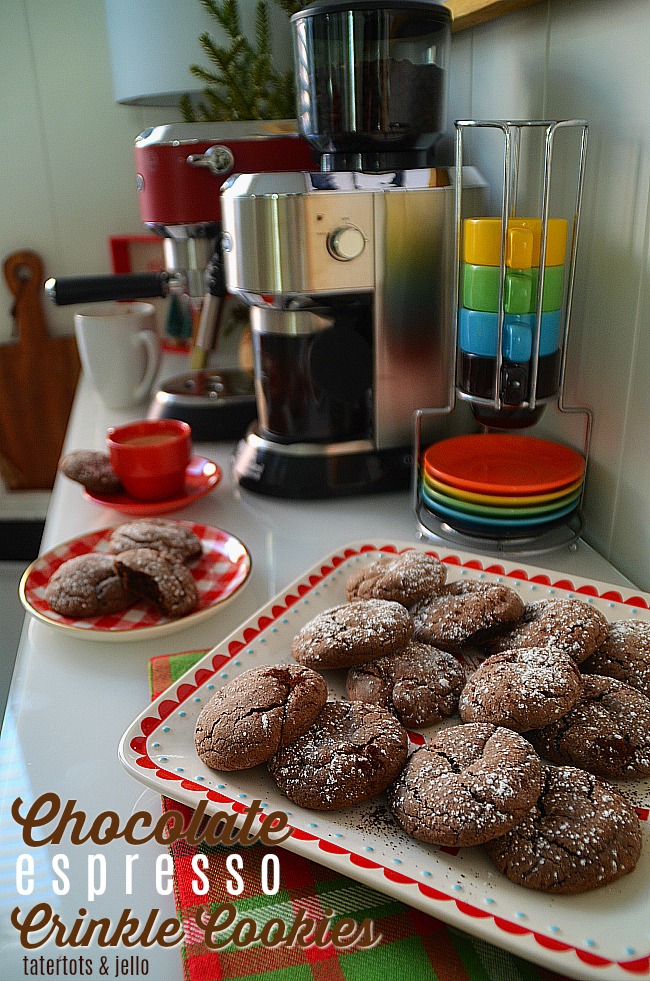 We love making cookies – especially during the holidays! One of our favorites are crinkle cookies. I think they are named that because when you bake them the outside splits apart with a crunchier outside, while the inside remains soft and delicious. Chocolate is our favorite. When De'Longhi contacted me to see whether I would try their Dedica Deluxe and Dedica Grinder I thought it might be fun to try an espresso version of our favorite recipe – kick it up a notch! Everyone needs a little extra energy during the holidays (even Santa)!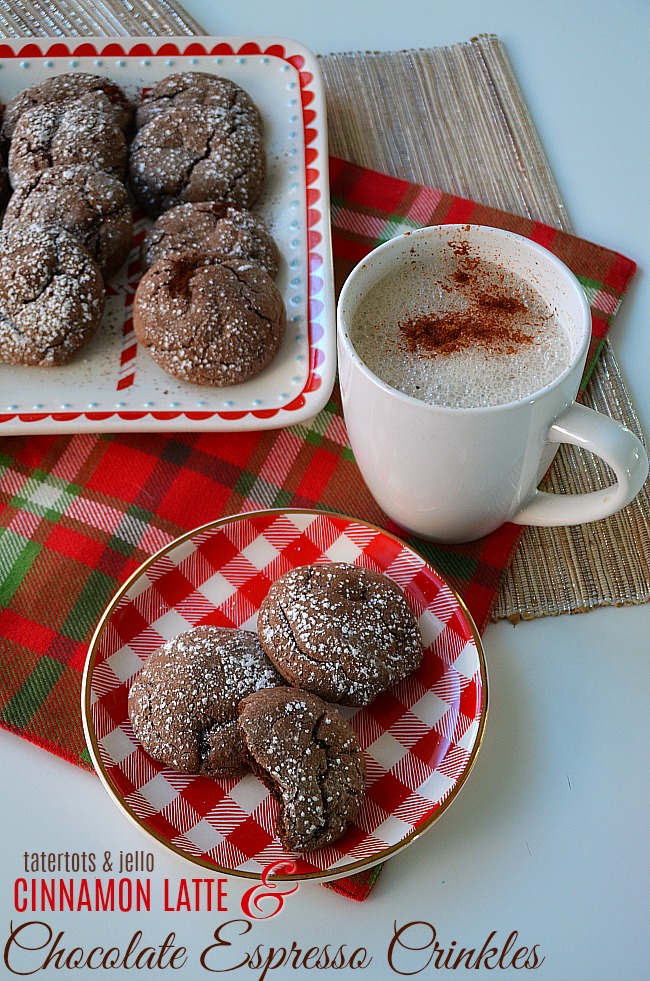 First of all I love the design of De'Longhi. Both the grinder and the De'Longhi Dedica Deluxe have sleek, ultra compact stainless steel design. They look great out on your counter. I set up a little coffee/hot cocoa station by our breakfast nook.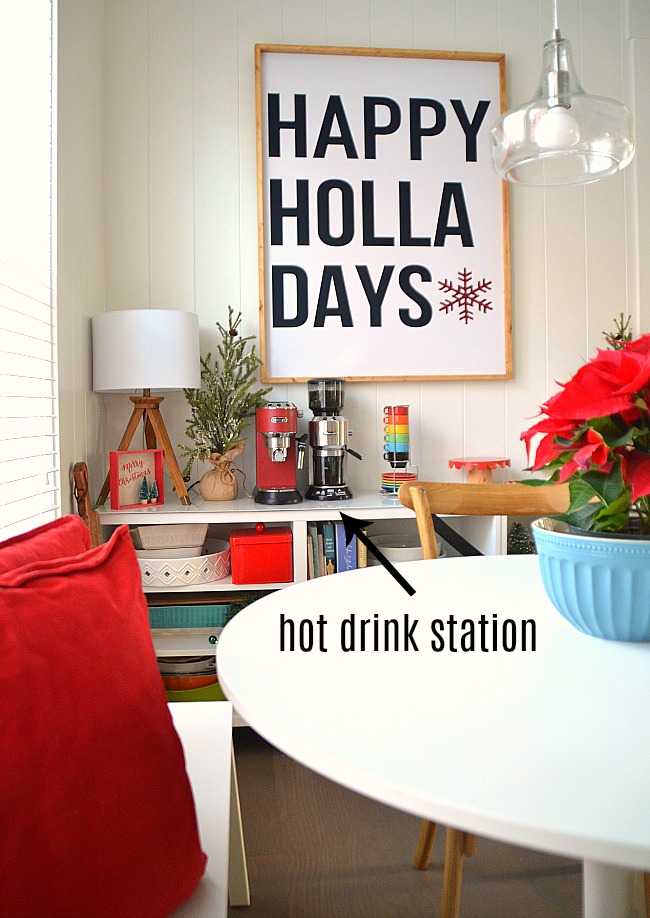 We have people in our family that drink both coffee, tea and hot cocoa so I thought it would be nice to have a place for everyone to make their hot drinks.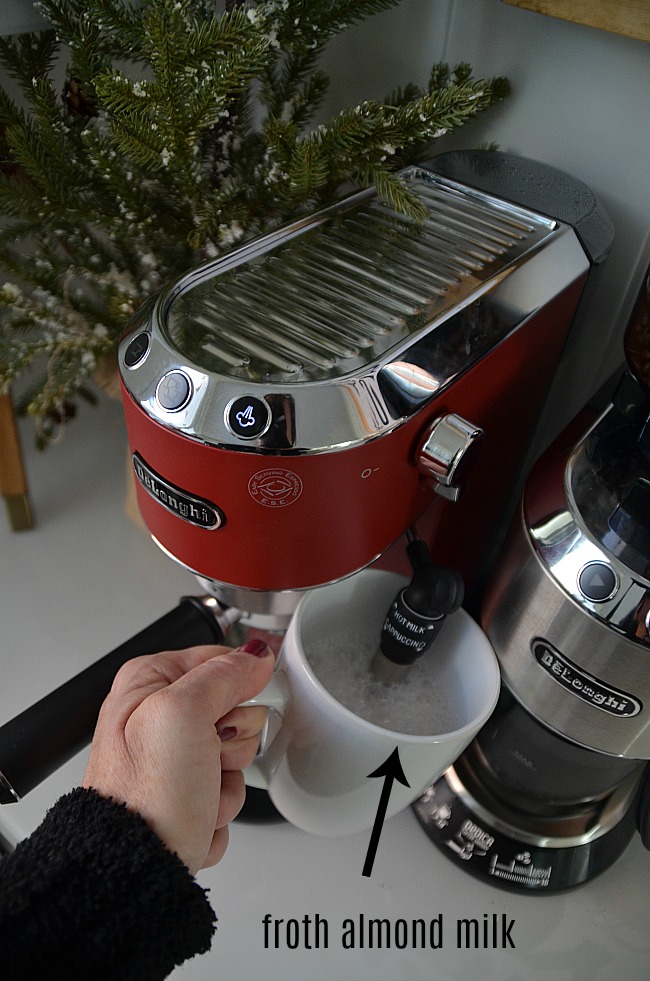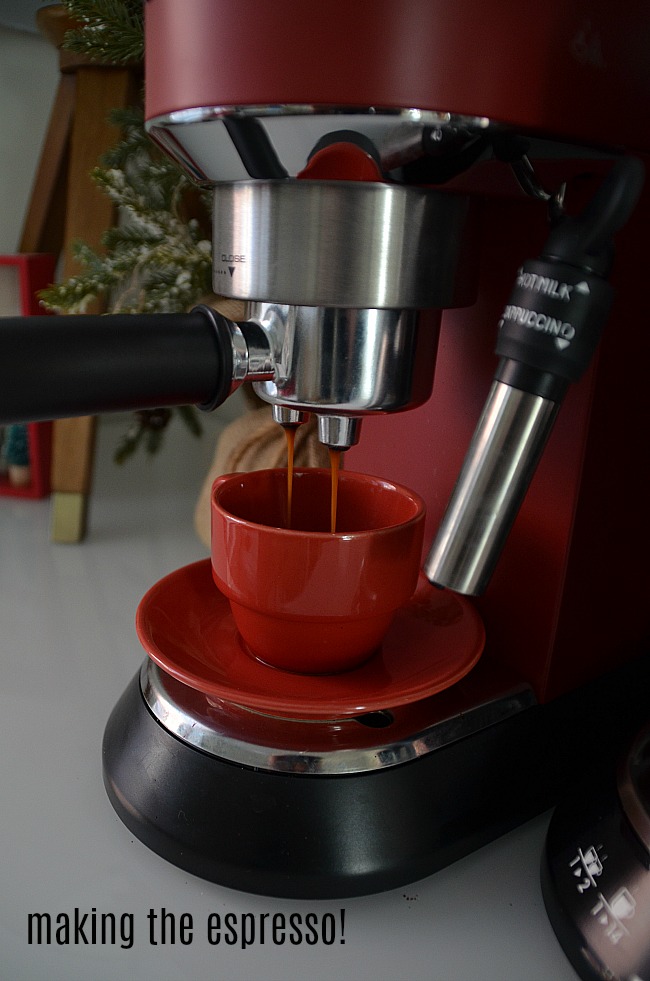 We had a fun time trying out De'Longhi's Dedica Deluxe! The adjustable frother is SO fun! It allows you to adjust the foam and steam levels to make a custom drink and it's SO easy! You can froth the milk and drink it alone, or add it to hot cocoa or coffee for a latte or capuccino. Delicious! A few things I LOVE about this machine — it heats up in 40 seconds! The capuccino system makes preparing hot milk, frothing milk and preparing hot water for tea easy! It has a double-drip tray and a 15-bar professional pump. The control panel is really easy to use and has three buttons that light up and are easy to see.

The De'Longhi Dedica Stainless Steel Grinder is so cool. I was really impressed with this grinder and how customized you could make each grind. You can choose how fine you want your coffee or cocoa beans to be ground. There are 18 variable settings for different types of drinks – like espresso, drip coffee and French press. You can customize the grind! There is also a handy container that comes with the grinder. You can grind right into the container and it has a air-tight seal. So you can grind a lot of coffee (up to 14 cups) and save it for later which is nice. You can also grind a single espresso right into the portafilter which makes things really easy.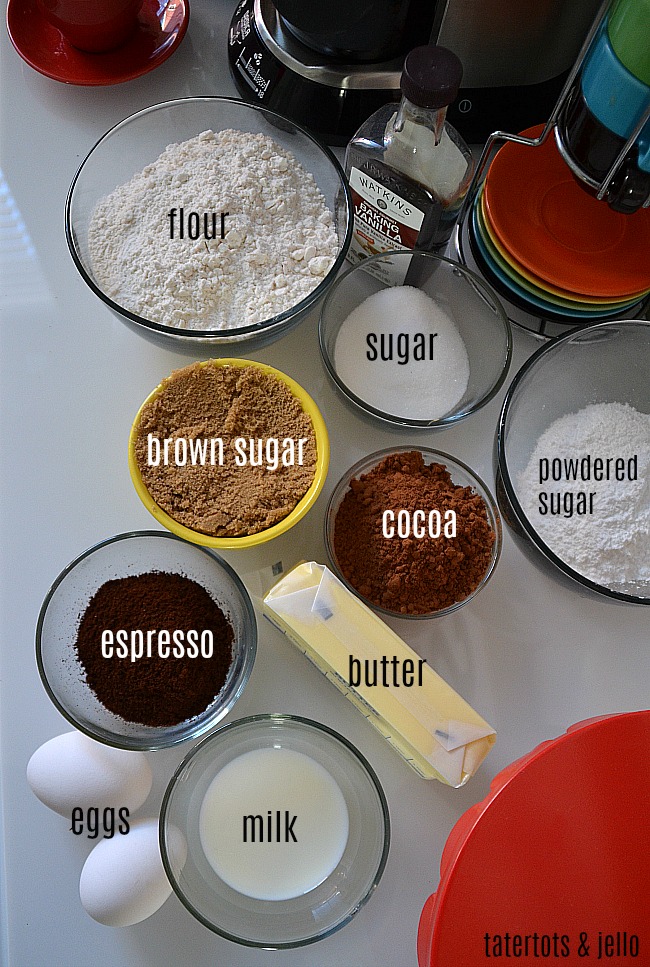 I used the finest grind on the grinder to produce espresso for the Chocolate Espresso Cookies. It was SO fine! I think the addition of the finely ground espresso beans really elevated the chocolate cookies and gives them a complexity of taste that they didn't have before. And maybe a little extra kick! We are putting a plate our for Santa to help him get through his busy Christmas Eve night!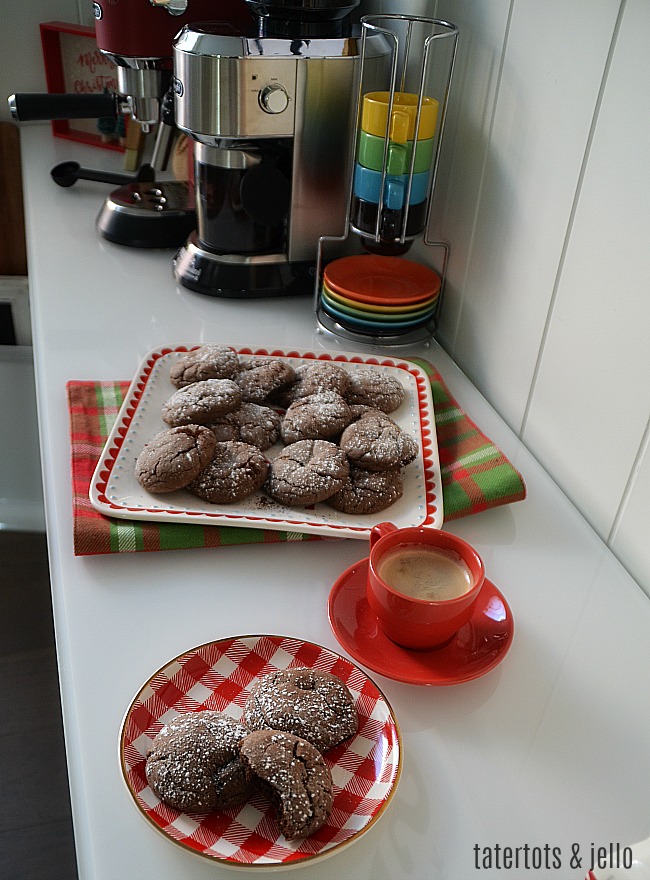 Here's how to make Chocolate Espresso Crinkle Cookies: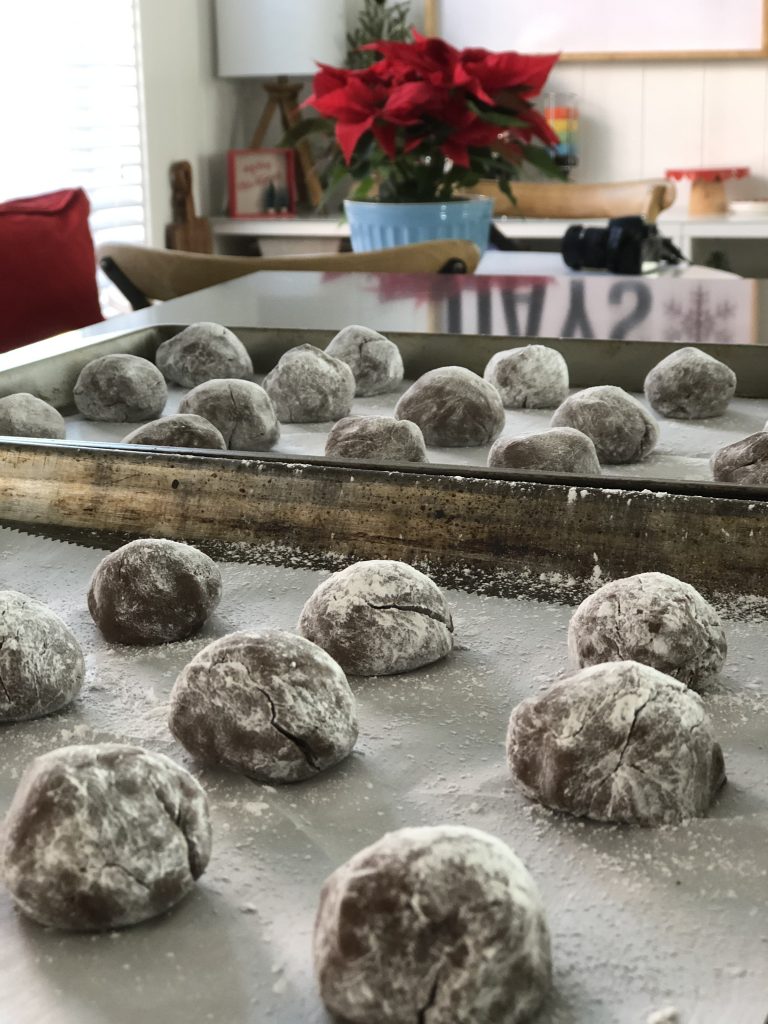 Chocolate Espresso Crinkle Cookies!
Recipe Type: dessert
Cuisine: cookies
Author:
Prep time:
Cook time:
Total time:
Serves: 24
Chocolate Espresso Crinkle Cookies – an easy cookie to make with a complex flavor of chocolate and hint of espresso.
Ingredients
1 1/4 cups all-purpose flour
1 teaspoon baking soda
1 cup unsalted butter, room temperature
1 cup light brown sugar, packed
1/4 granulated sugar
2 large eggs
1 teaspoon vanilla extract
1/4 cup finely ground espresso
2 Tablespoons almond milk
1/2 cup cocoa powder
1/2 cup powdered sugar
Instructions
Preheat oven to 375-degrees.
Put milk in a small bowl, add espresso.
Combine flour, baking soda and salt in medium bowl.
Put butter, brown sugar and granulated sugar, eggs and vanilla in mixer and blend until smooth.
Slowly mix in the flour.
Then add in cocoa powder and milk/espresso mixture and mix until combined.
Put powdered sugar in a small bowl, drop cookie batter by spoonful into powdered sugar and roll into a ball.
Put balls on cookie sheets and bake for 8 minutes or until edges are firm and cookie top forms "crinkles". Cool completely on wire racks.
We thought a Spiced Cinnamon Soy Latte would be perfect to pair with our chocolate espresso cookies.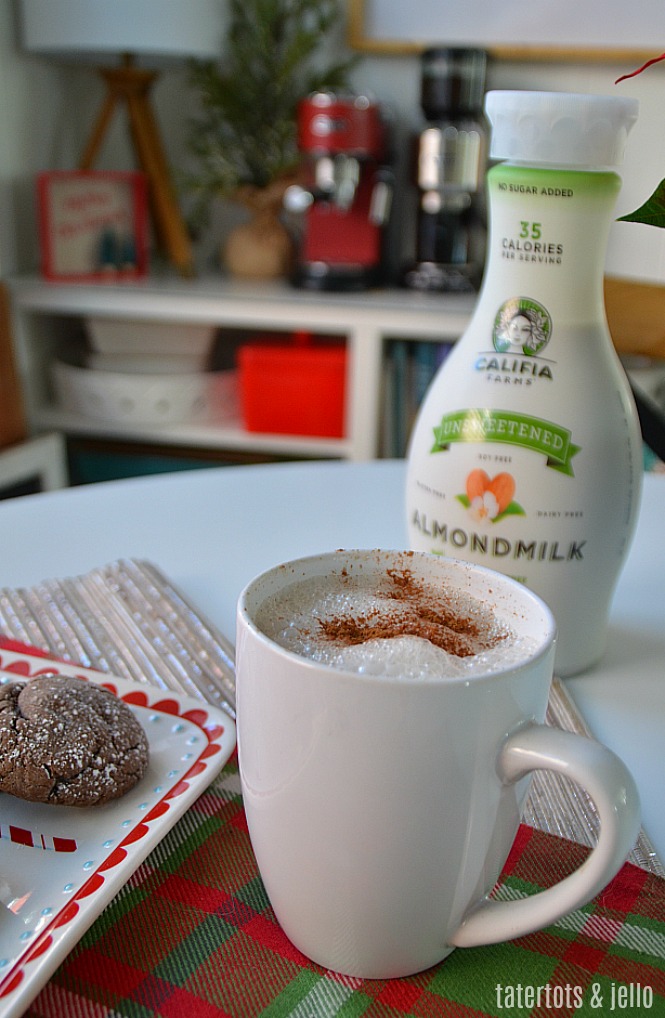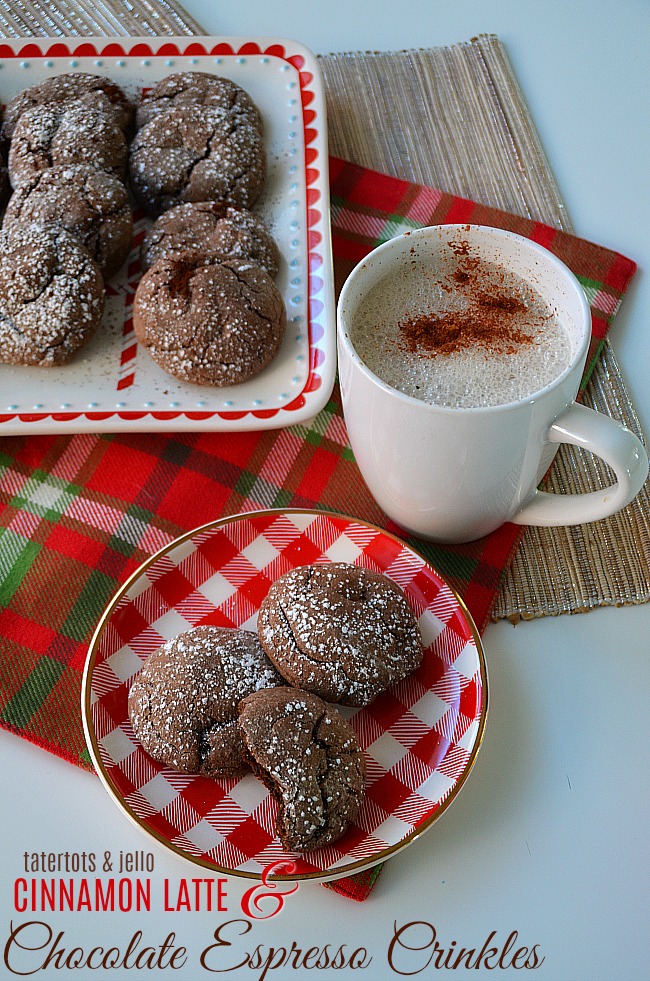 To make the Spiced Cinnamon Almond Latte:
Spiced Cinnamon Almond Latte
Recipe Type: Coffee
Cuisine: Drink
Author:
Prep time:
Cook time:
Total time:
Serves: 1
Cinnamon Latte is easy to make with an espresso maker. All you need to do is make the espresso, add some ingredients and add whipped almond milk to the top, along with a dash of cinnamon. It's the perfect accompaniment with Chocolate Espresso Cookies!
Ingredients
2 shots of espresso (6 ounces)
1 Tablespoon unsweetened cocoa powder
1 Tablespoon powdered sugar
1/4 teaspoon nutmeg
1/2 teaspoon cinnamon
1/2 cup almond milk
Instructions
Make two shots of espresso.
Pour the shots into a big mug. Then add in cocoa powder, powdered sugar, nutmeg and half the cinnamon and mix.
Froth the almond milk in a separate mug using the De"longhi attachment until the milk is very hot and frothy.
Add the frothed milk on top of the espresso mixture.
Sprinkle with remaining cinnamon.
Serve!
Make Chocolate Espresso Crinkle Cookies and pair them with a fragrant Cinnamon Spiced Almond Latte for the perfect holiday treat!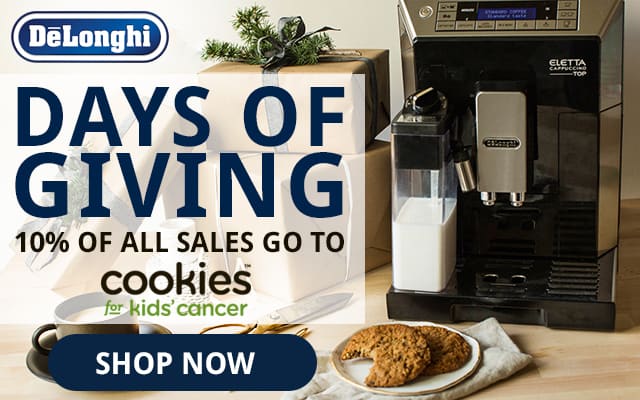 I also wanted to tell you about De'Longhi Days of Giving and Cookies for Kids' Cancer. Cookies for Kids' Cancer is a national non-profit organization dedicated to funding research for safer, more effective treatments for pediatric cancer, the #1 disease killer of children in the U.S. Cookies for Kids' Cancer has granted nearly $15 million to research for new, less toxic therapies for kids battling cancer.
De'Longhi hosted their 2ndannual De'Longhi Days of Giving that donated 10% of all proceeds on delonghi.us from 11/27 through 12/19 to Cookies for Kids' Cancer. This year De'Longhi raised a total of $51,000. That is awesome!
You can continue help by sending cookies this holiday season, hosting an event, or simply donating.
To learn more visitcookiesforkidscancer.org and Be a Good Cookie
Such a worthy cause!! I hope you enjoy these Chocolate Espresso Crinkle Cookies with a fragrant Spiced Cinnamon Almond Latte!
You can follow along with Delonghi on their social channels:
Have a Beautiful Day!
xoxox

This is a sponsored conversation written by me on behalf of De'Longhi Group. The opinions and text are all mine.