This post contains an affiliate link. Affiliate links add no cost to you and allow tatertots + jello to bring you free content and recipes. We hope you enjoy this recipe!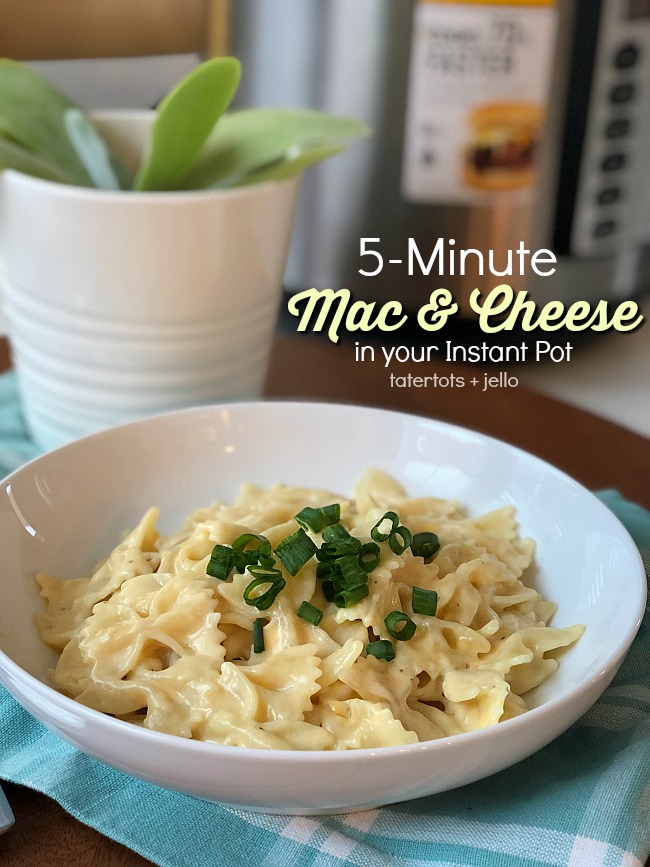 Ok! You know how much I love my Instant Pot. I can't believe I haven't made this recipe before now. My kids LOVE mac and cheese. They pretty much live on it. The other day I was looking at the ingredients in "Easy Mac" — "Easy" Mac Cheese Sauce Mix: Whey, Maltodextrin, Corn Syrup Solids, Palm Oil, Modified Food Starch, Milkfat, Salt, Milk Protein Concentrate, Medium Chain Triglyceride, Sodium Tripolyphosphate, Citric Acid, Sodium Phosphate, Natural Flavor, Lactic Acid, Calcium Phosphate, Guar Gum, Monosodium Glutamate, Yellow 5, Yellow 6, Artificial Flavor, Cheese Culture, Enzymes.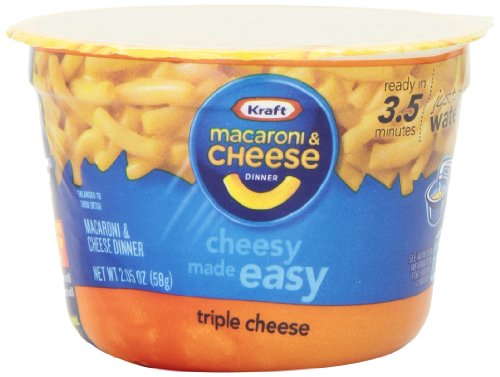 There's are a lot of ingredients in there that I don't want my kids eating!
Hmmmm…….
When my kids got home from school the other day and got out their easy mac and I decided — why not try to making a healthier version of this in the Instant Pot!! After a few tries with different ingredients, temperatures and timing, I am SO excited to share this SUPER easy 5-Minute Instant Pot Mac and Cheese.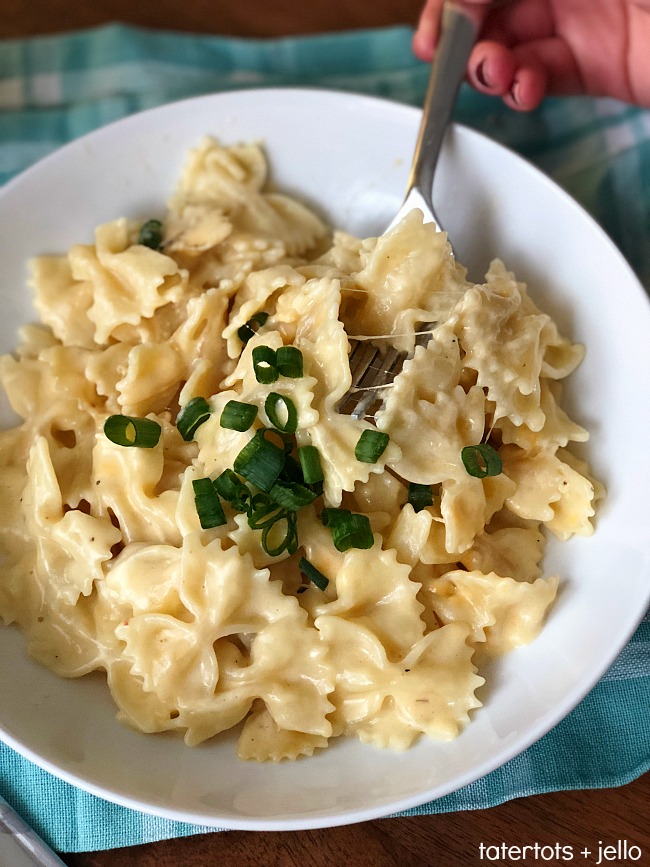 I used bow tie pasta for ours but you can use any type of pasta! In 5 minutes you have the most wonderful, homemade Mac + Cheese – and the best part is you KNOW what your kids are eating! I made a big batch and we actually had this one for dinner. You can make a smaller batch for after school. Or just save the left overs and put them in small containers for lunches! All you have to do to warm them up is cook them in the microwave on 50% heat for 1 minute.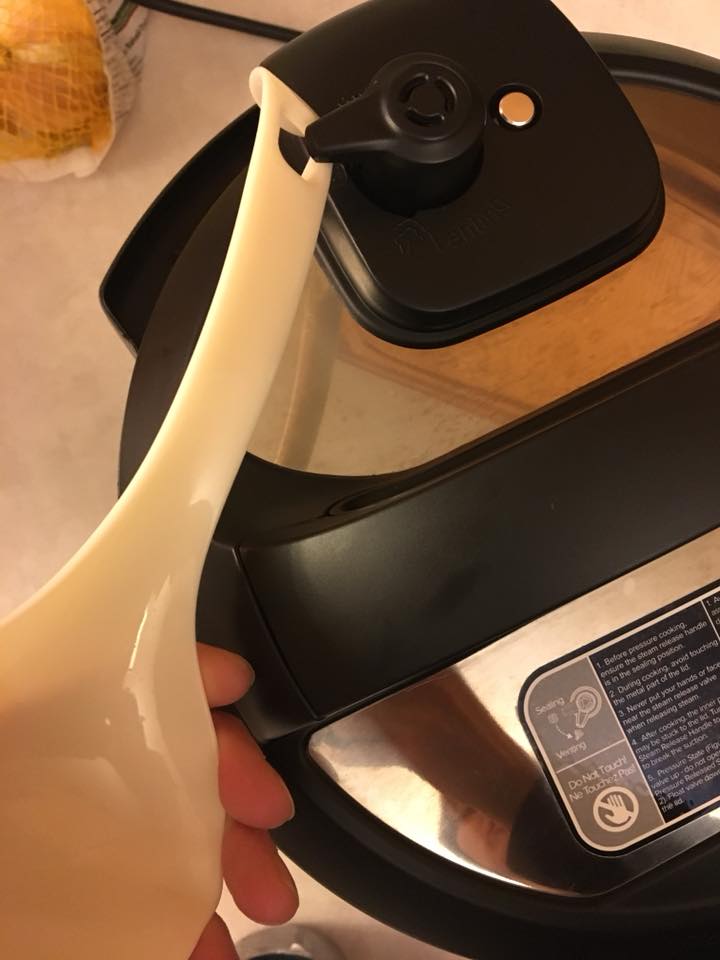 (this is an image from an Instant pot facebook I'm part of. She is using the end of a cooking utensil to switch the manual pressure release valve. Just a suggestion.)
Now – I've had a few people point out that there are a few extra minutes as your Instant Pot comes up to temperature and to release the pressure after the timer turns off. You can also manually release the pressure by turning the pressure valve to open. When I do this I put a clean cloth on top of the pressure valve and make sure my hands are not where the steam will be released. This will cut down on the amount of time. Just putting that out there so you know LOL!

Another fun fact about this recipe is that you can use ANY cheese you want! Use whatever you have on hand. We experimented with a few different cheese combinations. Some of our favorite are 1.5 cups shredded cheddar cheese and 1.5 cups shredded Italian cheese. But get fancy with it for dinner — add Gouda, Gruyere, Monterrey jack, pepper jack, whatever YOUR family loves!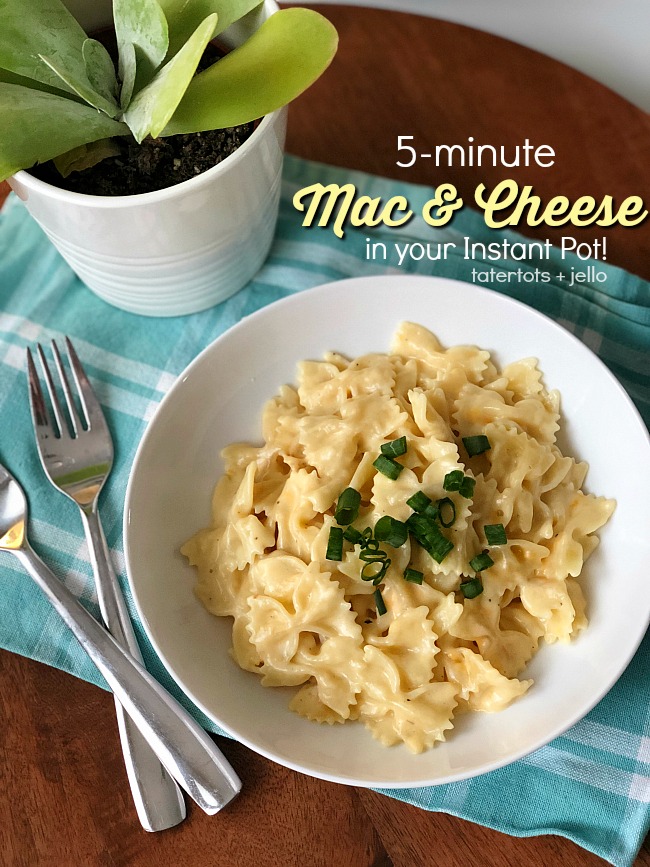 Here's the recipe for 5-Minute Mac + Cheese in Your Instant Pot:
5-Minute Mac + Cheese in Your Instant Pot!
Recipe Type: Mac and Cheese
Cuisine: American
Author:
Prep time:
Cook time:
Total time:
Serves: 6-8
5-minute mac and cheese in your Instant Pot – cut out all of those artificial ingredients and make this super easy and delicious mac and cheese in your pressure cooker.
Ingredients
1 package (1 pound) noodles – shells, bow-tie, penne, whatever you want.
4 cups water
4 tablespoons butter (cut into smaller cubes)
1 t. salt
3 cups shredded cheese (use any combination you want. I used 2 cups shredded Monterrey jack and 1 cup shredded mozzarella)
1 cup 2% milk (you can also use whole milk, or skim milk with 1 T. flour mixed into it)
1/2 t. Red pepper flakes (optional)
salt and pepper to taste
Green onions to garnish
Instructions
Put the pasta, water, butter, red pepper flakes (optional) and salt in your [b][url href="http://amzn.to/2FWcKT4″ target="_blank" rel="nofollow"]Instant Pot[/url][/b]. (affiliate link)
Cook for 5 minutes on the Manual setting.
Let the pressure release naturally OR do quick release by putting a clean towel over the pressure release valve and turn the pressure release to manual release. Be careful not to get your hands near the steam. The noodles will have absorbed most of the liquid, but there will be some liquid at the bottom of the pot.
Add cheese and milk, stirring gently. If you want a more liquidy Mac and cheese, you can add more milk or cheese until it is the consistency you want.
Garnish with sliced green onions.
Enjoy!!!
Your kids will LOVE this healthier version of Mac + Cheese and YOU will love knowing what they are eating!!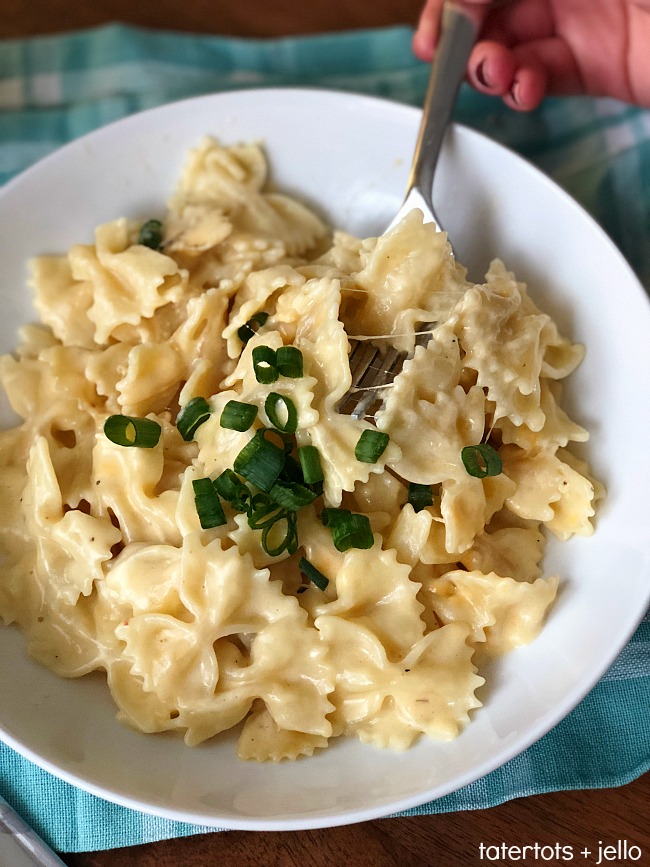 If you are looking into getting an Instant Pot, you can order it on Amazon and it will come right to your house.
They have great prices and sales too!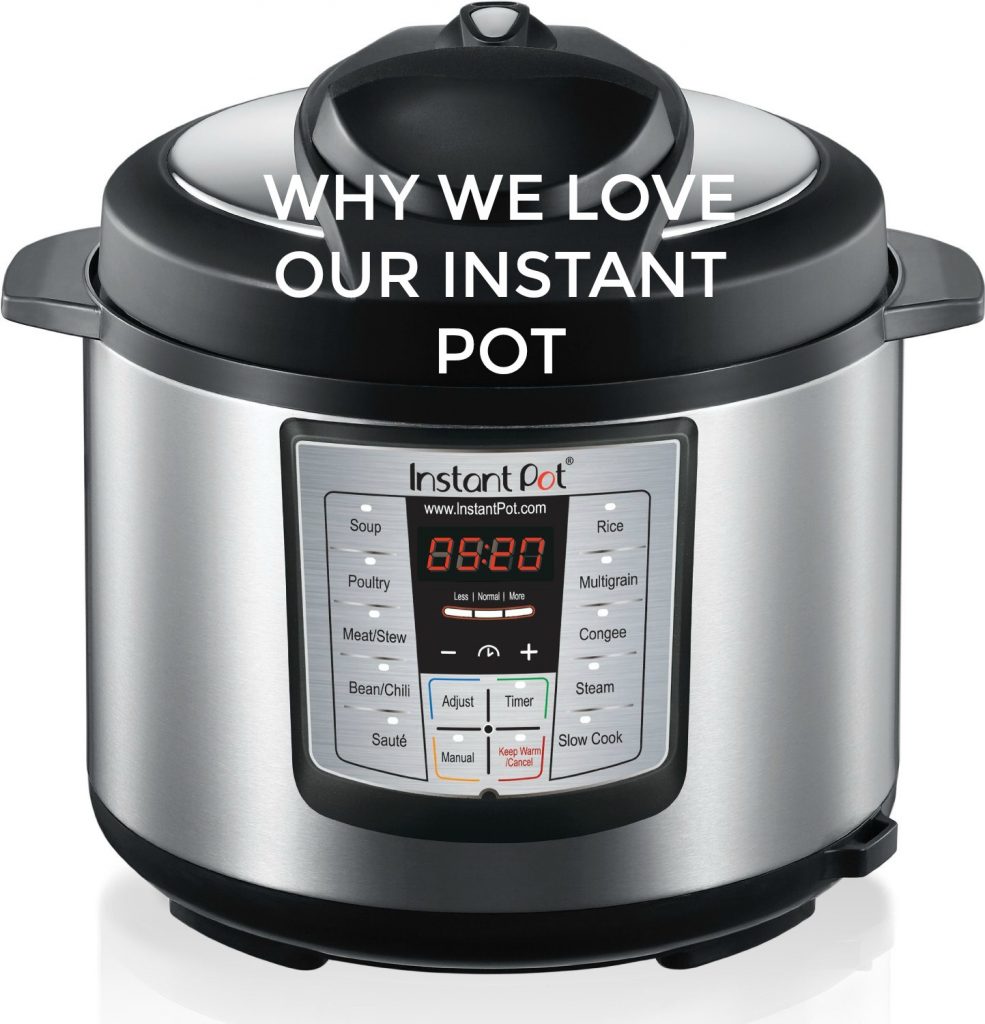 And here is why we love our Instant Pot and a few other Instant Pot recipes we love to make: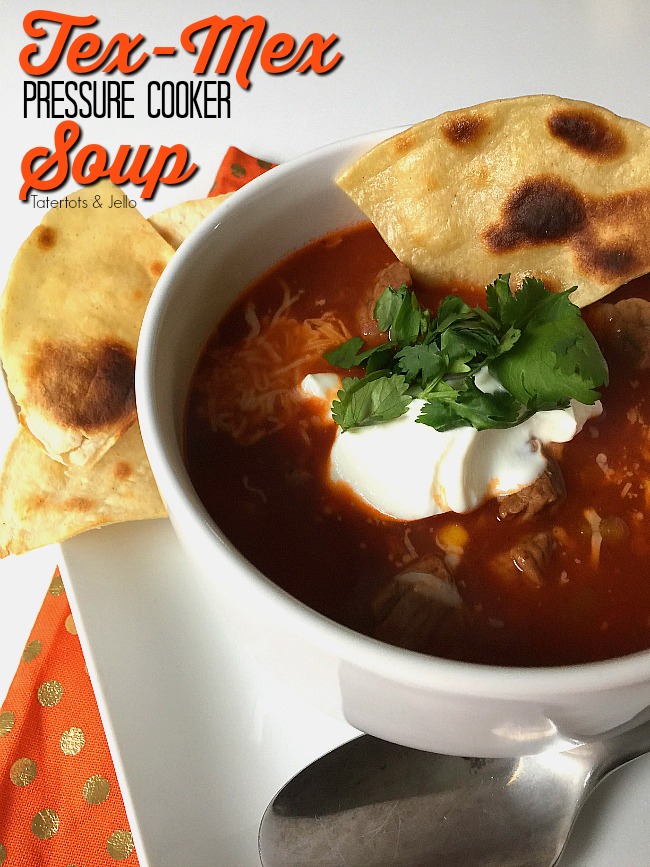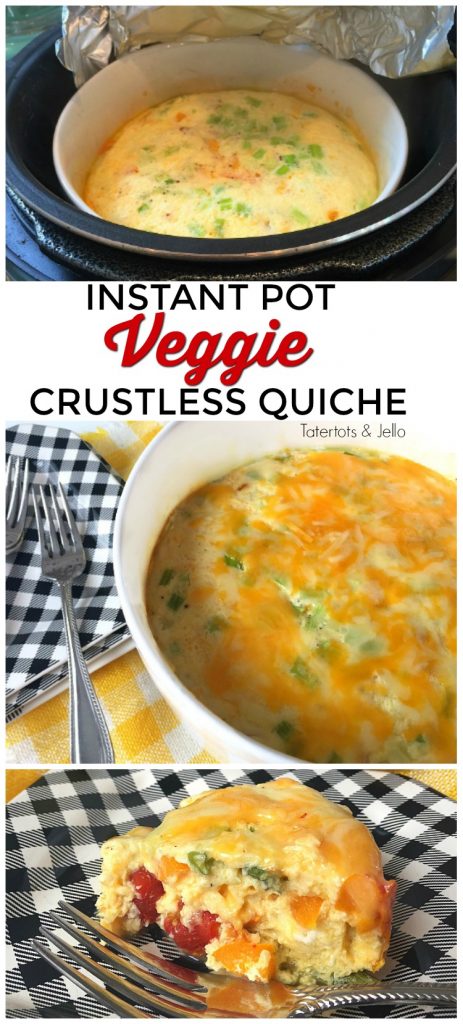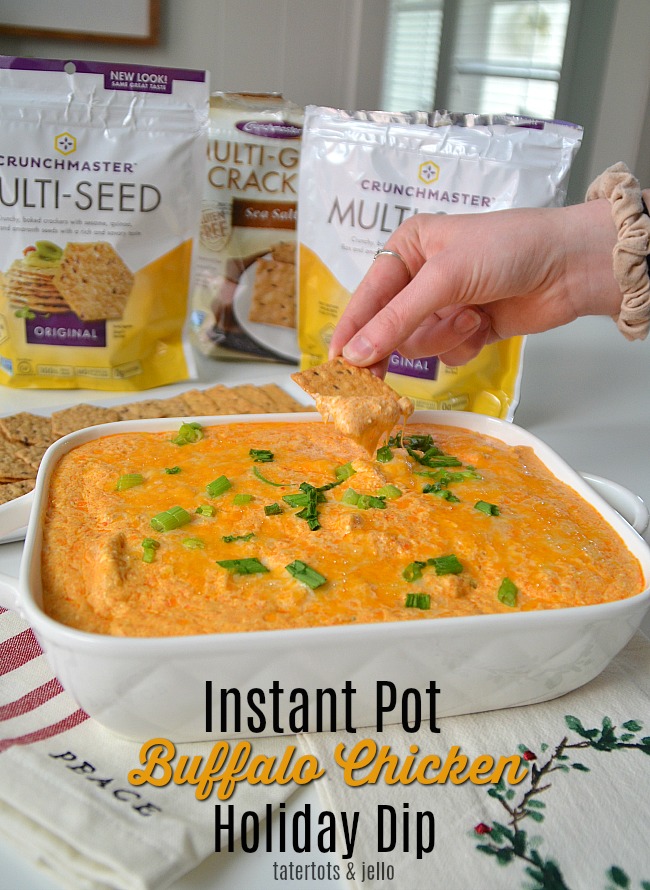 Instant Pot Buffalo Chicken Dip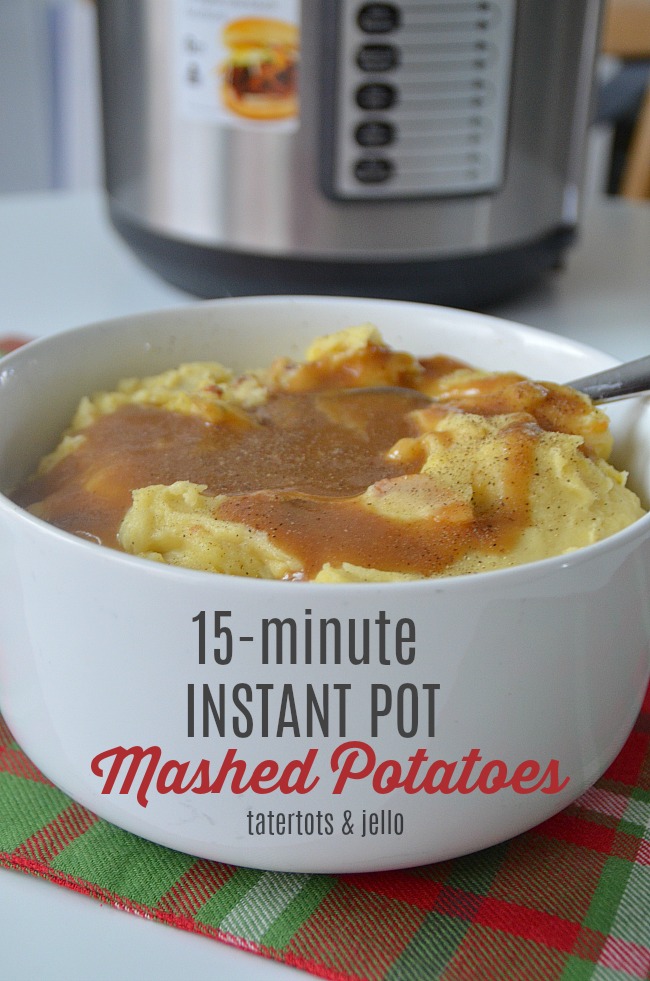 The Easiest Instant Pot Mashed Potatoes
(I made these over the weekend – so good!!)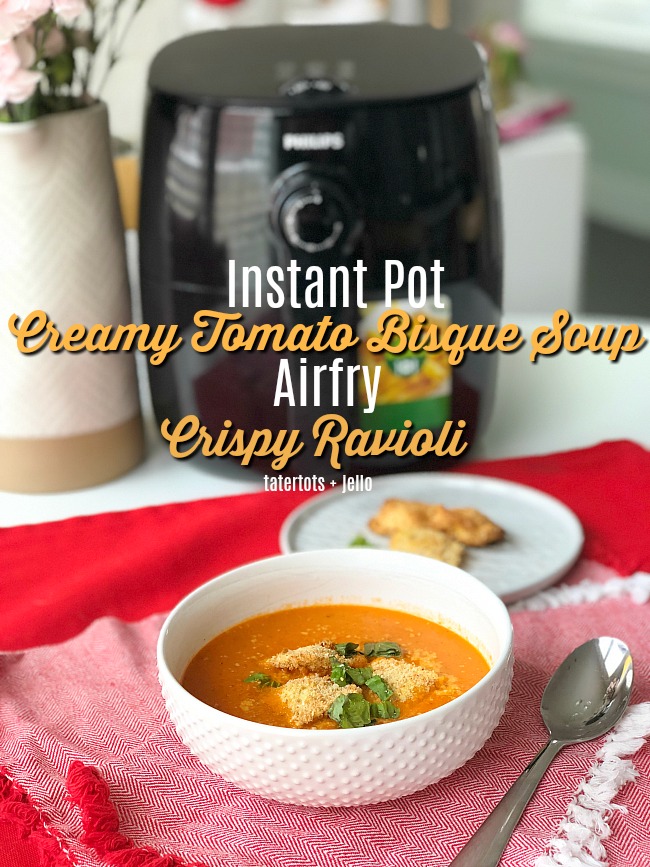 Instant Pot Creamy Tomato Bisque Soup
Make it for YOUR kids and let me know what you think!
Have a YUMMY day!!
xoxo