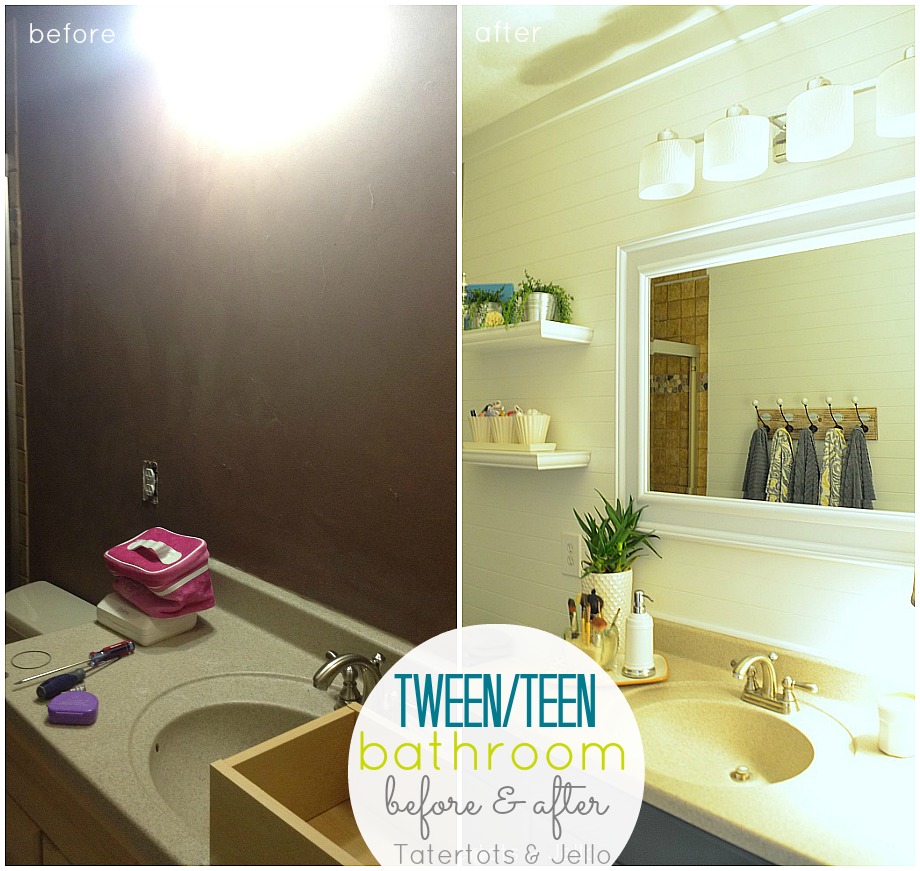 When we moved into our home, there was no bathroom in our basement. A couple of years later we thought it might be a good idea to put a bathroom on that floor. And as our kids have grown, our oldest daughter has taken residence in the basement. As a 17-year-old it gives her a little more independence to play her music and have her own space. This September, our 14-year-old started high school and she begged us to move down to the basement with her BFF sister. It touches my heart how much the two girls have grown to love each other.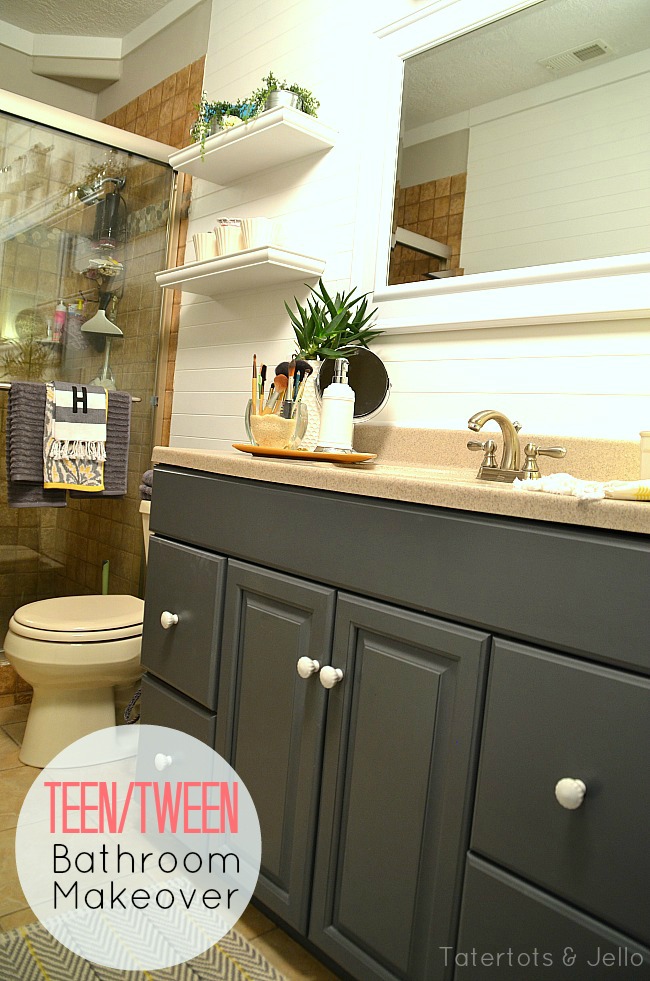 And the bathroom down there was SO dark! For some reason when we refinished it 10 years ago I thought it would be awesome to use a sandstone MAROON paint. What??? And there is no window, no natural light. So it really was so dark and so hard to see anything.
I started redoing the bathroom about 18 months ago, and then I got distracted with the #1905Cottage remodel, which has been SO fun! But now that the cottage is almost done, I am refocused on getting our main house up to date. With two teenage girls down there, we really needed to update the bathroom! This is an inexpensive way to update a room. We kept all of the basics intact – the ceramic tile floors, the vanity cabinet, the countertops, even the faucet!!
Here are 5 ways to create a organized space for YOUR tween/teens!!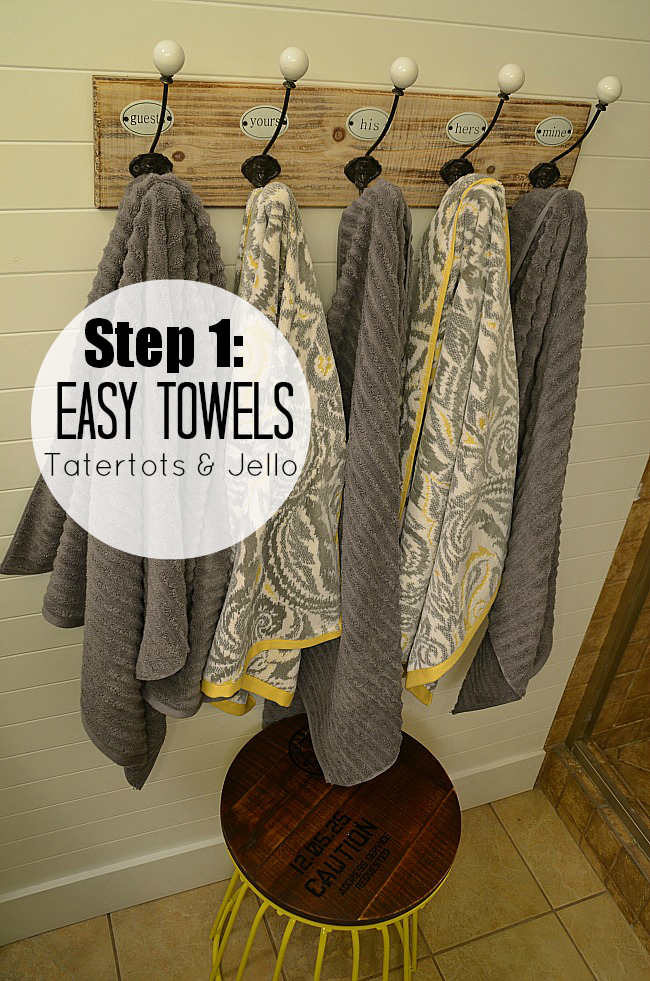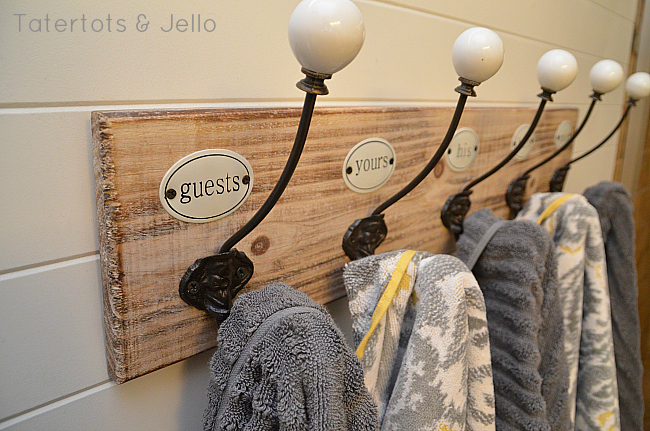 Step 1: Easy Towels. The first thing to know about teens is they are busy/lazy. They want the easiest way to have access to their things. So instead of hanging a towel rod or cabinet, just hang up some hooks and let them hang their towels up. It looks great and it's no-fuss!! I also put a basket on the floor next to the toilet with extra toilet paper rolls. No excuses not to change the rolls.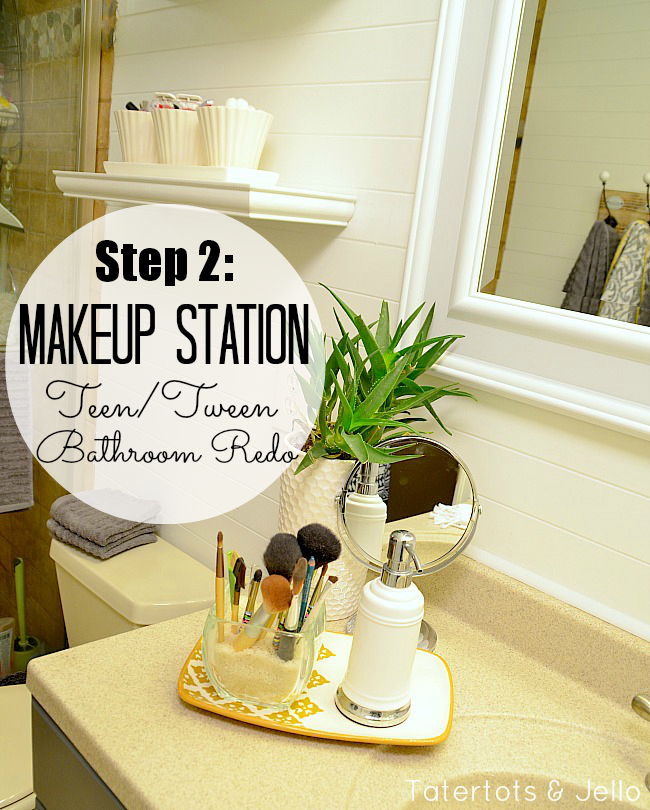 Step 2: Makeup Station. I bought a ceramic tray and put a vase with makeup brushes that my daughter Hannah created with rice – she's so smart!! Then I paired it with an inexpensive vanity mirror for makeup application.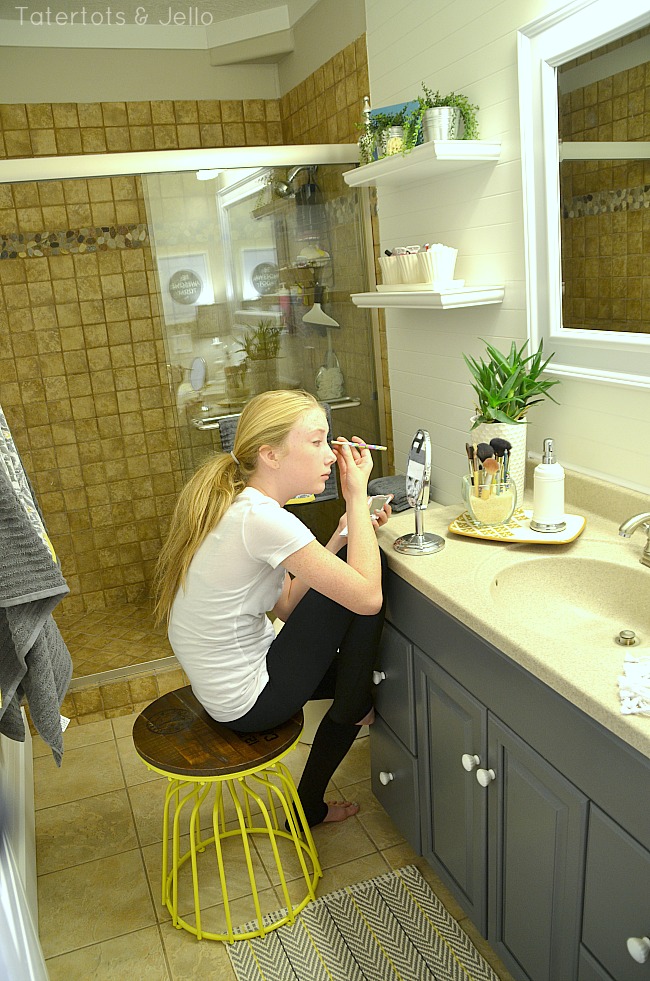 And I found a really cute yellow and wood stool that the girls can use to sit on when they do their makeup.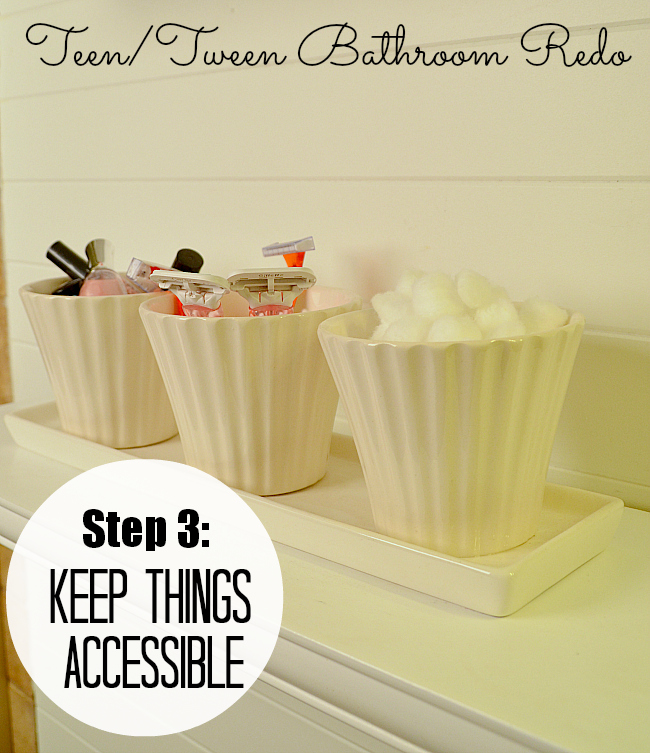 Step 3: Keep Things Accessible. With teens and their busy schedules, I think it's a great idea to keep things they use frequently close at hand. I took a triple ceramic plant holder and used it for some items that my girls use — razors, makeup remover pads and nail polish. It looks great and is very functional. I hung really modern shelves from the paneling and that is where I am storing these fun items and greenery to add a little color and softness to the room. And they can each store their makeup and toiletries in designated drawers.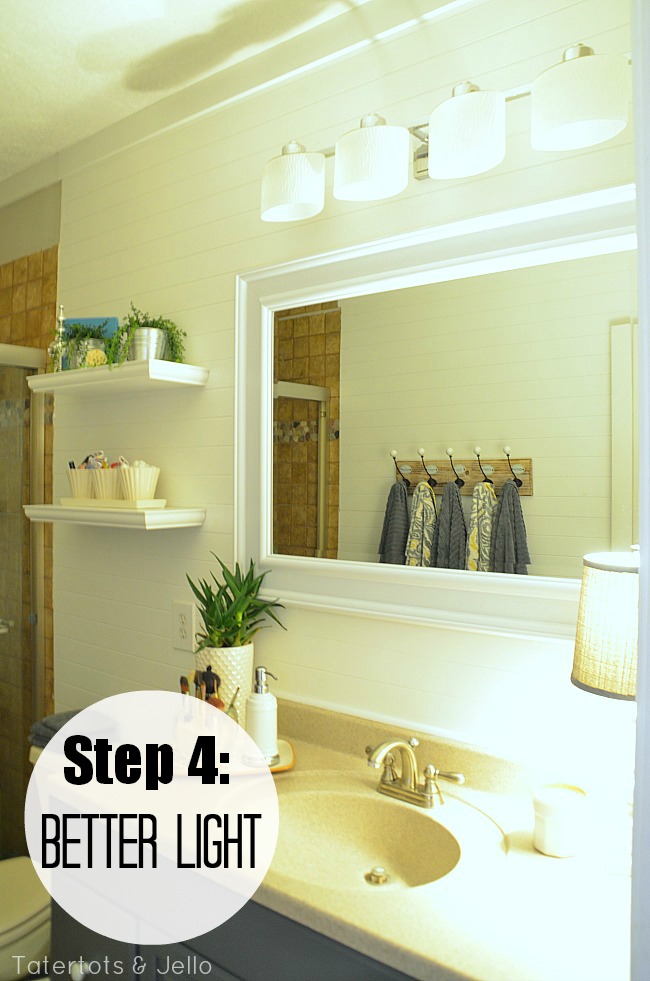 Step 4: Better Light. It makes no sense to create a makeup station without good light. Both of my teens are girls and looking good is SUPER IMPORTANT. Before, the bathroom was so dark that doing makeup was difficult. The lights weren't bright enough and the maroon (what was I thinking?) paint seemed to absorb what little light there was. We installed a new light fixture, and installed paneling which we hung horizontally for more visual interest. It gives the look of planked walls without the time or expense of planking. We did have to put in some inexpensive molding around the edges of the paneling to add a finished look (and we caulked the edges too). And then we painted it white to give the room more light.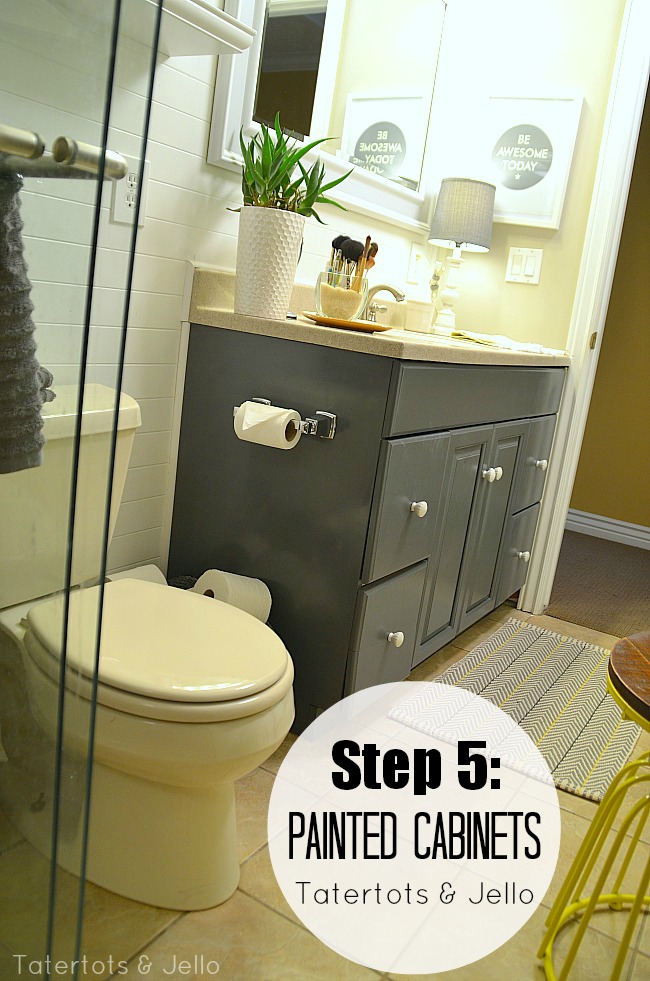 Step 5: Painted Cabinets. The last thing we did was paint the cabinets in the bathroom to tie the colors together — the girls like everything to match (and so do I). When we finished the room 10 years ago we bought a cheap vanity. I think it was pine or maple. To make the room POP I wanted to paint the vanity in my favorite paint color – Gloss Gray Spray Paint from Rustoleum. And since the vanity was in the room, I knew that I couldn't spray paint it. So I took my spray paint into Lowes and the super nice paint desk girl color matched it in gloss interior Valspar — a more paintable version. I love that color! I painted the whole thing with a smooth roller and it looks amazing!! TIP — if you are going to repaint wood, sand it with your mouse sander, then prime it and then paint it with your top coat. I did 3 coats of top coat. You will also want to use a small angled brush to get the corners.
I also added some pretty knobs to add a feminine, final touch.
I added a few accessories. And I am so thrilled with the way the room turned out. My girls love it and that really is the most important thing to me.
PS — It's also awesome to add a little motivational art too! I found this art from Cavalcade, an awesome local designer.
Thanks Lowe's for the gift cards to transform this room into something my family loves!!
Do YOU have a bathroom story? Let me know in the comments!!
I would love to hear about it!!
You can follow along with Lowe's on Facebook for more great ideas and sign up for their FREE Creative Ideas Magazine with TONS of great DIY ideas and instructions!!

Have a CREATIVE Day!
xoxo

Thanks to Lowe's for the gift cards for materials for this project. See my disclosures.