It's the end of the school year – I still can't believe it!
Today I am sharing a gift idea that I think teachers will love. Who doesn't love going to the movies?? I am sharing a FREE striped fry box template. AND, also tags you can add to the front of the fry box that say "Thanks for Making Me Feel Like a STAR". I have designed two different labels in two different colors.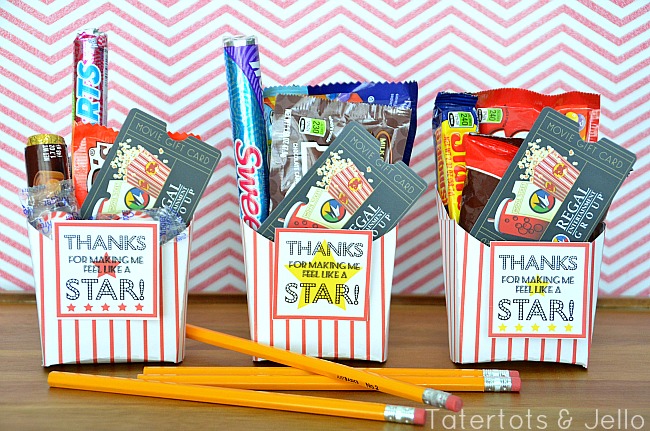 You can print these off on card stock using your own printer. Then just cut out the fry box and fold along the lines. A trick as you put the fry box together – pinch the lines that are curved.
You can fill the fry box with any type of candy that YOUR teacher likes. And then add a gift card to your local theater.
So easy and I know most teachers I have talked to have said that they love getting gift cards.
Here is the link where you can download the printables:
Free Fry Box Template Printable
Plus, here is a free fry box template you can use for all kinds of party and gift ideas. Just print it out on cardstock and fold!
Plus, I've also made some larger sized printables that are foldable cards, in case you want to send your gift card in the mail.
Large Movie Gift Card Printables
Have a Wonderful Day!
xoxo