Welcome to the Summer of Paper series – where we've invited fabulous guests to create projects using supplies from my Home + Made paper decor line.

Hello Tatertots and Jello fans! I'm Heidi from Honeybear Lane. I am lucky enough to know Jen in real life and she is even more beautiful and amazing than she appears on the internet. I am so, so excited for her launching this adorable craft supplies with her name on it. She has impeccable taste so I knew I wanted to create something with it.
I received the box of supplies last week and as I drooled over the beautiful colors, textures, and designs, I had an idea for decorating a cute little wood box of some sort. I actually love to DIY with wood, but I knew something like this would be best with a pre-fabricated item from a craft store.
I hit up my local Michael's and found this adorable Balsa wood mini chest of drawers. Isn't this cute? I adore mini chests of drawers–they are the perfect thing to hold your little treasures, like jewelry or hair things. I wanted to make it for my daughter's bedroom.
I love how this turned out, don't you? All the colors coordinate and it's got personality and pizzazz, glitz and glamour. Even the shelves are lined with cute paper!
Supplies:
Wood mini chest of drawers (available at crafts stores like Michaels)
Scrapbook paper (I used Jen Hadfield's designs from American Crafts)
Stickers
Cute gold scalloped tape
Black washi tape
Decoupage glue like Mod Podge
Paint brush
Exact-O Knife
Scissors, pencil
Step 1: Take all the drawers out. You can paint the body of the chest if you want. I liked the natural look so I left it. Trace the opposite side of the front of the drawer (the back) on a piece of cardstock. Cut it out and then make a double X cut in the center where the knob is. Slip the paper over the front knob and trim out the spot so it fits just so. Paint some glue on the drawer and put the paper back on. Paint more decoupage glue over it. Use your fingers or a squeegee to get out any air bubbles.
Step 2: Repeat this with the other drawers. I actually did the tape for one of the drawer fronts and this was ever easier. I just used the Exact-O knife to trim off the edges from the sides. But I still used the decoupage glue over the top.
Step 3: Trace the bottom of the drawers on your papers and trim them about 1/4″ around to fit the space of the bottom of each drawer. Again paint glue on the bottom of the drawer, apply the paper, then glue on top.
Step 4: Add stickers and any other embellishments on the sides. I also added another sheet of paper to the top. I used the gold scallop tape on one side.
That's it! Just let it dry and you can sand off any edges of paper that are hanging over the edge. Now you have an adorable little mini chest of drawers customized with this adorable paper!
You might know me from my puff quilts, but I love everything creative–especially DIY and woodworking. If you like this project, I would love for you to check some of my other projects–I love to DIY!
*******
Thanks Heidi! I'm always so impressed with her projects! That mini chest of drawers is just perfect for a girl's room to have a place to put all her little treasures. Here are some other ideas of Heidi's that I know you'll love:
I love a beautiful makeover! Her Guest Bedroom Makeover is just stunning.
And, this DIY Stair Wainscoting is amazing! I cannot believe the transformation!

And, you all know how I love a Pegboard organizer. This Extra Large Craft Pegboard is perfection!
Make sure to
Visit Honeybear Lane and




And if you'd like to try this project, you can find my
Home + Made line
at craft and hobby stores near you!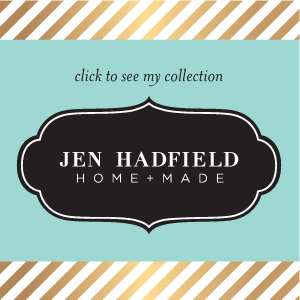 xoxo