This post is being sponsored by The Coca-Cola Company. All thoughts and opinions are my own.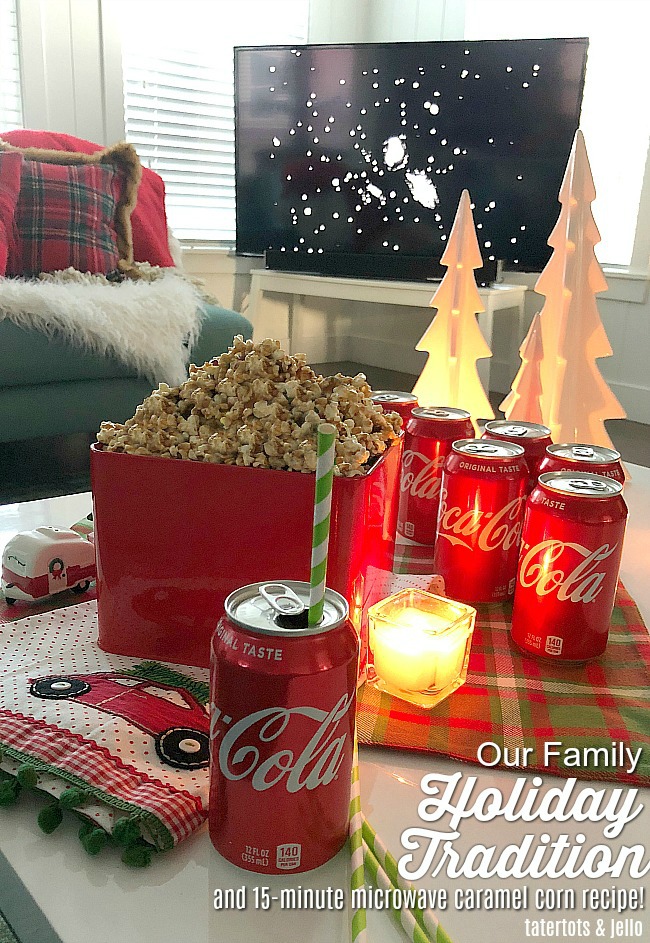 Our Christmas Tradition 15-minute Microwave Caramel Corn Recipe
I love the holidays! One of my favorite parts about Christmas are traditions!! It's so fun to have family traditions that have been passed down through the generations. And I also love making new traditions that we incorporate into our family!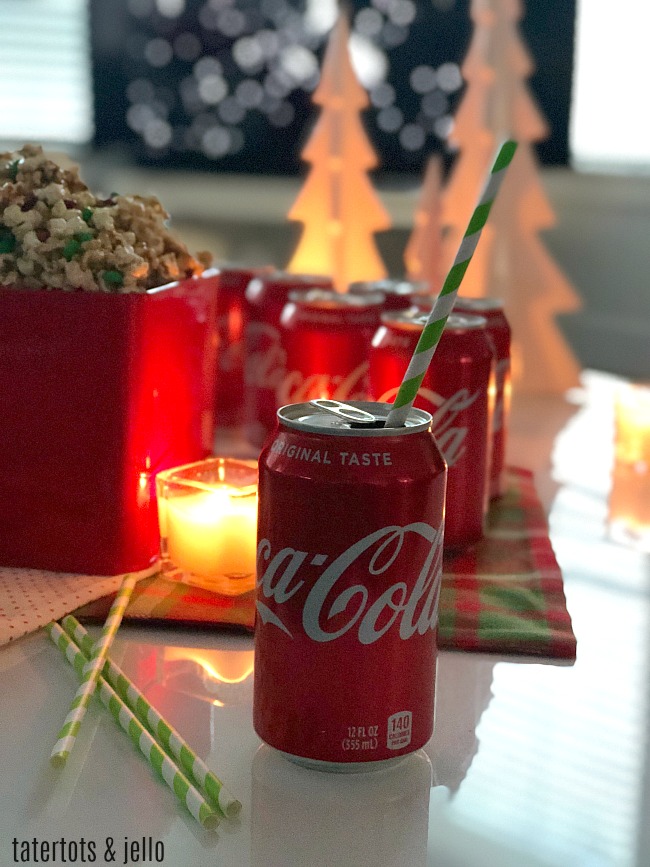 One of the traditions that we look forward to every year is our annual movie night watching our all-time favorite film — It's a Wonderful Life! It's a Wonderful Life is a classic movie showing how one person makes a difference on all of the people in their life.
If you have never seen the film – here is a little synopsis from Rotten Tomatoes and it has a 96% rating on there which is amazing:
This is director Frank Capra's classic bittersweet comedy/drama about George Bailey (James Stewart), the eternally-in-debt guiding force of a bank in the typical American small town of Bedford Falls. As the film opens, it's Christmas Eve, 1946, and George, who has long considered himself a failure, faces financial ruin and arrest and is seriously contemplating suicide. High above Bedford Falls, two celestial voices discuss Bailey's dilemma and decide to send down eternally bumbling angel Clarence Oddbody (Henry Travers), who after 200 years has yet to earn his wings, to help George out. But first, Clarence is given a crash course on George's life, and the multitude of selfless acts he has performed: rescuing his younger brother from drowning, losing the hearing in his left ear in the process; enduring a beating rather than allow a grieving druggist (H.B. Warner) to deliver poison by mistake to an ailing child; foregoing college and a long-planned trip to Europe to keep the Bailey Building and Loan from letting its Depression-era customers down; and, most important, preventing town despot Potter (Lionel Barrymore) from taking over Bedford Mills and reducing its inhabitants to penury. Along the way, George has married his childhood sweetheart Mary (Donna Reed), who has stuck by him through thick and thin. But even the love of Mary and his children are insufficient when George, faced with an $8000 shortage in his books, becomes a likely candidate for prison thanks to the vengeful Potter. Bitterly, George declares that he wishes that he had never been born, and Clarence, hoping to teach George a lesson, shows him how different life would have been had he in fact never been born. After a nightmarish odyssey through a George Bailey-less Bedford Falls (now a glorified slum called Potterville), wherein none of his friends or family recognize him, George is made to realize how many lives he has touched, and helped, through his existence; and, just as Clarence had planned, George awakens to the fact that, despite all its deprivations, he has truly had a wonderful life. Capra's first production through his newly-formed Liberty Films, It's a Wonderful Life lost money in its original run, when it was percieved as a fairly downbeat view of small-town life. Only after it lapsed into the public domain in 1973 and became a Christmastime TV perennial did it don the mantle of a holiday classic. ~ Hal Erickson, Rovi

I love the quote from the angel in the movie to the main character – he says, "no man is a failure who has friends". It shows the importance of doing the right thing and being a good person. It's a wonderful film to bring in the spirit of the holidays. We usually watch it the week before Christmas. Sometimes we will wrap presents while we watch the movie and enjoy our caramel corn and Coke®. It really gets us in the mood of the holidays!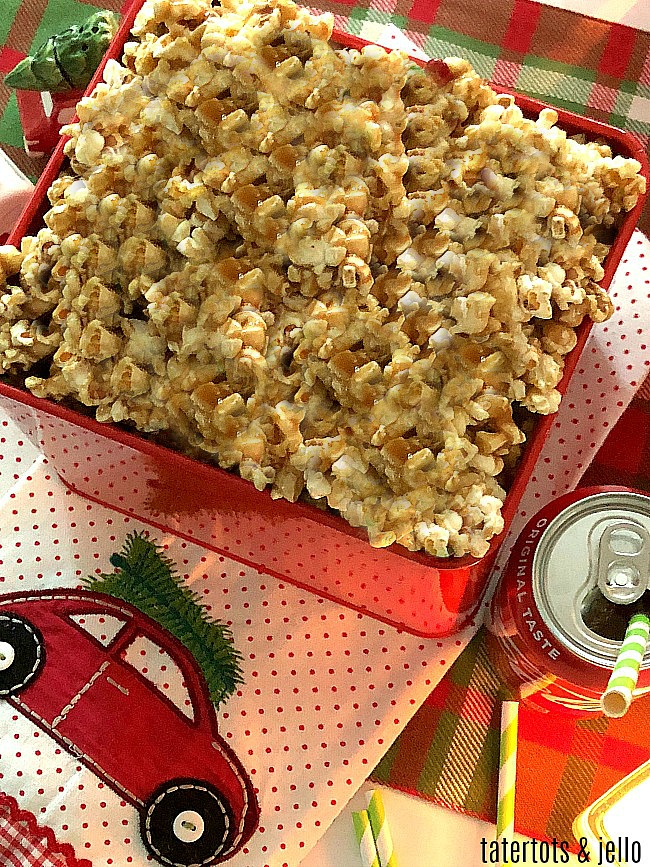 Our Christmas Tradition 15-minute Microwave Caramel Corn Recipe
We love making caramel corn to eat while we watch our favorite Christmas movie. It's a tradition that we having been keeping for a long time. A few years ago I discovered that I can make our caramel corn so much faster in the microwave, and it's just as delicious as the traditional caramel corn recipe I've been making all these years.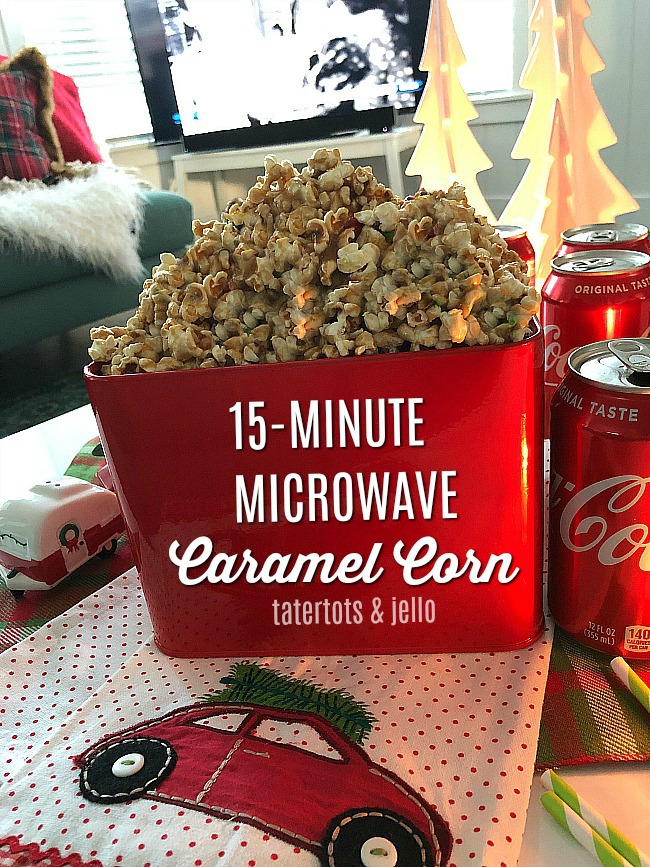 We pair our yummy caramel corn with ice-cold Coke® for the perfect pairing. We get our Coke® at Sam's Club and it's so convenient! We add it to our cart and get everything we need for holiday celebrations!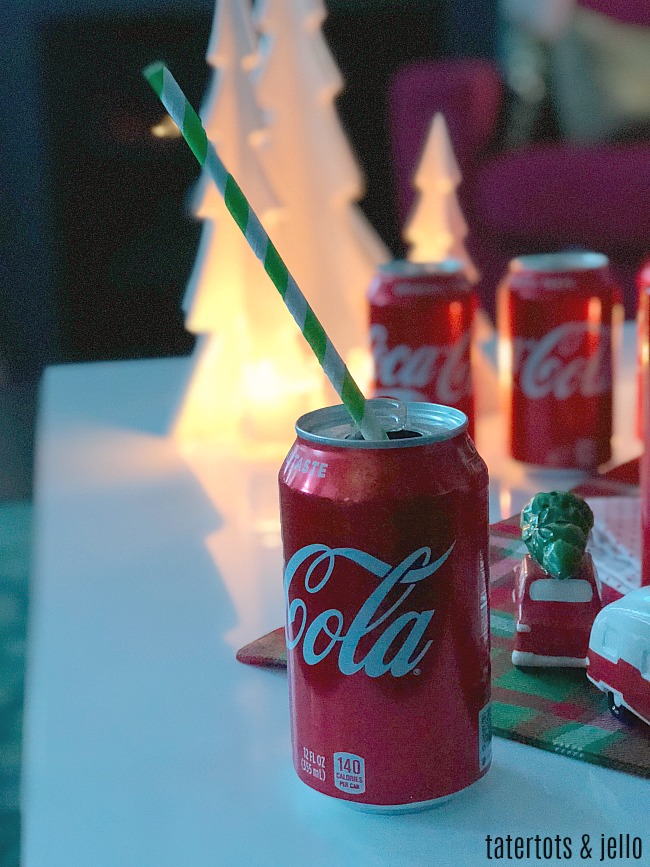 Here's the recipe for 15-Minute Microwave Caramel Corn. Cook up a batch for the holidays at YOUR home. It's the perfect easy salty treat to pair with your ice-cold Coke®!
Our Christmas Tradition 15-minute Microwave Caramel Corn Recipe
Our Family Christmas Tradition and Easy 15 Minute Caramel Corn Recipe
Recipe Type: snack
Cuisine: popcorn
Author:
Prep time:
Cook time:
Total time:
Serves: 12
Make Caramel Popcorn in under 15 minutes in your microwave. It tastes just as salty, sweet and delicious as regular caramel popcorn.
Ingredients
16 cups of popped popcorn
1 cup brown sugar
1/2 cup butter
1/4 cup corn syrup
1/2 teaspoon salt
1 1/2 teaspoon vanilla extract
1/2 teaspoon baking soda
Instructions
Put popped popcorn in a large paper bag.
In medium microwave-safe bowl, combine the brown sugar, butter, corn syrup, salt and vanilla. Heat for 3 minutes (the mixture will bubble). Take out and stir. Then return the mixture to the microwave for another 1 1/2 minutes.
Stir in baking soda.
Pour syrup over the popcorn in the bag. I pour about 1/4 in at a time and stir it around so the popcorn gets evenly covered. Shake the bag and put the bag in the microwave and microwave at high for a minute.
Pour contents out onto waxed paper and let cool. You can sprinkle toppings over the caramel corn if you want. Like melted chocolate or small candies.
TIP —
*If you spray the inside of your paper bag with cooking spray, the caramel won't stick to the bag as much.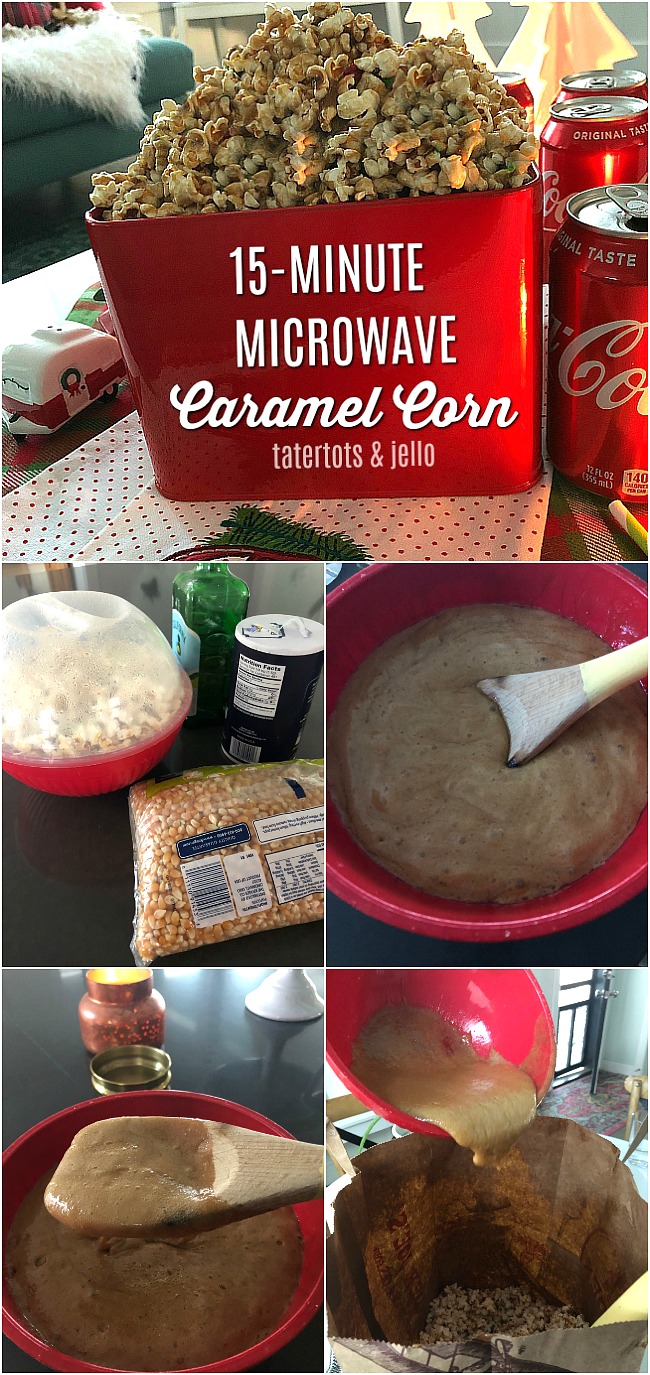 Our Christmas Tradition 15-minute Microwave Caramel Corn Recipe
Do YOU want to win a trip to LA to see The Greatest Showman. All you have to do is upload YOUR Sam's Club receipts to HelloWorld to be entered to win an all-expense paid trip to LA!
Here's how to win:
This holiday season, include Coca-Cola® as part of your tradition. Pick up Sprite® 4 pack 2 Liter, Diet Coke® 4 Pack 2 Liter, Coca-Cola® 35 pack cans, or Coca-Cola® 30 pack Mini Cans beverages from Sam's Club, then upload your receipt for a chance to WIN a trip for two to Los Angeles featuring:
An exclusive red-carpet screening of The Greatest Showman, plus pre-show performance
Round trip air transportation for two (2)
Two (2) 20th Century Fox goodie bags
Three (3) nights' luxury accommodations in a Hollywood hotel
VIP backstage tour of Fox Studios with lunch at the on-site restaurant
Full on-site assistance from a personal winner manager throughout the trip
Don't miss this incredible opportunity!
http://www.samsclub.com/coca-cola/
What are YOUR family traditions?
Share them with us in the comments!!
xoxo

"Coca-Cola" is a registered trademark of The Coca-Cola Company