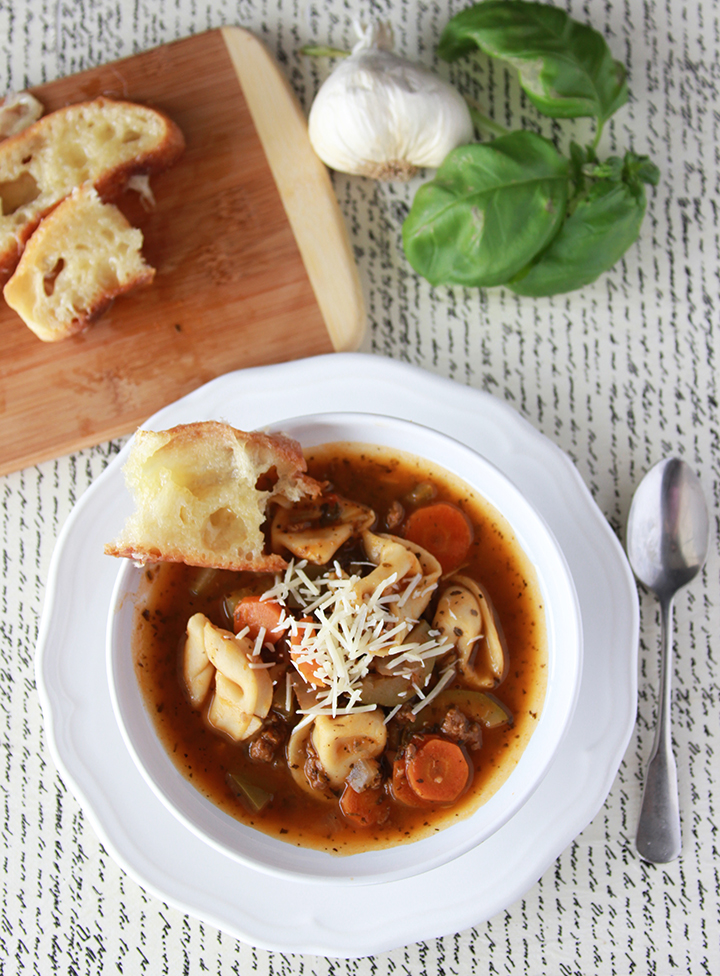 Inspired by the ingredients at downtown Salt Lake City's Winter Market, we've whipped up this amazing recipe for you!
Italian Tortellini Soup
1 pound sweet Italian turkey sausage, casings removed
1 cup onion, chopped
2 cloves garlic, minced
1 tablespoon olive oil
5 cups vegetable broth
1 zucchini, sliced
1 carrot, peeled and sliced
1 medium green pepper, diced
1/2 cup dry red wine (cabernet sauvignon)
2 tablespoons dried oregano
2 tablespoons dried basil
1 tablespoon tomato paste
1/2-1 tsp red wine vinegar
1/2 tsp red pepper flakes
1 tsp agave or sugar
1/4 cup fresh basil leaves, chopped
2 tablespoons fresh oregano leaves, minced
8 to 10 ounces purchased fresh cheese tortellini
Freshly grated Parmesan cheese
Heat olive oil in stock pot, add onion and garlic and sauté until translucent, about 5 minutes. Add 1/4 cup red wine and deglaze pot. Sauté Italian sausage in stock pot over medium-high heat until cooked through, crumbling with back of spoon, about 10 minutes. Add stock, tomato paste, zucchini, carrot, bell pepper, wine, red wine vinegar, red pepper flakes, agave, basil and oregano. Simmer until vegetables are tender, about 40 minutes. (Can be prepared 2 days ahead. Cover and refrigerate. Bring to simmer before continuing.) Cook tortellini in separate pot. Add to soup. Add fresh herbs. Season soup to taste with salt and pepper. Ladle into bowls. Sprinkle with Parmesan and serve.