12 Cozy Fall Mantel Ideas! Whether you have a mantel or a shelf, here are12 DIY ways to bring the warm feeling of Fall into your home!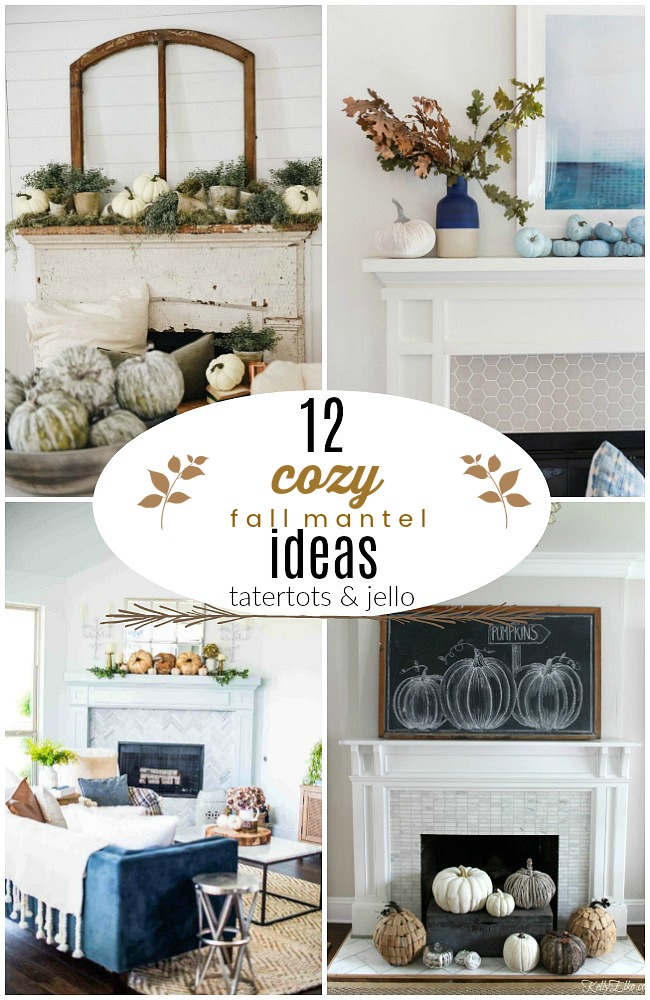 12 Cozy Fall Mantel Ideas!
One of my favorite ways to celebrate the different seasons is decorating our mantel. Even if you don't have a mantel, you can use these ideas to decorate a shelf in your home and bring in the cozy feeling of fall!
***
These mantel decorating ideas are perfect to celebrate fall from September all the way through the end of November! Come along as I show you some of the COZIEST mantels around!
Liz Marie always creates the most beautiful, warm and rustic mantels and porches. I love the wood window frame which brings height to the mantel, then she layered textured pots, greens and gorgeous white pumpkins for a neutral and rustic mantel that is so very cozy!
Kelly has an amazing blog and instagram account. I love the hand-drawn pumpkin art she drew at the top of her mantel and the way she layered textured pumpkins at the bottom.
How gorgeous is this COZY mantel? I love the way the pumpkins POP against the black fireplace. This is a great example of how to decorate a mantel with a television. The pumpkins at the bottom of the fireplace are piled and create a beautiful backdrop.
Another gorgeous COZY fall mantel. The architectural piece at the top creates height and the sage hue of the pumpkins is a beautiful neutral color that is so subtle.
Here's a COZY idea that works whether you have a fireplace or a shelf to decorate. The thing that makes this vignette POP is the way that everything is layered. There are so many elements that are interesting. The frames, the wreath, the banner and the different shades of pumpkins.
Adding a mirror to the mantel is one of my favorite ways to decorate. The mirror brings more light into the room. This mantel is so pleasing because of the symmetrical elements — the candles, the greenery and the pumpkins all mirror each other.
Lucy's mantels always are a treat to see. I love the way she layered the different elements on this fall mantel. And adding books adds texture and an unexpected element.
Here's an example of how to add height to a fall mantel or shelf. The wreath, then a banner are hung above the pumpkins. And a marquee board adds a little whimsy!
Creating a fall mantel doesn't have to cost a lot. I love the way this mantel uses upcycled items. You can shop your house for fall mantel materials like books and baskets!
Fall decor doesn't always mean shades of orange and yellow. If you have a coastal home you can still decorate for fall. I love the way Chelsea painted her pumpkins blue to match her coastal decor. So cute!
There are also so many different textures of pumpkins that you can display. These velvet pumpkins are so pretty and I love the different hues.
This is my sister Ashley's mantel. Aren't her pumpkins so lush and pretty? I love the dark shades of pinks and the way she styled her mantel with the chair and pretty throw.
***
Here are some of my fall mantels!
This is one of my favorite fall mantels. I bought dollar store pumpkins and painted them bright shades of pinks and blues.
And if you are looking for a simple modern fall look, I created this mantel a few years ago. I painted a vintage door and then hung a plain wreath in the center. Then I spray painted some foam pumpkins white and hot glued wood letters on each pumpkin that spell out the word "AUTUMN".
***
Show me some of your fall mantel ideas!
Share them with us!
xoxo