Hello Friends of Jen! My name is Corinna and I blog at For My Love Of. My blog focuses on my DIY decorating journey in my family's first home. My husband and I bought a 1954 Mid Century Ranch and it's been a blast bringing out the life of the home. I'd love to have you over to check out the projects that I've completed so far. Today I'm happy to share with you a DIY light fixture I created for my home office.
The light fixture was inspired by the Urban Outfitters Magical Thinking Geo Pendant light fixture. I've seen himmeli pieces made with straws, but I knew that it could be a potential hazard being connected to something electrical. I know most bulbs won't get hot enough to melt a straw, but I would rather be safe than sorry. So I bought round brass tubes from Amazon. And steel wire from the dollar store. Armed with my supplies, I asked my dad what he thought would be the best way to cut the tubes. He lent me a hacksaw, which worked out pretty good! Looking back, he thinks a dremmel tool would've been easier. The process isn't complicated. But when thinking about it, I found it hard to describe in words. So I created a video of the process. It's rough footage from before I upgraded to DSLR but, it shows the process of cutting and stringing the tubes onto the wire if you find that helpful!
The Process
Run steel wire through three 6 inch long pieces of tube. Run the wire back through the first rod to create a triangle. Then run 2 more pieces of tube to create a second triangle. Repeat until you've got 6 triangles connected that form a hexagon. Then run two pieces of tube that connect to each side of the hexagon, creating 6 more triangles poking out of the hexagon. Connect the points of each of those 6 triangles with a 6 inch piece of tube. For the top, create a trapezoid with 2 pieces of 5 inch tube and 1 piece of 1 inch tube. Connect the trapezoids and you'll have a small hexagon in the center to run your light fixture piece through.
When I had started stringing the brass tubes onto the steel wire, it hit me how delicate and glamorous the skinny brass tubes were. That's why I changed my initial design up a bit to create a hexagonal drum shaped fixture instead of the more geometric and organic shape of the Urban Outfitters light fixture.
The hardest part for me was working up the courage to hard wire the fixture. Like, it took 2 months to convince myself to just to it already. I had to teach myself how to, without any experience with electrical. It turned out to be SO easy though!
And the finished project embodies how I want the entire space to come together. DIY, glamorous, feminine with an edge.
Isn't the shadow against the ceiling just too cool? I found the globular bulb at the dollar store.
So, to be honest, was it cheaper to DIY? I wonder this all the time when I see projects like this one. This one did, in fact, come in cheaper than the original. 2 packs of brass tubes at $19 each, a big box home improvement store pendant light for $15, and $1 for the steel wire from the dollar store. Score! Thanks so much for stopping by and checking out my Brass Himmeli Light Fixture, and thank you Jen for letting me share! I really enjoyed trying out the himmeli art form, or a form of the form rather. So I created a himmeli inspired sculptural wall piece with the extra supplies. As for the office, it's still a major work in progress, so come on by anytime to see how that's working out!
*************
Thanks Corinna!! I love that light fixture. It turned out amazing!! Corinna has such fun ideas on her blog. I'm thrilled she could be here today to share her light fixture with us! Here are a couple of her recent projects of hers that I love: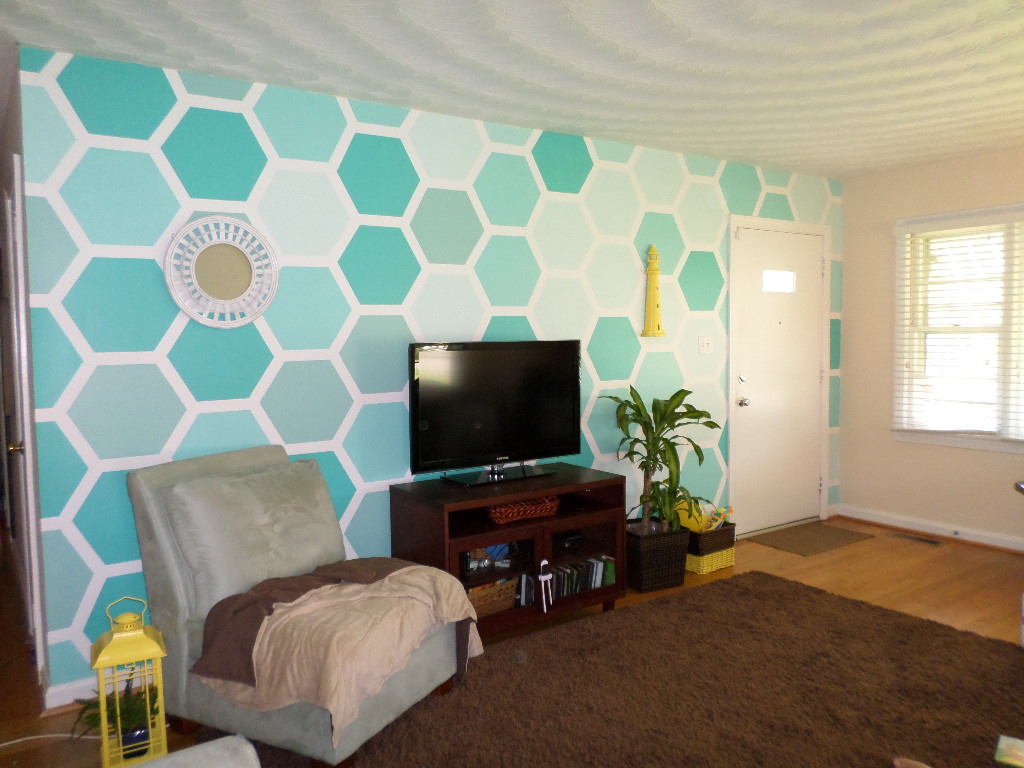 Her tutorial for How to Stencil Your Own Hexagon Wall is so awesome! I love how it turned out!!
She also has some other really unique ideas like her Copper Pipe And Fish Bowl Wall Lamps and her DIY Himmeli Wall Art Tutorial! Make sure to check them out!
Visit For My Love Of and




xoxo